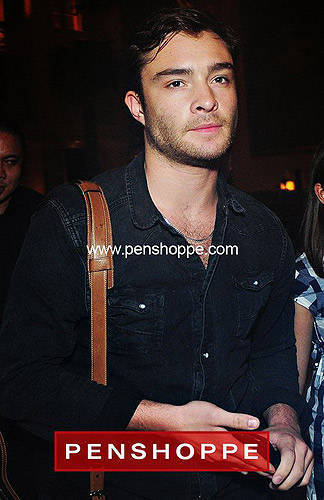 Welcome to Manila, Mr. Bass.
If you think Chuck Bass is a charmer on the hit American TV series Gossip Girl, wait 'til you meet the man behind the villain we all love to, well, love.  Ed Westwick, also known as the hit show's resident bad boy and now the new poster boy for Penshoppe, arrived in Manila on May 31 for the local clothing brand's 25th anniversary campaign photo shoot.
Perhaps to evoke true Upper East Side fashion, the press-con-slash-chat-with-Chuck party was held at the swanky Salon de Ning on June 2 at the Peninsula Manila. The British actor and former frontman of indie punk rock band The Filthy Youth regaled members of the press with the same devilishly-sexy swagger his Gossip Girl character is known for, and an eargasmic English accent that the 23-year-old actor masks on the show.
Fresh from his Penshoppe shoot the day before, Westwick sat down with the media and shared his thoughts on his alter-ego Chuck Bass, his first-ever Manila visit, what he thinks about Filipino women, and more. Oh, and he gave us a sample of that signature Chuck Bass voice, too.
ADVERTISEMENT - CONTINUE READING BELOW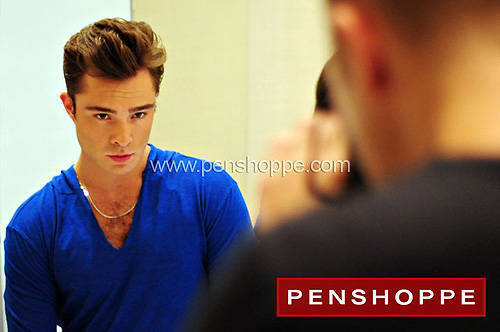 Chuck ditched the bow tie for this Penshoppe shoot.
On his similarities and differences with his character on the hit show Gossip Girl, Chuck Bass:
"We're both male. We both look alike, which is very strange, isn't it? But no, we're actually very different. He's such an amazing character to play, so much fun, and I have a great time working with the all the people working in the show, but I live quite a different life I'm afraid to say. I don't ride the limousine quite often.
ADVERTISEMENT - CONTINUE READING BELOW
Recommended Videos
But one thing he will never have on me is this English charm. He's got that American charm, but he doesn't have the English charm, you know."
On his other talents:
"Well I play a bit of the guitar. Recently I'm trying to learn how to play the spoons though I'm not that good yet. Really, I'm good at football, there you go. And that's about it. I'm good at sleeping as well."
On his new film project Romeo and Juliet where plays Tybalt:
"Yeah [I'm] really excited. We got a really, really great script. It's keeping the traditional flow of the Shakespeare traditional language but it's more accessible to a contemporary generation. And yeah, it's going to be fantastic. Hailee Steinfeld is playing Juliet-very talented actress-and I get to play the wonderful role of Tybalt, the cousin of Juliet. It's going to be an amazing time. We're going to shoot in Verona...We'll get to bring probably the most famous story of all time back to life."
ADVERTISEMENT - CONTINUE READING BELOW
Must-watch Chuck Bass moments on Gossip Girl

On Manila:
"This is my first time in the Philippines and I have to say [it's been] really good because everyone's made me feel really, really welcome...I was feeling a little jetlagged until I came out here and there are lots of bright lights and lots of people so now I'm wide awake. It's been a very, very good trip. Every thing's gone really, really well. We had a great time during the shoot yesterday. That was fantastic. Everybody involved in Penshoppe has been amazing. And then today I went out on a boat around Manila Bay. I went to take a look at the Manila skyline. You have a beautiful city here, a beautiful country, and beautiful, fantastic people."
On how he finds Filipino women:
"Well, I haven't found any yet. In general, everbody I got to meet has been fantastic, but the Filipino women, they seem to have quite an attractive look I have to say. It's one of the reasons why I'm coming back."
ADVERTISEMENT - CONTINUE READING BELOW
Photos from Penshoppe
Share this story with your friends!
---
Help us make Spot.ph better!
Take the short survey
Load More Stories