10 Cool Dudes We Wish Were Our Dads
Who's your (fantasy) Daddy? A list of Papa-ble celebs who'd probably make very interesting fathers, to say the least.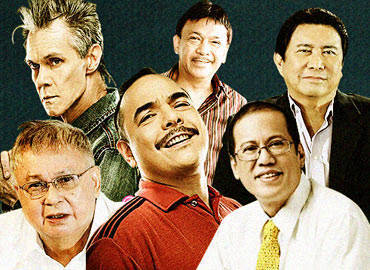 (SPOT.ph) We all love our own dads, but what if, in an alternate life, we could have a do-over (or Dad-over) and pick a cool celeb to call Dad? Most of these celebs are already fathers in real life, while some of them still have to get around to it. Nevertheless, here's our list of Pinoy Papa-bles who'd probably make very interesting fathers, to say the least.
GUS ABELGAS
Pop bio: He's an underrated ABS-CBN broadcast journalist who hosts an underrated crime documentary, S.O.C.O (Scene of the Crime Operatives), which has been airing since 2005. Unflappable and possessing a distinct staccato-rhythm voice, he's an old-school reporter whose priority is the story. You never see Gus Abelgas in flashy clothes or in a macho vest (be it a bulletproof one or a pretentious "reporter's" vest).
Hip dad factor: A dad whose job is to investigate reports on heinous crimes will always be one step ahead of the bad guys. Instead of bedtime stories, he'll tell you tales of grisly cases, most of which can prove that, yes, there are smart cops in our midst. He makes for one unassuming dad who doesn't need to shout to be heard.
NOYNOY AQUINO
Pop bio: He's the country's first bachelor president and almost everyone has been nagging him to do something about it. To date, he's been linked to at least four women-Shalani Soledad, Liz Uy, Len Lopez, and Bunny Calica-all within one year. He's also bought a Porsche. He's supposedly also loves shooting things-both in videogames and for target practice. As a result, the public sees him as a free-wheeling, free-flying Peter Pan of an eternal singleton-not necessarily a good thing.
ADVERTISEMENT - CONTINUE READING BELOW
Hip dad factor: There'll be lots of fun times playing with Papa PNoy, who will always be a child at heart. Why, he's already had lots of practice baby-sitting nephews Josh and Bimby. Our Presidential Man-Boy's theme song seems to be the Lost Boys' "I'll never grow up, never grow up..." So it may do him a world of good to become a single father-via adoption, of course. (We don't want him to be stoned to death by Catholic bishops.) A chirpy little girl-much like little sister Kris once was-would be good for him. Think Daddy Warbucks (since he smokes and is almost totally bald) and picture him and a little girl singing "Tomorrow" together.
CONTINUE READING BELOW
Recommended Videos
JOKER ARROYO
Pop bio: Despite his name, this man should always be taken seriously. The 84-year-old dynamo has served as a Makati congressman, an executive secretary for President Corazon Aquino, and now a senator. He's been called the "Scrooge of Congress" (and perhaps also the Senate) for being so thrifty he doesn't even have a full staff-just a driver and a secretary.
Hip dad factor: Having a dad like him will build your character. You won't even dare think of stealing or lying. He's the kind of dad whom your friends would respect no matter what. Pag bad ka, lagot ka.
CARLOS CELDRAN
Pop bio: He's an artist who has successfully launched a career as a Manila tour guide, and in the process becoming one of the city's most recognized figures. Apart from promoting Manila and its landmarks, his pet cause is the "Separation of Church and State," more specifically, the controversial reproductive health bill. After his "Damaso" protest at the Manila Cathedral in September 2010, he has become the favorite enemy of the Catholic Bishops Conference of the Philippines.
ADVERTISEMENT - CONTINUE READING BELOW
Hip dad factor: This papa won't ever preach. Plus, he stages protests in character. How cool is that? He'll also keep you fascinated with historical tidbits that you'll never read in books. Hopefully, you won't have a problem when he's excommunicated for teaching you and your friends about condoms.
PABLO "BOY" LOGRO
Pop bio: This quirky chef has appeared in local cooking shows like Secrets of the Masters and Kitchen Superstars. Starting out as a houseboy, he eventually "earned the distinction of becoming the first and only Filipino executive chef" when he was working at the Manila Diamond Hotel. His is a fantastic rags-to-riches story. Now, he has his own culinary school.
Hip dad factor: A dad who can cook already scores points with kids-and more so if he's animated and funny while he's at it. He exudes so much joy in his cooking demos, it's infectious.
RICO PUNO
Pop bio: Dubbed the "The Total Entertainer," he's a singer who's also known for his risqué humor and hammy onstage antics such as tossing his jacket to the audience. SPOT.ph blogger Lourd de Veyra said it best: "Sa bigoteng-bigote pa lang, hinding-hindi mo matatawag na santo si Rico J. Puno."
Hip factor: With him as a dad, you'll just laugh at the RH bill brouhaha. You'd probably have a sense of humor about sex-and you may even sing about it. Of course, prudes will label you "Haring Bastos" just like him, but better that that being an uptight conservative who doesn't know how to have fun.
ADVERTISEMENT - CONTINUE READING BELOW
JOEY "PEPE" SMITH
Pop bio: At 63, this lanky Pinoy music icon is still having a grand time being, well, himself. Called "The Mick Jagger of the Philippines," Smith has enjoyed popularity reaching epic proportions in the 70s when he was part of the Juan dela Cruz Band. These days, his life is the subject of the reality TV show, The Smiths, where he stars with his kids Queenie, Sanya, and Beebop. He's also the image model of a clothing line called-get this-Mental.
Hip dad factor: He's certainly not your typical dad, what with his outlandish fashion sense and alleged off-the-wall shenanigans with much younger women. But, hey, he's got legions of followers who do the "We're not worthy" bow each time he's around. Imagine if he were your dad and you brought him to a PTA meeting. Now, that would be one hell of a show-and all he has to do is stand there and say, "Rock and roll!"
SOXY TOPACIO
Pop bio: Happy and ageless. That's how we've always seen actor-director Soxy Topacio. Most of us fell in love with him when he played Neneng, the fabulous gay man of the neighborhood in Duplex, an RPN-9 sitcom which ran from 1980 to 1984.  These days, he directs TV shows and movies. In fact, he wrote the script and directed 2009's Ded na si Lolo.
Hip dad factor: He's the kind of dad who wouldn't pressure his son to prove he's a man. If you're contemplating revenge, he'll advise you to be creative instead. He'll be a nurturing father who's always cracking jokes. Of course, you get to hang out with his showbiz buddies. 
ADVERTISEMENT - CONTINUE READING BELOW
RAMON TULFO
Pop bio: Broadcast journalist Ramon Tulfo is an alpha male through and through. He's tall and imposing. He talks tough and he can play rough, too. Keep in mind that he's the only one who dared to do a series of exposes on former Philippine National Police chief-turned-senator Panfilo "Ping" Lacson. He's hosted the radio show, Isumbong Mo Kay Tulfo since 1991 (though he took a break from 2005 to 2009).
Hip dad factor: This dad will teach how to be street-smart. You'll be able to sniff out corrupt cops and politicians just as easily as you can smell stale rice. But brace yourself for the consequences if he catches you goofing off.
MANSUETO "ONYOK" VELASCO JR.
Pop bio: He's a boxer who won a gold medal in the 1994 Asian Games and a silver medal in the 1996 Olympics. He didn't go professional and, as such, he never attained Manny Pacquio-style fame. Instead, he became an actor-playing sidekicks in TV shows like Idol Ko si Kap and OK Fine Whatever. These days, he's in Magic Palayok and Show Me Da Manny. He has never been controversial. He seems like a mild-mannered man who's pretty happy with his lot in life.
Hip dad factor: He's not Pacman and that's what we love about him. He's well-respected, but people aren't flocking to him 24/7. He's just famous enough. Of course, you can always brag, "My dad has an Olympic medal." It never gets old.
Artwork by Warren Espejo
ADVERTISEMENT - CONTINUE READING BELOW
Share this story with your friends!
---
Help us make Spot.ph better!
Take the short survey
Load More Stories