Q&A with local indie trio The Sleepyheads
Meet the "music outsiders" whose folk-punk sound is anything but sleepy.
(SPOT.ph) It's not often you come across a band like The Sleepyheads. Elusive, low-key, and passionate about their music, the group has stayed true to their avant-garde approach to their work despite being in a pop-infested industry. Having been in the local indie scene for more than 10 years, the trio has stuck to their raw sound sensibilities. They're also immensely driven by a love for visual arts-an influence that's very evident in their work.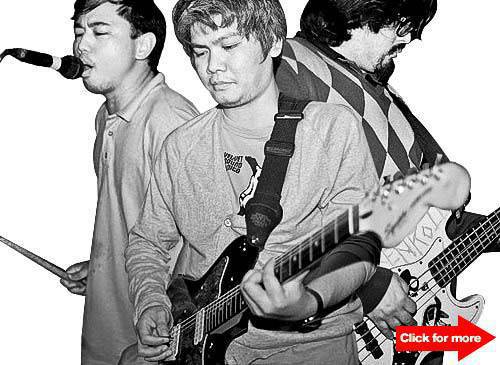 The Sleepyheads will wake you up with their music. Click for more.

Brought together by a common love for the same kind of music (The Velvet Underground, Modern Lovers, and The Shaggs), Jayvee del Rosario (vocalist and drummer), Erick Encinares (bassist), and Rico Entico (guitar) first caught the music scene's attention with the release of their first album, (Don't Let Our) Tuneless Moaning (Go To Waste), in 2006. The debut offering, which was recorded D.I.Y style in bedrooms and living rooms, received rave reviews. Philippine contemporary art master Roberto Chabet called it "dressed-down rock." Malnutrition of Love, the band's sophomore album (with cover art by world-renowned Pinoy artist Manuel Ocampo) was categorized as dark and funny. With two albums under their belt and a new one to be released in September (with no less than award-winning artist Roberto Chabet doing the cover art), the trio continues to play their brand of sound-even if it means being called music outsiders.  

How did you guys get together?

Jayvee del Rosario: We first got together when Erick and I met at Trinity College through a common friend. We were swapping CDs and LPs then.

Rico Entico: I joined the band in mid-2009 after retiring as a bass player from an obscure pop-rock band. Due to our common love for The Velvet Underground, I was forced to play guitar for them.

You've been around since 2000, how has the band evolved?

JDR: We were originally a four-piece band. I played the guitar and sang. Erick played bass, and we had Tomas on lead guitar and Clifford on drums then.

How has your music evolved since you started?

JDR: Our music actually "devolved." We were a four-piece band with two guitars playing crafted songs. Now, we are a three-piece, deconstructing normal songs. But we like it that way. In fact, for us, it's better.  

What's the story behind the band's name?

JDR: I had this CD titled Modern Lovers Live at the Longbranch Saloon which is a collection of unreleased Modern Lovers songs from 1971-72. The best previously unreleased track on the album is "Wake Up, Sleepyheads." The word "sleepyheads" just stuck like glue. We didn't even have to think so hard about what to call ourselves-we wanted to call ourselves that right away.

How would you describe your music to someone who's never heard of The Sleepyheads?

JDR: To someone who has never heard of us, we would say, we sound like a band from the '50s or the '60s. Very tin-sounding, very beat-oriented, very primitively recorded. The vocals and all the guitars are very raw and raspy-like Herman's Hermits but more perverted! You could call it folk-punk.

What exactly is folk-punk?

JDR: Folk-punk is kind of like our new sound, introduced by our guitarist, Rico. It's using acoustic guitars but playing it very loud and unrestrained, instead of the John Denver "tender" way. We're breaking the cliché of the mellow-acoustic sound-we want loud acoustic.

RE: Minimal with lyrical sense
ADVERTISEMENT - CONTINUE READING BELOW
During their latest recording session
Who are your local and foreign musical influences?

JDR: Locally, I like Eddie Peregrina and the Blinkers. He's that '60's balladeer with the high-pitched voice. But unlike balladeers today, a real garage band backed him up. The '60's was a fabulous era. We also like American groups like The Velvet Underground, The Shaggs, and Modern Lovers. The Shaggs are the strangest group ever. We also like the English group, The Kinks.

RE: Locally, I like Ethnic Faces, Outerhope, Radioactive Sago Project, and The Sleepyheads, of course. For foreign acts, I like The Velvets, Guided by Voices, Wire, Richard Hell, The Talking Heads, and music from the '80's.

You once said you "aspire to create music that would serve as "the soundtrack" for the paintings, sculptures and installations, and performances of their fellow Filipinos." What did you mean by that?

JDR: Our music is very closely knit with visual art because we don't play the way we play just for the musicality of it but how it will "look" to the mind's "ear." The Velvets didn't play music that's cutesy and instantly likeable by Justin Bieber fans. But once the "image" of their music gets through to your head, it creates a certain picture. If you're a visual artist, you'll instantly get it-and like it, too!

So you think that music and art go together?

JDR: Music and art go hand in hand because, well, they are both art! Include poetry, too. They are not just beats and words. They must mean something and they must endure beyond trends, beyond moneymaking and chart topping.

Who are some of the local musicians and visual artists you look up to?

JDR: Jack Sikat's Ethnic Faces. We liked them in the Eighties. Then they became a brass-and-horn band, funky, very unlike the punk band they used to be. It was still cool, but we like them more before they became a funky band. We especially liked their songs "Golden Boy" and "Within Tribes."

RE: Jack Sikat, Clem Castro of The Camerawalls, Outerhope, Lourd De Veyra, Gary Pastrana, Ronald Anading, Louie Cordero, Manuel Ocampo , Jason Oliveira, and Mm Yu.

Who's on your playlist?

JDR: I don't have an iPod, but when I get home and turn on my stereo, I put on Warren Zevon, New York Dolls, Leo Kottke.

RE: Wire's Pink Flag album, Bruce Springsteen's "Girls in Summer Clothes," Guided By Voices' Same Place the Fly Got Smashed.
CONTINUE READING BELOW
Recommended Videos
ADVERTISEMENT - CONTINUE READING BELOW
The Sleepyheads doing a Modern Lovers cover
Where do you get inspiration to make music?

JDR: I get inspiration from frustration. That's a way to convert pain into art.

What's your take on the local music scene?

JDR: We think, most of the time, it's being run by unimaginative people. Once you don't follow what they want you to do, if you break that OPM formula, you're out. They won't play you on the radio. Regarding the local indie scene, we think it's the last hope. The indie bands play their own way. I think if all indie bands would help each other and form an anti-commercialism movement, the unimaginative guys running the business will all be out of jobs and real music will win.

RE: I still believe there is a chance to create a dynamic yet eclectic scene. We still have Terno Records, bands like Us-2 Evil-0, Pedicab, and The Dorques. I just don't want it to be like in the '90's where everybody just wanted to be like The Eraserheads. While we respect their sound, we want people to know that there's more to Pinoy music than just that-that there's a wide range of musical styles and sounds in the country. The word "indie" is overrated nowadays.

What about your take on the local art scene?

JDR: The local art scene is way ahead compared to the music scene. We have artists going to Europe and the U.S. designing albums and even sharing art spaces with Chris Mars of The Replacements. Because our visual artists have been given the chance to experiment with their art, artists and art aficionados in Western countries are impressed. As for the local music scene, all we have is that singer that came out on Glee. Most people don't even know that Joey Santiago of Pixies is from the Philippines.  

What's next for The Sleepyheads?

RE: We're making a live tribute album. We'll be covering the Modern Lovers, Wire's Pink Flag, The Shaggs' Philosophy of the World which will be recorded using various kitchen utensils as percussion instruments. Hopefully, we will also be able to cover Radiohead's Pablo Honey or Oasis' Definitely Maybe. It's stuff you will not hear from local bands. Peculiar arrangements, straightforward lyrics in lo-fi quality as it's finest. People who love conceptual art will love this coming album. Pre-orders will start in late August.

JDR: More songs, more albums. We're going to bombard the boring music scene with our songs until they realize that we're serious about our work. We are in a band and do these kinds of songs because nobody else is. Not to say that our work is better than other musicians; the material we create is the kind of music we'd like to hear more of but can't seem to find from other bands. The bands we like are all gone now, so we are doing it like they used to.






ADVERTISEMENT - CONTINUE READING BELOW
Share this story with your friends!
---
Help us make Spot.ph better!
Take the short survey
Load More Stories