On the Spot: John Silva
SPOT.ph chats with the author-advocate and tour guide extraordinaire.
(SPOT.ph) In 1987, James Fallows, a correspondent for the American magazine The Atlantic, wrote an article titled "A Damaged Culture: The New Philippines?" The piece was subject to much controversy, drawing flak from both Pinoys and non-Pinoys to this day. SPOT.ph asked John Silva, one of the most vocal and visible proponents of Pinoy arts and culture, is the Philippines indeed a damaged culture? He disagrees.


The 61-year-old history expert has been one of the forerunners in promoting local heritage and culture. Many first came to know about Silva from the fun and interesting National Museum tours he used to conduct. Far from the usual itinerary, Silva's National Museum tour became a must-do in Manila, and actually got people interested in Philippine history. Always vocal about his thoughts, Silva once again popped into the public eye when he openly dissed Willie Revillame early this year when the controversial talk show host found himself in hot water after the now infamous "Jan-Jan incident."
More than his sought-after tours and fearless letters to corporate magnates, Silva is primarily an advocate and writer. He's gone as far as Mindanao to train public school teachers on how to teach young Filipinos how to love the arts. When he's not busy giving historical and cultural tours, he conducts workshops for NGO's on how to write grant proposals and advocacy articles. Most of which have resulted in funding for good causes.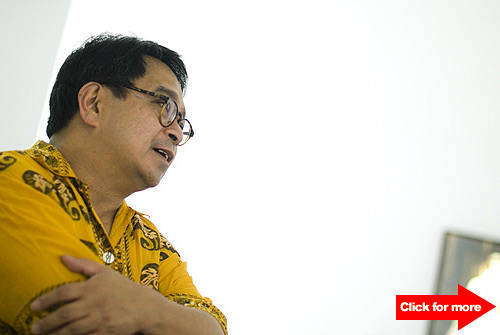 ADVERTISEMENT - CONTINUE READING BELOW
Arts and culture advocate. Click for more.


Between writing workshops, conducting tours, fighting off a libel suit, and promoting his latest book A Token of Our Friendship, Philippine Photos of Male Affection First Half of the 20th Century, John Silva sat down with SPOT.ph for a Q&A.      

You wear many hats, what exactly is your "day" job?
JS: I consider myself a cultural advocate. I write on matters where I think I can change the thinking about people's culture or the lack of-I'm a cultural writer. For the longest time my base was with the National Museum. I was senior consultant for the National Museum for 12 years. My job there was to raise money for it, make it alive, and bring in a lot of people. I was working under Tony Boy Cojuangco and he knew that there are many other things I like doing so he allowed me to do it as long as it was in the arts and culture field.


CONTINUE READING BELOW
Recommended Videos
What's your background?

John Silva: For high school, I went to La Salle Greenhills and for college I took two years in De La Salle University in Taft then I went to the States to finish college. I finished my BA and then my MA at an experimental college in Cambridge Massachusetts called Goddard-Cambridge. This was the 70s when you could just take any kind of course but whatever you wanted to write and study about, they give it to you as long as you presented a paper. My papers were on two things, Philippine American history and pre-Spanish Philippine history with emphasis on sexual genders. Basically, pre-Spanish homosexuality practices.
ADVERTISEMENT - CONTINUE READING BELOW


Have you ever gotten into trouble for being very vocal about your advocacies?
JS: Yes. Currently, I have a libel suit from Willie Revillame.

What are your thoughts on Fallows's article about the Philippines being a damaged culture?
JS: I don't like easy qualifications or sweeping statements like that. First of all, damaged culture suggests the culture is no good. That's not true. We have so much culture, it's just not presented. I don't believe it's damaged.

How can our culture be promoted?
JS: Well, there should be more government funding for culture.

Is there a bright future for arts and culture in Manila?
JS: The proliferation alone of galleries in Manila says that people want to see more art. I think in all the other areas too, in performing arts, in cinema, in theatre, in writing, there are many many gems. Our Southeast Asian neighbors have all done it. I would be less optimistic if I didn't see the successes happening in Thailand, Vietnam, and Malaysia.

If you were mayor of a city in Manila, what are three things you would do?
JS: I think education is very important. I say that because of my work with Synergeia, an organization that does education reforms. We believe that the only way the kids are going to get smarter is by having smarter teachers thru teacher training.  Second is to promote arts and culture. I believe that people who know the culture of a particular area are better centered psychologically and not prone to silly things. I would strengthen cultural values. The third is to make sure there's an adequate health center and a good, decent hospital because, a healthy nation can take care of itself.

You could have lived in the US, why did you come back to the Philippines?
JS: I lived in the US for 26 years and I enjoyed it. I was supposed to finish college then come back but martial law happened so I couldn't go back. It was only in 1996 when a very wealthy Filipino asked me to set up his private museum in Cavite that I returned. I don't regret it. America is a wonderful place to visit but I don't need to live there anymore. I lived there when I was young. I learned so much and now I'm back and I feel that I can share what I learned. One of them is about being forthright and being an advocate, saying what you really believe in. Knowing that our country was based on the US constitution, when you say freedom of expression, I take it like the Americans do, there's no variation of.
ADVERTISEMENT - CONTINUE READING BELOW
Apart from doing tours, you also conduct grant writing and advocacy writing workshops. Who joins these workshops?
JS: NGOs and, every now and then, corporations do it as a benefit for their staff. I share with my class all the wonderful and successful advocacy articles I've written. I teach people who are members of organizations to make sure that their communications component really addresses the issue and comes out for public reading.

What are your top tips for grant writing?
JS: When approaching a philanthropist or a foundation you must learn to be very direct in your presentation. Filipinos have a tendency to be very circular. And to make it worse, after they've presented the problem, they won't even say how much they need. They'll say, "bahala na kayo." The attitude is, learn to be direct, treat your proposal as a business proposal. Be precise and free from abstraction. The other thing is, unfortunately, our society is into entitlements rather than meritocracy. So many NGOs think 'I'm entitled to this money because I'm poor and I help the poor.' It doesn't work that way. They want know how many people you're helping, how you're going to bring them from poverty to no poverty, your timeline, etc.

What other things do you write?
JS: I also do travel and food writing. All I know is that I don't like novels. I'm into the real world. When I write about the problems in Mindanao, I don't invent it. I see the situation and then I write about it. Now, it can go both ways, one, it can be a gripping story or, two, it gets published and people are now conscious and aware of the problems in Mindanao. And the desired effect is to raise funds to solve these problems.  

What got you interested in writing?
JS: I must credit my teacher. One time, I had a math teacher in La Salle who says, in front of my classmates, "You're Silva,right? Brother Harry's been telling me about you, you write like Faulkner." I never read Faulkner, I know of him. But what he said stuck in my mind. A teacher telling me I write like Faulkner in front of my classmates. So feeling writer na from then on.
ADVERTISEMENT - CONTINUE READING BELOW
What's the best thing about giving the tours?
JS: I learned to be a good storyteller and I learned to be a good actor. I'm always experimenting on how to present history in an interesting manner. History is always so boring but I don't make it boring and I'm proud of not making it boring. I plan to do a cultural tour for Cuba because Cuba and the Philippines are related.

Why focus on Southeast Asia?
JS: I feel I'm an expert on Philippine culture and I feel that our people should, if they can, travel around Southeast Asia and understand what the culture of other countries is. Of all the Asian countries, we are the most westernized. I want to connect our culturati types here and make them understand that we are also connected to this larger area called Southeast Asia.      


What's your latest book A Token of Our Friendship, Philippine Photos of Male Affection First Half of the 20th Century about?
JS: In the course of collecting so many pictures, I bumped into these photographs showing men being affectionate. Because it's my bias, I collect and collect. I have written articles about how there's a tolerance in Southeast Asian society for physical affection between men and women. That culture, I find very interesting so I collect more of those photographs that show affection. The book is more like a picture book, it's not a heavy thesis. There are three sets of photographs that I'm presenting to you. One of them is solo photographs, men showing their affection by themselves. Another set of photographs is men who show their affection with each other. The last set shows their affection as a group or in the midst of a group.  And then, of more secondary interest is the fact that I did research in identifying the photo studio and getting the year. I also explained the inscriptions.
ADVERTISEMENT - CONTINUE READING BELOW
A Token of Our Friendship, Philippine Photos of Male Affection First Half of the 20th Century (P800) is available at Silverlens Gallery. John Silva will give a talk about the book on July 30, Saturday at 3 p.m to 5 p.m. in Silverlens Gallery, 2320 Pasong Tamo Ext., Makati City

Photos used with permission from John Silva
Share this story with your friends!
---
Help us make Spot.ph better!
Take the short survey
Load More Stories