Top 10 Pinoy YouTube Sensations
SPOT.ph lists the hottest Pinoy acts to hit cyberspace.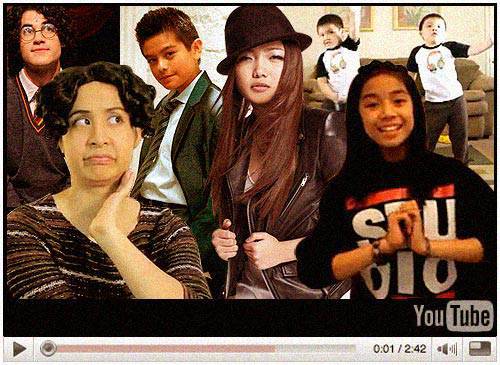 Cyberspace is their stage.

(SPOT.ph) Once intended to store amateur videos and movie clips, YouTube has spiraled into publishing public service announcements, broadcasting instructional videos, and finding the Next Big Thing. The beauty of it? No requirements necessary-not even talent (read: Rebecca Black). All you need is a catchy username, a webcam, and an acceptable amount of self-centeredness.
The appeal is obvious: reach out to potential fans without leaving the comforts of your room; it's geographically boundless exposure despite having minimal resources. One person who took advantage of this convenience was a little stranger named Justin Bieber, then an unknown teenager whose proud mother posted videos of him singing on YouTube. We all know what happened next-Bieber is only at the top of the world, after all.
But if you think The Biebs was one lucky accident, maybe this list can change your mind. Streamlining this Top 10 to just the hottest Pinoy acts to hit cyberspace, SPOT.ph gathered the most talented stars who have proven that on YouTube, the Philippine flag is definitely raised high.
ADVERTISEMENT - CONTINUE READING BELOW
Arjohn Gilbert channels Justin Bieber as he sings the ultimate LSS-song, "Baby." Posted by ryaneski on July 31, 2011.
10. Arjohn Gilbert
Claim to fame: Arjohn doesn't have a YouTube account per se but several videos of him rocking out to Charice, Justin Bieber, and Bruno Mars songs, among others, have gone viral on social networking sites. He's been filmed singing on the streets of Clark, Pampanga, as early as 2007.
Hits to date: Arjohn's "Baby" vid has 1,199,559 hits

Cyber skills: Singing
Star appeal: An indigenous street vendor singing like the pros? It's a recipe for success.
CONTINUE READING BELOW
Recommended Videos
Post-YouTube fame: In 2009, Arjohn was featured in the news program 24 Oras and the public affairs show Kapuso Mo, Jessica Soho. He was also a frequent guest on the comedy talk show Gandang Gabi Vice last month. Arjohn is set to perform a duet with no Charice in her upcoming Manila concert this year.
Twins Justin and Jeremy Garcia groove to Outkast's "Hey Ya." Posted by choynina on June 20, 2011.
9. Justin and Jeremy Garcia
Claim to fame: Proud parents Choy and Nina opened a YouTube account in July 2009 to showcase the talents of their twin toddlers, Justin and Jeremy. Seven videos later, they hit YouTube gold when the twins' "Hey Ya" video went viral and was picked up by The Huffington Post, NYmag.com, and CBS News.
Hits to date: More than three million views for "Hey Ya," 6,422,698 million total upload hits
ADVERTISEMENT - CONTINUE READING BELOW
Cyber skills: Dancing
Star appeal: This one's a no-brainer. If those sleeping kitten and puppy videos on YouTube have viral hits, what more two adorable toddlers who can "shake it better than a polaroid picture?" We're not sure if the five-year-olds know how famous they've become, but we're all waiting for what they'll groove to next.
Post-YouTube fame: Justin and Jeremy, who are based in California, have since been offered endorsement deals. Think they'll be the next Richard and Raymond Gutierrez? Not really. This pair's going international. They were recently featured on the US entertainment show, The Insider.
Mikey Bustos' tutorial on the Filipino accent. Posted by mikeybustosvideos on Feb 25, 2011.
8. Mikey Bustos
Claim to fame: The Fil-Canadian comic first took his antics to the web in September 2006. He's most famous for spawning a tutorial on the oft-ridiculed Pinoy accent-the video was soon posted and re-posted all over social media sites, garnering close to a million hits since it was first posted six months ago. To date, he has 348 videos which range from the so-so funny to the downright hilarious.
Hits to date: Almost one million views for Filipino Accent Tutorial, 5,672,835 million total upload hits
Cyber skills: Comedy, singing, performing, you name it
Star appeal: The buzz about Mikey is that viewers can't always tell whether they should laugh or cringe at his witty, over-the-top interpretations of Pinoy culture. Love him or hate him, you have to admit it he has the Pinoy accent down pat, and his shrewd, side-splitting assessments all add to the charm.
ADVERTISEMENT - CONTINUE READING BELOW
Post-YouTube fame: Mikey's career as a singer was on the rise even before he stepped into the YouTube arena (that gave him a good, solid fan base to start with). He was the first Filipino to hit it big in an Idol franchise, managing to rank 8th in Canadian Idol in 2003. From 2005 to 2007, he opened for the Manila concerts of The Pussycat Dolls and Christina Aguilera and by 2008,  he released his first album, Memoirs of a Superhero. According to his Facebook page, he is working on his autobiography slated for release this year.
Rin and Rox cover Beyonce's "Halo." Posted by hiphopRINROX on March 28, 2009.
7. Rin and Rox
Claim to fame: Erin and Roxanne (otherwise known as Rin and Rox) became such hits on YouTube that a phony even tried to impersonate them-in YouTube land, that's a measure of success. The pair joined the video site in January 2009  but had to launch a new account in March 2009 after the impostor used their names and videos. Their cover of the Pussycat Dolls' "Hush Hush" a few months later already caught the cyberworld's attention, but it was Rin and Rox's rendition of "Halo" that proved to be a smash hit.
Hits to date: Rin and Rox's "Halo" cover earned more than 6 million views and counting. Their 46 uploaded videos have a total of 41,737,462 hits.
Cyber skills: Singing
Star appeal: Sheer talent speaks-or should we say, sings-volumes, especially for this pretty pair. Their videos are very bare bones, featuring only the duo singing in front of a camera. Beauty and talent? Hey, that's the stuff stars are made of.
ADVERTISEMENT - CONTINUE READING BELOW
Post-YouTube fame: In 2009, Ellen Degeneres interviewed the pair on her show Ellen. They also attended the Grammys in the same year.
Happy Slip's take on Pinoy culture in her video titled Mixed Nuts. Posted by happyslip on Nov. 16, 2006.
6. Happy Slip
Claim to fame: With her quick wit and Eddie Murphy-style comedy, Happy Slip, also known as Christine Gambito, has been entertaining netizens since she joined YouTube in 2006. Her crazy antics have spiraled into 85 videos but Mixed Nuts, a skit about a Filipino family where she plays most of the characters, is her most popular.
Hits to date: Mixed Nuts has just a little over 4.5 million views. Christine's 85 videos have almost 87 million hits.
Cyber skills: Comedy
Star appeal: One of the first Pinoys hailed as a YouTube sensation, Happy Slip has been making cybergeeks laugh with her slapstick antics and pointed insight. She now has a solid fan base who has followed her since her first days as a YouTube comic.
Post-YouTube: A former SAG/AFTRA actress, Christine's comedic chops landed her parts in several television and film projects. In 2008, the US-based actress was appointed by the local Department of Tourism as an honorary ambassador and she posted a series of travel videos featuring the Philippines. According to her website, Christine also took part in videos for Apple, YouTube, and Intel, among others.
Watch Charlie Green's performance at Britain's Got Talent 2008 where he sang Frank Sinatra's "Summer Wind." Posted by SpiritmanProductions on April 20, 2008.
ADVERTISEMENT - CONTINUE READING BELOW
5. Charlie Green
Claim to fame: Charlie's fame began when he almost won the hit show Britain's Got Talent in 2008. Everyone wanted to see if this Frank Sinatra incarnate was the real deal, and when videos of his "Summer Wind" rendition went viral on YouTube, it was confirmed: Charlie Green was a certified internet star.
Hits to date: This particular video of Charlie Green's "Summer Wind" performance on Britain's Got Talent now has almost five million hits.
Cyber skills: Singing
Star appeal: Everyone thought Frank Sinatra was one-in-a-million but this Fil-Brit youngster just might have been able to give the crooner a run for his money. What else is rarer than Frank Sinatra's talent? Simon Cowell's seal of approval, of course. Fortunately, Charlie has both.
Post-YouTube fame: After Britain's Got Talent, Charlie went on to perform in concerts around UK. He has released two Philippine albums: Charlie Green (2008) and A Friend Like You (2010). Last year, Charlie also toured with the local pop princess Sarah Geronimo. Just this February, he did a series of performances to promote his second album.
It was Arnel Pineda's rendition of "Search is Over" that had Neal Schon knocking on his door. Posted by zoobandrocks on July 12, 2007.
4. Arnel Pineda
Claim to fame: YouTube user and Arnel Pineda fan Noel Gomez didn't stop believing in Pineda's band, The Zoo, so he posted videos of the group covering rock classics on the video site. Noel's posts didn't exactly garner a wide YouTube following, but in June 2007, they caught the attention of Journey guitarist Neal Schon, who invited Arnel to audition for his band. The rest, shall we say, is rock 'n'roll history. Noel's original YouTube channel was suspended but by then, Arnel had planted himself on the cyberspace map.

Cyber skills: Singing

Star appeal: With heart, soul, and undeniable talent, Arnel Pineda was a prodigy waiting to be discovered-internationally, anyway.

Post-YouTube fame: Since that fateful YouTube discovery in 2007, Arnel has been the lead singer of the epic international rockband, Journey. Some of his numerous guestings include appearing on The Ellen DeGeneres Show, The Early Show, and Oprah.
ADVERTISEMENT - CONTINUE READING BELOW
Maria Aragon does a stripped-down version of Gaga's "Born This Way." Posted by rojuanearagon on Feb. 16, 2011.
3. Maria Aragon

Claim to fame: This 11-year-old vocal powerhouse opened a YouTube account five years ago, and while her uploads have had a steady following, it was that soulfully somber video of her singing Lady Gaga's "Born This Way" that proved she was a force to be reckoned with-which, by the way, earned her an invite to sing with the eccentric pop princess herself at one of Gaga's concerts.
Hits to date: Aragon's stripped down version of the Lady Gaga posted just this February has more than 40 million views and counting.
Cyber skills: Singing
Star appeal: Hers is the classic tale of a little girl with a big voice. When Gaga first watched her video, she tweeted, "Can't stop crying watching this. This is why I make music. She is the future." If Gaga's rave reviews mean one thing, it could be this: in the world superstardom, it takes one to know one.
Post-YouTube fame: In February, the Canada-based teen guested on the Ellen Degeneres' show and later sang a duet with Lady Gaga herself during the pop star's concert. A month later, she sang for the Canadian prime minister Stephen Harper. In June, she was featured in an HTC commercial, and just last month, she performed in front of the Duke and Duchess of Cambridge, Prince William and Kate Middleton. Currently, Maria is in the Philippines where she will stay until September. She has signed a recording contract with Star Records.
ADVERTISEMENT - CONTINUE READING BELOW
The first act of A Very Potter Musical where Darren Criss played Harry Potter. Posted by StarKidPotter on July 5, 2009.
2. Darren Criss
Claim to fame: Many fans don't automatically associate Darren with a singing and dancing Harry Potter-a role he played years before he landed the part of Blaine in Glee. Darren wrote and played the title role in A Very Potter Musical, which was performed in the University of Michigan in April 2009. The show went viral on YouTube three months after.
Hits to date: Uploaded in parts on YouTube,  each video has over a million hits. The very first one, A Very Potter Musical Act 1 Part 1, has more than six million views.
Cyber skills: Singing
Star appeal: According to MTV, A Very Potter Musical is one of the most beloved Harry Potter parodies of all time. It's not easy to live up to a literary legend (just ask Daniel Radcliffe) but we think Darren did it justice.
Post-YouTube fame: This half-Pinoy has taken Hollywood by storm. Apart from founding Team Starkid, the production company responsible for A Very Potter Musical, Darren is also a Glee mainstay, playing one of the show's most favored characters. Interestingly enough, Darren will also play J. Pierrepont Finch in the Broadway show How to Succeed in Business Without Really Trying-a role formerly played by the original Harry Potter, Daniel Radcliffe.
This 2007 performance may not have won Charice any awards but the video went viral anyway-so much so, that it landed her stints on Oprah and Ellen. Posted by korthz20 on May 30, 2006.
ADVERTISEMENT - CONTINUE READING BELOW
1. Charice
Claim to fame: Charice's road to stardom began in 2005 when she joined the Filipino talent competition Little Big Star. While that didn't give her the happy ending she hoped for, a fan, Dave Dueñas, under the username FalseVoice, posted videos of her performances in 2006. According to an interview in Manila Bulletin early this year, Dave said the original uploads, which reached over 15 million hits, were taken down due to copyright issues. In 2007, Charice once again joined a talent search, Star King in Korea. YouTube videos of her performance there caught the eye of producers of The Ellen Degeneres Show. Charice was flown to the US in December 2007 to perform for Ellen.  After several international interviews and performances, Charice hit the holy grail: she was interviewed by Oprah in May 2008.
Cyber skills: Singing
Star appeal: She's the original little girl with a big voice. Her chilling renditions of powerhouse hits like "I Will Always Love You" and "You're Going to Love Me" continues to blow people away. Currently, Charice's career is in full swing-she has launched albums abroad, appeared on Glee, and has sung alongside some of the biggest names in music. While her international fame may have had humble beginnings on YouTube, this proud-to-be-Pinay phenom credits her world-renowned success to one word: Oprah.
Post-YouTube fame: Before Oprah granted Charice her almighty hand, the young singer released an eponymous Philippine album in 2008. She also joined music mogul David Foster in a series of concerts, Hitman: David Foster and Friends. In 2009, Charice performed a duet with the great tenor, Andrea Bocelli, and with Celine Dion on separate occasions. As for her acting credits, Charice appeared on Alvin and The Chipmunks the Squeakquel (2009) and in three episodes of Glee; she also has an upcoming movie with Salma Hayek in 2012 titled Here Comes the Boom.
ADVERTISEMENT - CONTINUE READING BELOW
Artwork by Warren Espejo; Photo of Charice from Charicemusic.com.
Share this story with your friends!
---
Help us make Spot.ph better!
Take the short survey
Load More Stories