On the Spot: The Zombettes
Model-DJs Mia Ayesa, Ornusa Cadness, and Sanya Smith on their Dirty Blonde Club Tour, party-starting tracks, the hardest gig they played, and more.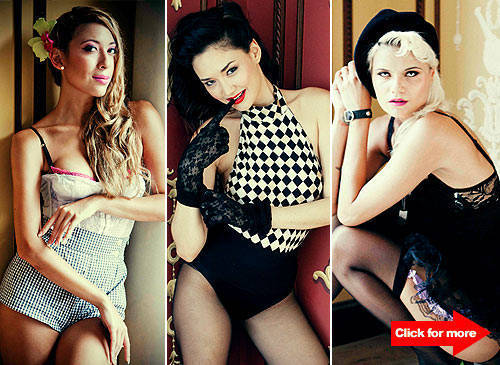 Mia! Ornusa! Sanya! That is: Ayesa, Cadness, and Smith. Click for more.
Dirty, not dumb, is the proper qualifier when it comes to these blondes: one raccoon-streaked, one growing hers out, one blue-tipped (as of press time, and just for a shoot!)-a short-lived four-ish days, which found the latter bleary-eyed blondie having a mini-identity crisis every time she'd see her face in the mirror.

In order of appearance, they're Mia! Ornusa! Sanya! That is: Ayesa, Cadness, and Smith. We say it in a manner begetting fanfare just cause it suits them-the leggy trio known as The Zombettes; the one-time burlesque aspirants; a model-hard, party-harder clique whose members all started hanging out at fashion shows by virtue of their profession. Tonight though, as with many others, they're at the club. Well, Opus.
ADVERTISEMENT - CONTINUE READING BELOW
CONTINUE READING BELOW
Recommended Videos
Kicking back on the couch for this interview, group-thinking in their choice of leopard-print flourishes (a belt holding up Mia's trousers; booties for Ornusa; a jacket for Sanya), talking off their low-cal dinners (soup for M and S, a chickpea salad for O)-commenting on the under-the-sea treatment of the new lights system, all before getting to it: their headlining set at 12:30.
Watch The Zombettes Dirty Blonde Club Tour teaser


SPOT.ph: How did The Zombettes come about?

Mia: Wow. (Laughs, all around) It started with a wow.

Ornusa: We wanted to do something since we're always together.

Sanya: We actually started out wanting to be a singing group, but then none of us sing. It never really happened... (Laughs)

SPOT.ph: When did each of you get into spinning?

Mia: My first time was '05.

Sanya: I think '07, in clubs.

Ornusa: I started a bit earlier. I was just messing around every time there was no opening set. One night, they got all three of us, and then all of a sudden, everyone would package us together. If someone would book one of us for a gig, we'd go, "Do you want to come with me?" And then we'd split the talent fee, 'cause we didn't want to spin alone.

Sanya: We'd do Mondays before.

Mia: Also, Fluxxe.

Ornusa: Then we did the opening party, the pre-party for Hed Kandi... We didn't even know what we got ourselves into until we got there! Like, what is this? This is a HUGE event.

SPOT.ph: What about the name?

Ornusa: We wanted to be a singing trio, like the ones back in the '60s-when they had group support and choreographed dancing, and everything ended with an E-double T-E-S.

Sanya: The Ronettes right?

Ornusa: That was my example. Then Sanya was into zombies, so we go, "Yeah. The Zombettes."

Sanya: Then someone wrote an article about us. The writer included it in there (the reference to zombies).

SPOT.ph: How did you even think of wanting to be a singing trio in the first place?

Ornusa: I wanted to sing... (laughs) It was my idea!

Mia: I wanted to daaaance... (all laugh)

Sanya: I wanted to tap dance.

Ornusa: This was years ago, when we predicted that the whole burlesque thing would get big. Before it exploded, we were like, "Dude, we have to get on this." We were gonna get a choreographer, do the harmonizing, take vocal lessons. We were already looking it up.

Mia: But it was too far from what we know. Whereas DJing, we were all already doing it individually.

Ornusa: I went as far as getting the number of the voice coach of Sarah Geronimo, though. (Laughs)

Mia: We were going to take ballet lessons. We were kind of there already...

SPOT.ph: What about your individual nicknames?

Ornusa: Well, Flex has been my nickname since I was 11.

Sanya: Saninja? I don't know, ninjas are awesome! They're cool.

Mia: Miaow. 'Cause I like cat ears... (turns to Sanya) I like cat ears!

SPOT.ph: What sort of music do each of you like to play?

Ornusa: I usually play mostly electro, or electronica. I'm more into the really heavy stuff. Stuff with female rapping-I wanna rap; I dunno, it's a side of me that comes out when I'm a little too drunk. Mostly, I like stuff with cool female vocals like Santigold, MIA, Karen O... that and mostly hard electro.

Mia: Before, I would usually play rock, maybe a little bit of industrial even. Then I decided, oh well we're supposed to be bringing the party, everyone's here to have fun, so I decided to put in some hip-hop, Top 40, a little bit of rock.

Sanya: It's bipolar. But basically I like rock; I like playing with the classics. I do throw in some kengkoy songs, like a really weird version of "Kiss the Girl," from The Little Mermaid.

Ornusa: Or I'll play the Baywatch theme. (Giggles)

Sanya: Or Scatman, or the Star Wars theme. I play a lot of mashups, with hiphop or electro.

SPOT.ph: What about equipment?

Ornusa: I'm using a toy, just a lightweight thing my boyfriend discovered for me in Hong Kong. Usually when we're doing a setup with three DJs, it's hard to find space. I think most professional DJs consider it a toy, but it saves my life.

Sanya: I use the digital equipment, but I really want to learn how to spin with records...

Mia: I practice on the turntable but I play on digital. I dunno why. (Laughs) There are no plugs...

SPOT.ph: Since you guys all started hanging out as models, does fashion play a part in your DJ act?

(Ornusa's face blanks out until I point to her shoes.)

ADVERTISEMENT - CONTINUE READING BELOW
Ornusa: Oh, yeah! I forgot about my boots. (A moment of epiphany ensues, with the two other girls.) Sometimes we go out, and I go, "Guys, we're coordinated."

Sanya: I usually wear my freaky contacts but I have to get a new pair.

SPOT.ph: What about your influences? Are there any acts you look up to?

Ornusa: Justice! (Others agree) I think the whole French electro scene is interesting. Uffie, Ed Banger Records, that sort of thing...

Sanya: I'm really loving Skrillex right now.

Mia: There's also this artist called Zomboy.

SPOT.ph: For those who want to catch the Dirty Blondes Tour, where will you guys be?

Sanya/Ornussa/Mia: Opus, Robot, Time, Tides Boracay, Manor, Excess....

SPOT.ph: Best crowd you've played?

Sanya: Bacolod.

Ornusa: People were up 'til 5:30 in the morning, for Masskara last year.

Mia: During my set, they were like, "Can you play with one CD player?" (Laughs) The sun was coming up!

Sanya: We're really looking forward to it this year.

SPOT.ph: What about the hardest crowd you've played?

Mia: Fever.

Ornusa: Yeah, Fever was hard.

Sanya: The more mature crowds are difficult.

SPOT.ph: What's your party-starting track?

Ornusa: "Sophie Needs A Ladder" by Deadmau5.

Sanya: Yours is "Turbulence!" (Says to Mia)

Mia: But my favorite is Marilyn Manson's "Sweet Dreams," though I haven't played it since our opening night...

Sanya: For me... Cyberpunkers' "Fuck The System." But it changes every time.
ADVERTISEMENT - CONTINUE READING BELOW


Catch The Zombettes as they open the show at Opus; as Opus Signature Series, Random Minds, and Hennessy Artistry present New York's very own The Misshapes, this Friday September 23, 2011.


Load More Stories