On the Spot: Chico and Delamar of The Morning Rush, Monster RX 93.1
Fifteen years of radio, an album, and a best-selling new book: what's next for the DJ duo?
(SPOT.ph) Lewis and Clark, Batman and Robin, and even Beavis and Butthead. Chemistry? Check. But good rapport is just part of it. It takes balance, adaptability, time-tested endurance, and of course, an audience that, hopefully, will want to stick around. In the local radio world, no team-up exemplifies this more than Chico Garcia and Delamar Arias, co-hosts of SPOT.ph's top-ranked The Morning Rush on Monster RX 93.1.
You might have listened to them-on the way to school or while driving to work: that jocular banter that's half joking, half arguing, half folly, but purely entertainment. An unflappable dynamic has made them the station's No. 1 radio show, as well as one of the longest-running programs on FM radio. More energizing than a fresh cup of coffee, this tandem has been making traffic-stricken drivers and heavy-eyed commuters laugh with their witty insight and comedic antics since July 1996. But having an award-winning radio show is only beginning. Through the years, the duo that brought us the "Top 10 Funny Gay Quotes" and other outrageous lists have come out with an album (yes, you read right), a TV show, a newspaper column, and now, a best-selling book featuring the best of their quirky Top 10 lists.
With a lot more spunk left in them and a new co-host (Gino Quillamor), it's safe to say that this team will continue to entertain listeners well into the far, far future. SPOT.ph sat down with Chico and Delamar to talk about 15 years of The Morning Rush; friendship-and how theirs used to be nonexistent; their new book, The Best of Chico & Delamar's The Morning Rush Top 10; and how their show can change the world.
ADVERTISEMENT - CONTINUE READING BELOW
The Best of Chico & Delamar's The Morning Rush Top 10 is out in book stores nationwide. Book-signing is on January 28, 1 p.m. at Robinson's Galleria (activity center).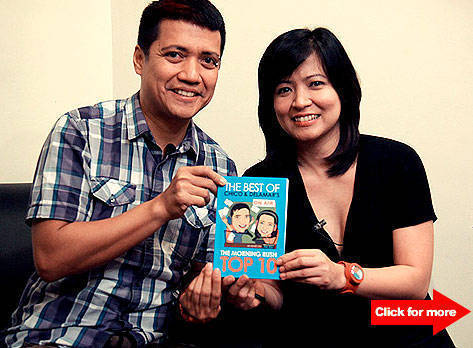 From airwaves to book pages. Click for more.

 

The Morning Rush has been airing since 1996; can you give us a brief history and background of the show?

Chico: Before, the format of RX was just jocks, all of them were male, and the females were newscasters. So it was pretty clear the delineation between jock and newscaster. At that time, I was the morning jock and then the newscasters would rotate. Some days they'd be in the morning, some days in the afternoon, some days in the evening. There was a time when it was Delle's turn to do the morning so she was there for... how many months? Five months?

Delamar: Eleven

C: Eleven months?

D: On your show? Kasi it was just The Morning Rush with Chico Garcia. And then every time I get here with him in the morning, I'd do the news for him and we'd end up arguing. Like really arguing so we did that for about 11 months on and off, on and off. And then all of a sudden parang management got a lot of comments na why don't you just bring the two of them together on a show. So on July 8, 1996, they decided to make it The Morning Rush with Chico and Delamar.

ADVERTISEMENT - CONTINUE READING BELOW

 

When was it just The Morning Rush with Chico?

D: Kasi in 1995, FM radio was so different then. It was the time when RX started this interactive FM radio where we had the Internet and the pager and all shows really wanted to hear more from the listeners. There was a higher participation from the listeners-that was the campaign and the direction of RX then.

C: Actually RX is one of the first to... Before it was just like this DJ would be 6 to 10, the next DJ would be 10 to 2. We started it where there was a title to the show.

C & D: There's something happening per show which is different.

C: Parang it became like...

D: Like TV!

C: Like there was a show title, there were like portions in the show. Before when I listened to the radio, it was just lots of jocks (with a fixed timeslot). Very interactive. We were one of the very first to do that.

 

When did the Top 10 lists start?

D: That's a little tricky because obviously we left RX for a bit...

C: Three years.

D: And in the time we were not in RX, we had actually done that portion. So we had the Top 10. When we came back, that was something that we decided we wanted to do. We just continued it. So The Morning Rush Top 10 actually started in 1999. So we've been doing it for 13 years?

C: I think so.

 

Did you know each other prior to becoming co-hosts?

ADVERTISEMENT - CONTINUE READING BELOW

C: No. We met here.

D: Right off the bat we were fighting. Even as strangers we were fighting.

 

Was it difficult to develop chemistry as strangers?

C: Actually the so-called chemistry evolved. The chemistry before was a very volatile chemistry. We didn't get along but I guess we sort of like didn't get along with style?

D: You don't need to get along to have chemistry. Some people can fight and it's not entertaining.

C: A lot of people think that chemistry is just getting along perfectly. Actually sometimes chemistry is just the way you interact. There's a certain way that you either clash or get along well together-

D: -That's entertaining. Kasi the fights were real. The fights that we used to have were very real. I was tempted to walk out on the job. But the listeners thought it was a scripted thing like a joke. But it really wasn't, it was real. So I guess that was chemistry. I think it was, as soon as we found our words, we were really interacting, it became really obvious that the chemistry was there.

 

 

First impressions of one another

 

How do you deal with tampuhans when you're on air?

C: Well...

D: It's really bad

C: You would know that we're really fighting if we're so polite with each other. The more polite we are with each other, the more we are fighting for real.

D: For example, I let him finish a sentence without interrupting him, or the other way around, that means we're fighting. When we're stepping on each other's sentences, that means we're okay. Kasi you know when you're fighting, you don't want to start anything pa. You kind of wait for him. You're much more polite when you're fighting. At least the two of us are like that.

ADVERTISEMENT - CONTINUE READING BELOW

 

As one of the longest-running shows on radio, how do you cater to your listeners' ever-changing tastes?

C: Although we have a relationship with each other as co-hosts, you can also treat us as one unit and we have a relationship with our listeners. I guess with any successful relationship, you need to learn to listen. So, as long as you listen to your audience, I think you'll be safe. Kasi sometimes, especially with people who've been in the business for a long time, they insist on what they want; and sometimes, the longer you stay in the industry, you like different things and you can't always stick to what you want. A lot of the time, we do a give and take thing. We do a little bit of what we want and we do a little bit of what they want. If you just listen to your market and you listen to what they want, there's a better chance of lasting long in the industry.

 

Are you aware that you were ranked No. 1 on SPOT.ph's list of best radio shows?

C: Yeah! We were thrilled.

D: We were very surprised because The Morning Rush is, I would even think, the longest-running FM radio show. Kasi the ones we started with from other stations aren't there anymore. It's different people. When we saw that, we were amazed because normally on FM radio, you want something new, you want something fresh. We were kind of surprised that we managed... We were really surprised that "Wow, we're still No. 1." We were thinking to ourselves, "Okay na tayong No. 3 or something like that but when we saw No. 1, it's really good.

ADVERTISEMENT - CONTINUE READING BELOW

C: Who would've thought that a 15-year-old show would actually be... you know, we'd be happy to make that list and to be No. 1 was like the icing on the cake.

D: What accounts for the longevity: I really think a lot of times is that there are many things that people want to do with us. And you really need to be open to it. Like we've had many people join us on the show. We've had Brad Turvy, we've had Karen Pamintuan, and many others-whether they're student jocks or celebrities, and now Gino is the latest. It works eh. You have to be willing to let it be. It can't just be Chico and Delle. If the new situation says it has to be a trio, you gotta still make it work. And I think every time there's a change, it keeps people on their toes...

C: Even us!

D: Even us.

C: If they say it's just the two of you, okay! If they say it's gonna be the three of you, okay! If they say it's going to be the 10 of you, okay! I mean, you have to be able to roll. Make the best out of it.

 

How do you choose topics for your Top 10?

C: It's a 50-50 thing. A lot of it comes from us, a lot of it comes from our listeners, a lot of it comes from the listeners and we tweak it. We don't use it exactly as it is but it gives us an idea for a nice topic. So it's a very dynamic relationship between us and the listeners.

ADVERTISEMENT - CONTINUE READING BELOW

D: And I think after 15 years, you get an idea of what topic will fly and what topic won't.

C: Actually, our book is the perfect embodiment of the show because technically it's our book but when you read it, it's actually coming from our listeners. We're like the moderator of all our listeners so it's the perfect way to describe the show. Although yes we are the hosts, a lot of the entries are from the listeners. We just offer the side comments, the reactions...

D: If you can squeeze an entry and get more funny stuff out of it, you kinda do it so run with it. If there's nothing, we leave it.

 

What categories or criteria do you think of when you choose topics?

C: Syempre we try to come up with variety. If we do a really silly Top 10 today, then we give ourselves a reason to do something a bit serious tomorrow. Or if we do something depressing today, we have to make sure the next day has to be kalog. You have to mix it up because you don't want to give the same thing over and over again.

D: What I noticed is if you give a topic that's wide, there's a huge umbrella of what they can do with the topic, ginaganahan sila to come up with entries and join the Top 10. If it's too narrow, there's no fun in that. If you make it like a wide theme, then you can have a lot of fun.

ADVERTISEMENT - CONTINUE READING BELOW

 

 

From being strangers to friends

 

Do you have a favorite or most memorable top 10 list?

C: Oh, there's too many. The book is the perfect example that you can't limit it to just one. Even though it (contains) a hundred, it's (still) just two years' worth lang. It's not even like the Best of the Top 10, it's just the best of two years.

D: I remember, for me, the one that sticks out the most in recent shows that we've done, I think it was in 2010. We had just won the KBP Golden Dove Award for Best FM Radio Station the night before.  So we were so puyat. We had come home siguro mga 4 na from Tagaytay. We were really resigned that the show that day was not gonna be good because we were tired. But it was one of the best shows we've ever done.  That was the knock-knock (theme). We had Top 10 Knock-knock jokes pero yung mga knock-knock jokes namin was the start of a song. It was, for me, the one that stands out the most in recent shows.

C: Ako siguro, it's very memorable because the effect on air translates into the book. Kasi a lot of people, tell us that when they read it here sa book, it's the one entry where they would cry. The poor people quotes ("Examples of Poverty That Made You Cry"). Usually, you'd have sad entries pero not sad na parang it'll touch you to the point na you'll be in tears. When we did that, it was very-not depressing-but it will touch you. Nakakaiyak yung entry. You know how there's a difference. You know how like some movies will make you cry, some are depressing. Hindi naman siya depressing. It's that good kind of cry kasi it touches you eh. And apparently, even sa book, people would tell us that "Gosh, we're laughing one moment and then we get to that part" and they start crying. It really has that effect even with us. We were having a hard time doing that topic kasi naiiyak na rin kami. I don't know, I guess it's something that you never expect people actually go through. Things like that. I guess that was pretty memorable kasi mas common sa amin yung tumatawa kaming lahat. It's a happy show so when you have something like that, it sort of stands out kasi we don't do that every day.

ADVERTISEMENT - CONTINUE READING BELOW

D: But I think that's one of the things (that happens) when people really don't know what to expect from you. You can do serious, you can do funny, you can do taray, you can do jologs. People really don't know what to expect and people love that. When they hear a conversation, they don't want to know where you're taking them. They just trust that you'll make it fun.

C: Even when we do scary, even when we do sad, it's still fun. You know what I'm saying? Even if it's not Ha-ha fun, it's still fun for them as an experience. It's like when you ride a rollercoaster. Kasi 'di ba when you ride a rollercoaster, you're not happy happy, you're scared half to death pero you love it. You enjoy it. Parang ganoon.

 

Spontaneity is important when you're hosting a radio show. What do you think of when you're on air?

C: It's so funny you should say that. A lot of people would swear that we script the show. Sabi ko, you know what, you give us too much credit. I mean, what sort of work do you think we put in that we would write all that, what, the day before, the week before so that we'd have a script? Can you imagine the number of scriptwriters we'd need? Siguro the script would be so thick sa dami ng talk namin on air.

D: I think you need to be able to make fun of anything. Second, you need to be conscious that you're entertaining people. You need to kind of catch their attention in whatever way-in a sad way, in a funny way, in a scary way, in a funny way, in an impressive way, in a taray way. Whatever it is, you just need to make sure that people are engaged; that you catch their attention and you don't let go. And some people do that easily. Like Chico, he has many characters inside of him so that's pretty easy to do.

ADVERTISEMENT - CONTINUE READING BELOW

C: That's why it's essential for the hosts to be on the same page. Kasi it's like a tennis game. If somebody throws the ball at you and nobody throws it back, then it's dead. But if you throw the ball to them and then they hit it back to you, then it becomes an exchange. That's where it comes from.

D: Actually batuhan.

C: You start off with, let's say, pork and beans and you end up with Julia Roberts. 'Di ba? And you don't know how you got there but that's how it works. That's a very common comment we get: How did we get to here from there but that's part of it. If ever there's such a thing, it's a conscious spontaneity. It's not so much the mindless spontaneity na we'll just say whatever we want. It's half that but it's (also) half "Look, I'm a radio broadcaster and I'm here for a purpose. I'm here to entertain." So, while you're being spontaneous, there's always that guard in your head that it has to be entertaining. You're not doing this just for you. You're not just two or three friends talking and having coffee. You're in front of a mic and you have so many listeners listening to you at this point.

On ranking first on SPOT.ph's list of best radio shows to listen to

 

Before, we noticed that Chico would veer more towards the daring comments while Delamar would pull him back. How do you think that dynamic would change now that there are three of you?

ADVERTISEMENT - CONTINUE READING BELOW

C: Mas mahirap na yong trabaho niya (Delle).

D: Actually, to be totally honest, the group is very young. It's the first time that the three of us have worked together and this is only my third week. They've established how they would do the show with just the two of them. So I'm back, you really have to find your footing in the triangle. For me, I'm every day trying to see where I should be. Kasi sila, medyo settled na sila. They worked with each other for maybe 12, 13 weeks. With me coming in, I'm learning again how to do this and that in itself is exciting. I don't know if I'll be conservative. Hindi mo rin alam eh. So basically you just have to try everything. If I need to poke the two of them, make them fight, or tease them together, you can do just about anything. And once you hit the right note na you know that's what's entertaining, then that's what you do.

C: Yes because even when it was just the two of us, through the years, the dynamic has changed. If you were to time-warp yourself back and listen to us back in 1996, the dynamic was very very different.

D: It's a different show.

C: So you know, as you go along and as your personal lives change, syempre the dynamic changes as well.

D: I wish we had podcasts of those. 'Cause we were very very different. A very different show.

How different? Like more serious?

ADVERTISEMENT - CONTINUE READING BELOW

C: I wouldn't say serious but we were in different times in our lives. Not so much na-

D: It was volatile eh. It was a fight. It was a funny fight.

C: Funny for them-for the listeners. Kasi for us, a lot of the time, we were actually fighting then. Sila natutuwa pero hindi nila alam nag-aaway na talaga kami.

D: I don't know how to explain it. We were very different.

C: And before we weren't friends at all. It took us years before we actually called ourselves friends.

D: We weren't friends then. Ngayon, we "used to be friends." Ha ha ha

C: As in before talaga, people would always say "How long have you been friends?" in interviews ha and we would say, "Actually we're not friends."

D: We don't hang out.

C: We're serious. We don't hang out which was true naman talaga.

D: We would only talk when we were doing the show. Outside of the show we don't talk. We just say, good-bye, then go home.

C: Kasi 'di ba you can't say you're friends when you don't even hang out. How can you be friends 'di ba? So we were like, we're together on the show but the moment we're done...

D: We were doing the show for years already before we became friends.

C: Before, she would have her set of friends and I would have my set of friends. Our sets of friends don't know each other. Wala kaming common friends. Wala-

ADVERTISEMENT - CONTINUE READING BELOW

D: You could do a show with a stranger and it would be a hit.

C: Whatever we learned from each other, we learned from each other on the show. Like off air, I wouldn't ask her something personal, she wouldn't ask me something personal. But on air, she would talk and I would talk and it'll be like "Ah, okay, okay." But eventually, we did become friends because there were some things shared that were irreversible. Ha ha. Eventually, we found ourselves common friends and we became a barkada na after that.

 

How have your listeners responded now that Gino's (Quillamor) part of your group?

C: It's very interesting. It's very strong. There are those who really really love it, there are those who really really don't like it. But I think what's good is that there is a reaction. The worst reaction is-

D: NR.

C: Nobody cared.

D: Like "Uh, okay." They feel like they really like it or they don't like it which is good.

C: There are those who really hated it at the start but are now loving it. Kasi when you've got something that polarizes people that's actually a good sign because it means that you will be talked about.

D: And that's always good.

 

 

Chico and Delle discuss their new book.

 

What do you expect now that Gino is there?

C: Actually, even if we really wanted to answer that question, we cannot tell you.

D: We don't know!

ADVERTISEMENT - CONTINUE READING BELOW

C: That's what the theme of the show has been from the very start. Who would have thought that we'd be where we are now?

D: I think it's really the element of the unexpected and the unknown that makes the show fun. We don't know how today's show is going to shape, how it's going to sound.

C: And we don't want to peg it because when you peg it, you're putting the animal in the cage. But if you let it loose, who knows where it will go, 'di ba? Who would have thought that back in 2000, we would have a CD? Or that we would have a TV show? Or that we would have a book today? Or who would have thought that we would do raps on air? This is something that we would never, if you were to ask us years ago if we would do these things, we would probably say no. Pero I guess that's what makes it good. We don't play that game na "Where would you be five years from now, 10 years from now?" Seriously, you know, we'd like to keep it open so that we leave space for creativity that might come our way. We're really opening ourselves up to the possibilities out there.

 

How did you guys react when you found out that your Top 10 lists would be compiled into a book?

C: Actually, we already toyed around with the idea. Kasi people started telling us na eh na parang you guys should collect your Top 10's and make it into a book. Even before that clamor, we already thought about it na wouldn't it be nice if we had a collection. So when people started saying na "You guys should have a book na Top 10," we were like, "Yeah, yeah, we also thought of it." We just didn't know how to do it.

ADVERTISEMENT - CONTINUE READING BELOW

D: We thought we would just turn it into a book someday. Last year in 2011, the Summit people decided to offer us like, "Have you guys really thought about a book?"

C: And then we were like, "Yeah!"

D: We've always thought about it.

C: For years!

D: But we didn't know how to go about it. Then there they were telling us, so this is how you go about doing a book. So finally, after many years of saying we were going to do a book, we finally did it.

C: We just needed guidance. Actually, 'cause we're so not go-getters that way. You know how some people, when they say "You know, we're going to do a book," they know what to do or they start researching. Kami, we're always like, someday we will do that but we don't actually take steps. So when people who know their way around the industry said...

D: We were just happy that the offer to do the book came on our 15th year.

C: The timing is perfect.

D: It would coincide with whatever big year it was. It was going to be a big year for us and then book was going to happen.

C: Actually, we announced that we were coming out with a book during the 15th anniversary. So it was nice kasi parang it was almost as if it were planned pero it wasn't. Nagkataon lang talaga.

D: Ako I was worried that it's not going to translate into the written form 'cause it's different when you hear it delivered on air. Because how he delivers it-

ADVERTISEMENT - CONTINUE READING BELOW

C: The reactions-

D: The reactions, the intonation, it's what makes it funny.

C: Remember when you read the entry on air, it wasn't just that. After that, there were side comments. Hindi na kasama sa book 'yon.

D: You know, it's really-if we do say so ourselves-it's a very funny book. I mean, the first time the Summit people gave the book to us, we both went home with a copy each and ako, I opened mine. I was already laughing and some of them I don't remember at all that we did it. So I was like, hey if this is the reaction of people when they read the book, it's probably going to be good.

C: And it came from us, it came from our Top 10 pero that day that I got the book, the next day I was leaving for Singapore and we were supposed to be at the airport at 4 a.m. I was still reading the book at 2 a.m. Alam kong I'm supposed to get up at 3 pero, I was like, why am I reading this when we know these entries. So I'm thinking, maybe for people who haven't heard of these entries, this might actually be a funny book.

 

Chico explains how The Morning Rush can change the world.

 

 

According to the Professional Heckler in the foreword, The Morning Rush will re-shape the world's economic, social, and political landscape. Can you comment on this?

C & D: Ha ha ha

ADVERTISEMENT - CONTINUE READING BELOW

C: Obviously it's an exaggeration. Ha ha ha. But, no, well, seriously speaking, kasi 'di ba a lot of people, you know and we've always said this, all throughout our career, maybe it's a defense (mechanism), maybe we really believe in it, but we really say that entertainment gets a bad rep. When you say "I'm in news or public affairs," people say "Wow, it's so important, it's so respectful." But when you say you do a comedy program on radio, parang you're like, not naman that people look down on you, but it's not as looked up to as, let's say, you were doctor or you were a banker. Kasi with doctors you heal people; when you're a scientist, you discover things that change the world. But you know what, for us, we've always said that making people laugh in the morning while their stuck in traffic may not sound like a noble cause but it's got its place in the world. If you make people smile instead of making them angry in the morning, if that's our niche in the world, why not? And we always say don't look down on it, it's a very valid need in society. Maybe if people laughed more, smiled more in the morning, then there'd be world peace. If you can connect the dots, then yeah, who knows?

D: What we know for sure is that the show is listened to by people who are on the road. We know traffic gets people really riled up, they're angry, they're already in a bad mood by the time they're in the office kasi they have to go through so much traffic. But we've heard a lot of people say that "You make traffic bearable. I don't notice it." They're a lot less hot-headed behind the wheel because they're laughing. So maybe that's what we do, that's how we change the world.

ADVERTISEMENT - CONTINUE READING BELOW

C: So maybe like, who knows? (This is) just a theory, a scenario: Let's say there's this guy in the future who will save the world. Tapos 'yong dad niya laging nasa traffic...

D: I don't know where this is going. Drama 'to, drama.

C: Tapos because of road rage, the dad of this future world-changer dies kasi nag-road rage siya and nagkabarilan sila. But because the morning show was there-

D: Kami ang hero!

C: Di ba? Nagkaroon ng sliding doors moment. Instead of dying-

D: I don't know if that will actually happen.

C: -Because of road rage, he smiled and then he became happy and then because of that, nabuhay siya and then he meets this woman-

D: This is not a true story.

C: -And they gave birth to this savior who will save the world from all this misery. That's why the Professional Heckler said this.

D: Ganoon din ang Anti-Christ. Ha ha ha. We don't know but it's just fun to do.

 

Do you foresee any more books in the future, especially Chico since you mentioned in the book that you wanted to be a novelist?

C: Yeah. I mean, just talking about this, not about personal aspirations for literature pero definitely we have a lot of material. Like we said, this is just roughly 2008 to 2010. So two years' worth-start of 2008 to end of 2009. That's a small pie. We still have the rest of the others.

D: As long as we're doing the show, we can do a book. But we don't know. We'll see.

ADVERTISEMENT - CONTINUE READING BELOW

C: But definitely, at the very least, Book 2 is very possible.

 

Delle, if you didn't become a DJ, what would you have been?

D: A porn star? Ha ha ha Just kidding. I don't know. Seriously? Something boring I guess. Something very boring. But I'm glad I'm here. FM radio's cool.

<>  <>What are the highs and lows of being two of the country's most popular DJs? <>D: Ako I'll answer for him. Pagnagbakasyon ka, patay ka eh, susundan ka eh. Walang personal-personal  life eh. Highs and lows? The job is really fun. It's a fun job. Imagine if you're paid to do a show for four hours everyday and you're supposed to have fun. That's your work so I guess it doesn't get any better than that. Probably the only low point is that there is no holiday. And it's the only job-one of the jobs, actually-that the older you get, the less you are 'cause people want something fresh, unlike doctors or lawyers na you gain more experience and you get more expensive. <>C: 'Di ba if you're like a young surgeon, you get parang "Wala ba kayong mas matandang doctor?" Parang you don't trust them pero pagmatanda 'yong doctor, parang, "Okay, I want him because they look like they've have more experience." With entertainment, unfortunately, that's not the case. Although it sounds nice na you've been here 15 years but there's also that, "Okay, ilang taon na kayo?" That's the thing that, you know, we have to work up against. It shouldn't be that way but unfortunately, that's how it is.

ADVERTISEMENT - CONTINUE READING BELOW

<>D: In the States you could still be 60-something and still be-look at Howard Stern. <>C: Yeah, that's true. The top radio jock and he's old. <>D: It hardly matters how old he is. They're paying him how much? Millions to do a TV show and a radio show? The age is not a factor. For as long as you can entertain people, you're gonna stay in the entertainment industry. In the Philippines, it's not quite like that. We'd like to see how far we can go with this. <>  <>What do you guys do off-air? <>D: X-rated 'yong sa kanya. <>C: No, I have a lot of animals. It eats up a lot of my time. I mean, I have like five dogs and three cats. Hobbies? There's photography, diving, walking the dogs. <>D: When this question used to be asked before, years and years ago, I would say napping. Or I'd do yoga. But then I just had a baby so I just spend a lot of time with my baby. <>  <>You've had an album, a top-rated show, a book, what's next for you? <>C: Movie? Feeling ko movie. <>  <>What about an album with Gino? <>C: A rap album! That would be nice. No, like seriously, we would never have thought we would have a CD, what more a TV show, a book. Just like that other question that you had, we're open with whatever. We don't know what it is but we're open to it. So if someone comes out and says "Hey, you want to do a Top 10 collection"? Yes. That's one thing lang with us, we really try everything. We're willing to try everything. We don't know if it will be a success, we don't know if it will be a hit pero you offer something to us, if it sounds good, we'll do it. I guess that's what we have going for us, we like to experience new things. Kahit 'yong CD parang initially, the first reaction was "Do we really want to do this?" What if we fall flat on our face and we don't really know how we will do. But for us it's like, how many chances do you get in life to do something like this. We don't sing, we don't know what to do, but let's do it. Let's just do it. So many people would give their left arm to have a CD so now that we have it, we may not know how to sing, but we'll find a way to sing. You can't just let the opportunity pass you by.

ADVERTISEMENT - CONTINUE READING BELOW

<>  <>Photos by Warren Espejo
Load More Stories