Top 10 Local Celebrity Prenup Videos
Which wedding teaser made you feel the love?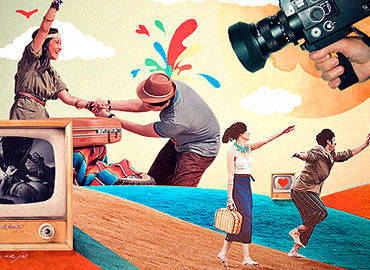 (SPOT.ph) You didn't think we'd let the wedding month slip by, did you? Wedding OBBs or prenuptial videos are the latest rage in the wedding industry. Posing stiffly and wackily in a white studio doesn't quite cut it anymore. Now, there's a need to dress up (even going as far as hiring fashion and event stylists!), select a breathtaking and usually out-of-town location, and fall in love all over again in front of the camera.
ADVERTISEMENT - CONTINUE READING BELOW
CONTINUE READING BELOW
Recommended Videos

Not falling out of step with the times, we've selected celebrity pairs whom we think were most successful in capitalizing on this trend. Romance may be long and short, complicated and breezy, but there's always a way to squeeze the depth of your love in less than five minutes. Just ask these 10.

Photos by MangoRed and Nelwin Uy; artwork by Warren Espejo


10. Priscilla Mereilles and John Estrada
Video: Nice Print Photo
If you could spend one minute looking at Priscilla Mereilles, would you? Comedian John Estrada and his bride went for sweet and (tastefully) sensual in their wedding teaser. The video was shot in black and white (and a few colored reels in between) with well-placed close ups of the Brazilian model's face.

The choice of score is debatable (it was a bit bow chicka wow wow for our taste), but then again, we sort of tuned out the sound after the first five seconds. A minute just doesn't seem enough.
ADVERTISEMENT - CONTINUE READING BELOW
9. Kyla and Rich Alvarez
Video: Nice Print Photo

When a stony-faced ballplayer willingly hams it up for the camera, we know it's true love. Crooner Kyla and cager Rich Alvarez have been dating for five years prior to getting hitched late last year, but despite the long-term relationship and their high-profile careers, the pair had been hush hush about their romance.

Their wedding teaser, showing the couple exchange rare moments of public affection on a Batangas beach, was a sweet surprise. The video, while casual and candid, took on a vintage look, a preview to their Old World Glam wedding motif.

8. Patty Laurel and Patrick Filart
Video: Nicollo Lopez of Thirty Six-O

Being herself has always been blogger-host (and one-time actress) Patty Laurel's selling point and that same lovable charm radiates throughout her prenup video with fiance Patrick Filart, who's equally charming in his own right.

With Up's "Married Life" blaring in the background, Patty and Patrick's video is a cute mix of candid moments, quirky antics, and awkward dancing. In Bridalbook.ph, the soon-to-be-bride reveals that the prenup is a prelude to their wedding. "We will be having a small wedding outdoors, away from the hustle and bustle of the metro, so it reflects a similar, laidback, back to nature vibe that we'd like to have for our actual wedding."

In this case, having a friend take your video is an advantage. Nicollo Lopez's freestyle shooting created an organic and refreshingly "un-stylized" depiction of the Pats' romance.
ADVERTISEMENT - CONTINUE READING BELOW
7. Cheska Garcia and Doug Kramer
Video: Jason Magbanua

While Cheska and Doug's wedding trailer initially appears to be a video version of their prenuptial photoshoot with MangoRed, award-winning visual storyteller Jason Magbanua, with his usual panache for capturing "moments,"  managed to inject a few candid instances in between, giving its viewers a peek at what it's like for the couple without the cameras.

A stolen kiss here, a giggle there. While it all seems very sweet, the OBB remains luxe and editorial with Doug looking dapper in strapping suits and his bride in gowns by Jun Escario and Puey Quinones. Well, we never expect anything less than glam from Cheska Garcia.
6. Kristine Hermosa and Oyo Boy Sotto
Video: Threelogy

Yes the Subic backdrop was gorgeous, Geof Gonzales' and Rabbithole Creatives' styling flawless, and the photos exquisite, but this wedding teaser is on this list primarily because we believe anything with Kristine Hermosa in it is beautiful.

Oyo, who was quite the hottie himself, and Tin opted for an eclectic blend of vintage, fashion, country, and cosmopolitan backed by Subic's scenic, war-worn milieu. The teaser is actually a simple rolling montage of the couple's prenuptial photoshoot taken by Nelwin Uy.
ADVERTISEMENT - CONTINUE READING BELOW
5. Sarah Meier and Banjo Albano
Video: Threelogy

We can't quite put a finger on Sarah Meier and her now-hubby Banjo Albano's dreamy save-the-date video. It's a hodgepodge of goth, emo, fashion, funk, grunge, punk, hipster, hip-hop, and, er, weird, even. Which is it? But the eclectic sum of many opposing parts makes sense, oddly enough. After all, if a high-fashion stylista and an affable events producer can work as well as peanut-butter and jelly, then so can an oversized basketball jersey with a multihued tear-streaked face.
Load More Stories