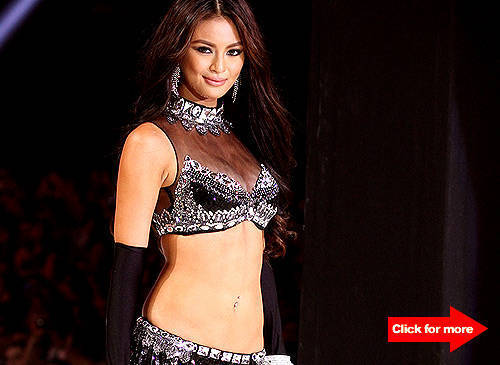 Sugar, spice and everything nice. Click for more.
(SPOT.ph) What goes on in the head of someone who's been bestowed with the highest honor in the land? (Well, at least where men are concerned.) Fresh from her win as FHM's Sexiest Woman in the World 2012, Sam Pinto arrived on a rainy... nay, stormy Saturday evening all smiles in just her boots and jeans. Cameras and reporters swarmed the goddess for her post-FHM party press conference and she looked at ease, joking with the reporters in an excited voice. Truth be told, Sam turned out to be a pretty ray of sunshine amid the storm.
With her quick answers, demure image and an infectious giggle, we could see why Sam has gotten so much attention these past few weeks. After all, how many girls can say they've been officially named the Sexiest Woman on Earth two years in a row? (Aside from, well, Angel Locsin and Marian Rivera.)
ADVERTISEMENT - CONTINUE READING BELOW
Career-wise, Sam still feels that she's at her starting point. The public is just getting to know her, although from where we were standing, she seemed pretty happy with that already. SPOT.ph sat down with the reigning Sexiest to chat about what's under the surface.
What advice can you give younger girls on stepping out, and being confident?

Sam: I guess in my case, I learned it from step one. Before, my first ever mall show, I was shaking like a [leaf]. I was nervous pa, like, I never really dreamed of it, so you learn to be kapal mukha [laughs]. Kailangan talaga, in this business, kapal mukha talaga!
You just do what you have to do.

Sam: Yeah!
FHM gives Sam the good news.
How does it feel to be declared as the Sexiest Woman on Earth the second time in a row?

Sam: Actually, crazy. I never really expected, you know, back to back. But actually, I'm very honored to hold the title for the second time around. Happy naman [laughs].
Are you hoping for a third?

Sam: Oh my god! Uhm, we'll see next year. A lot can happen in one year's time so...
How has this win affected your career?

Sam: I can't be too sure, kase fresh pa nga lang. One week palang, diba? But I think they'll expect a lot more from you.
So are they expecting a sexier Sam?

Sam: Hmm. Well see. Maybe a little bit sexier? Haha. Not super daring, though.
CONTINUE READING BELOW
Recommended Videos
Let's say it's Friday night and you're ready to have fun. Where would we find you?

Sam: I don't know, maybe at a friend's house? I'm so lazy nowadays, because I started going out early, like, 16? So when I was 21, I got so lazy to go out na. Plus, I dress up every single day! So when I'm free, I go to my friend's house. No makeup, just T-shirt and shorts and my tinselas then tuloy na.
Right now, I like chill places. Oooh, I haven't done that in so long. Maybe like Bugsy's or that level, super chill. Just hang out and drink and talk.
What kind of food do you love to eat?

Sam: Ice cream--ooh, I love sweets! When I eat, konti lang yung rice and ulam but I eat a lot of dessert. I have a super sweet tooth! You'll see me munching on like, a bar of Hershey's after a meal.
Sam's Sam Mig Light commercial.
We heard you liked surfing. How did you get into that?

Sam: Oh, well, I'm a Sagittarian, so I love doing sporty things. I had work in La Union once, and then it was like an overnight thing, so we went surfing the next day and it was so much fun!  Yeah, so, I just wanted to try it talaga and, oh my gosh, I had so much fun. You know the word stoked? As in really really na-feel ko talaga!
If given the chance, where would you want to surf?
ADVERTISEMENT - CONTINUE READING BELOW

Sam: I'm not super pro yet, so maybe I'll try Hawaii first? Or Australia.
We heard you studied fashion for a while.

Sam: Yup, in Benilde.
Do you still see yourself pursing a career in fashion?

Sam: It's still my love and my passion. I will still go with that. If I had, like, time, I would go to London and study for a bit and come back here and finally open my boutique in Manila. I just like RTW. I want something that people can wear, eh, parang level ng Topshop, parang ganon...
Sam for Esquire Magazine.
Who do you look up to as an actress?

Sam: I think I said this before, but my peg for life is Angelina Jolie. Because she's really everything I want to be as an actor, everything game and outgoing. Angelina Jolie is hot and sexy and can kick butt pa!
If you had an hour to yourself, where would you go?

Sam: Can I say home? Because I'm barely home now. I mean, I see my mom like, five minutes every day like, "Hi! Bye!" [laughs] I miss my house, I miss my dog, my family.
So, I guess you're a homebody now?

Sam: Well, now I am. Before, it didn't happen. [Laughs] But now, I miss being home. Not doing anything, just watching TV, reading, like just staying home.
Photos by Joseph Derpo
Share this story with your friends!
---
Help us make Spot.ph better!
Take the short survey
Load More Stories