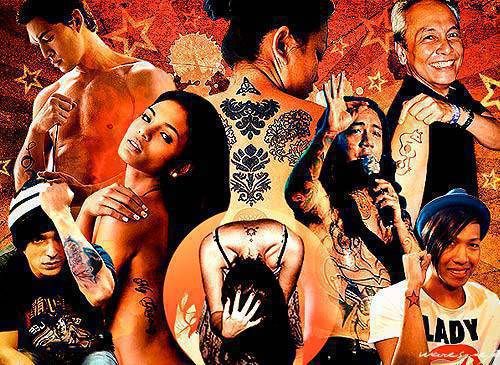 (SPOT.ph) The art of tattooing is a centuries-old one, with tattoos on one's body symbolizing strength, faith and sometimes the struggles of a man (or woman)'s life. The practice has been passed down through generations, where the traditional purpose and meaning of tattoos have been elevated by colors and designs that vary in ways that our ancestors could only dream of.
Which of today's celebs have taken to getting tattooed? Check out their ink below.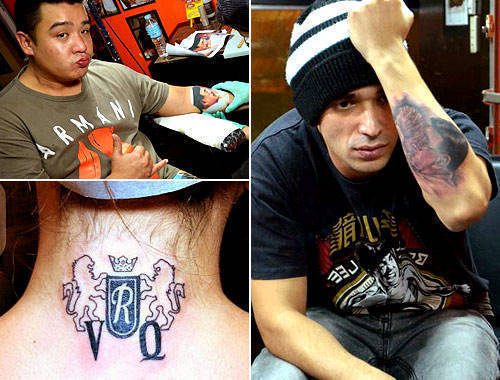 The Quizons, particularly Vandolph, Boy2 and Zia
As far as we know, these tributes to their patriarch began as a birthday gift. But when Dolphy was rushed to the hospital, more of the boys decided to forever mark Dolpy on their skins. Tattoo artist Jaime Tud was asked to come to Dolphy's wake especially to ink some of the man's progeny. Props go to Vandolph and Boy2 for choosing a solemn image of Dolphy praying. Zia opted to have her first tattoo on the back of her neck, a seal with the initials RVQ for Rodolfo Vera Quizon.
ADVERTISEMENT - CONTINUE READING BELOW
Photos from Jaime Tud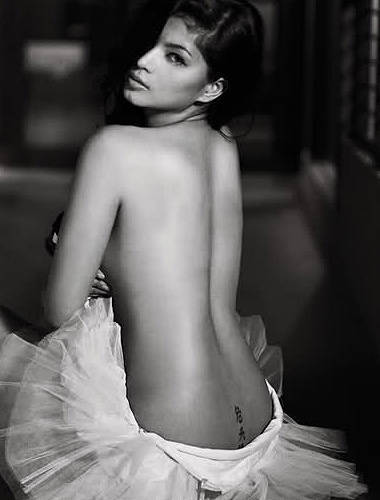 Angel Locsin
We've seen Angel showing off her tats for Rogue magazine, displaying what looks like three Chinese characters on her small of her back. Lately she's been sporting a couple of wrist tattoos, which fans tell us are Hebrew characters that mean 'always have and always will.' Hmmm. Could her current boyfriend Phil Younghusband have anything to do with that?
Photo from Rogue Magazine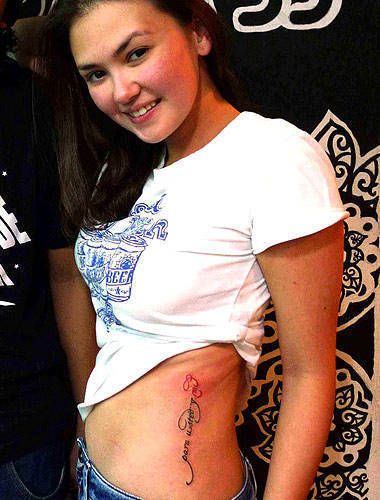 ADVERTISEMENT - CONTINUE READING BELOW
Angelica Panganiban
The Internet was abuzz when photos of Angelica and her fresh tattoo came out in 2010, when she was still in a relationship with Derek Ramsay. The delicate text on the left side of her torso says para usted y' mi, which is Spanish phrase that means 'for you and me.' Sadly, the couple has gone their separate ways, but the tattoo lingers on.
Photo by Dyun Depasupil
Felix and Dom Roco
Half of the Roco twins, Felix has always been very vocal about getting inked. He considers his body as a canvas, and he claims that this is something he's always wanted to do. When asked about his tattoos, Felix describes them as "mostly Oriental."  He also has portraits of his parents on his back and has lost count of how many he actually has. From what we can tell, he has Amo A Mi Familia emblazoned on his back. As for his twin, Dominic, his Twitter page proudly says that "body modifications do not change character." Felix has revealed before that all of his siblings and his mother have tattoos.
ADVERTISEMENT - CONTINUE READING BELOW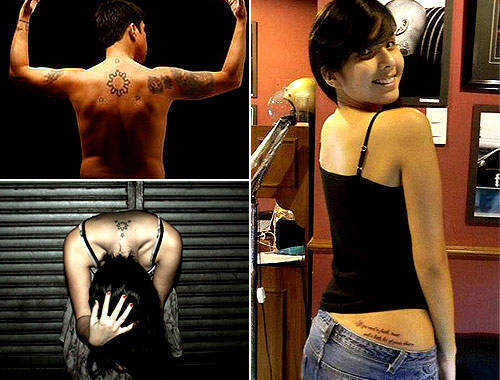 Francis, Maxene and Saab Magalona
The Magalonas have always been one of those families you wish you were a part of. But with their father, Francis M's passing; the girls have made a name for themselves in the industry that goes beyond the great heights the rapper has achieved. One of the tattoos that Francis M has always been known for is the one on his back-three stars and a sun, which is also the logo for his clothing company. Saab has adopted the tattoo as well; in the exact same place her father had put his. She also has a tattoo on her wrist, red and blue lines, similar to the ones found in school pad papers.
Meanwhile, Maxine has the words le fille à papa on her left wrist, which is French for 'Daddy's girl.' She also tells us that she has a tiara on the nape of her neck, to symbolize her father as a king. Finally, a quote on her right hip from JM Barrie's Peter Pan saying, "all you need is faith, trust and a little bit of pixie dust." She tells us that Francis M always thought that he was very much like Peter Pan, the boy who never grew old. We'll have to agree with that.
ADVERTISEMENT - CONTINUE READING BELOW
Photos from P and P Tattoo and  Julius Valledor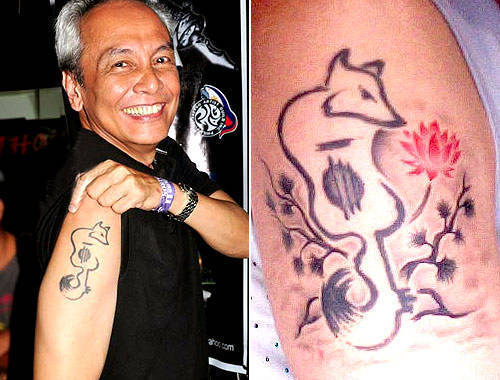 Jim Paredes
We have to say, we were a little surprised to find that APO Hiking Society singer Jim Paredes had a tattoo, although it is very awesome that he does. He describes his fox and guitar tattoo as a "symbol of music and zen." He credits the initial guitar design to his daughter, Ala Paredes, and the floral enhancements to Totoy of Sin City Tattoos.
Photo from Pep.ph and Jim Paredes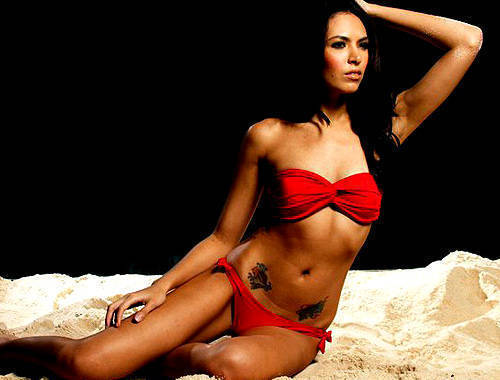 ADVERTISEMENT - CONTINUE READING BELOW
Maggie Wilson
When we said that tattoos had plenty of symbolized meanings, we were actually thinking about Maggie's. The model/actress wasn't shy to share where she's gotten inked. "I've got a Celtic cross on my neck representing my Scottish heritage," she tells us. "My name in Arabic with my own handwriting is on the side of my right tummy, an ambigram of my husband's name 'Victor' and 'my love', 2 Kois on either side of my pelvis; 1 representing water surrounded in fire and the other fire surrounded by water."  The Koi fish are symbolic as Maggie's zodiac sign is Pisces. As for the location of the ambigram, you can see that on her left hip.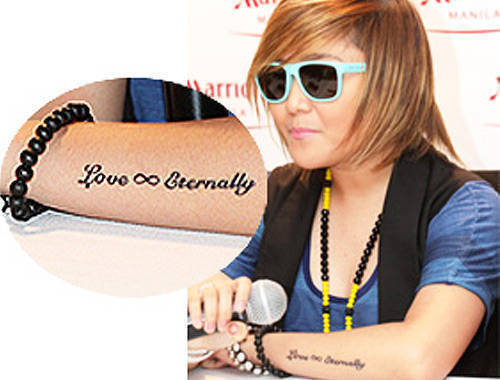 Charice Pempengco
To say that Charice underwent a recent transformation is a bit of an understatement. The Youtube sensation cut off her dark locks and traded them in for dirty blonde streaks and sported a tattoo at a press conference for Pinoy X Factor. In this photo from Pep.ph, you can see that the tattoo on her right arm says 'Love Eternally' with the symbol for infinity in between.
ADVERTISEMENT - CONTINUE READING BELOW
Photo from PEP.ph
Cristine Reyes
This girl wasn't shy about her tattoos either. A quick search gave us a video of her getting a tattoo in LA of a cross and a rosary, revealing a religious side to this famous personality. Her opposite arm bears a heart with a crucifix as well. Tattoos on the wrist always have maximum visibility, at least for the one bearing it. Why get inked if you won't get to see it every day?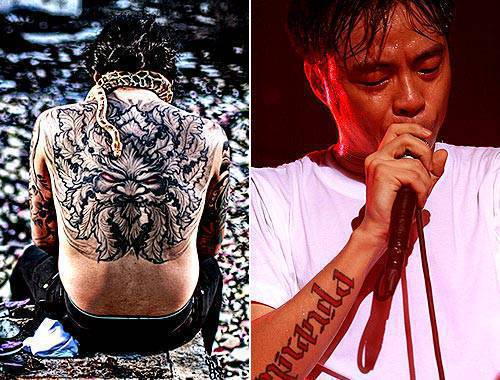 Jay Contreras and Chito Miranda
Although the lead singer for Kamikazee has several tattoos to his name, we have to say that the one on his back is our favorite. The most prominent of his tattoos, it's an elaborate tattoo of an angry looking man of leaves, complete with bright eyes and leafy moustache. Jay also owns a tattoo shop on Maginhawa Street called 55 Tinta.
As for his friend (and groomsman at his wedding), Parokya ni Edgar frontman Chito Miranda has a tattoo of his last name on his right arm. It's an ambigram, meaning if you look at it from either direction it spells out the same thing (as made famous in Dan Brown's Angels and Demons).
ADVERTISEMENT - CONTINUE READING BELOW
Photo by Yumphotography and MangoRed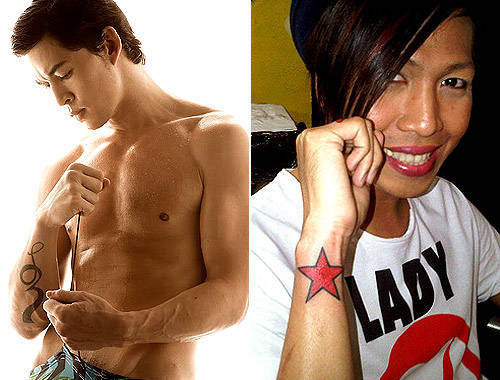 Vice Ganda and Jon Avila
Some time last year, Vice Ganda revealed his friendship with Jon Avila. Despite tongues wagging on a possible relationship, Jon wasn't shy about sharing a picture of Vice with a tattoo of a bright red star on his wrist. Jon, in turn, has a tattoo on his right arm. At first we thought it was just random squiggles, but then upon looking at it again, we realize that it's actually a stylized way of writing his name, Jon.
Photo by Frank Hoefsmit
Manny Pacquiao
In this video from a 24/7 special on Manny Pacquiao and Miguel Cotto, Manny talks about tattoos that he did on himself at the tender age of thirteen. "It hurts...but it not really hurts. It's like the bite of an insect," he even laughs at the way his tattoos were done, particularly one on his chest, that of a tiny glove. "Look, it's a glove, but ugly because I do my own." Of course, the days of him doing his own tattoos are long gone as he has his own tattoo shop in LA, but there's a kind of prison tattoo feel to his older tattoos that we think is badass and scary at the same time.
ADVERTISEMENT - CONTINUE READING BELOW
Solenn and Erwan Heussaff
Family tattoos seem to be a trend, and of course, Solenn and Erwan aren't too far behind. Solenn has six tattoos in all, our favorite being her family motto written in Celtic on the right side of her body. The text reads ma kouez en em saff, meaning 'if I fall, I will rise again.' Quite poetic, and it fits well with the tattoo of the Southern Cross on her inner ankle, which she says represents her father, who was a Marine. Her brother Erwan has the same cross inked on his inner right bicep, as seen in the video (at around the 2:30 mark). How's that for family love?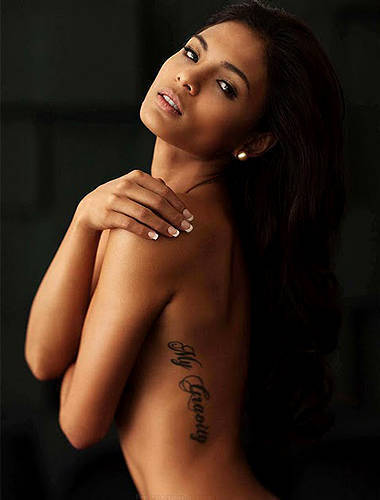 Lovi Poe
As with most tattoos, each one has a special meaning. This holds true for Lovi Poe, who was initially shy about taking on sexier roles for fear of other people seeing her tattoos. That kind of fear is gone now, as we love the tattoo she's baring on her side which says 'my gravity' in curly script. Its counterpart is on the other side, which says 'my wings.' As for its meaning, Lovi got them during the first anniversary of her father's death. "He makes me fly, then, pulls me back to the ground," she shares. A fitting tribute, if you ask us.
ADVERTISEMENT - CONTINUE READING BELOW
Photo from Rogue Magazine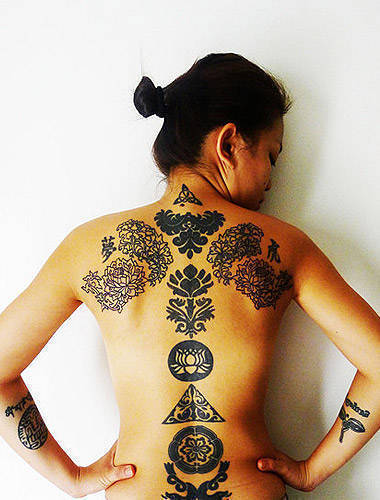 Tuesday Vargas
Tuesday wins our vote for best celebrity tattoos, hands down. Each tattoo is intricately designed and aligns down her back wonderfully, which only adds to Tuesday's mysterious appeal. As she said on Twitter, 'think before you ink.' We can tell that this sexy comedienne had a lot to think about.
Photo from Tuesday's Facebook Fanpage
Share this story with your friends!
---
Help us make Spot.ph better!
Take the short survey
Load More Stories