On the Spot: Jinri Park
Get up close and personal with one of SPOT.ph's hottest female bodies of 2012!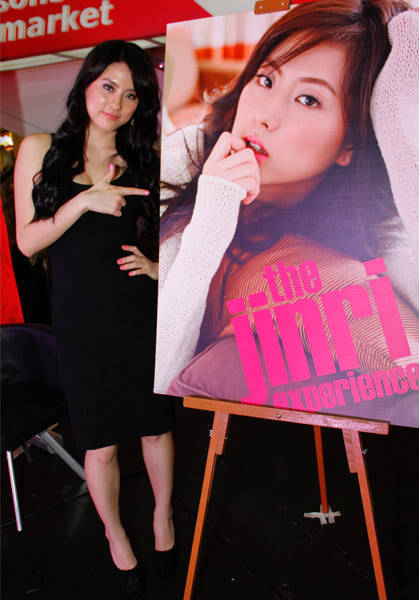 (SPOT.ph) From a faceless voice on the radio, Jinri Park is now enjoying a celebrity status marked by her refined cuteness and impalpable sex appeal. The RX 93.1 disc jockey has a primetime show called Jintomnia aside from being a consummate FHM darling, ranking in at number 21 in this year's 100 Sexiest Women in the World poll. Now, she stars in a gravure-inspired photobook called The Jinri Experience, which plays out a widespread male fantasy: a lustful weekend getaway with a sexy chinita.

SPOT.ph chatted with Jinri at The Jinri Experience official book launch, held at the Robinsons Galleria Activity Center last Sunday, August 5. The Korean personality talks about being the first gravure idol in the country, her profound love for local bands, and why she would rather date Pinoys than Koreans. Read on!
You're launching your own book today! How awesome does this feel?
It hasn't sunk in yet. I can't believe it's happening! It's kind of unreal. Maybe I'll know once the day is done but as of now I'm kind of lost. I'm not nervous; I'm just scared that people will not show up because it's raining really hard. A lot of people are saying they can't make it and it's like a 4-hour thing and I'm scared that it'll be done in the next 30 minutes (laughs)! So that's the only thing I'm worried about.
It happens to be the first gravure book ever made in the Philippines.
I didn't know it was gonna be sort of gravure, it was all Jay's idea. It's exciting because it's the first ever gravure book done in the Philippines. I'm putting a name in because I'm the first, but I think it fits well with me because gravure has to be sort of an unknown person. It can't be a celebrity doing gravure. Plus, she has to be Asian - someone who is Chinese, Japanese, or Korean looking. I'm really excited about that.
ADVERTISEMENT - CONTINUE READING BELOW
How long have you been living in Manila?
I have been in Manila since 2008. I went to college here - I studied HRM and I just graduated this April. I have been living in Cebu most of the time though. I came to Cebu when I was 6, and I grew up there and spent my elementary, middle school, and high school days there. My last few years of high school I went to Korea and I took up med for two years but thought it wasn't for me so I went back to Manila to go to college here.
CONTINUE READING BELOW
Recommended Videos
What to you is the best thing about being in the city?
For me the best thing about Manila is it definitely makes me feel like home. When I went to Korea to live there, I felt like I was in a foreign country. Manila feels like home and it's comfortable for me. Also, I enjoy my job here - as a DJ and as a model. Manila giving me this opportunity makes it so much better to live here as a foreigner.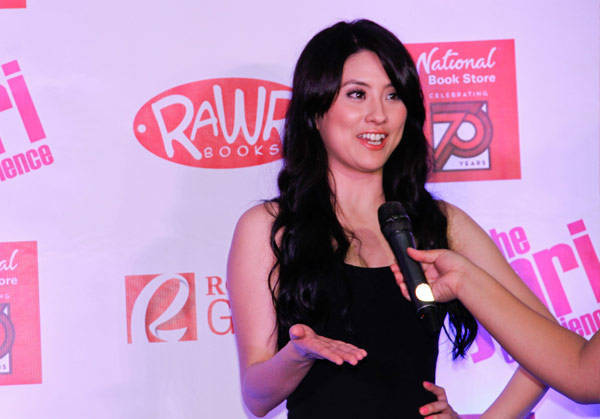 ADVERTISEMENT - CONTINUE READING BELOW
Where do you usually hang out?
I still hang out in The Fort a lot because my school is located there, in Bonifacio High Street. But now I'm most often at the RX [office]. I'm usually just a [homebody] but I go to Eastwood a lot. I've been going to a lot of gigs recently too, so you can find me in 70s Bistro in Project 2, Quezon City, in Saguijo in Makati, the like. If a band I like plays, I'm usually there.


Bands such as?
I have so much! I love Urbandub. I love Parokya Ni Edgar. I also love Callalily, Chicosci, Rico Blanco, Ely Buendia, I could name drop forever.
Do you have plans to go back to Korea anytime soon?
I hope not. I'm getting a working visa already so I'm planning to stay here a lot longer. Hopefully maybe around five or six years, as long as I keep doing my job. I'd love to stay here.


You have to learn the local language then!
Of course! I'm actually learning Tagalog now because recently I started acting a bit and I had a really hard time because I don't know how to speak the language. I don't understand the script so it's really hard to put emotion into it. I started only a month ago so hopefully I get better soon.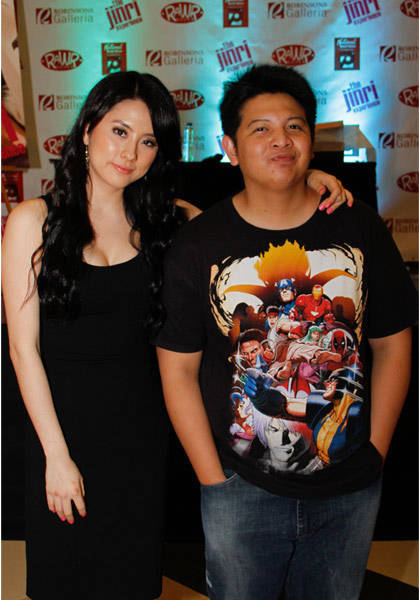 ADVERTISEMENT - CONTINUE READING BELOW
What do you do when you miss home? Do Korean joints here in Manila make you feel like you were back there?
Well, not necessarily in Manila. I go to Cebu when I miss Korea because my uncle lives there and I grew up there with my family. I stay with them and they feed me Korean food. I know a couple of good Korean restaurants in Cebu. Ku-Dong Ni - it's near the airport in Cebu, the one near Mactan. It's actually my mom's friend's restaurant. They have a lot of good Korean restaurants there because it's a tourist spot. Lots of Koreans.
Do Filipino guys make you feel at home?
Yes, definitely. Not to be an enemy to my race, but I prefer Filipino guys. I guess it's because I grew up here and I'm more comfortable with them. I've dated Korean guys but it's hard for me to relate to them because they have a different mentality. I kind of have a Filipino mentality, so it's easier for me to hang out with Filipino guys. And I'm attracted to them more than to Korean guys.
What's your most favorite Pinoy thing to do?
I guess going to OPM gigs. I don't know if it's a Pinoy thing - I really enjoy watching bands. Just chilling, listening to their music, having beer. I really like San Miguel Lemon, that's my favorite now. I usually have three bottles.


How Pinoy have you become since coming here?
When I go to Korea and speak English there, people tell me I have an accent that is not American but sort of a Pinoy accent. Another one is when I'm mad, I usually curse in Tagalog. It works for me so people sort of find it funny that I speak and curse in Tagalog. People laugh so it's not completely bad. The people of course - in Korea there's a very different kind of humor and I get the humor here. I don't get the pick-up thing though (laughs)! My humor has turned to corny jokes.


ADVERTISEMENT - CONTINUE READING BELOW
Share this story with your friends!
---
Help us make Spot.ph better!
Take the short survey
Load More Stories