American Idol Season 11 finalists invade Manila!
SPOT.ph witnessed firsthand the camaraderie that formed after weeks of intense competition.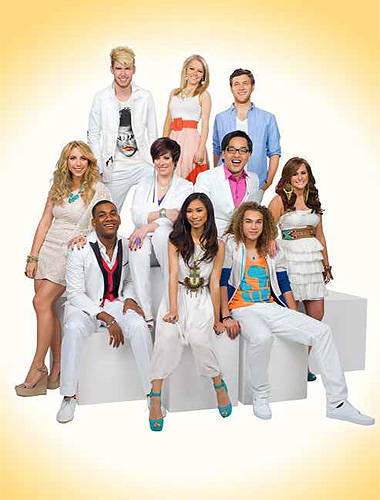 The top 10 finalists from American Idol Season 11
(SPOT.ph) Combat boots, spike-studded platforms, ballet flats, cowboy kicks, even rubber slippers (a privilege only the winner could pull off). With nary a performance-save for a mercifully brief rendition of the Barney theme song-shoes not music served as the definition of style at the American Idol Live! press conference yesterday, September 18. Their footwear distinguished the crooner from the belter, the country from the church. They managed to give a peek of what to expect on Friday's concert, too.

A 13-hour flight didn't seem to damned the 10 finalists' good spirits. There was no air of cutthroat competitiveness. It could only have died down; after all, it's been four months since Phillip Phillips was crowned winner. But listening to them tease each other, watching Heejun Han hide Skylar Laine's cellphone- it appears that only friendship more than competition developed after weeks of nearly torturous judgement and highly pressurized performances. And SPOT.ph was there to witness it firsthand.

Read on to know more about Heejun, Skylar, Phillip, Hollie Cavanagh, Colton Dixon, DeAndre Brackensick, Elise Testone, Joshua Ledet, and Jessica Sanchez and find out what they have to say about the Philippines, AI, hair, moving on, and even God.


American Idol Live! will be on Friday, September 21, 8 p.m. at the Smart Araneta Coliseum. For reservations and inquiries, visit any Ticketnet outlet or call 911-555. Check www.ticketnet.com.ph for more details.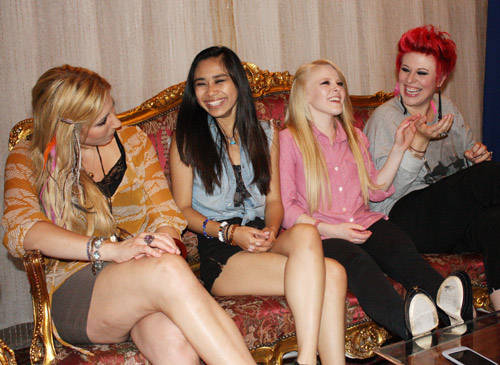 The four girls talking about the concussion Jessica accidentally gave Erika during the tour.
ADVERTISEMENT - CONTINUE READING BELOW
On what to expect in the Philippines

Erika: Mostly good things, to be honest. We heard of the tropical climate and the environment is lovely. It's very humid. A lot of us were wearing sweatsuits on the plane and we had to quickly absolve those when we got here. We've heard it's beautiful and we've had a really warm reception. Everyone's been really nice.

Heejun: Lots of casinos. My fianceé, Jessica, told me that there are pretty girls in the Philippines. So far I haven't seen anyone but to the beautiful girls here, I'll give you my number later.

DeAndre: We got really close to the people last year and they told us amazing things about it like the weather and I'm a fan of filipino food. I like balut so I can't wait to eat real balut.

Skylar: I'm a big food fan so I heard a lot about good food. It's great to come here and experience new food, new culture. Really nice people.

Hollie: I heard there's really good shopping so I'm excited to go shopping. Hopefully we have some time. I know Jessica and I will get on that real quick.

Erika on her hair

If you guys were watching the show intently you probably saw that I went through quite a few hair changes. Obviously I'm not afraid to take risks and I never have a plan. I will look at my hair like I look at my life. I base how I live, how I dye my hair on how I feel and coming to the Philippines I was feeling a little fiery so now I'm red.

When I dyed my hair on the show, people thought it was this huge deal. I do that all the time at home. I've been changing my hair (drastically)-blue, purple, long, short, straight-forever for the past 10 years.

On the toughest criticism from the judges

Joshua: The toughest criticism? Probably when I did "To Love Somebody" by Billy Joel. Billy Joel week and I didn't do that good. Charot!

Skylar: Shut up! You never got bad criticism. Charot to you! The worst criticism that I got was probably the week I got eliminated. Actually with that "You Know How To Say You Love Me," Jimmy (Lovine) tore it apart. I can say this now but Jimmy was the one who, the second I brought it in, the second I sang it, he said, "Yes, sing that song." And then he pretty much tore it apart (on the actual performance).

Joshua: The judges loved everyone that week. Jimmy hated everyone.
CONTINUE READING BELOW
Recommended Videos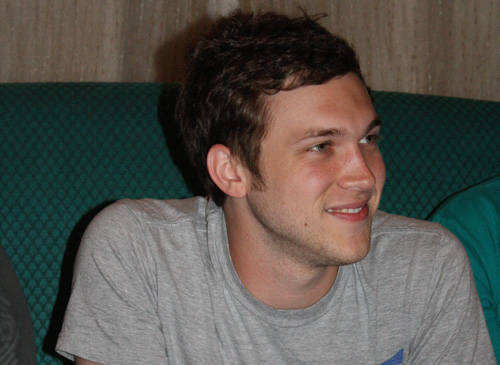 Phillip Phillips in his usual gray shirt
Colton on Christian influences in his music

I just signed with a Christian label. My religion is inspired by music in the first place. It's a chance to worship God.

Phillip on being WGWG (white guy with guitar)

I don't know what I deserved. I never treated the whole show as a competition. I just went there to have fun. If people were to put me in a category, that's because they don't know who I am so I'm not worried about it. I'm just having fun.

On future projects and working together again

Colton: I did work with Jason (Wade) of Lifehouse. They're great guys. (I've been) a real big fan of their music for a long time. It was an honor to do some of their songs. We wrote two songs and recorded them together. I hope that one of the songs makes it on to the album and it'll be out soon.

Phillip: My album will be out in the beginning of December so I'm excited about that and (as far as) collaborating with each other, we haven't (yet). We've been doing our own thing and being busy. Maybe in the future.

Jessica: No collaborations with each other right now. We've all been doing our own thing. We're doing a lot of stuff on tour together but not any albums. My album is coming out at the end of the year. So far we have pretty much half of the album done. It's going to be a totally different feel from what I had in the show. There will be a couple of ballads but a lot more urban style. All original.

Heejun: I'm doing an album in Korea right now with CJ Entertainment. It will be coming soon. I'm (also) working on my own TV series; we're developing it in the States. We don't have the title yet.
ADVERTISEMENT - CONTINUE READING BELOW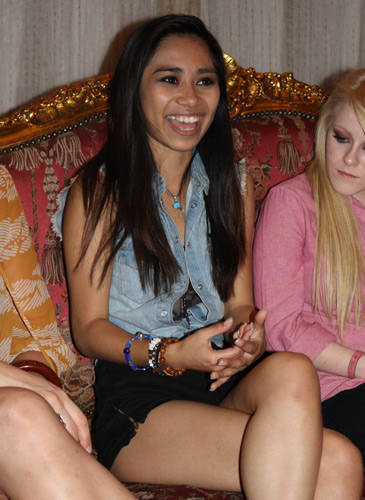 Jessica animatedly talking about career opportunities.
Jessica on the possibility of a career in the Philippines

I'm definitely doing some endorsements here. For Bench and a couple of others that i can't (talk about yet). I'm going to be staying here a little bit longer than the other Idols to do those. I'm not really familiar with any artist or producer in the Philippines but I'm excited to work.

Jessica on rumors

Movie? No. There are rumors for Miss Saigon but nothing has come up. I would to try (for the role of Kim); it would be an honor but nothing has come my way. Nothing's comfirmed yet for Glee but it's definitely in the works. We'll see what happens.

I've had some offers to do concerts but nothing is confirmed. (Jessica also denied being the opening act of Jennifer Lopez's upcoming Manila concert).

Jessica on her pre-AI life

I've been working hard my whole life. I was on America's Got Talent when I was 10. I've been trying to get into the music industry since I was a little girl. That just kept running through my mind during the show and during the tour and when i was doing my album. In my head I said this is what I want to do for the rest of my life.

Elise on Jessica

That's how talented she is. She hasn't really grown up with vocal training. I know it's hard for you to believe 'cause she's so good, but she never had voice lessons. You can only imagine if she took lessons just how amazing she would be.
ADVERTISEMENT - CONTINUE READING BELOW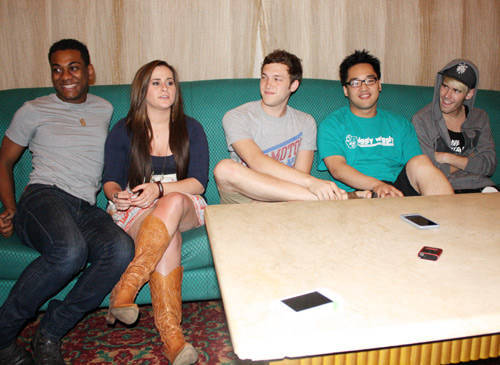 While the others kept serious, Joshua cracked jokes and yelled his new favorite Filipino words: Chos and charot!
On the new lineup of AI judges

Skylar: I know that I'm excited for Keith Urban to be a judge because finally there's a country judge on the panel. I think it's a really great group of judges. Nicki Minaj would be really great for R&B; it would bring on a lot of younger people (to watch) the show. Mariah, who's phenomenal, a multiplatinum artist, been around for years, knows exactly what she's talking about. I'm really excited to see what's going to happen this year.

Phillip: I'm really excited to see the judge panel this year. It's going to be really interesting. It's a new crowd besides Randy so there's going to a lot of opinions going around.


On what it would take for a woman to win AI

Erika: Get naked. (Laughs) It's just the demographic; it's the age of the main demographic who votes on the show. It's mostly girls aged 11 to 16 or 17 and they can text really fast. That of course would be unlimited voting. I'd probably get farther (if I was a guy). This is not a joke. Skylar and I were talking about it a couple of days ago and we said we probably would've done way better had we been dudes. But I'm a girl, I'm happy that I'm a girl and that's  totally okay. I will go out and keep my feminity.

Hollie: I like being a lady. I think it's easier for boys just because... I mean like Colton, the second he walks into the room, teenage girls would just cry. When boys see us, they try to be cool.

Colton on his ideal girl

A God-fearing woman who loves snow cones and batman.

Heejun on Gangnam Style

I like the guy. I can dance like him, of course. We're not going to have (a) sample. Maybe on (Friday).

Joshua on Charice

I know Charice! Charice is big in the United States. I'm really good friends with her. I met her on Oprah. I love Charice. That's my cousin.

Heejun on the meaning of life

We're all Christian and for us the meaning of life is not using God's name to satisfy my need. But (to) use my name to satisfy God's need.

On moving on

Elise: I think it's what you make of it. No matter what you've done in your past, it's always about what you're going to do today, tomorrow. It could box us up if we let it fade away and we don't take advantage of the opportunity and the future. But if were smart and we act on it and do as much as we can and follow what we believe in and get what we want, then we'll be successful. But I think our success is in our own hands. It gave us a great platform and now it's just up to us what we're going to do about it.

On pursuing dreams

Joshua: First, just be yourself. Don't try to pretend to be someone else or copy another artist. Create something that's not been out in the industry already. Pick the right song that will make you stand out.

Jessica: I (was) home-schooled so I never really had that many friends growing up. I got picked on a lot so... Don't let anybody get in your way. Just believe in yourself and go for your dreams.

Phillip: Have fun. Don't let the stress get to you. Just as long as you're happy with it, that's what counts.


ADVERTISEMENT - CONTINUE READING BELOW
Share this story with your friends!
---
Help us make Spot.ph better!
Take the short survey
Load More Stories