On the Spot: Gino Quillamor, the new DJ of The Morning Rush
They're back on bookshelves and this time with a <em>barkada</em>.
(SPOT.ph) This interview was long overdue. When Gino Quillamor took over for Delamar Arias in popular morning radio show, The Morning Rush, diehard fans asked why; casual listeners asked who; while those who've heard him in Jumpstart with Gino and Fran (or even caught a glimpse of defunct TV show, Chill Spot) asked why not. Anyone who can shake up a 15-year-strong franchise is worth giving a second look. Incidentally, Gino is SPOT.ph's reigning Cutest Male DJ.

He may seem excessive for the skeptical Rusher, but 10 minutes into the program is all you need: Gino is the extra cheese on your pasta, the belt you didn't realize tied your entire outfit together, bringing his own zing to the plate and turning the dynamic duo into a (kikay) barkada.  

But to talk about Gino-and only Gino-would do him an injustice. He is, after all, part of a whole, and this whole is The Morning Rush together with co-hosts Chico (Garcia) and Delamar. And we got the chance to watch them in action.

Sitting down with the Kikay Barkada is like watching a rerun of their show-sans the commercials: high-energy banter full of jokes, talking over each other, teasing (mostly at Chico's expense), and lots of laughter in between. Read on to find out more about their fans; the sequel to their hit book, The Best of Chico, Delamar, and Gino's The Morning Rush Top 10, Book 2; who has the longest ... write-up, kalandian; and more!

Click here to read our sit-down with Chico and Delamar.
ADVERTISEMENT - CONTINUE READING BELOW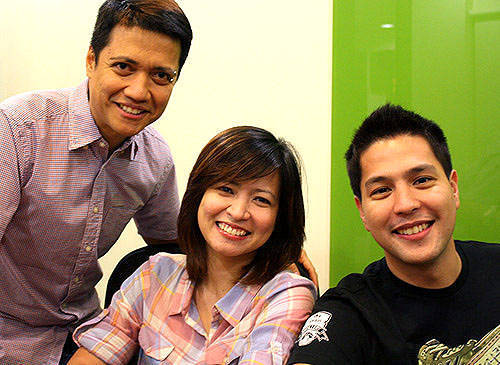 CONTINUE READING BELOW
Recommended Videos
How have people been responding to your new book?
Chico: Actually it's crazy. I don't know, I guess, with Book 1 we were still feeling the waters. Hindi pa siya established. You know how sometimes, like in movies, kapag may sequel na, you're coming from somewhere na eh. So people are crazy excited about Book 2 because there was a Book 1. Actually, a month after the first one came out, people already started talking about a second book. It has a hype that comes with it already. We didn't expect it to be like this. On the first day that Koko (the publisher) informed us that the book would first be sold in the south, it's crazy, we got people from the north ...
Gino: ... Going all the way to Sucat...
C: ... Tapos parang people say na hindi na tumatanggap ng reservation with some kasi ...
Delamar: ... Reservations pa lang sold out na
ADVERTISEMENT - CONTINUE READING BELOW
C: Mayroon ngang isa na nasa line. Tapos 'yong person in front of her, parang 100 pieces 'yong pina-reserve. It's crazy. It's really crazy.
G: And just today, people would come in to have their book signed and they would have...
D: ... More than two.
G: ... Talaga some of them would have...
C: ... Kanina may 15!
G: Another one had 10.
C: 15!
D: It's just funny because people would tweet us all day long, like, how they just got their copy, or just the adventure of how they went to...
C: Parang Amazing Race! Kasi they also tweet na parang "Oh! Mayroon na sa Megamall." So we would tweet it as well. Then they would rush there, 'pag dating nila doon, ubos na. Then biglang someone would tweet ulit na there's one in Galleria, they'll run to Galleria and ubos na naman.
G: Tapos there was this one, 'di ba, kanina ...
C: It's crazy.
G: ... There was a photo (with the caption): "Hoarded my fair share of the Top 10 book" and he had like 30. Thirty books on his desk.
C: Saka there was this one time, one of our regulars, si Oscar dela Hopia, he was one of the very first to tweet na ang taas ng pile niya. After that, talagang-kasi a lot of people also follow him, eh-you'd see tweets na parang, "Hoy, magtira naman kayo!" It's just so cute and we've never experienced it like this, noong Book 1-that kind of mania na parang nagkakagulo sila. Dati kasi parang hindi pa nila sure kung ano 'yon eh. Ngayon mayroon na silang idea what it is.
ADVERTISEMENT - CONTINUE READING BELOW
G: They already know where it's coming from.
D: It's also cute that they tag us on Instagram...
C: They do! My god.
D: If they get their book, their copy, parang it's not enough that they got it. They have to tell us that they got it. They take a picture ...
C: ... (Tell us) what they like ...
D: ... What they like ...
G: ... They design it!
D: The stickers! May isang nag Diptic siya na parang collage. 'Yung isa had the book, and the next frame was, 'yong naka balot na na gift. It's not enough that they get the book and enjoy it, they have to tell us how they're enjoying it, what they're going to do with it, who's borrowing it. And I think, mainly because Book 1 has paved the way for Book 2, and Book 2, there's so much more that's happening, like ...
C: ... The illustrations ...
D: ... The illustration is unbelievable.
C: One of the, parang, pinaka-common comment is that they love the illustration.
D: They love the About the Authors. No matter how unconventional it was (laughs). They love the foreword ...
C & G: Yes!
D: ... Which, I guess, is different from all kinds of foreword-ever.
C: When we were meeting with Summit about what we should do with Book 2, we wanted to make sure that there was something new, but not too much ...
G: Not entirely ...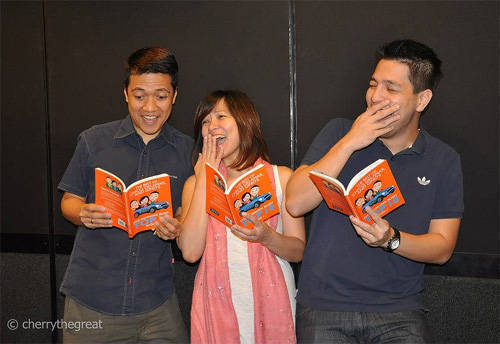 Photo courtesy of Rusher @cherrythegreat
ADVERTISEMENT - CONTINUE READING BELOW
C: We're just so happy that we gave them enough of what they were familiar with and enough new stuff to get them excited. I guess it's just the right amount, so we're very happy. At least people are really-and the reviews are good. So far they're really crazy about it. What's also nice is that people who didn't buy Book 1 are now buying Book 1 because the hype is so strong with Book 2. It's very nice. Even the ones who didn't buy the first one are now interested.
D: There was a tweet to us where he bought the book and they were having a family dinner tapos hindi hiniram ng dad niya tapos hindi na nila makausap 'yong dad nila... and 'yong brother hindi na rin makausap.
C: Tapos may picture pa siya!
G: More than anything, the stories talaga they tell us while they were getting the book. One of the regulars also, nakapila siya. Tapos in front of him was a girl who wanted, like, 15 books ...
C: ... And there were 15 left.
G: So the girl turns around and says, "Sorry, kailangan ko talaga."
CD & G: (laughs)
D: 'Yon na 'yong last so parang naubusan siya.
C: Kasi obviously, he was waiting behind her so obviously bibili rin siya, and she was, like, "I'd love to leave one for you ...
G: ... Pero kailangan ko talaga!"
CD & G: (laughs)
C: Tapos there was somebody who said, ano lang, kahapon lang. They were all waiting outside the bookstore. They were waiting for it to open then iniisip niya na na what if most of these people, 'yon rin 'yong bibilhin? Tapos 'pag bukas, humiwa-hiwalay na sila sa entrance, tapos eventually ...
ADVERTISEMENT - CONTINUE READING BELOW
G: ... nag-converge sila ...
C: True enough, 90% of the people waiting outside were looking for the book.
G: One of my favorite ones were, "Miss, miss, mayroon bang Book 2 dito?" Tapos 'yong sagot niya is: "Kung ako nga wala, ikaw pa kaya?"
D: What's nice is, alam na namin ang feeling ni J.K. Rowling!
CD & G: Whoa!!! (laughs)
C: To the point na, parang, sorry, we don't accept reservations anymore!
CD & G: (laughs)
C: At saka, huma-Harry Potter talaga kasi mayroon na tayong Book 2! Ano na 'to, bale this is the ...
D: Prisoner, ay no, that's the third.
C: Chamber of Secrets?
G: Chamber of Secrets!
C: Feeling!
C: Nakakakilig pero it's just nice because grabe 'yong good will noong mga tao in supporting the book and they're really excited. When people start reading the tweets of those who've gotten copies, ano talaga sila, they're upset na parang bakit ako wala pa.
G: Book 2 envy.
C: They're beside themselves. Hindi nila alam ...
D: Actually, nagagalit sila: "Bakit Sucat?" Well, it could be any place.
C: At saka ang daming galit na parang , "'Di ba ang Summit nasa Galleria lang yan? Paano nangyari 'yon?"
D: It's an understatement to say na we feel overwhelmed with the reaction. Yeah we hope that people will like it, but this is a different level.
C: We didn't expect this. We know that people were excited about it, pero when we refresh our Twitter accounts talagang... Parang, when we're hosting, we finish one segment lang , pagbalik mo, 37 tweets. And different people tweeting us about whether they want the book, they got the book ...
ADVERTISEMENT - CONTINUE READING BELOW
D: ... Who else got the book.
G: Saka parang 'yong iba, you tweet about something completely unrelated to the book, 'yong Mentions mo, puros about the book. Replying to that one tweet that you had which is not about the book in the first place.
C: There is one complaint. 'Yung stickers isa lang 'yung tiara.
CD & G: (laughs)
G: Dapat raw dalawa.
D: Anong dalawa? Dapat tatlo!
G: Hindi ka raw kasali sa tiara.
D: Kasali ako sa tiara!
C: No. Sayo dapat 'yong trucker's cap because you're (Delamar) the real man of the show. At saka 'yong ano ... 'yong ano ... What was I going to say?
G: I don't know. Nawala ka na. Obviously so excited he forgot about it.
C: No, it's really just so much fun, just to read Twitter or just to go on Instagram. I just want to like lahat ng pino-post nila. Alam mo 'yon? Wala lang. As a thank you to those who supported the book.
Was it easier to make this book especially now that there are three of you and it's your second time?
D: (laughs) It was hard for Chico!
CD & G: (laughs)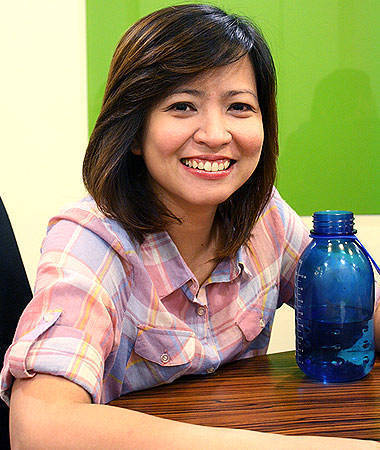 ADVERTISEMENT - CONTINUE READING BELOW
C: It was like 10 times harder. What I failed to realize, the first book-kasi 'di ba, I would already post the Top 10s on my blog since 2009-when we did the first one, I had two years' worth na nakasala na and I would do that like in a week I would post two top 10s. I'd go through all the entries. So when we were doing Book 1, I said, "Oh this is easy." Kasi I was doing it na. I'd get like 20 or 30 of each Top 10 and I would just trim it down to 10. What I failed to realize is papaubos na siya. So when we started Book 2, I got siguro the tail end na lang.
D: But also because you had backlog, it was just the two of us. Book 2 had to have the three of us. Topics that we've done together as a trio kasi it doesn't make sense.
C: Actually, I could've gone older, but it doesn't make sense. Plus the cultural reference is dated na. You don't get it na. I mean, something as "recent" as ...
G: ... Amalayer, mga ganoon ...
C: Like 'yong ano, "Naka-swimming ka na ba sa dagat ng basura." It sounds so old na now. It's not that old pero syempre hindi na pwede ...
D: Dapat may footnote na parang to explain the cultural references kasi parang, five years down the line, if somebody picks it up ...
C: Exactly. Tapos parang we wanted to make sure talaga na it's the Kikay Barkada's Top 10. So parang it really makes a big difference kasi even when we made the first book, we were getting it from two or three years back so a lot of the people who made it to Book 1, we don't even know if they're still listening or what. Ito kasi it's very current. The people you hear now, if you were to listen today, you'd still be able to see in the book.
ADVERTISEMENT - CONTINUE READING BELOW
G: Saka konti na lang si No Name.
D: Oh yeah!
C: Wala nang No Name.
D: They want credit!
G: Oo.
C: Also because it's mostly Twitter. (In) Twitter, whether they want their name or not, we can see their handle. It's more difficult. Sa totoo lang, talagang triple na the amount of tweets we get now as a Kikay Barkada. It's like triple, quadruple what we would get before.
D: Kasi it's a confluence of so many things. Twitter is bigger. Because of the three of us, the base is bigger and then Top 10s are just bigger. Lahat sila, parang, exponentially grew ...
G: Parang 'yong mga tiyan natin, bigger.
D: It's just-the experience is just more full.
For Gino, was it hard for you to step into the 15-year-old franchise?
G: Yeah it was because ang sama ng ugali ng mga co-hosts ko!
C & D: (laughs)
G: I have to get used to the emotional battery that I have to experience on a daily basis. I had to get used to the bullying. Contrary to popular belief kasi, they're not really very nice people.
C & D: (laughs)
G: They've always been out to corrupt me the minute I got in.
D: Corrupt?!
G: When Del went on leave, they asked me to join in 'di ba? So it was just Chico and I. I used to have this really masculine reputation. I was the alpha male everywhere, you know. When I would walk into a room, people would be like, "that's a man's man!"
ADVERTISEMENT - CONTINUE READING BELOW
C: You're now a man's man.
CD & G: (laughs)
D: Well, well, well ...
C: Nothing has changed.
G: On a serious note, I guess, actually, it really wasn't that difficult. I just got along with both of them. Obviously I was intimidated also because they've been around forever. Lalo na si Chico.
C: Hay nako ...
G: He's a living legend eh.
D: Pero to be technical, 15 years on radio is really forever.
G: It is! Do you know of anyone else who's done that?
D: Ang bilis kasi ng turnover eh because the premium is youth, being hip, being cool.
C: Hindi 'yong hip replacement.
G: Yeah, I got intimated at first but they made it really easy naman. At first I was actually scared of Del pa kasi si Chico, alam ko naman na kaya kong lokohin yan, pero noong pagbalik ni Del parang sabi ko ...
C: Kasi ang problema talaga, noong nag-"on" kami ni Gino ...
CD & G: (laughs)
C: Tapos biglang dumating si Del so parang awkward.
CD & G: (laughs)
G: We didn't know how to deal with her. Kung baga nag-long distance relationship sila ni Del, tapos dumating ako, tapos nagkagusto si Chico sa akin, so naging kami, tapos bumalik si Del from the States-kasi long distance ...
C & G: (laughs)
D: Alam mo, being pregnant ... Oo totoo nga. No other woman. But there was another man.
G: So 'yon, we were really, ridiculously girly when it was just the two of us, but that's an understatement even.
ADVERTISEMENT - CONTINUE READING BELOW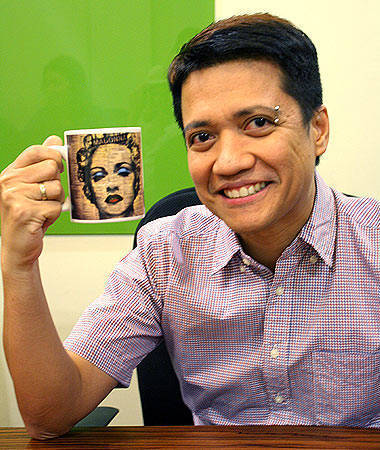 C: But it was surprising. I mean, parang wala lang. Kasi we were surprised at the reaction. I mean, hello, dalawang lalaking maharot. Who would've wanted to listen to that?
G: But 'yon, I guess. When Del stepped back in, it was more of adjusting lang. Maybe tone down a bit on the girliness.
Ironically you had to tone down the girliness when Del returned.
G: Yeah because actually, it was much more masculine when Del entered ... That sounded really weird, but yeah, anyway. I was intimidated at first, but they made it really easy. Wala eh. Hassle silang ka-trabaho.
Last year, we asked Chico and Del how it felt to top our Best Radio Shows list. So now, we're asking you how you felt when you were ranked Cutest Male DJ.
C & D: (laughs)
G: Aaaah ... I never got to live that down! Well, obviously, I was flattered. When that list came out, I think I was doing the morning with Fran because (Chico and Del) were on leave. I was really shocked to find out. Tapos 'yong photo pa nila parang old school pa. May hawak pa akong ballpen.
ADVERTISEMENT - CONTINUE READING BELOW
D: Parang college cutie!
G: Nasa attic lang 'yon ng bahay ng ... Never mind. Nakakakilig rin. Tapos ano, 'yon lang. Kinilig ako.
D: Reaction namin ni Chico, may binayaran 'to.
CD & G: (laughs)
G: See what I have to work with every day? Haters!
If Del is the more conservative one ...
C & G: Whoa?!? What!?
C: Anong conservative?
G: Where did that come from?!
C: I resent that!
D: The press is unbiased!
C: Anong conservative?!
G: Grabe!
D (to SPOT.ph): Huwag niyo silang pakialaman.
C: Maybe in a porn convention! Relatively speaking ...
G: What a load of lies!
So who is the most conservative?
G: Ako!
C: Me!
G: No seriously, ako 'yong pinaka-conservative.
C: Hindi, hindi. Para fair, walang conservative.
G: Excuse me, I am conservative.
C: Tumigil ka!
G: Si Chico 'yong pinakamalandi. Hands down.
D: Agree!
G: Second siguro close si Del. Tapos ako ... C'mon, you guys have to admit. I'm the most conservative one.
C & D: NO!
G: When it comes to clothing, dating ...
C: With a clear conscience: No!
D: No!
G: You ask pa my mom.
D: Syempre nanay mo 'yon eh! Haha.
G: Fine. Pero we can at least agree na si Chico ang pinaka hindi conservative.
C: I will concede. Your angelic veneer is there to hide a demonic personality.
D: Ako, I agree with that!
G: Hay nako! Pero let's just keep it on the record na si Chico ang pinaka-malandi.
D & G: That much we know.
ADVERTISEMENT - CONTINUE READING BELOW
C: Pero walang conservative. Game ako d'on.
G: Pero 'yong pinakabastos talaga si Del.
C: Del. It's true.
G: She is the greatest.
C: It's true.
G: 'Yung real hardcore.
C: She just looks respectable most of the time.
G: Most of the time.
D: No ...
G: Kami kasi 'yong greenness naming it's more of a joke pero 'yong kay Del parang pinanganak siyang ganoon.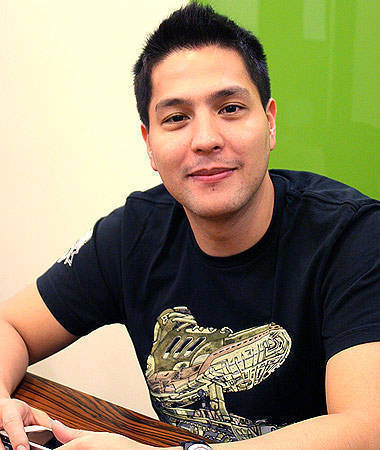 D: Hindi. Hindi lang ako marunong mag-joke. So it comes off as ...
G: Well, yeah. That one given na rin 'yon.
The Morning Rush ends at 10 a.m. which is when most people start their day. What do you do the rest of the day?
G: Well ...
D: These days have been crazy.
C: Ako charity.
D: Hoy!
C: Prayer ...
G: Plant trees. I save infants from burning houses.
C: Si Del nagdi-deal ng narcotics.
D: Nagco-cocaine!
G: Nagda-dabble in prostitution.
ADVERTISEMENT - CONTINUE READING BELOW
CD & G: (laughs)
G: Dabble lang!
C: Part-time lang. Just to try it out.
D: It's been incredibly busy for us ...
C: Supeeer ...
D: It's been crazy.
C: Alam mo 'yong grateful slash complaining? It's hard eh. Nagmi-mix na talaga siya. We're very thankful, but we're also so tired. Doon papasok 'yong: I'm so tired, but I love the blessings. It's really just difficult physically.
D: And I guess it's very taxing because it's a morning show. There's no warm-up to a morning show unless you wake up at 3 or not sleep at all. And all the work that we need to do at night, we still have to do, yet we have to wake up at 5 and be on the money at 6 a.m. The actual show, there's really a lot to do. The show as it is is loaded. We're talking commercials, we're talking concepts, we're trying to entertain people. Even with the business that we have to do kasi we're still selling commercials ...
C: We're puyat and we're tired.
D: We're puyat from last night. We're all tired. We all haven't eaten.
C: Tapos pinahirapan pa kami ng Summit sa book na 'yan.
CD & G: (laughs)
D: Tapos 'pag dumadating 'yong mga tao with a lot of books, it's like "Awwww..."
G: Parang alam mo 'yon, you're happy, pero omigod, omigod, omigod.
D: Of course this is where we have to try harder kasi remember, they bought the book ...
ADVERTISEMENT - CONTINUE READING BELOW
G: They went out of their way.
D: They want to come here and have it signed pero you also have to work. People don't understand, when we're having fun, we're working. This is when I sound like I'm complaining pero you can't complain because this means you're doing it right ... But then you're tired.
C: We envy si Kali, 'yong goddess na eight 'yong arms niya. Para mayroong nagsa-sign, may nagco-computer ...
G: At least sa akin, friends of my friends, their common misconception is that, "Oh, your day is done by 10 a.m. You have such an easy job." If you only knew. Kahit na four hours lang 'yan sa umaga, we have so much to do after that. Even just the four hours. I find myself with, kunwari just the four hour show and nothing else, like after the four-hour show, you're so tired and you want to sleep. By the time you wake up, it's nighttime. You just eat then you wake up and you work. Wala. 'Yon lang. It's just monotonous. Ang labo.
Speaking of signing, Gino, have you asked them for tips about how to warm up your hand ...
G: Ah no! I never needed.
C: Alam mo siya (Del), nagka-carpal tunnel (syndrome).
D: Yes. Ang dami noon eh.
G: Pero kasi 'di ba?
D: At that time, it was compounded by the baby.
C: Kasi at that time kakapanganak mo (Del) lang kay Cooper so you really had to carry him a lot. It's really painful. But it's fun for us, it works because Del is left-handed.
ADVERTISEMENT - CONTINUE READING BELOW
D: Now we're three. We really have to figure it out. May blocking.
G: It's a fun problem to us.
C: We'd rather have that problem kay sa 'yong linalangaw 'yong libro.
D: 'Yung awkward na tayo hindi tayo nagtitinginan kasi walang bumibili.
G: Tayo na lang nagpipirmahan ng sari-sarili nating mga libro.
What are your favorites from the book?
D: Ako wala pa. I haven't really sat down. I went through about 10 and then the foreword and then the About the Authors. But because of the work, no time eh.
C: If you're talking about specific entries, I can think of a couple. But for me, the revelation of the whole book, not a specific entry or a specific top 10, is parang there was a better confluence between the illustration and the text. The main (star) was the text, but the illustration now are more organic, mas nakatahi siya. Plus, kami na 'yong ginamit na illustrations ...
D: ... Which was a stroke of brilliance talaga.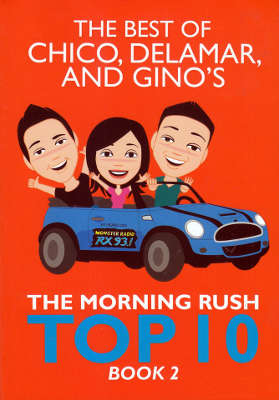 The book is P195 at most major book stores-if it's not sold out already.
ADVERTISEMENT - CONTINUE READING BELOW
C: Before 'pag lalaki, it's just a guy, and 'pag babae, it's just a girl ...
G: Ngayon, 'pag babae, kami ni Chico 'yon. Paglalaki si Del.
C: Para siyang naging Bubble Gang. Our avatars have skits inside the book. Parang kami rin 'yong gumagawa and it's cute.
D: Saka, ano siya, consistent siya with the show.
G: That's one of my favorites. At least the one that really pops up in my head 'yong it was a beauty contest and (Del) was the host and (Chico and I) were the contestants. Tapos si Del was like, "Do you believe that men originated from apes?" I was like "Yes, of course, just look at contestant no. 2."
C: Tapos ako 'yong contestant no. 2.
G: Tapos 'yong itsura ng illustration niya is usually how he looks when we say something like that.
D: Actually may beef si Chico doon sa artist.
C: Kay Ben Deluyas! May beef talaga ako 'pag nagkita kami niyan. Lahat ng yaya, ako!
CD & G: (laughs)
C: Basta may character na yaya, ako. 'Pag may character na babae, kami ni Gino. Pero 'pag may character na yaya, ako lagi.
G: Saka kapag may inaasar na pangit ...
D: ... Kay Chico napupunta.
C: The thankless roles, ako lagi.
D: Pero even that's consistent with the show.
G: Yeah that's really how we do it here.
C: Wala lang, dati we hardly had any reaction to the illustration. Hardly. We hardly got any na "Wow, the illustrations are so nice." Pero now ang dami na comments na "We love how it was illustrated." Para kasing mas character. Dati it was separate from the text. Ngayon may istorya na. And ako, I read the illustration first then the text. Wala lang. Organic na siya. Like I said, enough changes to keep you interested, enough old stuff to get you into it.
ADVERTISEMENT - CONTINUE READING BELOW
So if you had to name a favorite part of the book, it would be the illustration?
G: It's hard to do because it's integrated. Parang one works because the other one is there.
D: Kasi if the illustrations were great but the entries aren't, it wouldn't work.
C: Tapos the stickers, 'di ba, are cute. They start sending us pictures of how they decorated the cover.
G: Siguro what I can say is my pinaka-favorite part about it is that it's only P195 so you can buy it.
D: The color is inviting.
G: It stands out. The orange.
C: A good chunk of our listeners go to the About the Authors first. That's the first thing that they really look at.
D: Eh kasi naman. Because of the relationship among the three of us parang "Anong sinulat mo? Anong sinulat mo?"
G: I was writing about Chico so I was consulting Del if it was okay na. But what I missed out on was that Del was writing about me as in I had no idea. When the book was brought over on a Friday, I wasn't here. So when I read tweets na the book was here, I was, like, "Oh my god, what did Del write about me?" As in that was the first thing that I thought of. Over the weekend, I was so anxious to get the book because I wanted to find out what Del wrote about me.
C: At may mga naiyak ha.
ADVERTISEMENT - CONTINUE READING BELOW
G: Sa sinulat ni Chico about Del.
C: What's interesting, what I really love is when people tweet us, they're not commenting about the same thing. Some say they love the illustration, some say they love the stickers, some say they love the color, some say they love the About the Authors, some say they love the entries. At least we know that just like us, they cannot isolate a single thing that they love about the book. I'm not just saying it because we're the ones who made it.
D: It's really not just one thing.
G: It's a holistic experience.
C: It's not even coming from us. It's coming from our readers. Iba iba.
D: It was funny because on the deadline of the About the Authors, Gino and I were texting each other, consulting with each other. And then he texted me his whole text, so sabi ko, "Uh, okay naman siya." Mayroon siyang word na "whore."
G: Obviously that didn't make it to the final cut. Pero sakto talaga eh.
D: So I told him, "Change whore to hussy."
C: Tingan mo!
G: It would've been perfect!
D: So sabi niya, "Okay na ba?" and then I said okay na. Oh it was on Facebook. And then he goes, "Ilang words 'yong sa'yo?" I told him um-over ako sa limit and then he says, "Huh?"
G: Eh 'di ba it was about me, what are you writing about me?
D: Nag-panic siya talaga.
G: Kasi ako sakto lang 'yong sa akin. 'Yong kailangan.
ADVERTISEMENT - CONTINUE READING BELOW
D: Meanwhile, Chico was, like, "I'm done."
G: Being the writer that he is.
C: I was done na talaga. I'm done. Actually it turned out, sa'yo (Gino) 'yong pinaka-mahaba, akin 'yong pinakamaikli.
CD & G: (laughs)
D: Yes! We finally have an admission!
G: We didn't even have to do anything. He just admitted it on his own!
C: The writeup!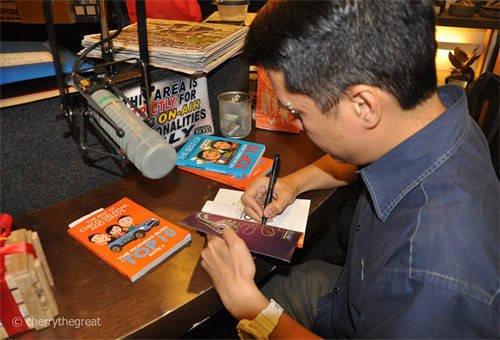 Photo courtesy of Rusher @cherrythegreat
G: So tweetable! Can you cut that part of the interview?
D: Chico said ... quote!
G: "Ikaw 'yong pinakamahaba, ako 'yong pinakamaiksi."
C: Hindi 'di ba? Del ended up writing the longest About the Author for Gino. Tapos ako 'yong nasa gitna-ikaw 'yong nasa gitna.
D: Ang hirap 'di ba? Ikaw 'yong nasa gitna-hindi, ako 'yong nasa gitna. Because he's the one who wrote mine. So when people say, "I like Del's About the Author," which one? The one I wrote or the one written about me.
ADVERTISEMENT - CONTINUE READING BELOW
C: But it's so much fun. We're just so excited with the launch. Kasi ngayon pa lang ...
G: Saka ang rami nang nagtatanong kung kailan 'yong launch.
C: We're just very excited because we just wanted to do well, obviously, and so far so good. And the fans are so excited. Nararamdaman mo talaga from Twitter in the way they tweet.
G: One of the good parts about it also is that it's gratifying also for the people who send their entries. Kasi just like the first book, kung baga, it's a book by the people and for the people.
C: 'Yon. I love that. Somebody did a Diptic tapos ano siya divided into four. Tapos 'yong three entries niya, pinicturan niya. 'Yung fourth cover ng book. Tapos 'yong caption, "Yay! I'm now a published author." It's nice kasi everybody feels like they're part of it and they are.
G: It's such a massive high-five.
C: It's so funny, it's so cute watching them anticipating if may pumasok silang entries.
D: They're tallying!
G: And then there are celeb entries, like Vice Ganda has something there.
A fun little fact that most people do not know is that Gino was the one who was supposed to write the foreword. Gino, what do you think you would have written?
G: To be completely honest with you, the reason ... I really wouldn't know because the first thing that I thought of was, 'yon na nga, na I didn't want the responsibility, so I was like, "Let's have some other people write it!"
ADVERTISEMENT - CONTINUE READING BELOW
D: Kasi I haven't read the first book ...
CD & G: (laughs)
D: ... So I wouldn't know!
G: Hindi naman. It's just that, I really hate responsibility eh. So, in my head, I was already thinking of a way to ... Ang idea talaga was to get a celebrity to write it or something like that.
C: Like the first book when we got The Professional Heckler to write it. So we were thinking about it so Gino was supposed to do it. But when we decided that we were going to write each other's write-ups, it's weird na siya pa rin 'yong foreword because it might bleed into each other.
D: It ended up actually being in theme. All of the entries-well, most of them-come from Twitter. Around 99% of them. So it made sense that the foreword would still be by the people and still be from Twitter. It ended up like a cute idea.
C: It's cute kasi parang foreword na sila pa rin, top 10 pa rin.
G: So parang consistent 'yong author of the book.
Are we looking at a Book 3?
C: Ngayon pa lang sisimulan ko na.
G: You should've seen him when we were making the book. Sleepless nights talaga. As in there was this one phase-because he usually does the Top 10 for the show-we (Del and I) had to take turns to do the Top 10 because he was so busy, compiling.
C: I was busy choosing.
G: Tapos normally naman may eyebags na siya pero this time, 'yong eyebags niya, may eyebags na rin! Ganoon na kalala.
ADVERTISEMENT - CONTINUE READING BELOW
D: Si Gino raw 'yong nice ha.
C: Put that in ha! Siya raw 'yong nice.
G: I'm nice, but I'm honest.
C: Sabi ng bitch.
G: No but seriously. Ito (Chico) walang tulog talaga and it was haunting him na.
D: Parang tumigil talaga 'yong buhay namin.
C: Saka ano talaga. Like now, today's Top 10. What I'd do, for one copy-paste of Twitter, I would e-mail to myself, the maximum tweets there is like 400 to 500 tweets. So per e-mail to myself that's about 400 to 500 tweets, kanina I had mga 11 batches that I e-mailed myself. So can you imagine, mga 400 to 500 'yong tig-iisa 'yon. And I have to go through all of that. So talaga, WOW. It's so nerve-racking. Let's say ito, papasok 'to sa book itong topic today, good luck. Ang dami noon.
D: He struggles with it, to go through it, para we're sure all the best ones are the ones that land on air so it's really very hard for him.
G: And it's funny because he's so obsessive compulsive about it.
D: Hindi pwedeng mayroon siyang mami-miss.
G: It's a given na talaga na by the end of the show, no matter what he does, he won't be able to go through all of the entries, because it's just too much. He gets frustrated.
C: Hindi kasi kunwari, sobrang ganda noong Top 10. Tapos kunwari mayroon na akong 20 na maganda. Pwede na 'yon e. Kung mayroon pang un-read, nao-OC ako. I still have to read it.
ADVERTISEMENT - CONTINUE READING BELOW
D: Sayang eh.
C: Minsan pa talaga, 'yong pinaka-last sa, for example, 10 e-mails 'yong pinakamaganda. So I really have to go through every single one.
Can you describe yourself and then describe each other in one word each?
C: Kung may dash that's still one word? Near-perfect.
CD & G: (laughs)
D: So hindi perfect!
C: Si Gino ... chu-bitch!
G: May masusuntok dito!
C: Delamar? 'Kana!
D: My passport says I'm Pinoy! The hearts says no.
G: (For myself), saintly. Tapos kay Chico, pinakamalandinghayopsabalatngmundo.
C: More than one word ... and no you can't use whore!
G: Hussy! What's a stronger word for landi? Promiscuous ... No stronger.
C: Hoy! Hindi ako promiscuous! Malandi lang ako!
D: Paki-quote din 'yon ha!
C: I'm just a tease.
G: Hirap eh because I'm torn between old and malandi.
D: Yes, he's the nicest.
G: I don't know eh. Aging-malandi? Pwede ba i-dash? For Del, simple. White.
D: Ako siguro, it's not a word, but it's an acronym. OP. Nao-OP ako nitong dalawa. All the time. Gino, instigator.
Not a liar?
D: 'Yon din e. Pero one word lang. Instigator talaga siya. Si Chico talaga weirdo. Pero totoo eh. Kami talagang dalawa ni Gino, we're with him every day and we know how his brain works. But we don't understand him sometimes. Parang "Huh? What was that? What do you mean?" Weirdo.
G: Weirdo. He's so odd.
D: Unique. Ang dami naman noon!

Photos by SPOT.ph and  @cherrythegreat

Share this story with your friends!
---
Help us make Spot.ph better!
Take the short survey
Load More Stories