MY MANILA: Kuya Kim
Kuya Kim takes us around his beloved Manila
(SPOT.ph) Being Kuya-zoned: people say it's even worse than being friend-zoned. But don't tell that to Kim Atienza, who has been Kuya-zoned not only by tweens-in-uniforms but also by his 1.7 million-plus fans on Twitter (and possibly a gazillion more from everywhere else) for as long as we can remember.
That's because 46-year-old Kuya Kim-happily married with three kids, by the way-is the older brother everyone's never had. He's physically active, mentally alert, emotionally stable, and...okay, you get it. Also, he's overflowing with stock knowledge, and doesn't mind sharing it with an entire nation of people who are simply clueless or just too lazy to Google stuff. Will it rain today? What sleeps longer: cats or pigs? Can astronauts cry in outerspace? Ask him the silliest question and prepare to be stumped: Kuya Kim has an answer for it! SPOT.ph talks to him about one of the topics he's most passionate about: Manila.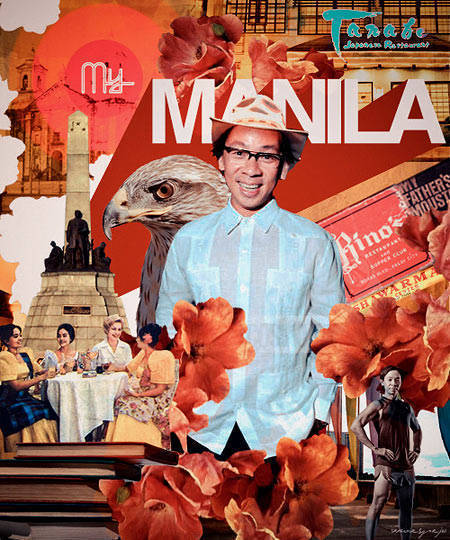 ADVERTISEMENT - CONTINUE READING BELOW
Question, Kuya Kim: How much of a Manila boy are you?
I was born in Manila, I grew up in Manila, and I still live in Manila. I live in Malate now, on Vasquez Street. Vasquez is one of the few remaining good streets in Malate. It's a residential area, and the houses are old. I live in an old house. This is the former house of designer Joe Salazar. It's like an oasis within the city. I have huge Balete trees inside the property and an old house that Joe himself designed. And I'm just a few minutes away from Roxas Boulevard, and five minutes away from Remedios Circle. Although I'm sad now because Malate is not maintained. It's no longer the Malate that I used to know. But it's still beautiful, and it still has potential to be as beautiful as it was.
CONTINUE READING BELOW
Recommended Videos
How so?
Ngayon kasi there's a lack of zoning. It's now full of karaoke bars, girly bars, and gambling joints. It has lost its hip, artistic air-but it's still beautiful. As I say, Malate will always be Malate. I think it's a cycle. Maybe someday babalik na naman yung mga hip [establishments], yung mga artistic. I think it's happening already on one part-dun sa bandang Oar House.
You get up at sunrise. What do you? Where do you go?
I run in the morning along Roxas Boulevard. Although Roxas is not the same Baywalk that I used to know, it's still a nice place to run in kasi maganda eh. The bay is one of the most beautiful, most scenic, most photogenic bays in the world. I've been to Hawaii and the Maldives, and nothing is as beautiful as Manila Bay. They say that it has the most beautiful sunset, at totoo namang maganda talaga yung sunset natin. Whenever I do my long runs, 15, 18 kilometers, I run from my house to SM Mall of Asia and then back. But along the way, I run the whole stretch from the US Embassy all the way to the Yacht Club papuntang Mall of Asia. And that stretch of Roxas Boulevard is beautiful, lalo na kapag sunset. But I'm also sad because I heard that the city government would be reclaiming it. I hope they don't because they will rob us of one of the most beautiful sunsets in the world.
ADVERTISEMENT - CONTINUE READING BELOW
We know how busy you are. Where do you go for some peace and quiet?
I discovered this place 30 years ago. I was a single guy and I was a young Malate bohemian. I would go to Shawarma Snack Center, very exotic. It's on one of the small streets in Malate. They serve the best shawarma, they serve the best tikka, falafel, and then a shisha smoke after. I still go there up to now. Also, for me the best sushi, the best sashimi-better than the high-class restaurants in Makati-is in Malate also. It's in Remedios Circle, it's a Japanese restaurant called Tanabe. The best sashimi imported from Japan-freshest from Japan-is found in Tanabe. I eat there all the time with my wife. And then Casa Armas. Although Senor Armas passed away a long time ago, the quality of the food in Casa Armas is still the same. The best paella and the best cochinillo can be had there. And oh, the best Korean food is also in Malate. Korea Garden, which is in Nakpil.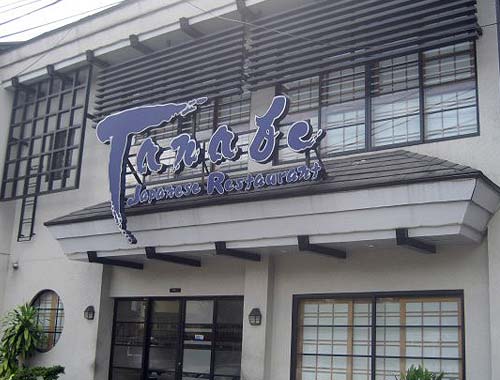 Tanabe photo from everythingtanabe.blogspot.com


ADVERTISEMENT - CONTINUE READING BELOW
It sounds like you never really have to leave Malate, after all.
Well, umaalis din ako dahil I'm always in Quezon City for my shows, and then my wife works in The Fort. Marami ring magaganda sa The Fort eh. Pero proud ako sa Malate talaga, lalo na pag kainan.
You're known as a very well-informed person. Where do you do your research?
I like to read books. I like to read non-fiction. Whatever interests me at the moment, that's what I read about. Now I'm into photography again-I took up Photography in college-but now I want to improve on my photography so I've been reading a lot of photography books. I read a lot about animals. When I have a certain pet, I read every book I can read about it. There was a stage in my life when I was so into snakes, so I read everything I could about it. And then there's the Internet also. Ang sarap magbasa sa 'Net eh-isang surf mo lang punung-puno na ng information eh. I like to read. I have to read. If I don't read I get very uneasy. Even in the car, I read. I read books, magazines.
It's you and your wife's wedding anniversary. Where do you take her?
Fely and I kasi, we go to different restaurants. L'Opera in Makati is still good. But the best steak in the Philippines is in Elbert's Steak Room on Dela Costa Street. It's a little restaurant na walang signboard pero pag alam mo, they serve the best steak and the best wine that goes with the steak. Pag family affair, we go to Tsukiji, which is on Pasay Road. Mahal pero masarap.
ADVERTISEMENT - CONTINUE READING BELOW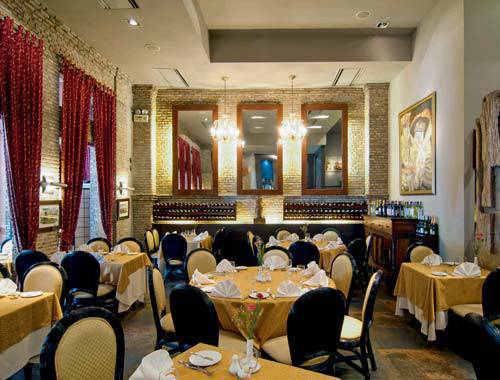 L'Opera
Do you still go malling?
It's very difficult kasi for me to go to a mall because I'm a public person. Hindi kami makalakad nang diretso ng family ko. The mall that offers the most privacy for someone who's in the public eye would be Rockwell. As much as I like to go to other malls, it takes so much time because I have to stop, say hello, mag-picture taking. There's nothing wrong with that-except that matagal. I don't have much time. Yung malling kong dapat one hour, nagiging two hours dahil hindi ako makalakad nang diretso. But okay lang, grasya naman ni Lord yun eh. Thank you for the recognition.
Can you name some of your favorite places on the Web?
It depends on my interest. Now, because I'm into triathlon also, I like going to SBR.ph (swimbikerun.ph). That's a discussion group on different triathlon techniques-swimming, biking, and running. That's managed by a Filipino, Carlos De Guzman, but it's world famous. Then for animals, I like Melissa Kaplan's (www.anapsid.org) health page for any species, especially reptiles. And now I'm into meditation so I visit a lot of meditation websites to learn more about this passion of mine.
ADVERTISEMENT - CONTINUE READING BELOW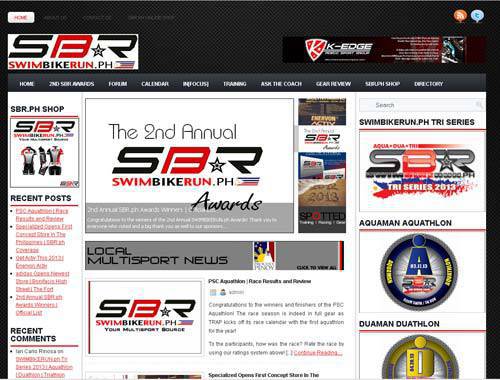 Good time, gimmicks, nights out-do you still have time for these things?
Yun ang inayos ko talaga. Pag di ko kasama ang misis ko hindi ako masaya sa gimik ko. It's either I'm with my wife or my kids because I have very limited time. So whatever free time I have, kasama ko sila. And then my other gimmick pala is because I'm a triathlete, every morning I work out and I'm with my teammates, we have breakfast after. For me gimmick na yun. Masaya na ako run. Pero yung inom-inom, if I'm not drinking with my wife I'm not happy. I only want to drink the best wine with my wife. Dati ang lakas kong uminom-kung anu-ano pinag-iinom ko eh. Pero ngayon wala na.
What else do you want people to know about Manila?
The Philippines is a beautiful place. Manila is one of the most beautiful cities in the world, and I still believe in it despite the fact that it has gone down the past years. The potential is still there; we just have to know what we have. For example: people in Macau go and see this wall that used to be a church-tourists from all over the world have their picture taken. Ang dami natin niyan; buo pa nga mga simbahan natin pero pinag-gigiba natin, tapos nireretoke natin, ginagawa nating modern. Here in the Philippines we have beautiful churches. We have heritage. We have friendly people. We just have to know what we have, and really appreciate it.
ADVERTISEMENT - CONTINUE READING BELOW
---
Help us make Spot.ph better!
Take the short survey
Load More Stories