Cool Coupling: 11 of Manila's Most Beloved Couples
All the world loves lovers!
(SPOT.ph)You know what happens when love happens? The cool ones suddenly turn cheesy. Or the once strong sense of style and identity fades to become carbon copies of each other.
Not these couples, though. They go around the city, attending events,  working together, spreading that loving feeling without succumbing to kabaduyan that being in love often entails. As we celebrate Valentine's Day, let's celebrate these couples who make us want to be in love, too!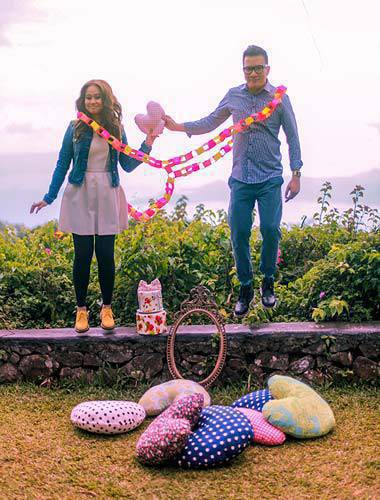 Home is where the heart is: Bong and Rossy Rojales
Bong and Rossy are the power couple behind stylish home haven Heima. They met at a Lomomanila event five years ago and started dating the very next day. At the time, Bong had a collab and innovation space in Cubao X called Kolektib but soon needed to transform. Enter Rossy, who happens to be an Interior Designer. While Heima is a retail store with an ID firm on the side, Heim Interiors, it is obviously more than that. Bong and Rossy's spot-on taste goes well beyond the home, and Heima reflects that: the records they carry (and produce!), the prints, posters, photos, and cameras, the books and magazines, the numerous trinkets. Fast forward to the present and Heima is now the celebrated two-store lifestyle brand in Manila. And Bong and Rossy? Greet Bong and Rossy a hearty congratulations as they will be celebrating their first Valentine's day as a married couple, woohoo!

What are your plans for Valentine's day?
B: This is our first Valentine's Day as a married couple. We're not very traditional but we should at least start one this Valentine's, make it an extra special day. I have nothing specific in mind yet, and I'm also not good at surprises; it could be a simple dinner but it would be perfect to travel this February!
R: A simple dinner at a quaint restaurant or traveling would be perfect!

Knowing what you know now, can you try to answer this: What is love?
B: The word that comes to mind is surrender. Surrender yourself and put your loved one ahead of your feelings, needs and wants.
R: Love is about making sacrifices to make your partner happy.

Do you do pet names?
B: We use "bb" when communicating via SMS, chat, etcetera.
R: 'bb' short for baby, haha

By: Lou E. Albano
Photo: Everywhere We Shoot, courtesy of Bong and Rossy
ADVERTISEMENT - CONTINUE READING BELOW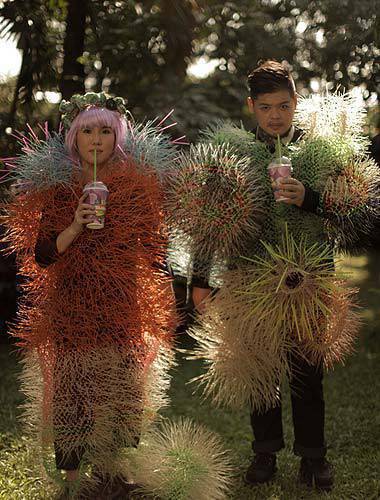 CONTINUE READING BELOW
Recommended Videos
Everywhere They Love!: Ryan and Garovs
Ryan and Garovs are Everywhere We Shoot, a photography duo-slash-graphic design team-slash-hip Manila love team. While they've long been regulars at the fast food joint beside De La Salle Benilde, where they were enrolled, the two didn't meet until 2003. That's when they discovered they liked and were alike in most everything. "We hunted magazines at the same places, we read the same books in the library, had the same angst and passion about almost everything," says Garovs. Working together, according to their official website, just happened naturally. And what work they produce! Suppose their growing portfolio (which includes work published in countless magazines and newspapers, as well as commissions to do record sleeves and brand campaigns) speaks volumes about their love: Ryan and Garovs married last November 2012.

What are your plans for Valentine's day?
We will take our single friends out on a romantic dinner and then go out to a comedy bar.

Who says sorry first?
G: The one at fault, so it's always Ryan.
R: No comment, ha ha!

Do you have theme songs?
G: "Pictures of You" kasi we love photography. But earlier in our relationship,  Orange and Lemons' "Just Like A Splendid Love Song."
R: "Brand New Colony" by The Postal Service.
ADVERTISEMENT - CONTINUE READING BELOW
By: Lou E. Albano
Photo: MangoRed courtesy of Everywhere We Shoot
Production Design: Rabbithole Creatives
Artwork: Leeroy New
Clothes: Bleach Catastrophe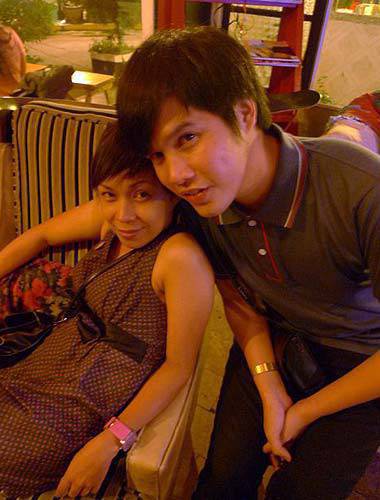 Love Team Supreme: Diego and Ge Mapa
Diego is one-half of the DJ outfit Diegos, one-half of Tarsius, and a fraction of Pedicab. Ge meanwhile works in advertising, moonlighting as an artist. Together, they become something of a love team supreme of the scene. They are staples in the local band scene in general, and in Cubao X in particular, you'd often see them dancing on the floor. And should Diego be playing that night, Ge, along with their friends, will be ruling the dance floor.

What are your plans for Valentine's Day?
D: [Since] a couple of years back we have been spending our Valentines at the UP Fair! Because most of my bands are booked there on those dates. Tapos recently sabi na ni Ge na, "Pwede ba natin i-block off na yan?" Para makapag Valentine's na kami sa iba. Pero naunahan na uli ata kami ng banda ko sa sked. But we try to celebrate of course off-set dinner, movie, or go out with friends.
G: UP Fair. *rolls eyes*

What's the one thing you wish somebody told you about before all this started?
D: About Ge? Wala naman, ha ha.
G: Wala naman. I love surprises!

Do you do pet names?
D: Actually, matagal na namin pinagusapan yan, pero walang nag materialize.
G: Only Ge & Diegs but he calls me sweetheart pag may kasalanan siya, ha ha.

How about theme songs?
"Love among the Stars " by The Cherry Orchard.

By: Lou E. Albano
ADVERTISEMENT - CONTINUE READING BELOW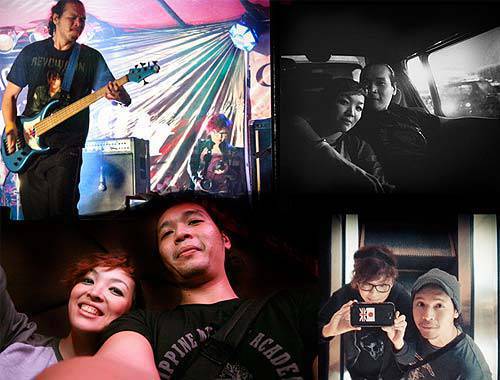 Nino vs Nina: Nino Avenido and Nina Sandejas
"This is what happens when an unstoppable force meets an immovable object..." shares Greyhoundz member and Batman fan Niño "Ave" Avenido to describe his relationship with notable music photojournalist and insert-Music-festival official photographer Niña Rosario Sandejas. It was not love at first sight, sound or even click for these two musical love birds. They don't even remember the first time they met. "We've been friends since... and then enemies [from] long ago, then something else years later, ha ha." Both will celebrate their first Valentine's as a couple this year and we wonder if there are any advantages of disadvantages of a rock 'n' roll relationship. Niña replies, "Advantage: Free trips out of town. Disadvantage: Afraid of getting sick of each other." For now, we can't get enough of music's latest power couple!

What are your plans for Valentine's?
Niño: Secret!
Niña: I want to be surprised! Although think he has a gig, ha ha. Oh, well.

What's the best advice you've heard about love and relationships? Where and or from whom?
Niño: "Follow your heart!" We hear it all the time. We still have to listen to our minds though. Or pwede rin siguro ito: "Be mindful of the future, but not at the expense of the present!" by Qui Gon Jinn.
Niña: I guess if there's anything I learned recently it's to handle everything in moderation. "The light that burns twice as bright burns half as long," from Blade Runner (but is really a derivation from Lao Tzu's philosophies). I wouldn't want something great to end so quickly.

What's the one thing you wish somebody told you about before all this started?
Niño: "You don't know what's coming at ya'!" That's actually a line from one of our (Greyhoundz) old songs.
Niña: "Stay away!!!" Ha ha, I'm just kidding.

Any theme songs?
Niño: Ha ha, madami. This brings us back to our high school days... "Cupid" by 112 should be one of them or those cheesy classics you can never really escape from. Pero I'd also have to pick one out of MuteMath. The relevance is magical.
Niña: Oh dear you mentioned "Cupid"?! I was going to say that there is nothing we ever agreed on that was suitable for public knowledge! *Dies* FYI, we only started reminiscing on which cheesy love songs were a hit during out high school days about a week ago.
ADVERTISEMENT - CONTINUE READING BELOW

Follow Niño Avenido: Facebook-Twitter-Instagram - @ninoavenido
Check out the work of Niña Sandejas : www.rosarioko.com

By: Tammy David
Couple photo and collage: by and courtesy of Niña Sandejas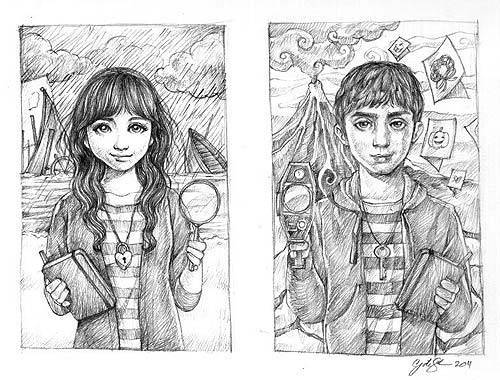 A Pair of Geniuses: Wincy Ong and CJ de Silva
He's been hailed as a "genius" by Quark Henares and she began her public life being endorsed by a milk product as being a "gifted child." But it's certainly something when a polymath talent and a child prodigy fall in love. Wincy and CJ share a lot of things in common-most especially things that they hate. Even celebrating anniversaries are anathema to them. After all, what do you expect from a couple that can boast a combined artistic legacy that includes perfect pop tunes, advertising campaigns, album design, and a horror film? If anything, the most normal thing this maverick duo plan to do is get married, which they will this month. Best wishes from Spot.ph!

What are your plans for Valentine's?
Wincy: We usually don't celebrate Valentine's Day, because as people, we're innately contrarian. There's just something in our brains that declines established norms like dancing "Gangnam," watching Les Miserables or going on a date. We'd usually just cook pasta, listen to music and watch movies from CJ's massive torrent folder. Yeah, we're a really introverted couple.
CJ: I don't think we have plans for Valentine's. We don't usually celebrate "special occasions." We don't even celebrate our anniversary. But we'll probably cook dinner, jam for a little bit, and watch an old movie-maybe a childhood favorite.

What's the best advice you've heard about love and relationships? Where and or from whom?
Wincy: Ha ha, actually from our secondary sponsor Gang Badoy! She told us, "Once you get married, move out immediately, even if you'll be living in a shoebox with only a Gasul as your appliance." Funny but helpful.
CJ: From my dad: To always listen. Listening is what brings people closer.

What's the one thing you wish somebody told you about before all this started?
Wincy: That a relationship is really not a choice, but sort of like gravity. We just fall into people, for some strange reason. And yeah, that being in love is not everything. If you're not lucky enough to find someone, or you get widowed or divorced, life should still go on and there are still a million amazing things out there to get you excited.
CJ: It's always a work in progress. In art school, they taught us to learn when to stop, because you continuously see imperfections that you want to improve on. But with relationships, it's constant discoveries, acceptance and working it out.

Who says sorry first?
Wincy: We usually do it in unison. I sometimes do harmonies.

Theme songs?
Wincy: We both love Miniature Tigers' "Hot Venom."  
CJ: "Fine Time" by The Eraserheads and probably "Private Eyes" by Hall & Oates. We just like singing this song together when we're driving!

By: Yvette Tan and Erwin Romulo
ADVERTISEMENT - CONTINUE READING BELOW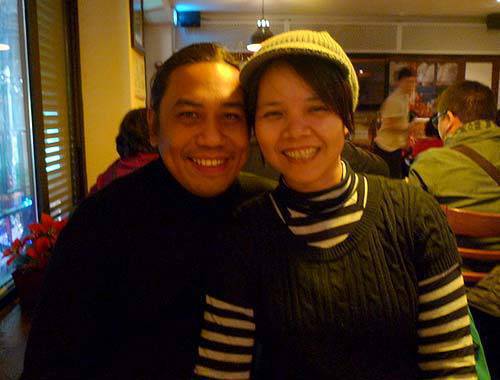 Philippines' most loved artist couple: Arnold Arre and Cynthia Bauzon-Arre
Graphic novelist Arnold Arre and graphic designer Cynthia Bauzon Arre are perhaps the Philippines' most well-loved artist couple. Arnold has drawn and written bestselling graphic novels such as Mythology Class and Martial Law Babies, while Cynthia has designed some of the music scene's most iconic album covers, including the Eraserheads' Fruitcake. It is rare to see one without the other. They are always together, going on adventures here and overseas, and it seems that this is the secret behind their success as a couple--the constant love, respect, and friendship that each one offers the other. Arnold has recently ventured into animation, and is currently working on a short animated film, with Cynthia as producer. They are embarking on a completely new adventure, one that they wouldn't dream on going on without each other.


What are your plans for Valentine's?
Stay home, cook (or order in)...a nice dinner, and cozy up on the sofa watching our favorite films. We don't go out during Valentine's Day. Manila traffic is just too horrible.

What's the best advice you've heard about love and relationships? Where and or from whom?
"If you're arguing about something, don't let the day (or night) pass without trying to resolve it." From both our parents.


Knowing what you know now, can you try to answer this: What is love?
Love is always making sure that your partner is happy in the relationship, supporting each other in our individual endeavors, lifting the other up when he/she's down. It also means fighting for what you have and never giving up on the relationship even when things seem bleak.


Theme songs?
"Fallin'" from the Hamlisch musical They're Playing Our Song was one of our favorite songs when we started going out though it's not necessarily a "theme song."


By: Erwin Romulo
ADVERTISEMENT - CONTINUE READING BELOW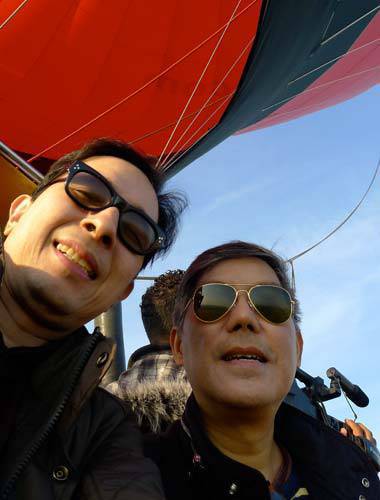 Happy at 30: Ricky Toledo and Chito Vijandre
They are bound by their common love for beautiful things, and the eternal search for "that elusive piece that you cannot have." Ricky and Chito-and we can never think of one without the other-proprietors of the stores Firma and ac+632, have been together more than three decades, and the pleasure they take in looking for collectibles together, scouring the world antiquing, discovering artisans in unfamiliar places, and then bringing their acquisitions home to add to their amazing treasures, is clearly one of the major reasons the partnership endures. Also, they love to laugh, throw amazing parties, and dress up in colorful, multi-textured finery that inspires you to think that every day is a reason to fall in love.  


What are your plans for Valentine's?
Dinner, drinks, fun and games - a soiree at home for straight couple friends and our "swans."

What's the one thing you wish somebody told you about before all this started?
That all this can lead to some very strange and foolish behavior.

Knowing what you know now, can you try to answer this: What is love?
Love triumphs over all, even reason and common sense.

Do you do pet names? What are your pet names for each other?
Normally "Poopsie."  After a marathon viewing of Breaking Bad there's a new one - "BBBITCH!"
ADVERTISEMENT - CONTINUE READING BELOW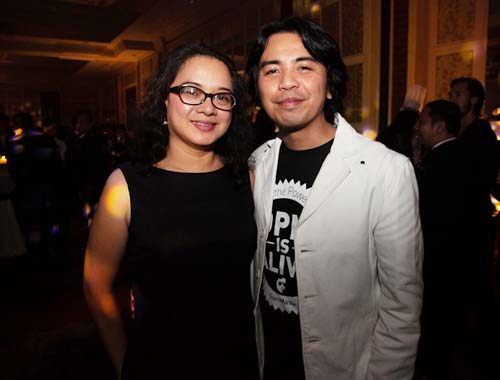 Love Notes: Buddy and Earnest Zabala
For many Filipinos, tocino is sweetened pork we consume for breakfast, or hangover chow. But for record producer and iconic Ehead Buddy Zabala, tocino was the starting point of the 20-year journey (still strong and ongoing) with production manager/communications consultant/home baker/RH advocate and wife Earnest Mangulabnan. "In college while doing theater work for UP Tropa Experimental Theatre Co.'s rock musical called Manhid. Earnest was part of the production and I was with the band, the Eraserheads. She offered me tocino and I've loved tocino ever since," shares Buddy. You would think a rock 'n' roll couple would spend a ton of time doing reckless things that are reality show-worthy but not for Earnest and Buddy. The Zabalas love watching TV series and movies at home, check new places to eat and coolest of all, travel with their 11-year-old daughter Veda or watch a gig (Radiohead in Taipei. Check!). The couple are ridiculously down to earth and are still very, very sweet.

What are your plans for Valentine's?
Earnest: Simple lang ang Valentine's date namin usually. Our last Valentine's date was at a Burger Machine stand along Shaw Boulevard. They brought Roast Beef back into their menu and we just had to experience that again. Parang college lang.
Buddy:  Hmm, ganoon? It's time to change that this year.

What's the best advice you've heard about love and relationships? Where and or from whom?
Earnest: That it's a commitment. It's a decision. I really like this quote from Jeffrey Eugenides' Middlesex: "We Greeks get married in circles, to impress upon ourselves the essential matrimonial facts: that to be happy you have to find variety in repetition; that to go forward you have to come back where you began."
Buddy: I know now that it takes a lot of work. All the things we've been hearing about love and relationships - watering the plants, keeping the fire, open lines of communication - they all work. And they entail a lot of ground rules and list making. The secret is in enjoying all of this, all at the same time.


Who says sorry first?
Earnest: The one who's at fault.
Buddy: Ako na naman?!


What is the sweetest thing your significant other did for you?
Buddy: Earnest bakes! What could be sweeter than that? My very own baker in the house. But seriously, Earnest reminds me that a life lived well is the sweetest gift you can give your significant other.
Earnest: What I noticed is that we're both not big on grand gestures. Mas nasa day to day experiences I guess ang pagiging sweet. Sobra akong appreciative of how Buddy is very supportive of my work and how he goes out of his way (on a regular basis) to help me out. Whether, it's driving me to work (kahit na late sya umuwi the night before from a gig) or acting as my delivery guy for calamansi pie orders. What I appreciate the most about him is the fact that he's there for our daughter all the time. At walang kyeme about taking on household chores.

If I have to think about one particular moment though, it's this: A few years ago, I asked him about a particular polo of his and he replied: "Of course, I still have that. It's the shirt I married you in." Yown.

For EarnestBakes: Like on Facebook

By: Tammy David
ADVERTISEMENT - CONTINUE READING BELOW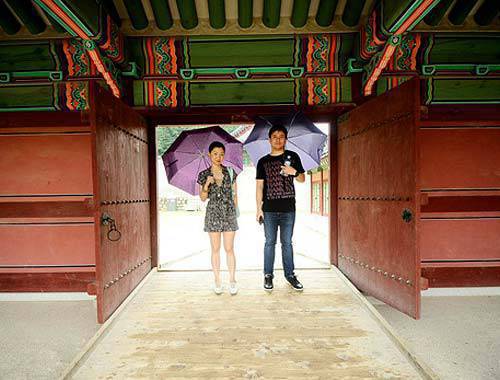 Love in the food lane: Dom Hernandez and Katrina Chua
Five years ago, Dom Hernandez and Katrina Chua were just friends and entrepreneurs. Fast-forward to the present, Dom and Katrina are not only together as a couple but manage or co-own some of Manila's top food spots (a Mang Inasal franchise, Q-kebab, Stackers Burger, to name a few for Dom, while Katrina manages LuGang Café).  You would think there is some fierce competition between these young business savvy lovers coming from the same industry but both agree it is more of an advantage. "We compete in terms of the number of Likes we have on Facebook. We both cater to different markets. We usually ask for advice from each other when we decide on operational issues. We share a lot of information about suppliers also. When there's a proposal and we think it's applicable or may be applicable to both of us we just set one meeting so we save time. So it's really more of an advantage for us being in the same industry," shares the couple.


What are your plans for Valentine's?
Peak day for restaurants so we plan to work that day and make sure everything's in order.

What's the best advice you've heard about love and relationships? Where and or from whom?
That it's a choice.


Who says sorry first?
Depends on who went out of line first before things exploded.

Eh theme songs?
"Whatever You Like" by T.I. Just joking!

By: Tammy David
Photo: Stef Zanirato, courtesy of Dom Hernandez and Katrina Chua


ADVERTISEMENT - CONTINUE READING BELOW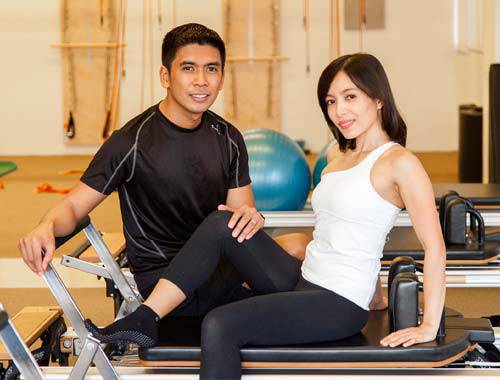 Fitspiration for life: Armand Mendoza and Mitch Felipe-Mendoza
For top weight management gurus Armand Mendoza (of Men's Health's advisory board) and Mitch Felipe (Women's Health columnist), they are not only responsible for making some of Manila's top 500 fit and fantastic, they also get each other's pulses racing as husband and wife. These two have been together for almost eleven years, before they started joining local and international marathons, and way before running became a fad in Manila. As pioneers of weight management programs in corporations and health columnists in different publications, they stress in working hard and having the patience to see the results and rewards, which is same for how they describe their relationship.

What are your plans for Valentines?
We celebrate Valentine's after Valentine's Day to avoid the crowd and traffic. We usually have a massage together and eat a healthy dinner that we prepared ourselves. This coming V-day, we will do the same again.


What's the best advice you've heard about love and relationships? Where and or from whom?
If you worked hard to make your wedding a success, you have to work even harder to make your marriage work. - Father Joel (Santuario de San Antonio)


What's the one thing you wish somebody told you about before all this started?
Being in a nurturing relationship doesn't just make you happy. It makes you a better person.

Knowing what you know now, can you try to answer this: What is love?
Love is a workout. It's instantly rewarding and you also have to work hard to get rewarded with good results.


Theme songs?
"Wherever, Whatever, Whenever" by Maxwell (a cool-down song we used to play after teaching a group fitness class 10 years ago).
ADVERTISEMENT - CONTINUE READING BELOW
By: Tammy David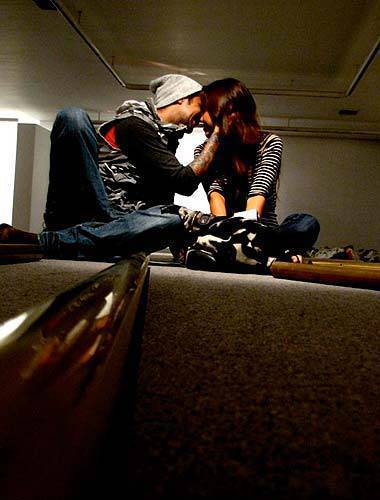 Beautiful People: Mikee Carrion and Nikki Luna
In the nine months they have been together, Mikee Carrion and Nikki Luna's relationship has been nothing short of a non-stop romantic adventure. What do you expect from a first date that took place at a tattoo shop? With a trip to Bali, a tattoo of Nikki's name on Mikee's arm, a chocolate Labrador named Madrid, it seems like Valentine's day is a year instead of a day for this couple.  "I'm lucky to have a man who does not hesitate to show his affection, he's just really thoughtful and caring every day in many ways, simple and grand," says successful visual artist and women's right advocate Nikki says of AKTV's sports commentator Mikee. Fall in love and turn green with envy with this good-looking couple.

What are your plans for Valentines?
Mikee: An overnight date somewhere out of town and most probably a post extended date in Japan this February.

Knowing what you know now, can you try to answer this: What is love?
Mikee: Being with someone who can make you happy. Nikki's brought out the best in me, and the real me. Just being able to be yourself with that person is what love is. It's honest, and there's no need to justify why you're together.
Nikki: I agree with Mikee I learned there's no need to justify and have a long list of reasons for staying with someone. If you love the person. It is what it is.

Theme songs?
It's probably by XX. Title of the song: "Islands". We both love rock, from Led Zeppelin to Pink Floyd, Rolling Stones, Ramones.

By: Tammy David
ADVERTISEMENT - CONTINUE READING BELOW
Share this story with your friends!
---
Help us make Spot.ph better!
Take the short survey
Load More Stories