David Pomeranz: As Long As You Love Me
Oh, wow, there's still something we don't know about David Pomeranz! But first, a concert.
(SPOT.ph) At the press conference for his nth concert in Manila-March 9 at the new Filinvest Tent, you guys-David Pomeranz indulged Pinoys by doing a ... sample. He obviously knew his Filipinos. He sang three songs, one of which was a cover of the Backstreet Boys hit "As Long As you Love Me." And it struck us: he might as well dedicate that song to us.
As long as we love him, as long as we sing along to his songs, as long as we get kilig over "Got to Believe," as long as there's a prom that plays "King and Queen of Hearts," David Pomeranz will grace us with his presence. He can be that stateside tito, who's always here for Christmas, except kindly substitute Valentine's Day for Christmas and that's that.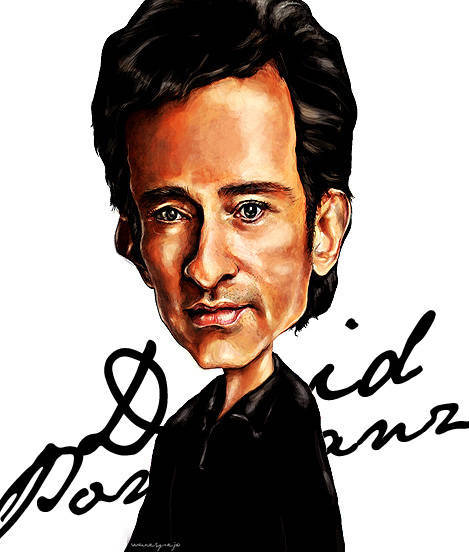 "Valentine's [Day] gets stretched to three months here," the crooner jokes, when asked why the concert seems to be a belated Valentine celebration. He is in good spirits, and why wouldn't he be? David Pomeranz knows the entertainment press. He is friends with them, and the press conference could've been a welcome-back lunch you throw for a balikbayan relative or friend.


ADVERTISEMENT - CONTINUE READING BELOW
In place of giddy questions were familiar greetings: What happened to your Valentine concert, why only now? Have you been to your favorite spots in Manila yet?  One member of the press even suggested: You should probably invest in property, since you're always here, much to the delight of the Filinvest executives present. "But you can only rent," adds Mr. Isah Red of Manila Standard. You don't really explain the nitty-gritty of Philippine law to a foreigner; but Mr. Pomeranz is hardly a foreigner these days. He might as well be Filipino.


SPOT.ph attended his press conference mostly for the same reason you're reading this: What's new? Well, there's his upcoming concert, yes, but more than that, we did find out a few new things about Mr. Pomeranz. He's a Scientologist, for one. Read for more!
CONTINUE READING BELOW
Recommended Videos
1.    Whenever he's here, it's always an "intense" visit. So that's why he still hasn't developed any Manila routines or hangouts in Manila. "You know, it's always hotel and then concert and then hotel and then some other engagement. So I like this particular visit because I'm here for a longer period of time." This time around, he's already been in Manila for a solid two months. He'll be here three more weeks so after that, we can probably feature him in our My Manila series.
2. Sisig Pizza gave him culture shock once before. "The pizza they served me crunched in a way that pizzas aren't supposed to crunch!" He shares that he was in a province on a earlier visit to the country when the organizers served him pizza. And then the crunch. "Turns out there were pig noses on the pizza and pig cheeks..." he trails off. There was a time the Philippines was a new experience.
ADVERTISEMENT - CONTINUE READING BELOW
3. He was here last September. No, there was no concert. He was here for the International Book Fair, to promote the book Dianetics because...
4. ...David Pomeranz is a Scientologist. That's right. "I've been a Scientologist for 30 years now," he admits, "and it's been the singular most important thing I've ever done-reading Dianetics and being a Scientologist. It's extraordinary. Have you read it? It's incredible, it's fascinating. It's called The Modern Science of Mental Health. And it handles problems that don't go away, anything that's inappropriate, doesn't make you happy."
5. He became one because was not a happy guy. "For most of my life, I'm not a happy man. Until someone told me about the book and I read it and did the techniques. And it worked incredible well. And I was able to handle the things I was having trouble with, helped me with my success, with my family, with my relationships." If his mood last Monday was any indication, Mr. Pomeranz is now a very happy guy. And we are sincerely happy for him.
6. The two songs we thought he owned? He doesn't. Contrary to popular belief, David Pomeranz didn't write "King and Queen of Hearts"-gasp!-or "Got to Believe." He merely performed them. Credit goes to Charlie Fox who composed the music and to Stephen Geyer who wrote the lyrics. "I don't think Charlie's ever been to Manila and I keep telling him to come here. 'They love you here,'" Mr. Pomeranz explains.
ADVERTISEMENT - CONTINUE READING BELOW
7. His background is in rock music. That is correct, you didn't read that wrong: David Pomeranz came from the same astig background as, say, Pepe Smith. It was through trying to force his rock music to Manila that he discovered Filipinos were a sappy bunch. "During one of my first visits here, our plan was to rock it out at Folk Arts Theater. So we did all that-chromatic guitar solos, double-bass drums, the works. But the audience only looked at us blankly. So we did another one and the audience looked to us the same way," he narrates. So he tried another tactic. He did one of his power ballads "and the crowd loved it. We tweaked our setlist and that's how I came to discover that Filipinos and I love the same thing: We love our emotional songs and our big melodies."
8. He is a huge Zsa Zsa Padilla fan. "I love her voice," he exclaims, saying The Divine Diva has one of those voices-"big and there's a certain quality to it"-that he can't get out of his mind. Hmm, a project soon perhaps?


Share this story with your friends!
---
Help us make Spot.ph better!
Take the short survey
Load More Stories