On the Spot: Stephanie Retuya of Asia's Next Top Model
Meet the soft-spoken 23-year-old mom and model.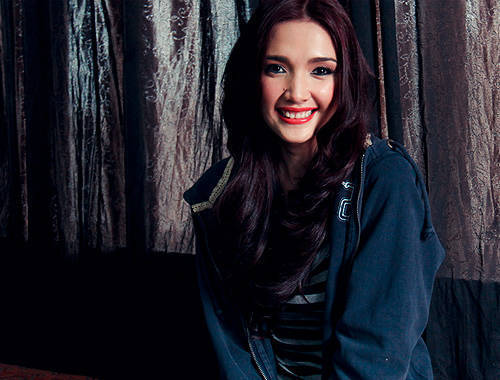 Stephanie Retuya fresh off a shoot.
(SPOT.ph) She was just about to leave when she gave herself one last check in the mirror. It was nothing surprising; she is, after all, the country's soon-to-be "it" model. "Ay grabe pala 'yong makeup ko! Weird naman kung lumabas ako ng ganito!" Well, we did say soon-to-be. She picked up her bag again and sat back down, yanking off her glued-on eyelashes while continuing her casual banter. "I still talk to (my fellow Asia's Next Top Model cast members)... I just sent them a message right now... We have a whole WhatsApp group!" she says without missing a beat, rubbing off the unnatural rouge off her cheeks with practiced strokes. Another check and a sigh. "Okay na yan. I'm going home." She smiled, gave a cheery wave, and went on her way.

The shoot was done. The interview was done. Just half an hour ago, Stephanie Retuya, the Philippine delegate who almost won Asia's Next Top Model, looked effortlessly chic in a floaty red couture gown, exuding much more confidence and elegance than we'd come to see during her AsNTM photoshoots- a product of two months in front of the cameras, being in her home turf, and jobs left and right. Right now, however, in her cardigan, blue jeans and the view of her retreating back, she was nothing more than a mom who can't wait to go home to her baby girl.

Thankfully, we were able to squeeze an interview into her busy schedule. Read on to find out more about this budding supermodel, how she balances her time between her dreams and her daughter, and her encounter with model-mogul Tyra Banks.
ADVERTISEMENT - CONTINUE READING BELOW
Can you tell us about the start of your modeling career?
I started January 2011. I [was] 21 years old back then. I did a little bit of runway and photo shoots before I got pregnant.

Who were the designers that you worked for before?
I was with Fashion Watch (a show featuring several designers) so it was Inno Sotto, Dennis Lustico, Jojie Lloren, OJ Hofer...I've worked with most of the designers who were part of Fashion Watch.

How did you find out about Asia's Next Model?
After I gave birth, I thought I needed a really good break. You know, the prejudice with being a mom [is that] somehow you can't do "real" modeling anymore. I thought I really needed something to boost my career so when I found out about Asia's Next Top Model, I knew that it was really the big opportunity. I told myself that I needed to join it otherwise I was going to regret it for the rest of my life. No expectations, though. I just joined because I don't want the what-ifs to haunt me.

How did you join? What was the process of trying out for Asia's Next Top Model?
CONTINUE READING BELOW
Recommended Videos
I sent a photo. Super simple lang. Digicam photos. They just required two. After that, they asked me to send them a video which I made with my brother. Super homemade lang talaga siya. Very short. That's it.

When did taping start and how long was the whole competition?
It started in June 2012 until August 2012 so it was two months.

It was your first time abroad and you were still a fairly new model then, did you experience culture shock with the whole lifestyle and being away?
ADVERTISEMENT - CONTINUE READING BELOW
I think mostly being away. It's a different world and all of the people speak in English. We can [probably] speak in our own language, but then no one will understand each other. It's also fun though because it's a very new experience. The negative part was that I really missed my daughter. Everything else was fun!

What was it like watching yourself on the show?
I can't watch myself! It's so embarrassing! I did try with the first few episodes but whenever I come on, I just close my eyes and try not to hear myself. It's like a different voice. It's weird!

What was your favorite photo shoot during the entire show?
My favorites were those where we went out of the country like Indonesia and Hong Kong because...We traveled! It was fun to do that.

What about your least favorite? The one that you found most difficult?
The underwater photoshoot definitely! Because I [almost] drowned before doing that so I was really scared. I don't think people really understood how scared I was during that one, but it really freaked me out. I can remember what happened to me when I nearly drowned.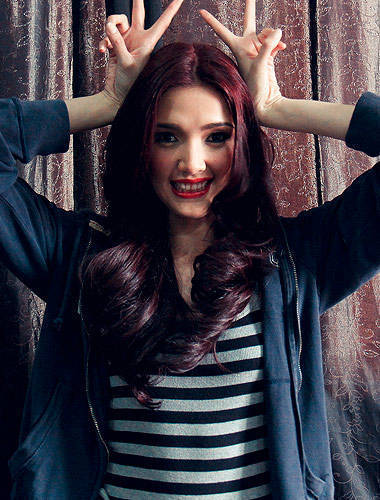 The picture of a goofy 23-year-old
ADVERTISEMENT - CONTINUE READING BELOW

You started the competition on a high, placing second-highest in the first photoshoot, but then you landed on the bottom two five times. How did the jump make you feel? Did you expect to be in the final three?
I always took the show step by step, per challenge and per photoshoot. Being on the bottom two was always hard, it broke my heart all the time, and it was hard for me to accept in the beginning, but I knew that I had to fight for it. I didn't expect to be in the final three, but I hoped to be there and even win. But I didn't expect much because I didn't want to be disappointed. I just tried to remind myself to do my best.

Who was your biggest competition?
I think my biggest competition was every one in the top six. That was the time that I started getting nervous like, omigod, this is it na. No one knew then who was going to be eliminated.

What was Tyra like? Did you watch America's Next Top Model?
I did watch the episode that Ann Ward (Cycle 15 winner) was part of. We watched the replay of British Invasion in the model house. Tyra Banks was so very warm. You can talk to her easily. She's fun to be with.

What was the first thing she said to you?
When she found out that I just had a baby and she asked me where it all went! Ha ha ha! Where?

Where did it go?
ADVERTISEMENT - CONTINUE READING BELOW
I don't know! (Laughs)  I think it was with breastfeeding. I did that for six months and I lost weight easily.

Did you watch the final episode?
My friends came over and surprised me. We watched but I really didn't pay attention. (Laughs)

How long has it been since you returned from the show? Did it boost your career as much as you thought it would?
Yes! It did. I did several editorials which I was never able to do before. In the beginning though, I was just doing the same things. Just a little bit of modeling. But after it came out, I think after I made it to top six, that's when people started calling me, wanting me to work for them. Although right now, there are less runway shows in the Philippines, so I haven't done runway since I got back and I really miss it.

So you prefer runway over editorials?
They're very fun, both of them, but it's a different feeling. Runway is really my favorite. I love it!

You really want to be in the fashion business?
Yes.

They always say that the fashion industry is cutthroat and vicious. You seem so sweet-a comment constantly given to you throughout the competition. How do you think you can handle it?
I don't know. So far, since I started until now, everyone I've worked with, in the beginning they're always so strict. I would just become myself, the crazy weird girl, and then eventually they just warm up to you. They'll suddenly become open and they treat you the way you treat them. It's definitely going to be fine. If ever there are some bad things, I think I'll just shrug them off.

Do you plan on going into showbiz?
ADVERTISEMENT - CONTINUE READING BELOW
I don't know. There are some who are asking me, but I'm too tall, right? Maybe I'll just leave it open. Right now, I just want to become a fashion model.

But what if? Who would you want to be paired up with?
Someone taller than me! Or same as me! Maybe I could just play myself. Like a cameo.

You seem to be very busy, what do you do in your free time when you have free time?
Mostly spend it with my baby. I don't really go out. I think that's the thing I have to sacrifice. Like, right now, doing makeup a while ago, I was already missing my daughter. I just want to go home after everything. I do have some friends though who tell me, "I'm going to kill you if you don't show up." So, okay, I go to those. I bring my daughter sometimes.
Share this story with your friends!
---
Help us make Spot.ph better!
Take the short survey
Load More Stories