From Music Men to Leading Men: Top 10 Rockstars-Turned-Actors
We've listed 10 Pinoy rockers who decided to try their luck in theater, TV, and film.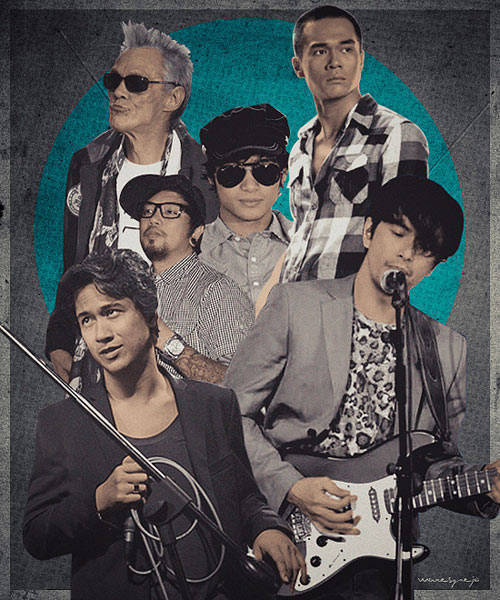 (SPOT.ph) Showmanship is often part of being a musician and some musicians are better showmen than others. We've listed 10 Pinoy rock stars who decided to try their luck in theater, TV, and film. They appear from a whole range of offerings-from indie flicks to afternoon telenovelas.
11. BLAKDYAK

Musical cred: OK, we use the term "rock star" loosely (hence, the 11th spot) when it comes to this Filipino-Barbadosian, who's Joseph Formoran in real life. He gained fame in the late 1990s with reggae-flavored songs like "Good Boy" and "Noon at Ngayon." He was also a crowd-pleaser during his live perfomances as he exhibited slapstick skills.
ADVERTISEMENT - CONTINUE READING BELOW
Acting stint: It must have been his comic tendencies that landed him a plum role in the action-comedy movie, Asin at Paminta (1999). His co-star was no less than Pinoy showbiz icon Eddie Garcia. He went on to star in movies like Weyt a Minit, Kapeng Mainit (2001) and S2pid Luv (2002). Sadly, Blakdyak wasn't able to sustain his success. He staged a comeback in 2009.
The verdict: Blakdyak could have had the best of both worlds. He had a knack for crafting catchy tunes. He was also a natural comedian.
10. WINCY ONG

Musical cred: This low-profile charmer was the bassist of the band, Narda, which was active from 2002 to 2007. He left the band in 2005, presumably to pursue film studies.
Acting stint: Ong has done work begind the camera, but he's also acted in indie films like San Lazaro (2011) and Rakenrol (2011).
The verdict: He's a steady bass player and he's a reliable actor. He strikes us as the kind of person whose skills will get better and better.
ADVERTISEMENT - CONTINUE READING BELOW
9. PEPE SMITH

Musical cred: If you want to meet a living Pinoy rock legend, this man is it. His music career started in the 1960s, when he was part of a band that eventually settled on the name The Surfers. Later on, he was part of another band called The Downbeats, where he became known for moving like Mick Jagger of The Rolling Stones. In fact, he was tagged as "The Mick jagger of the Philippines." In the 1970s, Smith joined the Juan de la Cruz Band. According to fan sites, "Smith composed the band's most popular song,'Himig Natin,' backstage in a ladies' toilet (he said the door to the men's toilet was busted) in 1972, while waiting for his turn to play in a concert called 'Ang Himig Natin,' at the Rizal Park grounds."
Acting stint: With his larger-than-life personality, Smith could easily be a character actor. He and his family were featured in the reality show, The Smiths in 2011 and Smith has played bit roles in movies like 2005's Ang Pagdadalaga ni Maximo Oliveros (uncredited, as "the pianist) and 2012's Boy Pick-Up: The Movie (as "Master").
ADVERTISEMENT - CONTINUE READING BELOW
The verdict: He's definitely a rock star, but he's not a bad character actor either. We just think he should stick to being himself because, well, he's good at that.
8. JAMIR GARCIA

Musical cred: Frontman of the kick-ass rock band Slapshock, this tattooed singer-songwriter walks the talk of his nu metal with songs like "Cariño Brutal" and "Agent Orange."
Acting stint: He starred as one of the thugs in Jim Libiran's mock documentary about the gangs of Tondo, Tribu (2007).
The verdict: We're not saying he should quit his band, but if he wanted to, he could take on more roles. His unaffected and no-frills perfomance in the movie was impressive.
7. FRANCO REYES

Musical cred: Franco Reyes is the lead vocalist and guitarist of the band (you guessed correctly) Franco. It's a supergroup that was formed in 2008, featuring the likes of Gabby Alipe of Urbandub and 8 Toleran of Quezo. The band dominated the 2010 NU Rock Awards, with their single "This Gathering" winning Song of the Year and self-titled debut album being hailed as Album of the Year. Though the other members have gone back to their respective bands, Franco has rallied former band mates and is coming up with a sophomore record this year.
ADVERTISEMENT - CONTINUE READING BELOW
Acting stint: In 2011, Franco Reyes appeared in the Cebuano zombie movie Di Ingon 'Nato (Not Like Us). It's a Cinema One original movie, about a small town that becomes exposed to a virus that turns people into the living dead. Franco plays the doting husband to Mercedes Cabral, who becomes infected.
The verdict: It's a zombie film (an artistic take on the genre) and towards the end, Franco goes all out with a bolo and starts hacking and slashing like his life depended on it (and it did). And he cuddled up with Mercedes Cabral. Nothing in this movie makes him seem any less than a rock star. He should stick to music though and just keep taking on roles that are unexpected and challenging.
6. ELY BUENDIA
Musical cred: Jesus, if you don't know this man and what he and his band (you know which one) did for OPM, then maybe you've been living under a rock. Let us bring you up to date: He was the vocalist for the Eraserheads (this would be it), after which he fronted The Mongols, Pupil, and, now, The Oktaves.
ADVERTISEMENT - CONTINUE READING BELOW
Acting stint: Most of his on-screen appearances are in one way or another related to his music projects: his cameo in Rufa Mae Quinto's Masikip sa Dibdib, had him singing one of his Mongols songs; he performed "Disconnection Notice" when he guested in Show Me da Manny; he cameoed as himself in Quark Henares' Rakenrol. The most unrelated acting project Ely dabbled in was in Saab Magalona's short film, Spoonfeed.
The verdict: He's a rock star through and through. He doesn't need to have a "second job" as an actor.
5. KEAN CIPRIANO

Musical cred: He is the frontman of the band Callalily, which was formed in 2005.
Acting stint: Cipriano got his feet wet in show business, so to speak, when he starred in the TV5 series BFGF. Next, he was in the TV5 sitcom, Hapi Together. He has since scored roles in movies like Praybeyt Benjamin, Ang Babae sa Septic Tank, and The Reunion.
ADVERTISEMENT - CONTINUE READING BELOW
The verdict: He's equally talented as a musician and an actor. But, if you make us choose, we'd want him to take on more movie roles. We need more matinee idols with a lot of swagger.
Recommended Videos
Load More Stories