Suits Star Patrick Adams in Manila
TV's favorite fake lawyer, Mike Ross, paid his Filipino fans a visit just in time for the show's Season Two finale.
(SPOT.ph) Suits fans got all pumped up last February 27 as they finally had the opportunity meet Mike Ross in the flesh. Thanks to Jack TV, Patrick J. Adams was here in Manila for an exclusive gathering in time for the show's finale. Read on as the 31-year old Canadian actor gamely answers questions from the local press people who gathered to meet him and talks about his first trip to the Philippines, his love for mangoes (check out his tweet!), and the best part about being on the show.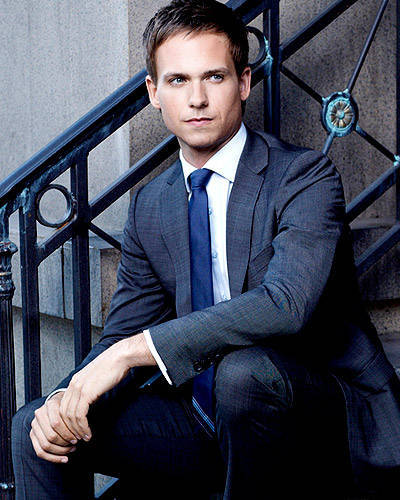 ADVERTISEMENT - CONTINUE READING BELOW
CONTINUE READING BELOW
Recommended Videos
Welcome to the Philippines! Is this your first time here?
I've actually been here once before. I've been to Cebu but I was about 15 or 16 years old. It was a family vacation.
Why Cebu?
We went to a resort near Cebu and then we spent a couple of days in town. My father was a journalist so he likes to travel to places that are a little off the beaten path rather than going where you would typically go, so that's where we went and we had a great time.
We've seen on Twitter that you've been eating a lot of mangoes here.
It's so good! It's so good here. No balut yet but...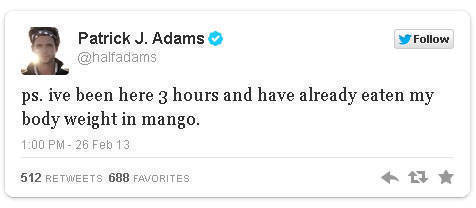 ADVERTISEMENT - CONTINUE READING BELOW
Yeah, we're pretty sure you'd get to taste that.
How many people here have had balut? [A couple of hands go up] Yeah? NOT excited.
Tell us your experience in the Philippines so far, is there anything in particular that stuck out apart from mangoes?
Sadly we haven't had a lot of time to walk around to see the city which, if you've been following our trips to Singapore and Malaysia, we like to walk around and take pictures and just go out there and see what's what. But we're gonna take off to some secret location. We'll be on the beach for a while but sadly that won't be here [in Manila]. (Ed's Note: They spent the weekend in El Nido, Palawan.)
What is your impression of Philippine beaches based on your research or your trip to Cebu from way back?
Well my impression from being here the last time was it's so beautiful, one of the best beaches for scuba diving. The last time I was here it was gorgeous, the water was beautiful and the people were so warm and we just felt so immediately welcomed.
ADVERTISEMENT - CONTINUE READING BELOW
Are you surprised by how popular Suits has become in this part of the world?
Of course! We shoot the show in this warehouse in Toronto and it feels remarkably unsexy when we're doing it and then to step outside of that and see that it actually reached so many people everywhere is shocking. Imagine what you do every day and then suddenly there's so many others outside the planet thanking you for it...it's great, it's incredible, and very surreal.
What do you think sets Suits apart from other similar-themed shows?
I think what sets it apart is that even though it's a legal show we don't rely on the cases. There are a lot of times where an episode will go by and you'll see just five minutes of the actual case. It's really about how it incorporates all these characters and [about] how it changes them. We're really not interested in doing a play-by-play of a case but if it ever comes up and it's important to the story, we can. But it is more important that we advance the story of these characters and that takes a lot of confidence on the part of the writers to create characters that you'd be interested in following. It seemed to have worked so far and hopefully we could keep it going.
ADVERTISEMENT - CONTINUE READING BELOW
Do you get a say in what happens to your character in the series?
Not really. We do sit down with the writers and we ask them questions and we have conversations but it's never as direct as [going around and saying] "Hey, I really wanna do this." There are a couple of things though, like Harvey's boxing scene from this season. That whole thing came out of a discussion that Gabriel had with the director, so they thought about it and then it became part of the show. So there are things along the way but always very informal, very relaxed.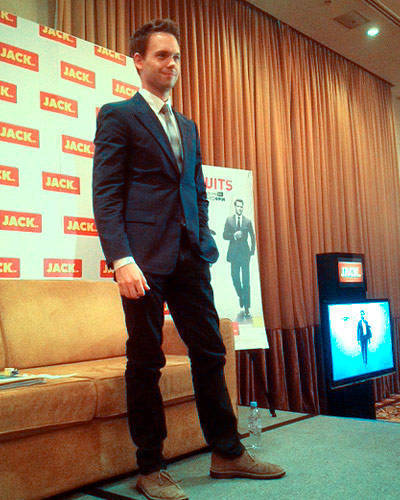 ADVERTISEMENT - CONTINUE READING BELOW
Dressed down at the Jack TV press conference
Ultimately what do you want to happen to your character?
I think he should become an astronaut. [Laughs] I try not to get too wrapped up in it, to be honest, because I don't want to have too many expectations. When working on a TV show you kind of need to just roll with the punches. I just like seeing him grow up, make mistakes, mess up. I think that's sort of the heart of the show-watching someone drop the bomb and get back up again. I just hope that he keeps evolving and that we find him becoming more of the man that he wanted to be.
If you had a photographic memory in real life, how would you use it to your advantage?
I'm an actor so I would just remember lines, just open up a play and then read them and then know it. I can't imagine a way it wouldn't be useful. In fact, I think the more interesting thing that I'm sort of looking at in the show are ways where having a photographic memory could negatively affect someone; you know, the curse of that. I'm interested in exploring Mike's process in the things that he wishes to forget but he can't, and the things he can't control.
ADVERTISEMENT - CONTINUE READING BELOW
Has anyone asked you for legal advice?
No, because that would be so foolish. But I have given legal advice. That's what I do, now that I play a lawyer on TV I just dole it out like I know what I'm talking about. I actually almost represented myself. I had a scooter and I got into a small accident with a city bus. I got really pumped up like "You know what, I play a lawyer on TV, I'm gonna lawyer it. I've been there, I'm gonna stand my ground and prove [that I'm right]." Then I got into five minutes of research of what would be required and I was like "Oh god I can't do this. Let's pay the fine and get out of here."
So being a lawyer is a lot more difficult, I think, in real life than it is playing one on TV so I try to avoid giving that too much suggestions on how people should represent themselves.
ADVERTISEMENT - CONTINUE READING BELOW
And you're actually just playing a fake one on TV.
Exactly! I'm not even a real one on TV!
Did you ever have hopes of actually going to Harvard to become a lawyer?
No, I never wanted to become a lawyer. My mom wanted me to become a lawyer because when you tell a mother you wanna become an actor they'll stare at you blankly for a long time. She wanted me wearing a suit every day and I said that's never gonna happen. So now she's laughing.
I was never a remarkably good student so going to a school like Harvard was probably never in the cards for me. But I did want to go to school to become an actor so that's why I ended up in USC, where I found a great program where I could be acting 24 hours a day and somehow end up with a big fancy diploma at the end of it.
ADVERTISEMENT - CONTINUE READING BELOW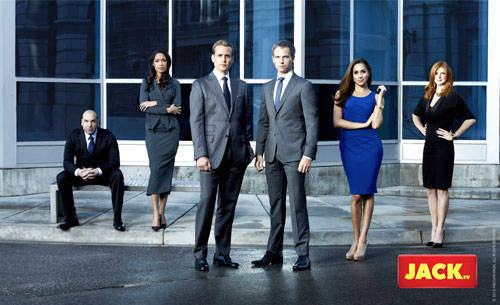 What are your similarities to Mike Ross? Are you more of a Harvey or Mike?
I think I'm more like Mike. And Gabriel is more like Mike, too. Who's really like Harvey Spector? [laughs] I have a lot of similarities with Mike, we're both those guys who are trying to find the good in things and trying to do what's right and sometimes losing sight of the bigger picture.
ADVERTISEMENT - CONTINUE READING BELOW
What's it like working with Gabriel Macht?
Gabriel's incredible. He's such a great guy. He works really hard and he's very supportive. Right from the beginning of the show we both said, you know, these are long hours you can get really overwhelmed and people can start acting out and there's a reason there's a stigma where actors of shows become divas. We both really sat down with each other and said we're gonna avoid that and make sure that if we do start going in that direction, we'll catch each other and stay humble, and just enjoy the process. He's been a real brother to me, we've become very close and I like to make fun of him all the time. I'm trying my best to not do it here but... he wears sandals, he wears Birkenstock. [Laughs]
Since Mike is a fraud, do you think education plays a big role in attaining a certain status in life?
ADVERTISEMENT - CONTINUE READING BELOW
I think, well at least in the United States there are a lot of people who have proven that massive amounts of success do not depend on formal education. I think formal education is good, but I think that there's something a little bit missing from the process which is engaging somebody in their own curiosity. We have people like Mike Zuckerberg, Steve Jobs, who got to do incredible things and basically build industries on their own because they don't want to play it by the same game. Although for a lot of people, going to school and getting a good job is the focus but there are certain visionaries that need to have room to experiment and think outside the box, and sometimes, schools aren't very great in the think-outside-the-box part. That being said, I don't think people should not go to school just because they're lazy. I think you just have to follow your own curiosity and see what you find.
ADVERTISEMENT - CONTINUE READING BELOW
We love your chemistry with Rachel. What do you think of ambitious women in general?
They're great! I like them a lot-the women on the show, not just Rachel. The reason why we have so many women in here today is because I think the show has such powerful women in it. These are not just women who are pretty and don't do anything. Every woman on the show is not there just to serve. Even Donna, Harvey's secretary. It's not like she's just there to service Harvey. Truth be told, without her, Harvey is nothing.
I like that there's two sides of the coin, all of the women in our show are such powerful, fierce women and I think there's a reason for that because it's an attractive quality. I think as we go further and further along in evolution, we realize that powerful women are the key to everything and without them we kind of have nothing.
ADVERTISEMENT - CONTINUE READING BELOW
You had a couple of hot and heavy scenes with some of the girls on the show. Does Troian get jealous?
No, she doesn't. We do this for a living, you know, it's a very strange job and we both go through it. You can't imagine how unsexy these scenes are when you're shooting them. There's like 50 crew guys around who are sweating and then there's a like a boom mike up there. Imagine making out with all these people around you. It's a little uncomfortable, it's not intimate. Although it's interesting and fun to try to make it work and try to make it look real and authentic. But as actors, Troian and I both know how not real it is. And also, we trust each other so that helps.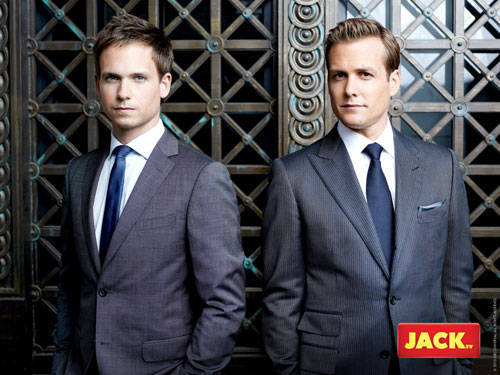 ADVERTISEMENT - CONTINUE READING BELOW
Mike smokes a lot of pot in the show. What's your stand on smoking marijuana and do you have marijuana-related anecdotes that you can share with us?
You know I'm a Canadian and I'm sure there's a publicist in the back who's freaking out because I'm about to answer this question. [Laughs] I'm so many years older and busier now so my heydays are long behind me. College is over. It's not something that I hope is important to me on that level but I do think that legislatively it's an important thing to be taken a look at. It could be a crutch and I think a lot of people depend on it but there are also a lot of other people who use it for medical reasons and I think there are far more things to be chasing people down on the planet for than that.
In other TV shows like Supernatural, the lead actors directed an episode. Do you see yourself directing an episode as well?
ADVERTISEMENT - CONTINUE READING BELOW
Yes. There's nothing official yet, but we've been working it out. They know that I'm interested in directing, I've shadowed the directors on the show and when the time is right, I'd definitely be directing an episode. It wouldn't be very good, though. [laughs]
Do you like wearing suits or are you a T-shirt and jeans kind of guy?
I am a T-shirt and jeans guy but I started to love wearing suits. I've had people comment on the first season where they can see that I look like a southern little boy in a suit because my body doesn't know how to stand in them. Then over the course of the second season I learned from watching Harvey Spector-I knew how to stand properly while wearing a suit so now I'm starting to enjoy them more. But I like to wear them for short periods of time because when we shoot the show, we're wearing suits for 16 hours a day so by the end of that I so wanna get out of them and be in my pajamas.
ADVERTISEMENT - CONTINUE READING BELOW
Can you give us a tip or a secret to wearing a suit?
Shoulders. In terms of having a good suit, well, [it's all about] having a good tailor or having a lot of money. [Laughs] Actually you don't have to have a lot of money to have a good suit; a lot of the suits that I get put on can be from anywhere. It's just how it falls on your body and how you wear it. So in terms of wearing it, I just learned to do basic things that my mom tried to teach me before like stand up straight, put your shoulders back. It's also about the combination of shirts and stuff. I'm [still] learning it all, like right now I'm a student of suits so if you ask me in two years maybe I'd be a little bit more of a pro. But a good tailor really helps.
ADVERTISEMENT - CONTINUE READING BELOW
What's your biggest fashion splurge so far?
It's really hard for me, Troian and I both laugh about it because people think when you're on a TV show, you spend a lot of money. We have the hardest time! We still go out to Urban Outfitters and we're like "$20 for a T-shirt?!"
I like shoes a lot, and I bought a wool blazer last year that was worth way more money than I can imagine spending on something. It's all really silly but I've worn it about a thousand times. Shoes are important to me though, because I do a lot of work around the house. I do a lot of woodwork and stuff that revolves around having a good boot that can help me move around and be active. So spending money on shoes is important because I need them to last.
What suit are you wearing?
This is a Marc Jacobs jacket and a pair of jeans. I'm sorry  I'm not wearing a suit but I have to wear them for like six months in a year so that's okay, I guess.
ADVERTISEMENT - CONTINUE READING BELOW
What is the craziest thing a fan has done to show their love for you?
Well someone [from here] just brought poi in the room-she ran in with them and she started spinning like crazy! [Laughs] Nothing too crazy, though. Fans of the show have been really respectful, nothing out of control. Mostly just tokens that they made for us, or letters, and it's all very, very sweet. Nothing that scary.
Photos courtesy of Jack TV and by Kabbie Rodriguez Alipio (press conference)
Are you sure you want to delete this list?

Load More Stories