15 Minutes with Liam Hemsworth
The <em>Hunger Games</em> star and Bench endorser pays Manila a visit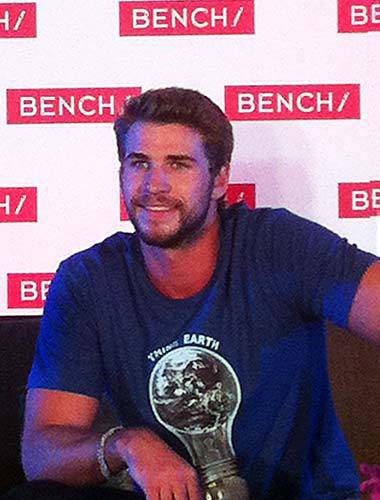 (SPOT.ph) He'd just flown in three hours earlier. No one would have guessed, though, if Liam Hemsworth hadn't told the people gathered for his press conference that fact-he came out looking well-rested and upbeat, his easy smile getting squeals out of most of the females present. The Hunger Games star is in town for Bench, and talked to the media about co-star Jennifer Lawrence, Catching Fire, and working with a lion.
On his Hunger Games and Catching Fire co-star, Jennifer Lawrence
She's amazing. She's one of the most energetic, fun-loving people I've ever met and working with her on set is just easy because she's so good and she's just won all these awards so congratulations to her.
On the roles that he feels drawn to and what to expect in Catching Fire
I look for scripts that I think are interesting and hopefully surprise audiences and give them something new to watch. And also for directors that are passionate about what they do and have a new, creative take on the film and hopefully bring something new to the table which I haven't seen before. Those are the things I look for...there's a whole lot of great stuff in Catching Fire. The characters are developing more; Francis Lawrence (the director) had whole new take on it.
On what it was like to shoot his ads for Bench
I got to spend half a day with a lion. He was next to me the whole day and the only thing that the trainer said to me was, "Don't hide from him because he gets uncomfortable when you hide from him."
ADVERTISEMENT - CONTINUE READING BELOW
On whether he picks his own clothes for events
I have a guy who helps me out, his name's Paris and he helps me with the more classy things; it's not really something I know too much about. I grew up in wetsuits and jeans and I'm in flipflops most of the day, so it's nice to have someone to show me what to do.
On his idea of style
I think style is what you're comfortable in and it gives you your own identity. Mine is simple and casual. Style is a big part of who you are.
CONTINUE READING BELOW
Recommended Videos
On which superhero he'd want to be
Which one can beat up Thor? The Hulk comes close...I'll get back to you on that one!
On the most kick-ass scene he's filmed to date
Working on The Expendables 2. Working with that group of people-some of the biggest action stars in...pretty much ever. I got kicked in the chest by Jean-Claude Van Damme, which was an honor, I think. Stallone, Jason Statham-all those guys. It was pretty incredible working with them.
On his favorite item from Bench
Their jeans. Their jeans are great. They fit really well. I feel like jeans are the hardest thing-they're probably the thing I wear the most but it's tough to find a good pair of jeans. You can wear 'em, sleep in 'em...
On whether he plans to travel around the Philippines
I've heard some great things; I heard the mountains are beautiful so I'm gonna try and get up there hopefully. We're only here for a short time, but maybe some of the beaches, I heard the beaches are beautiful.
ADVERTISEMENT - CONTINUE READING BELOW
---
Help us make Spot.ph better!
Take the short survey
Load More Stories