Best in Show: Jay Sean on Boracay, Neon, and summer
The "one-man boy band" shook up Philippine shores, literally.
(SPOT.ph) It's 2013 and singer-songwriter Jay Sean is still partying it up like it's 2012-high energy, non-stop, and no holds barred. Jay Sean, whose real name is Kamaljit Singh Jhooti, was in the Philippines once again, this time in Boracay, for the culminating victory party of Nestea Beach, the iced-tea brand's annual beach volleyball tournament. In its 16-year history, this is the first time that Nestea has brought in an international celebrity. Fronted by the country's top DJs (The Zombettes, Callum David, Mars Miranda, Funk Avy, and Martin Pulgar), Jay Sean's one-hour show held at Club Paraw was a giant party of fist-pumps, jumps, and dance moves-which the sugar-rushed, Nestea-fueled audience were only too happy to comply with.
Read on for more on our sit-down with the award-winning artist and our favorite scenes from his calorie-burning concert.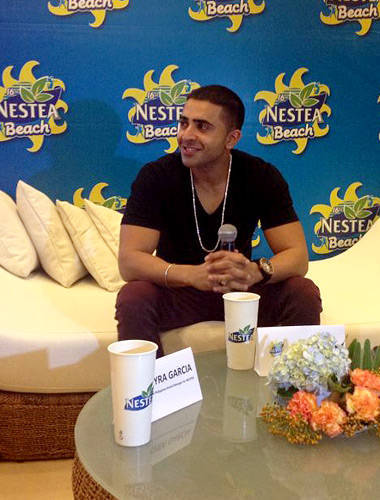 ADVERTISEMENT - CONTINUE READING BELOW
This is Jay Sean's fourth time in the Philippines, but his last concert was in 2010.
On concerts on the beach
I've performed at beaches before and I've performed in cities. I feel like the biggest difference when you perform at the beach is the beach vibe puts everybody in a different mood. It's naturally more chill, happier. They feel like they're on a holiday so they want to enjoy themselves more. They don't have to go through traffic to try to go to the venue because that stresses people out. Here it's really just chilling out and having a good time and when I come to perform, it adds to that fun.
CONTINUE READING BELOW
Recommended Videos
On Filipino fans.
I think the rest of the world can learn something from the graciousness, the politeness, and the warmth that Filipinos have. Everywhere I walk around here, people are putting their hand on their heart having a happy summer. In England we don't have a summer; we barely have a summer!
ADVERTISEMENT - CONTINUE READING BELOW
On how he partied on December 21, 2012 and on how many times he's been asked this question
I haven't been asked that too much, actually (laughs). I was with my family in case I was going to die. The actual new year before that, I performed on New Year with my song and I actually opened the year (2012) with that.
On 2013 plans
I wrote a follow-up song called "2013." (Laughs) I feel like I'm going to do this every year...until I die (laughs). I have a new album which is called Neon. It took a while to make but I wanted to get it right and I feel like this music, it's the music that my fans absolutely love from me. I'm giving it more of an R&B feel now. I want to give them the soulful as well as the fun side of me that people enjoy. That's coming up. I also started my own entertainment company. It's called Camouflage and I'm signing people who are not necessarily singers, just people who entertain whether they're actors or comedians. I already signed an act called the Janoskians (Just Another Name Of Silly Kids In Another Nation). These are five boys from Australia; very famous already online. When they came to England, 10,000 girls came to see them. The police had to shut down the roads. When they came to LA, they had to shut down the airport. I'm very excited about these guys.
ADVERTISEMENT - CONTINUE READING BELOW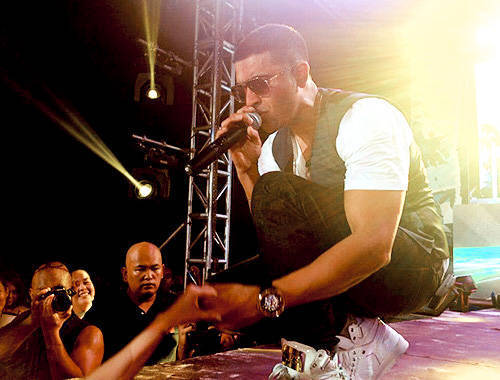 That's one lucky girl
On working with artists like Pitbull, Nicki Minaj, Mary J. Blige, etc.
Whenever I work with anybody whether they're an artist, a producer, or a songwriter, I like to be open at all times. I feel like I'm a sponge. Whether it's my grandparents or whoever it is that's been through stuff I haven't been through, I can only learn from them. They've overcome those obstacles, they've been there first, they can tell you the path. When I work with these legends-Mary J. Blige, Sean Paul-I learn from their work ethic and they are actually very down-to-earth people. Sean Paul's actually one of my very good friends, [a] very very down-to-earth guy and he's had so much success. But because he's been through so much for so many years, he doesn't need to be arrogant or walk around with an attitude because he's already had everything. I like that about him. I like the humbleness about it. The humility. And there's always something to learn.
ADVERTISEMENT - CONTINUE READING BELOW
On his fitness regimen
I like to stay fit. For me, it's very important. I travel so much, I tour so much. I know you guys might think I'm crazy but when I landed this morning, the first thing I did was go to the gym instead of going to the beach. To be honest, I've been on an 18-hour journey and my body just feels "Ugh! Like I wanted to go to sleep and crash," but I can't afford to sleep or crash because I have a concert tonight. I have to keep myself up. So I hit the gym, worked out, did my sound check. I eat healthy, I think that's important.
On what he believes is a "delicious" summer
A delicious summer for me is actually where I am right now-paradise. I enjoy the beach so much, I enjoy the people at the beach, the energy. I love the Caribbean. The Caribbean is so much fun, the people are so chill and so relaxed. Like you'd order something and the server would go "Yeah, man!" but he'd take an hour to come back. That's how chill they are.
ADVERTISEMENT - CONTINUE READING BELOW
From spraying water on the hot crowd to his awesome Jump sneaks, these were the highlights during Jay Sean's Nestea Beach concert: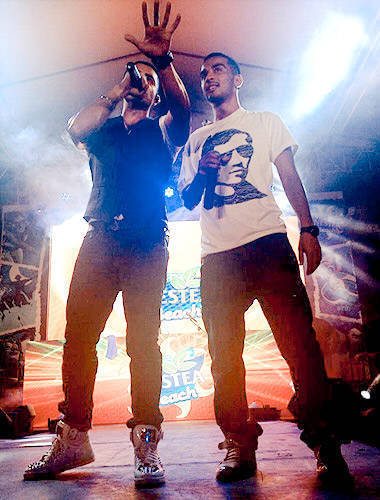 Spot Rizal!
1. MC Zani. Jay Sean is known as the "one-man boy band" for his singing, instrumental, and vocal percussion skills, but sometimes he needs a little leg up. Doing back-up vocals and beatboxing is UK's beatbox champion MC Zani who is proudly Filipino. He and Jay Sean performed an entire song completely on beatbox. MC Zani also "translated" some of the Pinoy audience's demands such as "Sampol! Sampol!" as well as pumping up the crowd with well-chosen words like "Mahal ko kayo!" and "Gusto niyo pa?!"
ADVERTISEMENT - CONTINUE READING BELOW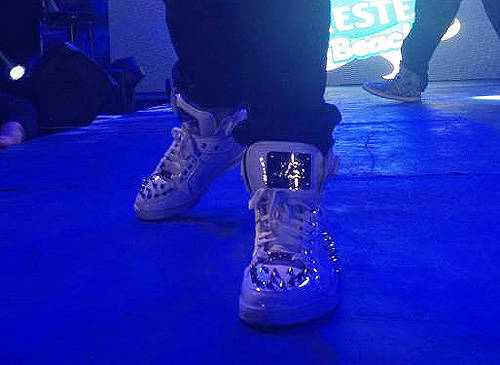 These shoes can kill.
2. The Blingage. It may not seem like a big thing, but his outfit is characteristic of a certain style that only few can carry well. The thick silver and gold necklace, the blinged-out watch, the spiky Jump kicks paired with a vest and a Louis Vuitton belt: it's representative of Jay Sean's numerous vocal stylings. Even the way he articulates is a careful combination of class and gangsta-British with a sprinkling of "Aint's" and double negatives.
ADVERTISEMENT - CONTINUE READING BELOW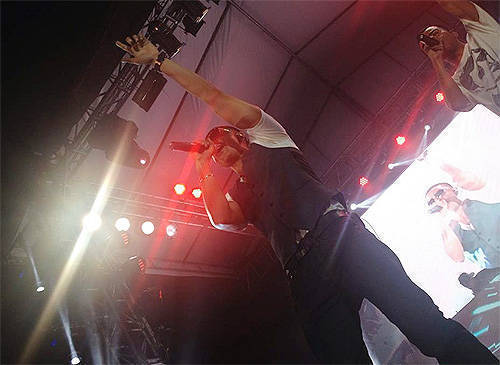 Doing a little Nicki and Drake
3. The set and song selection. Jay Sean was careful to insert newer and mellower songs into his energy-packed performance giving the jumping audience time to chill out and rest in between fist-pumping (though the more 'peppy' ones kept dancing no matter the tempo). Apart from hits like "2012," "Do You Remember?," and "Down," Jay Sean sang his first ever single (as a solo artist) "Eyes on You" and a new record from Neon, "Back to Love."
ADVERTISEMENT - CONTINUE READING BELOW
Jay Sean and MC Zani beatboxing to Eminem
4. The "revivals." Jay Sean and MC Zani performed sections of hits by Beyonce, Nicki Minaj, Drake, and more. Of course, they were all accompanied with impressive vocal beatboxing.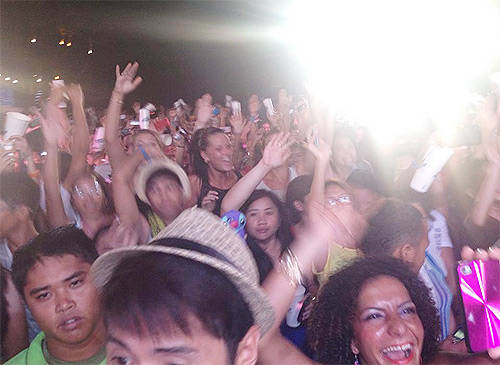 5. The workout. Jumping, hopping, shaking, gyrating, wiggling, yelling, avoiding elbows, feet, and spilled iced tea nonstop for an hour? We must have lost about 10 pounds during "2012" alone. Jay Sean wasn't kidding when he said he was a proponent of fitness.
ADVERTISEMENT - CONTINUE READING BELOW
Share this story with your friends!
---
Help us make Spot.ph better!
Take the short survey
Load More Stories