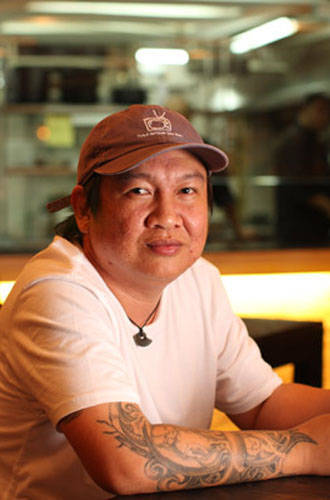 (SPOT.ph) In an entertainment culture weaned on matinee-idol studio love teams, beki humor, and the annual horror motion picture franchise, few directors have been successful at producing movies fit for an international audience.

Enter director Erik Matti. Matti had a triumphant 2012 with the commercially successful Tiktik: The Aswang Chronicles and the critically lauded Rigodon. This year, he can once again raise the metaphorical banner for Pinoy films as he joins the likes of Ishmael Bernal, Lino Brocka, and more recently, Brillante Mendoza, as he premieres his new film On the Job (OTJ) at the Cannes Film Festival Director's Fortnight, currently running until May 26.
ADVERTISEMENT - CONTINUE READING BELOW

Direk sits down with SPOT.ph to discuss the new crime-noir action thriller about inmates who are released for a day to work as contract hitmen for shady politicians. OTJ stars Joel Torre, Joey Marquez, Piolo Pascual, and Gerald Anderson, as well as Shaina Magdayao and Angel Aquino. He also shares his insights on the blooming local film industry, the disparities between mainstream and indie filmmaking.
Congratulations on OTJ making it to Cannes! How does it feel?
I've been to many international film festivals in the past for my other movies. But this one in particular is different for us because we think we have a strong movie to sell in the market given its universal story and its accessibility to the mass audience. Something we hope that can compete with other Asian films.

Why do you think the Pinoy action movie genre has died? Why should we bring it back?
I think it all boils down to story. We've had action movies in the past but it never progressed into exploring better story angles, better plot lines, and fresher treatments of the genre. This country is ripe with crime stories and I'm surprised that we haven't exploited-for lack of a better word-those interesting stories.
ADVERTISEMENT - CONTINUE READING BELOW
Recommended Videos
Any thoughts on why we have a fascination with leather or denim jackets in Pinoy action flicks?
Well, it used to be about style, and with OTJ, we wanted to get away from it. But from research, we found out that people from the law or ordinary people carrying guns, always hide them with a jacket somehow. So if we were to choose between a knitted jacket or a leather jacket, of course, we'd go with the meaner-looking one.
What would you say are the five typical qualities of a Pinoy action flick?
Girly bars; lumang kotse na alam mo'ng pasasabugin; crazy angles in slow motion; bodyguards in suits; and sidekicks who are simply there for comic relief.
The amount of talent in OTJ is astounding. What was it like wrangling this much personality for a project?
I think if everybody believes in the project, there's no need to wrangle anyone to behave on the set. I was lucky to have gotten actors who believed in the project and were passionate about doing it right.
ADVERTISEMENT - CONTINUE READING BELOW
Do you think Manila is a great backdrop or setting for an action thriller?
I think Bourne Legacy was given the more kid-friendly settings in Manila. If they had found what we found, then they would've seen the real Manila, where the balance of grit and rustic colonial structures makes it perfect for staging an action movie.
Most action movies, foreign or local, tend to be unhinged from reality. How important was it for you to keep things as realistic and plausible as possible?
From the outset, everyone knew that we were not doing a Die Hard franchise. I think by the casting alone, one can see that we avoided the cliché action persona of some of our stars. Who would think of a Joel Torre or a Joey Marquez for action heroes? We wanted OTJ to be grounded on real people that just so happened to be carrying guns.
ADVERTISEMENT - CONTINUE READING BELOW
If you were given the chance to blow up a landmark in Manila for a movie scene a la Michael Bay, what would it be and why?
We don't have a White House or an Empire State building that can affect everyone when they see it blown up. I think SM Megamall is an iconic structure that will shock people when they see it explode.

The state of local cinema was once looked at as dismal and filled to the brim with studio love team brouhaha. Why do you think studios are now looking for new, edgier material?
I think the love stories are here to stay. I think what was fortunate with OTJ is that the studio appreciated well-written material and given the stars attached to it, it actually has a big chance at the box office. Hopefully this opens doors for other well-written concepts just to provide enough variety in the market.
ADVERTISEMENT - CONTINUE READING BELOW
You told FHM that this script was once shunned by all major studios. What do you think changed their mind and what do you have to say now to those who wouldn't give it the time of day?
OTJ is actually moving on to its fourth year [of existence as a script]. I don't know exactly where the change of heart came from with the studios. I'm just happy that they saw the potential of the material enough to give us all the freedom to execute it my way. Maybe they saw the strength of the material if given the right stellar support, making them realize that such a fresh concept could actually make money for all of us.
You once had a reputation for being a very rebellious director. Have you grown out of that and if you have, how did you do it?
I still am rebellious but I've managed to know how to work around certain limitations and find a way to win the battle without too much bloodshed.
ADVERTISEMENT - CONTINUE READING BELOW
If you were to name five local films that all young filmmakers must watch, what would these be and why?
Karnal for the mood; Oro Plata Mata for the scope; City After Dark for character complexity; Paradise Inn for sensuality; and Bagets, for knowing that commercial films can also be good.
Your movies tend to focus on the darker machinations of the human psyche yet you have such a very jolly and amiable personality in person.
My humor and my happy disposition actually come from a very sarcastic, cynical, and jaded perspective. I find discomfort in all the niceties and political correctness of modern-day positive thinking. I feel it is more honest and sincere to underline or bring out the darker side of things rather than glorifying positivism, which we know is quite rare in this world.
Any plans to make a movie that's on the lighter, brighter side of life?
There are people who eat meat and those who eat vegetables. Well, I choose to eat meat.




ADVERTISEMENT - CONTINUE READING BELOW
Share this story with your friends!
---
Help us make Spot.ph better!
Take the short survey
Load More Stories