15 Minutes with Taylor Lautner
The latest Global Benchsetter dishes on his personal style, his fitness regimen, and what it's like being 21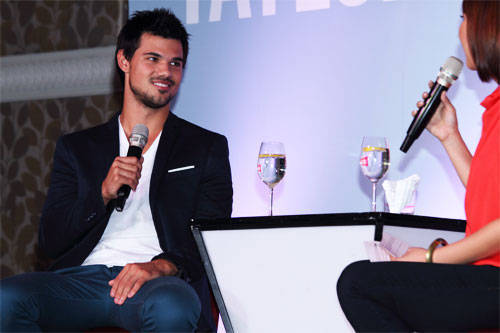 (SPOT.ph) If you happen to pass by EDSA, you've probably seen Taylor Lautner's slew of Bench billboards along Guadalupe Bridge. And really, who hasn't? Weeks after being announced as the latest Hollywood star to join the ranks of Liam Hemsworth, Adam Levine, and Bruno Mars, this 21-year-old's visit to Manila was bound to happen.
Clad in a blue blazer and stylish chinos, Taylor Lautner, the latest Global Benchsetter, met with the media at Makati Shangri-la Hotel on August 16 to talk about his newest Bench commercial, his most challenging stunt, and what life is like five years after Jacob Black.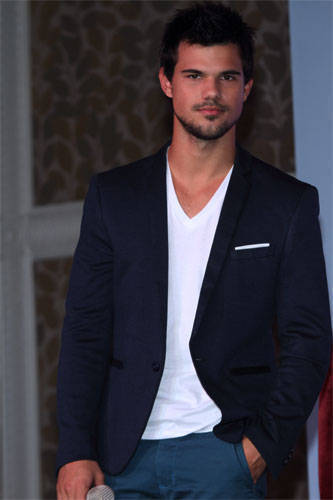 Looking dapper in head-to-toe Bench
On his experience during the shoot for his Bench commercial
"It was a blast! I like to have fun and the vibe that [director] Anthony [Mandler] provided on the set and everybody from Bench there was a blast. It was a lot of fun making that commercial, and doing all the shoots. We had a very good time."
ADVERTISEMENT - CONTINUE READING BELOW
On his personal style
"Comfort is huge for me, and I'm also simple. I like simple. I'm a jeans and T-shirt [kind of] guy."
On what makes him a Global Benchsetter
"I'm very relaxed, and I like to be myself, and going back to that comfort thing, I can't do that [be a Bench endorser] if I'm not comfortable because I like to have a good time. All that Bench is about to me is being yourself, expressing yourself, being relaxed, and having fun."
On his fitness regimen
"I love to stay active; I love playing sports, so that takes up most of my activity. But, I find time to hit the gym and keep that up. I don't have to do that quite as much now since I'm not filming the Twilight franchise anymore. I also just try to maintain a healthy diet somewhat, and I do cheat every now and then."
CONTINUE READING BELOW
Recommended Videos
On Jacob Black
"I think he's a great guy; he gives so much to the series. It's all of his characteristics, his constant loyalty, and everything about him makes you fall in love with him. But then, also, I love Jacob and what that brought to my life personally. I love making those movies, and I made so many amazing new friendships during those years of my life. Making the movies, the memories from Jacob, and that franchise will be with me forever."
On moving on from the Twilight franchise
"Thankfully, the Twilight franchise gave us [the cast and crew] the opportunity to go off and do other things. So, I could not be more thankful for the franchise because of that. I'm an actor and I want to play many different roles. So, as much as I love Jacob, I want to continue to grow and challenge myself to a wide variety of roles and just become a better actor."
ADVERTISEMENT - CONTINUE READING BELOW
On being 21
"I'm so thankful because I've learned so much and I have gone through so much in those 21 years and if you were to ask when I was 16 or 17 years old if I'd be here today, I'd say absolutely not, it's crazy. I'm extremely blessed, and I can't believe I'm doing what I love to do. It's been an amazing past few years, and I'm still flabbergasted."
On his most challenging stunt
"There's a few that I did for my latest movie, Tracers, that were pretty dangerous and I'm shocked that they'd let me do [them]. So, that's probably one of the most exciting stunts that I have done."
On his role in the movie Tracers
"My character Cam is a bike messenger who's trying to pay some serious debt that he's found himself in. He borrowed some money and it's time to pay the guys back. It's set in the world of parkour which is a very, very cool world."
On parkour
"There's a lot of jumping off the wall. It is an art form, so there's a lot of training because I pretty much had to do all the stunts for the movie to be as real and authentic as possible."
On his future
"I'm looking forward to doing something different. I believe that you never stop learning so I love challenging myself to [try] new things. Tracers is something completely different for me after the Twilight franchise, and next, I would love to do something completely different as well."
ADVERTISEMENT - CONTINUE READING BELOW
Share this story with your friends!
---
Help us make Spot.ph better!
Take the short survey
Load More Stories