On the Spot: Hannah Espia, Director of Transit
Espia talks about graciousness, being grateful...and washing dishes
(SPOT.ph) It was a gloomy Sunday but in a small room at Oakwood Premier Joy Nostalg, a small cheerful celebratory lunch in contrast to the weather was taking place. Transit is now the Philippines' official entry for a Best Foreign Language Film nomination at the Academy Awards and the small team that labored to produce the movie was graciously thanking the heavens for their bountiful blessing.
Fresh from their recent win in Cinemalaya, the cast and crew were caught in a headlock trying to shift the praise to the next person. It's a small team (about two people worked on the cinematography; there are about 10 people in the entire "crew") and clearly, the film was the result of everyone's valuable input.
At the helm is Hannah Espia, wearing impossibly high heels during the lunch to compensate for her small stature. Her demeanor is almost shy but with a healthy mix of bubbly. And as we sat down to chat with her, we found ourselves enjoying her overwhelming sincerity and humility.
ADVERTISEMENT - CONTINUE READING BELOW
CONTINUE READING BELOW
Recommended Videos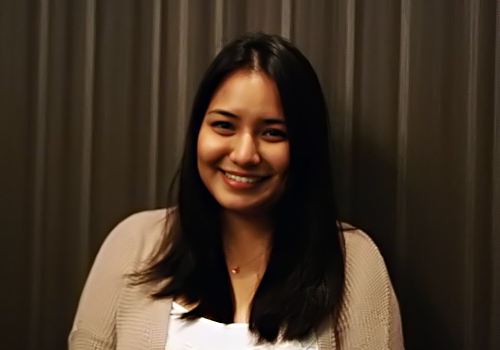 With all that's been happening in the Philippine cinematic landscape-the restoration of Brocka's Maynila Sa Mga Kuko ng Liwanag, the mainstream success of On The Job, foreign directors choosing to shoot stories about Manila-how do you feel about creating something this well-received?
It was definitely a good year for Philippine cinema. But yeah, being a film student, I always attended Cinemalaya and I watched the films. It was always a dream to make a Cinemalaya movie. I'm so grateful [that I was able to do that] this year and it's my first feature! It was really overwhelming and I just can't believe this is happening.
ADVERTISEMENT - CONTINUE READING BELOW
Who are your influences?
I'm a big fan of a lot of Asian directors-Shunji Iwai is my favorite, he inspired me to become a director. I'm also a fan of Park Chan-wook and Zhang Yimou. I like French films by [Jean-Pierre] Jeunet but my bigger influences are the Asian directors. You can see it in the film-it's quiet and reserved.
We noticed that. Do you feel like that sets it apart from other films?
The technicals of the films are really good, mostly because of the cinematography of Lyle [Sacris] and Ber [Cruz]. The sound is also really good. When we tell people now that it was shot in 14 days total with a 10-man crew, they [find it hard to believe]. I think it's because Paul and I managed to assemble a group of people who gelled well together.
How long did it take you to actually build the film-from idea to execution?
ADVERTISEMENT - CONTINUE READING BELOW
The idea started around 2011; I wanted to make it my thesis film. It [was originally called] Transit because I wanted to shoot the entire thing in an airpot [as a short film] but I decided to go with another story for my thesis. Then, I was given an opportunity to pitch a story idea to about 20 directors in the Metro Manila Financing Forum where I met Paul [Soriano]. I just had the idea and I went just to practice! You know, just to see how it feels to pitch an idea to real producers? I just wanted to see how [the industry] works since I just graduated.
And then, I pitched the idea to Paul and he said he liked it and [that] he wanted to produce it. From that idea, I suddenly felt, okay, I really have to take this seriously! I developed the script, I asked my co-writer [Giancarlo Abrahan] to help me. It was an entire year of working on Transit, I think.
ADVERTISEMENT - CONTINUE READING BELOW
What was the hardest thing about working on the script?
I don't know, maybe the late nights of no sleep? [Laughs] We actually really wanted to flesh out the story and make sure that we get the right emotions and that we don't seem fake. That's the hardest part-to be genuine about your story. Even if it's not our own experience-we weren't [really] deported from Israel-we had to draw from our own experiences, [especially in dealing with] the relationships. Transit is really a family-oriented film and we [drew a lot] from our own experiences with our families.
The stories that you want to tell seem a little personal to you, is that a running theme?
There's that thing that they say, "write what you know." I'm still starting in the industry [and] it's easier to tell stories that I'm familiar with. As I grow older and I become more mature, I'm sure I'm going to encounter stories that will interest me and tell stories from other people.
ADVERTISEMENT - CONTINUE READING BELOW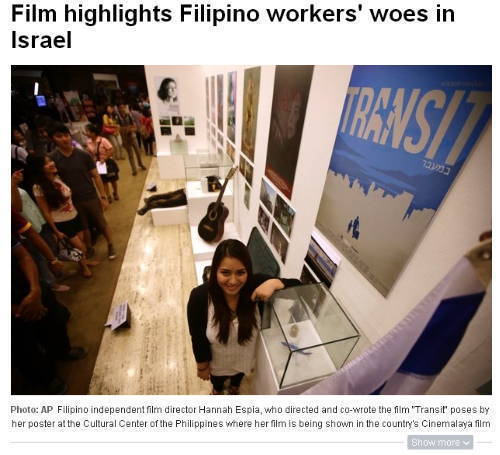 Screenshot of photo from Mail.com
How does film school compare to "the industry" now that you've made your first feature-length film?
In UP, it was great because we got to visit sets and we worked as PAs [Personal Assistants]. It was always exciting to go to the set, but as a director, it makes you nervous. The excitement is still there but when you're there, it's tough because you realize that it's not just about film-making. It's about relating to people. When you're a director you have to make sure that everyone is okay and comfortable on set. It's also about doing these interviews and dressing well. [Laughs]
ADVERTISEMENT - CONTINUE READING BELOW
And then, I guess as a director sometimes you tend to forget to be nice? I think these are the important lessons: to be nice, to be grateful. Sometimes people do these things not for the money but because it's a passion and the best thing you can do for them is to be nice and to be grateful for their work. That's what a lot of people in general tend to forget when things get rough-just appreciating opportunities and [working] for them when you get them.
Has anything changed for you personally?
People come up to me and congratulate me but I feel like nothing has drastically changed in my life. I still wash the dishes at home. I'm still me, I'm still the same, I'm still Hannah. I'm still the intern who held a clapper during the shoot.
What are your future plans?
ADVERTISEMENT - CONTINUE READING BELOW
While I was making Transit, I was actually [in the process of] developing this creative documentary. I'm still not sure which direction I want to take it but I managed to get some videos from some of my travels. I'm going to compile them and make something out of it. It's a creative documentary about the short encounters of long distance lovers. That's my thing now and it's also based on my own experience. I am still developing it and I am taking my time with this one because it's kind of tiring to make a film in six months. [Laughs] Sometimes I wanna sleep.
Load More Stories