15 Minutes with Kurtwood Smith and Omar Epps of Resurrection
On their roles in the fantasy-drama, life and death, and Jollibee. (Plus, get a chance to win tickets to an advanced screening with the stars!)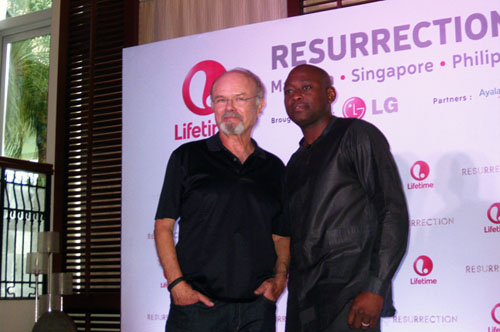 (SPOT.ph) What would you do if someone you were sure was dead suddenly came back to life? We're not about talking zombies or ghosts here. Resurrection, the number-one scripted series in the U.S. (it even beat The Walking Dead's ratings), tells the story of several ordinary small-town people whose loved ones are suddenly coming back into their lives. One of them is Harry Langston (Kurtwood Smith), who lost his eight-year-old son 32 years ago. Back to the present, a young American boy found in China is brought back to the U.S. by immigration officer J. Martin "Marty" Bellamy (Omar Epps) and wouldn't you know it-he's Jacob Langston (Landon Gimenez), alive and still eight years old.
Curious yet? A special advanced screening of Resurrection will be held at Greebelt 3 Park today, May 9 at 5:30 p.m. We're giving away 10 tickets to the screening to the first 10 commenters of this post! Hurry, because it won't just be a screening of one, but two episodes of the series. Bonus: the show's stars, Kurtwood Smith and Omar Epps, will be in attendance as well!
The two stars met with the press yesterday and here's what they had to share:
On their first time in Manila:
Omar: We got in around midnight, but we're gonna squeeze in some time for [other things] like Jollibee.
On his role as an immigration officer:
Omar: Well he's a U.S. federal agent-Immigration and Customs, of course. So you have this young boy who pops up in China with no papers and so the extradite him back to the U.S. My character's supposed to take him back to human services-that's it. My character sort of forms a bond with this kid.
ADVERTISEMENT - CONTINUE READING BELOW
On preparing for his role as Harry Langston:
Kurtwood: A lot of times, when you're doing shows, you have a lot of homework to do. Omar was on House for years and it always had a lot of medical jargon and medical cases, so he was always having to figure that stuff out. For this show, it's pretty much do your homework up to the moment the doorbell rings. In other words, what happened to my character 30 years ago? What was his life then? What has that life been since?  He was sort of the big man in town. He was the largest employer in the vicinity and just dropped all that. So now, 32 years later, where is he? The doorbell rings, then everything changes. His whole life changes. So if you prepare up to that moment, then it's just reacting to what's going on.
CONTINUE READING BELOW
Recommended Videos
On the Langstons' decision not to have a child after losing their first:
Kurtwood: Different people react different ways. For them, the loss was too much. It just hurt them too deeply. And that says something about people too, I think, that when it finally comes to this point, Lucille-Frances Fisher plays my wife on the show-she's very accepting immediately. And [my character] is not because, first of all, this is too strange, it couldn't possibly be [Jacob]. And how it could be him? Exactly the same as he was 32 years ago?
On the show and Marty's development:
ADVERTISEMENT - CONTINUE READING BELOW
Omar: It's a very serialized way that we tell the stories. They take two to three episodes for things to take shape. For my character, he's an outsider. He's come into this small town and formed a bond with this boy, so he stays because he wants to find out what's going on. Seeing how it affects the family, he kind of gets protective of the family as a whole and becomes an extended family member. He's stuck, he's disobeying his boss.
On what made them say "yes" to Resurrection:
Kurtwood: For me, I was interested in the character. Such a complex, interesting guy. Such a sort of regular person in a very, very complex situation and a complex life as well.
Omar: For me, it was the character. He was fascinating to me. I call him gray. He's not here or there. He's just sort of in the middle. The idea just really blew me away because the real connective tissue between all of us as human beings is life and death. It's not our ethnicity, it's not our class, it's not the only thing we're all experiencing in this life or whatever your interpretation of it. So, to me, to explore this idea, that big "what if?"...We've all dealt with loss. To be involved in a show that can step up and set a platform for us all to experience these notions and live vicariously through these characters was really exciting.
ADVERTISEMENT - CONTINUE READING BELOW
On surprises on set:
Kurtwood: One of my favorite stories along that line actually involved Omar and I when we were doing the pilot, which was shot in Georgia. It's not quite as warm as it is here, but it was muggy, warm, and humid. It was spring, we were filming the end of April, and I'm standing nearby the river, filming this intense little scene...then snow falls.
Omar: It was freezing cold and Kurtwood, he's out there, in his flimsy shirt and he's supposed to act like it's summer.
Kurtwood: A couple of days later, I'm getting in the van to go back to the hotel, and there's some guy I haven't seen before. And I said hi, I introduced myself, and asked, "So, what do you do?" He says, "I'm the effects guy." And I say, "Oh, really?" I thought we were blowing something up. [He says,] "No, no, I'm the guy who has to erase all the snow out of your scene."
On who they'd want to resurrect:
Kurtwood: For me, my father-my real father. My biological was killed in World War II as a pilot. But he had never seen me and I had never seen him. So I think it would be quite something to  meet and spend some time with him. The difference is, he would be 24 and I would be 70.
Omar: For me, it would be my great-grandma, who I was fortunate enough to have in my life. She passed when I was around 16, so it would just be awesome to sit down with her and [show her] I'm a father, a husband, and that I've made something of myself. It would be great to share this with her.
ADVERTISEMENT - CONTINUE READING BELOW
Resurrection premieres on May 12 at 10 p.m. on Lifetime.
Share this story with your friends!
---
Help us make Spot.ph better!
Take the short survey
Load More Stories