On the Spot: Charlie Adlard, Walking Dead Artist
The penciler-inker of the hit comic book series The Walking Dead―the source material of the hit TV show―draws horrible imagery but is far from a horrible bloke
(SPOT.ph) Charlie Adlard is a British artist who has been a roaring success making a living out of the dead―The Walking Dead to be exact, the US-based comic book series for which he has been the pencil-wielding illustrator since issue no. 7. Born 48 years ago in Shrewsbury, England, Adlard has been applying his richly dark, atmospheric drawing to Dead for a good 120 issues now, long after being recruited by TWD creator-writer Robert Kirkman to replace original artist Tony Moore (who, per the book The Walking Dead Chronicles by Paul Ruditis, had trouble keeping up with the comic book's monthly comeout).
Adlard, who went to film school but instead made a career as a self-taught illustrator, had worked on several comic-book titles previously, including Judge Dredd Megazine, Savage, a print adaptation of the movie Mars Attacks! and The X Files, which came out near-simultaneously as the hit TV show of the same name. But any success Adlard has had or probably will ever have will pale in comparison to his professional, and financial, triumph with The Walking Dead, which has been a consistent bestseller and sells hundreds of thousands of copies worldwide, including via translations into 18 different languages. What's more, the look of Adlard's artwork and much of his actual illustrations have been a crucial template for the comic book's small-screen counterpart, which has been giving "Based on" acknowledgement to Kirkman, Moore, and Adlard in the show's opening credits for the program's past four seasons.
Adlard has shared some of the fruits of his labor our way, in a big way: He is said to have donated P100,000 worth of cash for relief operations in the wake of supertyphoon Yolanda and helped raise some more money by submitting artwork for auctioning. Yet he had never been to the Philippines until just recently, on the invitation of Fully Booked, which conducted a signing spree for TWD and Adlard fans at the bookstore's Bonifacio High Street and Alabang branches. In a fleeting, 15-minute face-to-face chat with the chap, we learn a bit more about the man who visually makes the comic smash about a zombie apocalypse-cum-survival drama such a gripping, addictive page-turner.
ADVERTISEMENT - CONTINUE READING BELOW
What was the spark in your youth that got you drawing?
I was probably drawing prior to the age of 6. [At that age], my dad brought home a copy of the Mighty World of Marvel No. 1, a British reprint of an anthology title featuring Spider-Man, the Incredible Hulk, and the Fantastic Four. For some reason, that just hooked me in right into that crazy world. In the UK at the time, if I was reading comics, it was just The Dandy and The Beano, funnies anthologies of two-page comic strips, that kind of stuff. Marvel Comics was totally another world. From that point on, all I drew was superhero style stories, at least for a while.
CONTINUE READING BELOW
Recommended Videos
Was your dad a Marvel fan?
My dad himself enjoyed the language that Stan Lee wrote. He enjoyed that slightly out-there, florid language that the characters would speak back in the early '60s. But he probably saw me react positively, keenly to its advertisement on television―believe it or not, comics on TV. [Note: Adlard is an only child.]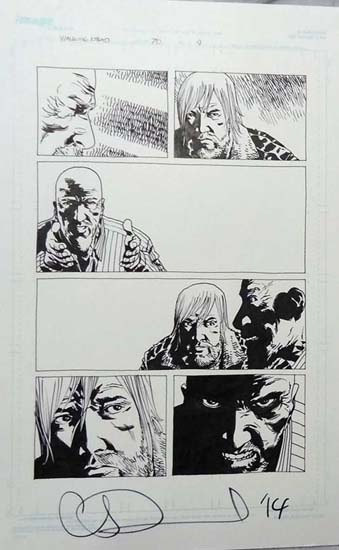 ADVERTISEMENT - CONTINUE READING BELOW
A raw page drawn by Charlie Adlard for TWD issue 70, now signed by the artist himself.
Who would you cite as your top, singular influence or inspiration?
[The late] Alex Toth. He's a combination of just about everything that's good about comic art. He was so into the design of the page, so into the character design and the look of the page, and yet he could tell the best type of story at the same time. The guy was all around. He could do anything he lent himself to but with a beautiful style....Yet his work also looked modern, which is really rare in comic artists from 30, 40 years ago.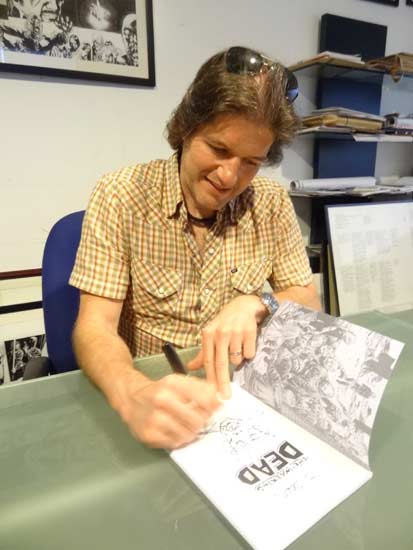 Charlie Adlard indulges our request for a quick autograph-sketch. Photos by Ike Sulat
What is your work environment like? Is it exactly like what appears as the profile photo of your Facebook page?
Yeah, that's where I genuinely work. It's in the same house I've been living in for almost 20 years. I bought it primarily because it was a doctor's house and it had a private surgery room that was slightly separate from the rest of the house. You had to go through a utility room to get to it, so going there felt like going to work. Over the years, I've improved on it. I put on a conservatory in the front which doesn't get much sun, which is handy so I wouldn't boil to death, and the light's really nice there.
ADVERTISEMENT - CONTINUE READING BELOW
My work station is my version of the "man going down to the shed," though it's bigger than a shed. It's my personal space and I can be in control of it, but I allow my [two] children there occasionally.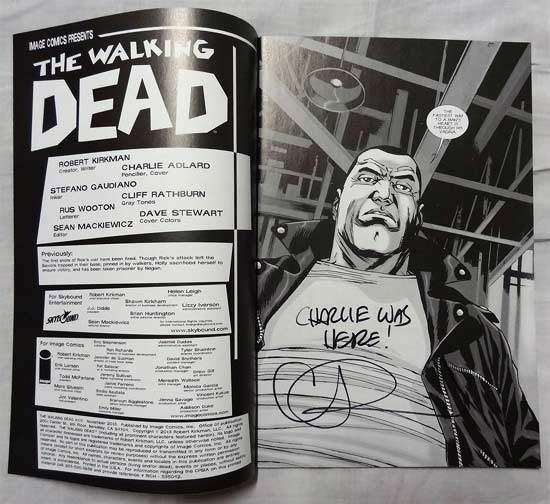 Adlard leaves his mark on a copy of The Walking Dead issue 117.
What drawing tools do you fancy?
I do favor, especially for The Walking Dead, pencils. A pencil is a pencil; it doesn't really matter what sort, though I do use the harder pencils, like 2HB going up to 2H depending on what I'm doing.
I use a Rotring art pen mainly for the inking. It's good for more intricate work on a small paper [such as that of the] comic. If I was using brushes, I'd need a bigger palate, a bigger piece of paper to work on. I've tried numerous, much more expensive cartridge pens, drawing pens, but I gotta admit, none works for me better than the old, fairly cheap Rotring art pen. If I were doing a standard-size artwork, I'd use brush pens. I love the Pentel color brush pen, that's a really good brush pen for projects outside TWD [which include a non-undead collaboration with Kirkman titled The Passenger, due out next year].
ADVERTISEMENT - CONTINUE READING BELOW
I tend to stick to a very limited bunch of equipment and that probably helps me in speed, because I'm not constantly changing pens, working with just literally one pen most of the time.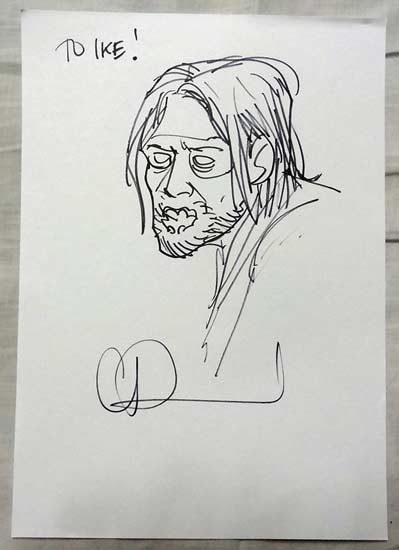 An autographed self-portrait by Adlard.
What would you cite as a unique trait of yours compared to other artists?
What makes my workplace very different from most artists' studios is that it's very tidy. [Laughs]
I'm a bit anal when it comes to tidiness. I'm probably even slightly OCD about it. Everything has to be in the right place for me. Only my most used pens are out on the table next to the drawing board. Everything else is put away nice, neatly in a cupboard.
I remember inviting [fellow British comic-book artist] Sean Phillips to my house once and he laughed when he opened my cupboard. He couldn't believe how neat it was, how everything was neatly stacked, everything had its own place, [that] there's a section for pens, a section for pencils, a section for my original art... [And] I photocopy everything I do, to keep a record before I sell the original drawings... Nowadays, I scan my drawings then send them to my local photocopy place, then they print them out using a photocopier, which is a better-quality print than me printing the scans with my printer.
ADVERTISEMENT - CONTINUE READING BELOW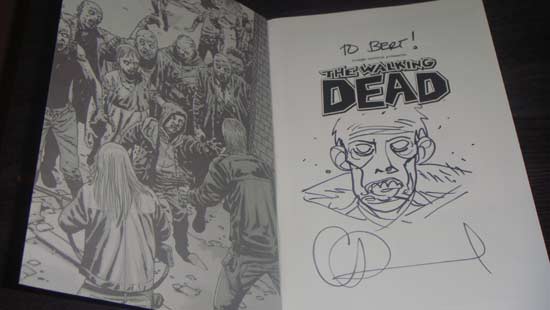 Adlard added a fresh zombie to this copy of The Walking Dead Volume 17.
Do you have actual references for Walking Dead visuals? Like do you have pictures of, say, corpses as basis for the zombies, shots of Atlanta (the Georgia, USA, capital where TWD is set) and so on?
Most of it is purely from up here [points to his head ]. The only thing I've had as a real reference, and it's a horrible thing to have and I try not to look at it, has to do with Carl [spoiler alert ] getting half his face blown off. I told Robert we really need to find some reference on that, because I don't want to make it look unreal. My initial reaction to Robert was, "You sure that's survivable?" especially in a place and time where there isn't a working hospital down the road. I felt we needed to make sure we got a proper reference for it.
ADVERTISEMENT - CONTINUE READING BELOW
Robert looked it up, and he told me he was getting sick himself trying to find this horrible stuff, so in the end it was from my imagination. Then after that came out, there was this guy who, through social media, sent a picture of, unfortunately, this poor African kid who did get half his face blown off by a landmine. It proved that we weren't making up some fantastical world where these characters could have limbs lopped off and still be fine. It proved that we weren't going on a flight of fantasy about Carl surviving a rather unsurvivable trauma.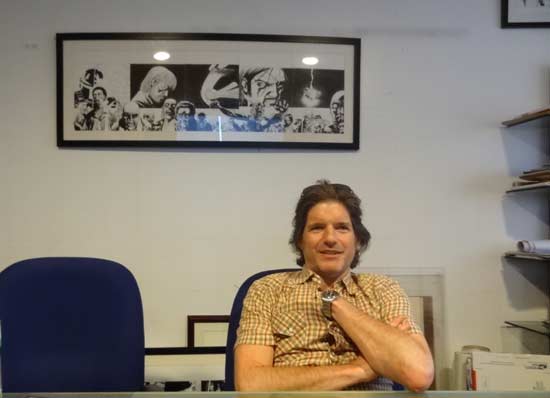 The illustrator-author with a sampling of his Walking Dead art on a Fully Booked wall.
The Walking Dead is filled with much drama, anger and violence. Apart from Kirkman's script, where do you personally draw all of that raw emotion?
Where do I get all that? I don't know where it comes from. I genuinely don't. My life is completely the opposite of what is happening in the comic, but I'm sure people are like that.
ADVERTISEMENT - CONTINUE READING BELOW
Look at Robert himself. I mean, does he walk around in a cave in a cloak with white-face makeup on because he writes horror comics? No, he's a normal guy like myself, with a wife and two kids living a perfectly happy existence in Kentucky. He doesn't look like a horror guy at all, and we make a good pairing because neither of us look like we make horror comics.
I'm not sure if my drawings are an outlet for getting rid of anger or frustrations or deepest, darkest secrets and putting them on paper. I don't know if that's true; it doesn't feel true to me, it doesn't feel like I'm doing that. I'm just sitting there whistling a happy tune while drawing people being dismembered. It's as simple as that.
Share this story with your friends!
---
Help us make Spot.ph better!
Take the short survey
Load More Stories