On the Spot: Karen Bordador of RX 93.1
She's redefining the phrase 'triple threat.'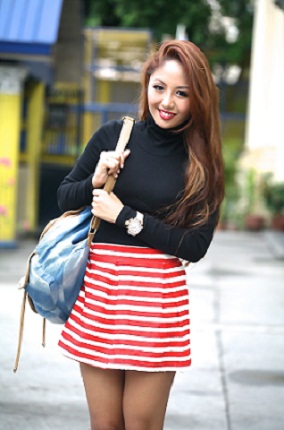 Photo by Raphael Yu and makeup by Liah Hope
(SPOT.ph) Her dusky features and enviable figure don't let on a childhood of awkwardness and teasing. Being morena wasn't exactly a popular look back then, but shy as she was, Karen Bordador was never the type to let anything-not even being made fun of-hinder her from accomplishing her dreams. Fast forward to 2014 (and several commercial projects and magazine features later), her plate is full: entrepreneur, model, TV and events host, and a radio jock for Monster Radio RX 93.1.
This is only the beginning of a career she's driving all the way to the top. We sat down with the sexy radio princess to ask about what's next and how she continues to prove her naysayers wrong.
On her biggest break upon entering showbiz
I think (it was) when I won the FHM competition back in 2011. I'm not really the type to do sexy stuff and someone just thought of me to pose for the magazine. It was December and the competition was in January. It was (called) "The Vixen Search." It's actually a very popular competition now and we started it. I was with girls who already had a really strong fan base. When we went to events, guys would be like, "Oh my God, it's ganyan, it's ganyan." Tapos I was like, 'Aww chirp chirp. Alone alone'. Eventually, people recognized me and started voting for me. I won the competition which was so surprising. I started to understand the business. I had so much fun. I learned how to (wear) make-up, how to lose weight the right way, how to dress up, how to pose (laughs).
ADVERTISEMENT - CONTINUE READING BELOW
On being a public figure known for her sexy persona
There's a stereotype na once you go sexy, your time on top would be short. I don't believe that. In any business naman, if you're stuck not growing in one position, then you'll stay there. When I was doing those magazine shoots, I knew I had a calling other than this (laughs). Kasi in magazines, you can't really talk, 'di ba? Pero for me, when I was a kid, I felt pangit talaga. I wanted to prove to myself that being morena is good. I was in an environment where being tisay was the norm. I wanted to shine in a place na ganun 'yong situation. Tapos sabi ko, I need to broaden my base, and that's how I became a host. 'Yong pagse-stereotype, 'di siya fun, to be thought of na 'di siya matalino, alam lang niya mag-pose. Pero'pag nakausap naman ako ng mga tao, parang, okay, may sense naman pala siya and she has bigger dreams.
CONTINUE READING BELOW
Recommended Videos
On staying fit
I do this Sexy Legs workout every night, even if it's 1 a.m. or 3 a.m. As long as I can do it everyday, I do it. Aside from that, I box at Elorde Ortigas because it really helps keep you fit. It's your core, everything. You sweat a lot and you get stronger. You're more confident when you walk around the streets because you know you can protect yourself.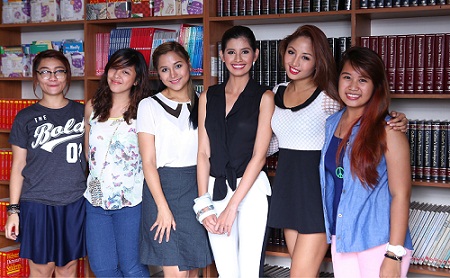 ADVERTISEMENT - CONTINUE READING BELOW
Karen Bordador with the Sister Secrets team and their new cover girl, Shamcey Supsup.
On her beginnings as an entrepreneur
I've been selling things since I was a kid! When I was in grade school and I got something for free, I would do something bad-I'd sell it (laughs). Like kunwari, my mom comes home from a family event or whatever, tapos may loot bag ako na sobrang daming erasers, pencils, ballpens. Bebenta ko 'yon sa school. I earned so much money (from that). Kunwari may projects kami like knitting, I would knit for all the people in school or whoever asks for my services, and I'll earn a lot. I remember that I also had an accessories business. I asked for money from my mom to buy beads, and in less than a week I was able to pay her back. I earned thousands of pesos. I was a kid pa 'noon, (yet) sobrang addict na ako in creating and selling.
That's how it started, I felt that being kikay should be shared with people through business (laughs). Sister Secrets is for girls and girls at heart. Some people would ask, "Ba't exclusive"? For me, niche marketing is the best because it's very specific and I don't want just normal girls, gusto ko kikay talaga. I just like that environment, that pink environment, where we all see things na parang "Oh my God, ang cute"!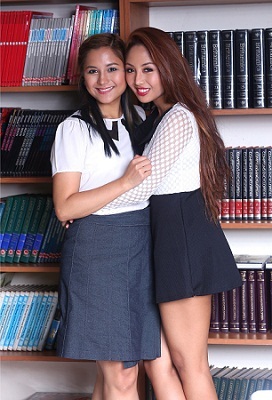 ADVERTISEMENT - CONTINUE READING BELOW
Girl power: Karen with her best friend (since school years!), and business partner who also happens to be the 1st Councilor of Mandaluyong, Charisse Abalos.
I had a vision of what I wanted to do already and I bought different sites. Nag-invest ako for those because for me, when you start something, you don't need to know how eh. It's more of like, you have the vision so just do it, and you'll learn along the way. Business is really my thing. I don't want to work everyday for money; I want money to work for me with something I really love. When I was looking for partners, I noticed that a lot of girls were very jaded about creating a business. They would prefer to become an employee or ito, prefer to buy a car they don't really want. Wouldn't it be great if you bought a car you really love with your own money?
First, I talked to people who had money (laughs); second, I made a kikay site; and third, I tapped people. The site is doing very well now actually. It's grown and continues to do so. When we started, people barely bought anything. I was like, "But my vision's so great, how come nobody's buying?" I realized that a website's look determines a brand and I had to change the format. The look of a site can really change and make your sales. I sacrificed a lot in a month and in the end, it was worth it. We'd get celebs to share secrets with girls about all the girly things (laughs).
ADVERTISEMENT - CONTINUE READING BELOW
On her favorite spots/places in Metro Manila
I don't really go out much. But I like going to Greenbelt because of the cinemas there. Greenbelt 3, definitely, because they have super yummy popcorn, which has melted butter. They have corn dog and lemonade pa. I'm more of a stay-at-home person kasi, but I love traveling. I don't like buying things. I like buying experiences. So I would rather fly out or go somewhere else here in the Philippines.
On things she likes doing in her downtime
I love massages sobra. I could get a massage around any time. A couple of times, I've had two massages (laughs). I'd phone in sa bahay lang, super enjoy ko 'yon while listening to motivational videos (laughs). And reading books, I like reading books a lot.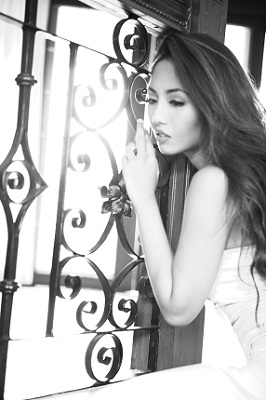 Photo by Rap Yu and make-up by Sam Lanuza
On things most people would be shocked to know about her
ADVERTISEMENT - CONTINUE READING BELOW
Oh yeah, I eat like a baboy. Totoo. It doesn't show, but when I get out with the people I work with, they're so surprised that I eat more than them (laughs). Nakaka-three plates, four plates ako and kaya ko pa to go on and on. I'm both makanin and maulam. I have this belief that things have to be parallel to whatever. Kunwari, ulam equals rice. So if it's not the same, why bother?
On future projects and endeavors
I'm already the face of Pinoy Extreme Channel. It's actually a Pinoy channel for Pinoy viewers who live in other countries. I'm hosting a lot of different shows there. I'm also going to be on a very big show by the end of the year. Super secret pa 'yon pero it's really something that I've never done before, and my life will be changed by it, so I'm really excited and scared (laughs).
On how she balances everything
You know, sometimes I really don't understand (laughs) kasi I have an office to go to every morning. If I don't go there, it means I have a shoot. During the shoot, I'd be texting my staff what to do. I don't stress out. Just chill and just not hurry too much. 'Yong relax ka lang kasi if you're not, you won't get anything done. You just need to relax and things will happen the right way.
Follow Karen on her Twitter and Instagram @karenbordador or visit her website, www.karenbordador.com.
ADVERTISEMENT - CONTINUE READING BELOW
Share this story with your friends!
---
Help us make Spot.ph better!
Take the short survey
Load More Stories