15 Minutes with Nicole Winhoffer: On losing weight fast, fitness, and working out with Madonna
The fitness expert dishes on self-confidence, being called "ma'am", and her celebrity clients.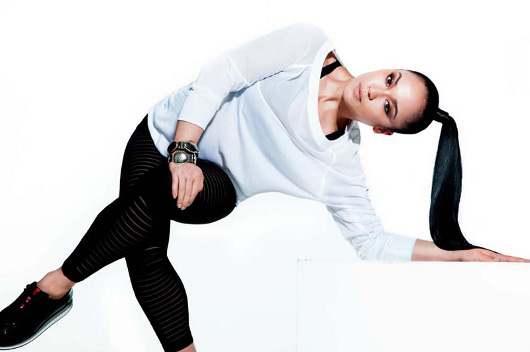 (SPOT.ph) The words "work" and "out" when put together are enough to intimidate (and terrify) most women. World-renowned fitness expert, Nicole Winhoffer begs to differ.
Her workouts are lively and innovative, fusing together physical fitness, dance, and performance. Sounds fun? It is-until you're at the eighth count of the exercise and you could barely stand. This is exactly why she's the go-to personal trainer of celebrities like Rachel Weisz, Stella McCartney, and the Queen of Pop herself, Madonna. Winhoffer's routines are tough but she embraces your inner self, too.
Her latest workout method, Be Fit for Love, is no exception. With the help of Cosmopolitan and Women's Health Philippines, Winhoffer dropped by Manila to premiere the hour-long workout to celebrities and fitness enthusiasts. Before breaking out a sweat, she also spoke about self-image, her 'fitspirations', and the obligatory lifestyle tips.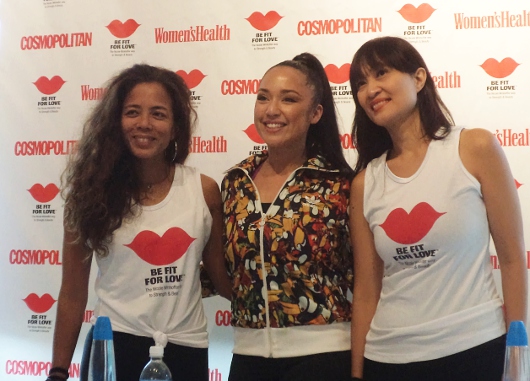 With Women's Health Editor-in-Chief Lara Parpan and Cosmopolitan Editorial Director Myrza Sison
ADVERTISEMENT - CONTINUE READING BELOW
On her visit to the Philippines
I do have to say, every class I've been to, every gym I've been to, all the Pinays and Pinoys work out with smiles. They're so happy and they just have so much energy. I love it because in America and around the world, everybody is so serious. But when I come here, everybody is smiling and it makes me so happy. Life is not that serious. They have really good attitudes, they work very hard, they're very accommodating. And I love being called ma'am. [laughs]
On teaching a fitness class in the Philippines
CONTINUE READING BELOW
Recommended Videos
I wanted to bring something to the Philippines that was new [...] I think it's very important for women to have positive role models with self-esteem, confidence, loving your body and being okay with your body. I see around the world, in America and a lot of times in Asia, that women aren't as okay with their bodies. It's really important for me to come here and tell you all that it's okay to be sexy.
On the "Be Fit for Love: The Winhoffer Way to Strength and Beauty" workout
I learned that music, what you wear, and what you think about while you work out affects how you view yourself. So 'Be Fit for Love' is about us. We want to look good for our significant others, but more importantly, we also we want to love ourselves. When women feel good, they do good. So it's all about feeling. This workout is all about positivity, sensuality, good music, pumping up your butt, and having fun.
ADVERTISEMENT - CONTINUE READING BELOW
On fitness tips for women on the go
Packed snacks. I've had ziplock bags with almonds or trail mix because sometimes you never know when you're working. Working women have schedules or appointments; we're going from workout to the office to a lunchtime meeting to another appointment and sometimes, we forget to eat. So if you have your ziplock bags with snacks, you will satiate your hunger better. I also suggest working out first thing in the morning to get it out of the way so that it already sets your day for extreme focus. It makes you feel good.
On the fastest way to lose weight
Cut the sugar immediately and you'll see your body change. Sugar is the first thing your body burns when we need energy. If you don't have sugar, it'll burn fat right away.
On women who 'have no time to work out'
You have to make time. I also think that your brain and your body are connected. In your subconscious, when you want something, you'll manifest it in your life. And until a person really, really wants something, then you're not gonna make time. So I suggest to them that they make their schedule from Sunday to Monday and then an hour five days a week.
On her 'fitspirations'
I have many. I would have to say [Victoria's Secret model] Candace Swanepoel and Rihanna. I love Madonna's body. Are those good answers? [laughs]
ADVERTISEMENT - CONTINUE READING BELOW
On her dancing roots
I started dancing at seven. I visualized my body with music and it changed my entire life. That endorphin rush when you're dancing is very addicting. That was the only time in my life when I felt free. Because being raised by a Filipino mother and a German father, there are a lot of rules. The only time that there were no rules was in the dance studio.
On Broadway and meeting Madonna
I was a professional dancer and I performed my first Broadway show at 17. My mom allowed me to leave high school early and I went to do three different shows. I left my last show because I got really bored. I wasn't training anymore, I was doing the same show eight times a week. So I went to athlete school for two years. I bartended. I ate Subway sandwiches two times a day. I was broke, I had no money.
I was reading the Power of Now by Eckhart Tolle and that really changed my life. I used to think that I would know the outcome of every situation. [...] I would overthink everything. After I read this book, it taught me to say yes to the universe and stop thinking and go with the flow. At that time, I met Madonna and she asked me to come on the road and train her for her Sticky and Sweet Tour in 2009. I said okay and it changed my life. Then she asked me to train full-time and I said okay. It's been five years.
ADVERTISEMENT - CONTINUE READING BELOW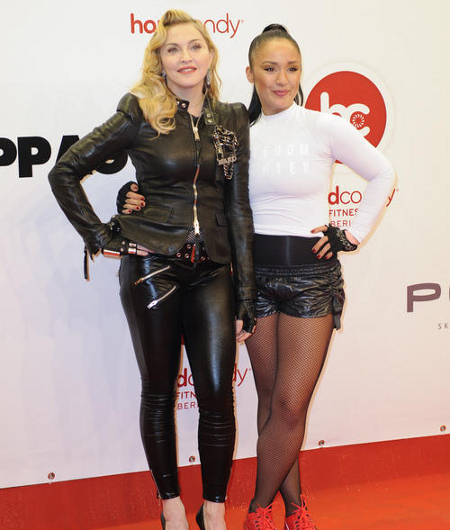 On working with Madonna
It's amazing! She is the hardest working woman, besides my mother, that I've ever met. She never missed a workout. I was training with her and her attention to detail and her questioning of why allowed for me to search deeper into unconventional solutions to tone a woman's body. I'm certified in the National Academy of Sports Medicine but I was always curious about what wasn't proven and she really supported me. She gave me the confidence to trust myself in what I think I can do. She's also really fun. We have a lot of fun together. She's the best teacher I've ever had.
On her best adventure with Madonna
I think the best adventure I've had with her was my first day with her. I had no idea what I was doing. I was just a dancer and I was so nervous and scared to train with someone who was like a Greek statue. Her energy is so powerful and that was quite an adventure. Lots of tears. Lots of crying.
ADVERTISEMENT - CONTINUE READING BELOW
On self-image
In America, we are bombarded with the image of what a perfect woman is supposed to look like. It's such a negative image for young girls and when they don't look like all the billboards and all the magazines, they feel like they're not good enough. And every culture has that. My message to Filipinas is to walk like you're God's gift to Earth and love yourself first. Be a mentor to somebody in your life.
Share this story with your friends!
---
Help us make Spot.ph better!
Take the short survey
Load More Stories