10 Quirkiest and Oddest Robin Williams Roles
Proof that he was larger than life and that he beat depression in his own way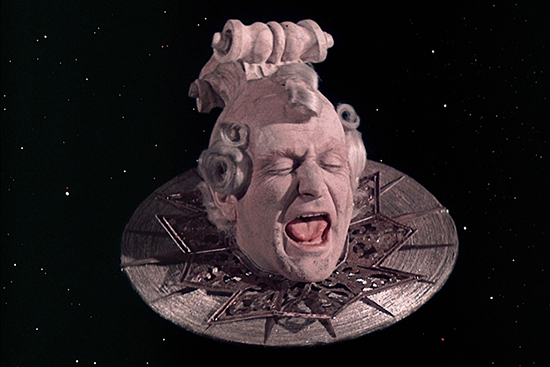 (SPOT.ph) It was not a good morning for most of us, especially for those who were little kids when Mrs. Doubtfire and Jumanji first came out in cinemas. To mitigate the pain, we simply wanted to think that the genie of the lamp is now free. Comedian and actor Robin Williams lived a full life-his greatest triumph against depression and alcoholism. Well, that and the fact that he raised a sweet daughter who is strong enough to look up and see him laughing in the stars.
Funny, inspiring, eerie, scary, confusing...here's our 10 favorite quirky and odd Robin Williams roles. We know there's more.
The King of the Moon in The Adventures of Baron Munchausen (1988)
Credited as Ray D. Tutto, Williams' head appears as the King of the Moon in Terry Gilliam's take on the tall tales of Baron Munchausen. He breaks free from his celestial body, who commands him to do rather disgusting things. The head yells, "I don't have time for flatulence and orgasms!" Early on, Williams displayed a firm grasp of absurd comedy mixed with gags.
Peter Banning/ Peter Pan in Hook (1991)
The boy who swore he'd never grow up did grow up and Williams portrayed him in this Steven Spielberg fantasy-adventure. Present-day Pan is a dad and businessman, who has no time for his kids. What would the Lost Boys say? But they bring the magic back in Peter when he's transported back to Neverland to save it once more from Captain Hook. Williams' energy made not only the Peter Pan's return believable, but also that you can still believe in magic at an age. Bangarang Peter!
ADVERTISEMENT - CONTINUE READING BELOW
Genie in Aladdin (1992)
Even in an animated film, Williams' distinct talent shone as the voice of Genie (and the movie's narrator). He was the great big (blue) ball of energy that guided Aladdin (and granted his wishes) and gave us unforgettable performances of "Friend Like Me" and "Prince Ali." No, we'll definitely never have a friend like Genie.
Daniel Hillard/Mrs. Euphegenia Doubtfire in Mrs. Doubtfire (1993)
One of Williams' most iconic roles, Mrs. Doubtfire was all at once heartwarming, funny, and odd. The film played on all of the actor's strong suits, making it one of his most commercially successful ventures. Williams knew that this role was special and though he was alright with doing a sequel, he rejected the offers that didn't do the character justice. (It's a well-known fact that Williams is a bit of a geek-he named his daughter Zelda-and he knows what it's like to have your "childhood ruined" by terrible "marketing" decisions.)
CONTINUE READING BELOW
Recommended Videos
Jack in Jack (1996)
No list would be complete without Francis Ford Coppola's strange deviation from "serious" films. Critics frowned upon the sappy nature of the screenplay, but the generation that grew up during the '90s can't help but look at this film with fondness. Reminiscent of Big, the film attempts to capture that adolescent longing to grow up as fast as possible. It's a little too head-on and borders on preachy...but Williams as Jack was just too adorable that you can't help but love this movie anyway, flaws and all.
ADVERTISEMENT - CONTINUE READING BELOW
Mel in Deconstructing Harry (1997)
Williams makes a brief appearance in Woody Allen's Deconstructing Harry as Mel. What's so special about Mel? Well, for one thing...he's a blur. A literal blur. And even as a blur, Williams was acting. Brilliance right then and there.
Andrew Martin in Bicentennial Man (1999)
Williams underwent a dramatic journey from android to man in this film. Driven by his love for Amanda a.k.a "Little Miss," Andrew wants to become human. It's a modern and bittersweet Pinocchio-esque story that brought out the best of Williams as a character actor and a dramatic one.
Walter Finch in Insomnia (2002)
He's got such a friendly face that we never really had him pegged as a villain...but that didn't stop Williams from pursuing roles that required gravitas to portray. His appearance in the Christopher Nolan slow burn of a thriller marked the change of tone in his career, pulling away from the likable characters his fans grew accustomed to. For the first time, the audience wasn't laughing at or cheering for the lovable actor. Insomnia was the gentler reminder that he wasn't the characters he portrayed. The harsher hint was in Death to Smoochy.
Seymour "Sy" Parish in One Hour Photo (2002)
This film isn't funny at all, which alienated a portion of the audience looking for a good guffaw...but if you think about it, who's more odd and quirky than Sy? He's a really nice guy, who just wants companions in life. Maybe he's a little obsessed with a printing (and a certain family)...but he means well! We don't want to spoil you (although you should have seen it by now) so we'll just say that Sy is a good guy right to the end. (Another interesting Williams role related to visual documentation: The Final Cut in 2004.)
ADVERTISEMENT - CONTINUE READING BELOW
Lance Clayton in World's Greatest Dad (2009)
In between the box office bombs like RV, License to Wed, and Old Dogs that littered the latter part of Williams' career is this gem of a film. In it, he plays a high school teacher who covers up the real nature of his son's death...and exploits it by penning a fake journal. Quite a contrast to The Dead Poet's Society but it is just as touching (and arguably more believable).
Share this story with your friends!
---
Help us make Spot.ph better!
Take the short survey
Load More Stories