15 Minutes with Vienna Teng: Singer, Songwriter, Environmentalist
Hearing her sing live was nothing less than surreal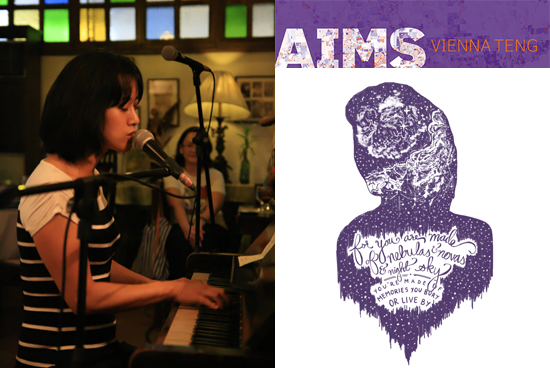 (SPOT.ph) For many of her Filipino fans, Vienna Teng is the musician who captured the essence of romance in one simple song (for a man named Eric). Five albums later, she's still writing songs that challenge the standard formula. There aren't many singer-songwriters who would build a melody around accounting fraud in a company...and there are even fewer ones who could make you sing along to it. Teng accomplishes this in the catchy track "Whatever You Want" from her third album Recessional, and though it isn't a chart-topping hit, she has earned the bigger reward of a loyal following.
In the age of hit singles and crazy stunts, Vienna Teng chooses not to join the circus. She's now a completely independent artist, utilizing a kickstarter to fund her "hobby" of making music. We were fortunate enough to have been invited to an instant meet-and-greet with her at Adarna Food and Culture on Tuesday (August 19), where she shared her surprise at the overwhelming response to her gig the previous night at Ka Freddie's in Tomas Morato. The afternoon at Adarna was a little more intimate and aside from hearing her perform "Stray Italian Greyhound" and "Eric's Song" (of course) live, we also had a chance to chat with her and hear her thoughts on a couple of things.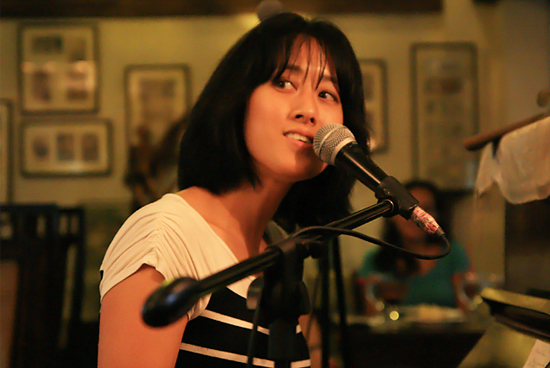 ADVERTISEMENT - CONTINUE READING BELOW
On her tour of Asia
"Choosing the cities was sort of arbitrary. Some of these were just places I want to visit, some were places that people had asked if I would ever tour there. So the Philippines was actually the first that I knew I wanted to go to because people were always saying, "When are you coming to the Philippines?" I knew I would come here. We tried getting in touch with different venues but only Freddie's replied. I think that because this is my first time in the Philippines, a lot of the other places weren't familiar [with me].
CONTINUE READING BELOW
Recommended Videos
These performances in Asia that I'm doing are all in very small places, mostly because we just wanted to try it first. If only 10 people show up then I'll be okay! [Laughs] But it's been a nice surprise, especially here in Manila."
On Manila and Taiwan
"I live in Detroit and Detroit is a city that's pretty empty-although there used to be more people living there. The funny thing is that, walking around here in Manila, it sort of suddenly felt like there are more people in Detroit! I'm excited to see Taiwan too. I grew up in the US and [my parents] didn't really bring us to Taiwan as children. Tomorrow will be my first time there, with my mom."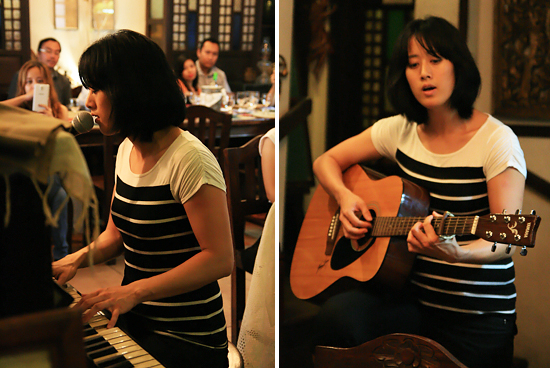 ADVERTISEMENT - CONTINUE READING BELOW
On being a "professional" musician
"I thought about writing [commercially] for a while when I was considering making music my whole career, but I realized that I mostly enjoy writing music for myself. So I went back to school and studied other things I'm interested in, and now, I have other work that I really love."
On her day job
"My other job is related to environmental sustainability-working with different businesses to work on environmental issues, because there are companies that care about using less energy or less water or maybe be more effective in cleaning toxic waste. Between that and performing, I'm not home very much."
On writing
"I guess the honest answer is that I have to make myself sit down and work...but I am also lazy. [Laughs] It's not like I just sit down and I come up with songs in the spur of the moment-it's more like, I don't write music at all unless I'm serious about sitting down and working something. But even when I work on something, after about maybe an hour or two, I'll be saying, "Ah, I'm tired. I'm going to make some food." I come back and I work on something again, but after another while, I'll go, "I'll take a nap." [Laughs]
It just requires me to set aside a certain amount of time where I don't give myself other excuses. It's very easy to sit down and try to create something that doesn't exist-but it feels hard. You always make up an excuse-I have to do the laundry today, I have to clean this thing, I have to visit this other person-so I have to set a period of time where I don't have any other excuses. And usually when I make that kind of space, then I come up with ideas. They're usually little fragments though; maybe I have a little bit of a melody or a couple of words. After a while, I just have these little things and then sometimes when I'm lucky I can take one thing and combined it with another. Sometimes I pair the wrong things together and I go "oh no!" [Laughs]"
ADVERTISEMENT - CONTINUE READING BELOW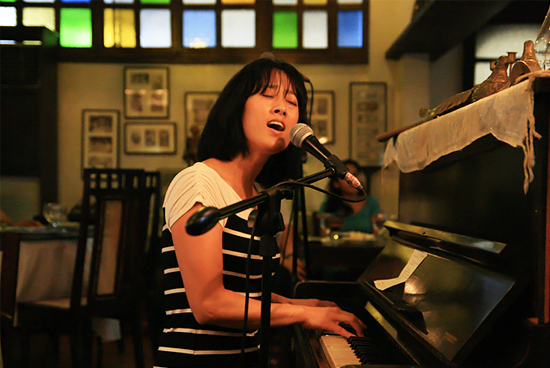 On songs written from a different perspective like "City Hall" and "Recessional"
"With "City Hall" it was very specific. I had friends who were gay who were getting married in San Francisco and I wanted to commemorate it by writing a song about it. I think for me it was more of trying to see it from the perspective of someone I knew. I was trying to write their story.
To be honest, I have a bias towards writing from the perspective of a man singing to a woman. I don't know why. In "Recessional," it was someone who had met a woman that he or she really wanted to be with for whatever reason. That one, I think, was just me trying to write about a very emotional moment that wasn't necessarily autobiographical."
On what happens to the couple in "Between"
"I write some songs specifically to be ambiguous, but I would like to think that they talked about it. Now that I'm older I know a lot of people who were in long relationships that just ended. I think that when it's between two very mature people, they have those conversations. Sometimes they're hard and heartbreaking, but it's a way to move forward."
ADVERTISEMENT - CONTINUE READING BELOW
On "Grandmother Song"
"I think in the song, I tried to put the conflicting message that I got from my grandmother. She lived her life in a very traditional way, so she feels like there are certain things that women should do...but at the same time, she realized that she was very limited by that. So she also wanted me to go and do bigger things. She would give conflicting advice, like, on one hand you have to get married because you're getting too old and no man is going to want you and you have to get married soon...and then on the other hand, she tells me to make sure I never have to depend on any man because I can't trust men. So...I have to get married...but I shouldn't trust him? [Laughs]"
On Aims
"I was in school at the time, studying environmental issues and businesses, and I learned about a lot of things that were really depressing-because you learn a lot about corruption and pollution, and how there are powerful people who will keep things the way they are even though the situation is really detrimental to other people. I think I was just in this place where I didn't want to get depressed about it-I wanted to stay inspired. I think a lot of the material from the album was a way to make music that was energizing while still acknowledging that stuff. I guess I was, in a way, trying to write an energetic somewhat political pop album or something? [Laughs] But it's really not political? [Laughs]"
ADVERTISEMENT - CONTINUE READING BELOW
On influences
"There's always Simon & Garfunkel and other songwriters who played the piano. And then there's Mandarin Pop, because of my parents. The voices in those songs are very pure and very sweet. Classical music too, because I was studying classical piano. But I think my style of music is definitely influenced by my parents' upbringing. They're not really traditional Chinese but they are Chinese and are more reserved. I always felt like I had this responsibility to have music with dignity. I think that's why, for example, I never ventured into playing something close to rock and roll music. What I think is exciting about rock and roll is there's always a sexual element to it and I think maybe that's why people gravitate towards it. I think it's great but I think there's a reason why I didn't do that...because my parents would be like, "What are you doing?""
On singing and playing the piano
"Sometimes it's hard to do those two things at the same time because it kind of splits your brain. I find that when I'm recording, I have to do them separately. If I'm recording while singing and playing the piano, you can hear that I don't sing as well when the piano part is difficult and I don't play the piano as well if the singing part is tricky. Because I think it takes too much concentration [laughs.] But I enjoy live performances, because then I get to do the whole song. When you're doing songs live, it's okay for it to be a little bit messy. But it's nice to be recording too, because I have the music coming in my ears and all I have to do is sing."
ADVERTISEMENT - CONTINUE READING BELOW
Share this story with your friends!
---
Help us make Spot.ph better!
Take the short survey
Load More Stories