On the Spot: Sari Estrada, the funny person behind Asan si Lolo Mê?, Best Short Film in Cinemalaya 2014
The filmmaker talks about what it feels like to win and to make people laugh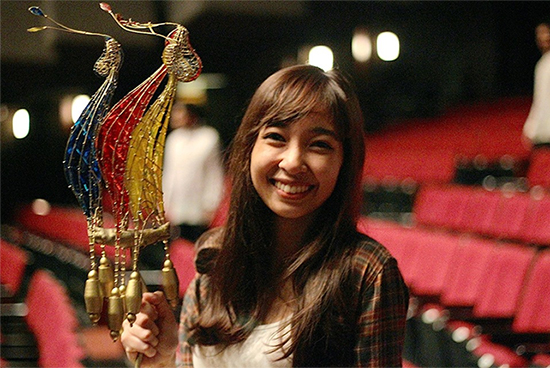 (SPOT.ph) This interview was borne of a joke, wherein a writer bet that Sari Estrada would win an award for her short film, Asan si Lolo Mê?, and that writer would do a feature on her. On August 10, after Lola by Kevin Ang Tan bagged most of the awards for the short film category, Estrada stood on stage in shock-holding the iconic balanghai trophy. Well, well. Dreams do come true.
This coincides with her whimsical filmmaker bio in Cinemalaya, in which she describes herself as a Disney Princess. She looks like one-pretty, statuesque-and acts like one too...like Princess Anna from Frozen, to be precise. Complete with pretty decent skills at singing and general goofiness. There are a handful of short funny videos that makes it safe to say that Sari Estrada is effortlessly hilarious. Who could've thought of making a film about a well-meaning family telling a child that his grandfather has turned into a goat?
ADVERTISEMENT - CONTINUE READING BELOW
Her brand of humor isn't quite what we're used to seeing, but the warm reception to Lolo Mê is proof that the Filipino audience is ready for a change in scenery. That's in terms of both humor and indie film topics. We don't have to be hahaha or huhuhu all the time.
We sat down and chatted with Estrada about what it feels like to win and to make people laugh.
How did you get into film?
It was a really last-minute decision in fourth year high school [in Miriam]. Before that, I was set for Psych or Comm...and then Theater. I didn't apply for Theater sa UP kasi may talent test [laughs] but that's what I applied for in Ateneo, but when I got into UP, I was all, "Oh, film!"
I think it's because of all the video projects I had to do in high school. It was really me shooting and editing them-and I always made it a point to make them funny so when I would present in class, everyone would laugh. It was the greatest thing and I thought, I wanna keep doing this! I want to keep making people laugh.
ADVERTISEMENT - CONTINUE READING BELOW
What makes you laugh?
You mean like "haha" laugh? I don't know, I don't know. I think I rarely laugh like that. Some series make me laugh, like 30 Rock and Community...uh, sometimes. And College Humor! [Laughs] You know what's weird? My film doesn't even make me laugh. It makes other people laugh, but it doesn't make me laugh. Maybe because I worked on it for so long and all that work doesn't make it funny [laughs]. So I'm surprised when people laugh.
What about Mindyrobics?
I don't know! I laugh at how stupid I am [laughs].
This is Mindyrobics
Where do these ideas come from? Like, where the hell did Mindy come from?
That was for a class-for acting class. We had to make a 10-minute monologue and I was thinking, I guess this has to be like a serious monologue 'cause you gotta be a serious actor in acting class. But then I decided I'm not going to do it! [Laughs] So I just made myself look stupid. I like self-deprecation.  And then, funny, there are people who make comments on YouTube saying, "You're so stupid, that's not going to make you skinny!" Oh my God, what's your problem? [Laughs]
ADVERTISEMENT - CONTINUE READING BELOW
How do you feel when people don't get the joke or the satire?
Okay lang. Whatever. I'm strange, I guess? My parents tell me that...so I guess I am, 'cause you gotta trust your parents! My mom, she's my biggest fan, she spent every day Googling reviews of my film during the Cinemalaya run. She'd get mad when she finds a negative one and she's all, "No one does that to my daughter's film! They can't touch my daughter's film!"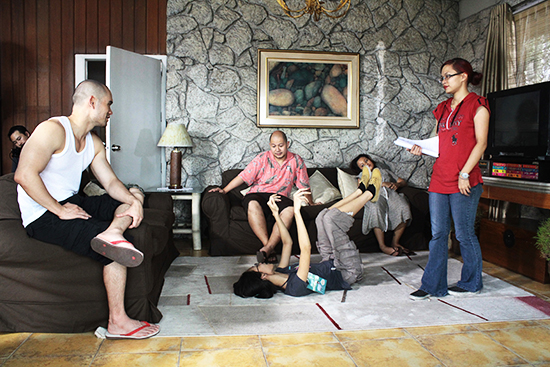 ADVERTISEMENT - CONTINUE READING BELOW
Behind the scenes of Asan Si Lolo Mê with Sari Estrada (on the floor)
From thesis defense to gala night, how does that feel?
The gala night felt like thesis defense [laughs]. I went to the very first screening, it was in Huseng Batute [Theater in CCP]. Small audience and pangit 'yung projection, mali-mali 'yung mga kulay. One character's lips were purple and I just remember thinking, "Ugh. This film is so crappy. They're gonna be like [putting on a Valley girl accent] why is this in Cinemalaya?" I felt really bad after that.
But in the gala! Oh my God, that was the biggest audience I sat with! So many people watching my film. I remember I came out, I was telling myself, "Chill, chill, you're the first person going out on stage, just chill." And then, they were all there-the balcony was full of people! Both balconies were full of people! Hearing that many people laugh was the best moment ever! They're laughing at me! [Laughs]
ADVERTISEMENT - CONTINUE READING BELOW
How did you feel during awards night, especially with Lola getting all of the earlier awards?
I thought Lola was going to win! I was hoping sana Best Screenplay, kasi kakaiba naman script ko. Baka pwedeng Jury Prize, but no, it wasn't me also. I was just relaxing in my seat towards the end. I watched them open the envelope and I was waiting for them to say, "An old woman..." Instead they said "domestic" but I thought it was Lola. Then they said "absurd" and I started thinking, "Oh no, it's me. Oh no, oh no."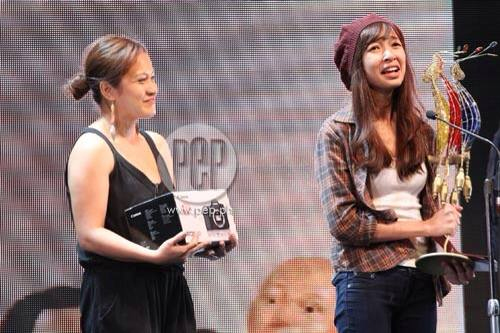 ADVERTISEMENT - CONTINUE READING BELOW
Cinemalaya Awards Night
What was it like going up there, making a speech?
If there was an award for least poised acceptance speech there, I would have won it. Everyone seemed really chill! Most of the people were just, "Yeah, I won this." Me, I was, "OH GOD I WON THIS!"
Do you want to make more short films or dabble into something else?
I do, because, for one, less budget needed. [Laughs] But I also want to do a full-length feature someday.
More funny stuff? Do you plan on doing more "serious" ones or play up your strengths first?
Probably more funny. [Laughs] I want to do them not necessarily because that's my "strength"-although it is a comfort zone-but, I don't know, I don't see anything else like [my films] here yet. My "influences" are mostly, what, YouTube videos? Oh, Louis CK! I love Louis CK. I don't see a lot of movies like [his stuff] in general, so I want to sort of fill in the gap.
ADVERTISEMENT - CONTINUE READING BELOW
What's next for you?
Something with magic realism, with something that isn't really funny but hopefully will still make people laugh.
Last question-the one everyone hates-the movies that you think people should watch.
I hate this question, I never know what to say. Um, um...Love Me If You Dare? Everything You Always Wanted to Know About Sex* (*But Were Afraid to Ask). But if this is about movies you can watch over and over again, it's The Notebook! I'm not going to be ashamed of that. [Laughs] And I really like About Time! It was a nice surprise, because I thought that was going to be a rom-com but it was about family and I was just crying by the end of it.
Wait, I should have one that makes me sound smart, right? Um...movies that make me sound smart...uh, Twilight.
Director's portrait by Manuel Tinio. Behind-the-scene photo from Sari Estrada. Awards night photo from PEP.ph.
ADVERTISEMENT - CONTINUE READING BELOW
CONTINUE READING BELOW
Recommended Videos
Share this story with your friends!
---
Help us make Spot.ph better!
Take the short survey
Load More Stories