Christina Grimmie performing on The Voice
(SPOT.ph) From YouTube covers to singing fantastic covers on The Voice to her very own tour, you could say that Christina Grimmie has come a long way.
Before placing third in the hit reality show's sixth season and working under the tutelage of Adam Levine, she has already made a name for herself on her YouTube channel, thanks to her cover of Miley Cyrus' hit "Party in the USA," which shot her to online fame. She's already released two albums, and has toured with and opened for Selena Gomez.
Christina Grimmie will be performing at the Ayala Malls over the weekend: October 4, 4 p.m. at Alabang Town Center, and 7 p.m. at Glorietta; and October 5, 7 p.m. at TriNoma.
On the "craziness" of the past few years
I started on YouTube and that was five years ago. I've been doing that for a while, and then things kind of elevated when I went on tour with Selena Gomez. That was a pleasure and it was amazing. After that, I went on and did my own music, and came out with my own album-two albums, actually, which was awesome. Then I went on to The Voice, and I heard the Philippines loves The Voice.
On Filipino fans
It's cool to say that the Philippines is the first country I got to go to outside of America and Canada. I've always wanted to come here, by the way, since years ago. I had a lot of Filipino fans and it was so cool, because they had such a big online presence. I'm sure you all know. Filipino fans are the real deal! They would hit me up all the time saying, "Why aren't you here yet? You should be here!"
ADVERTISEMENT - CONTINUE READING BELOW
Let me tell you something about my social media. I don't know the exact numbers so I won't say it, but I get a lot of retweets and a lot of favorites. I posted for the first time that I was coming to the Philippines. I really don't know what happened to my social media. It upped thousands and thousands, people "liking it," retweeting it, all that stuff. It was overwhelming, I'm not used to that! It's crazy! So that's the reason I was so excited to come here. They just confirmed how many fans-or as I like to call them, "frans"-are out here. It's just amazing to finally be here and experience it.
On her social media fame
One thing that I noticed, and a lot of people were telling me as well, I'm relatable to people. I look up to people that are relatable. It's funny, because I was little quirky, a little awkward, a little comedic. And so I sang, and I think people just saw that and liked that. There were a lot of things in me that I think people saw in them that they were afraid to act on. Like, "Oh, I'm afraid to act a little dorky" which they saw in me, and it inspired them to be that way, too. It's truly a blessing for me to say that I have inspired people, and I want to continue to do that.
ADVERTISEMENT - CONTINUE READING BELOW
Recommended Videos
On her inspiration
Definitely the top musician for me would be this girl named Stacie Orrico, not many people know of- [reacts to crowd] Oh! You do! Yay! You have no idea, I know every song she's ever released. She's incredible. She was my favorite ever since I was about 10 years old. I'm so happy you guys know her! YouTube was very new when I was like, 10, so I would always try to look up whatever I could about Stacie Orrico. Was she funny or interesting? The things that I did find about her was that she was a little bit dorky, and well that's so cool of her. Definitely the singing style; most of what I know is from her. I wasn't really trying, it's just me as a kid that wanted to be like my idol.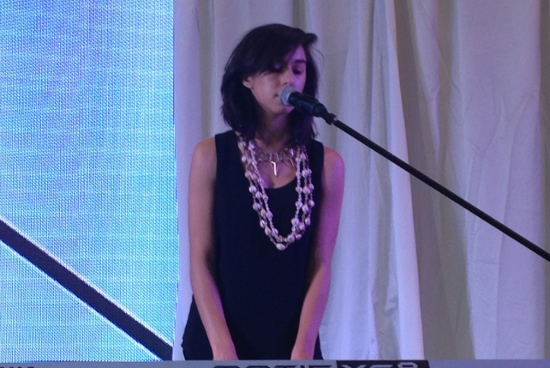 Christina Grimmie performing her song "With Love" for the press
ADVERTISEMENT - CONTINUE READING BELOW
On the biggest change in her life after The Voice
The night my blind audition aired, I had 370,000 [followers] on Twitter. Since The Voice, [I've had] 625,000 so it literally doubled. It definitely brought me to another level. I don't really know how else to quantify it, I'm still processing it! Just the fact that I'm here.
On going on tour for The Voice
Going on The Voice tour directly after [the show], it was just...The Voice, in general, is honestly the greatest thing I've ever been through. Ever. These people look after you. They're genuinely excited for you. Going from that and then going on The Voice tour, it was similar in that way. The people that you're surrounded by are great people. That whole experience of meeting the fans that watch you, and voted for you, and then being told that in person, like "Hey, I voted for you." That person watched me and followed me on TV! It's just cool that when you go on tour, you get to experience that, and meet the people that supported you along the way.
On touring with and opening for Selena Gomez
She's an absolute pleasure to work with and especially open for. I can't really think of another artist I'd rather open for. She's extremely unique in the sense that she's not a diva. She's not that kind of celebrity where you're kind of "Oh, I'm afraid to walk in her room 'cause she might yell at me." She's not like that at all. You walk in her dressing room, she invites you in, she offers you something to eat, and she has been a mentor to me throughout that whole touring process. I learned a lot from her.
ADVERTISEMENT - CONTINUE READING BELOW
On going on tours in other countries
I am going on tour in Europe, and I've never really been over there. I'm going to Europe in January and February with a band called Before You Exit, and I'm so excited. Denmark, Sweden, Norway, London, Italy...[to] all these really exciting places that I've never been.
On being under the tutelage of Adam Levine
He's honestly one of my favorite people in the world. If you love Adam Levine, then I'm telling you, you love him for the right reasons. He's an amazing person and working with him... well, I don't know how it's like to work with Shakira or Usher and I don't know their styles, but for Adam, he just made sure that we both knew what we were going to do on stage if we were choosing a song. He made sure that I was 100% comfortable with that. He made sure the song choice was of my preference. He was just extremely nurturing.
To be honest, I didn't know what I was getting into or what he was going to be like. I didn't know if he was going to be a diva, but he was not at all. He's one of those people that will just outright have a conversation with you on the sidewalk or something.
On being "distracted" by Adam Levine
People work in different ways. For me, I never really let that get to me. What it did do was let me look at things from his perspective. He's Adam Levine! I'm sure his choices for me were here [gestures above her head]. He's been there, he's been through these experiences, and he'd know how to mentor me. I mean, it wasn't intimidating.
ADVERTISEMENT - CONTINUE READING BELOW
From a starstruck point of view... he's very attractive but I was so full of the work. It's just like, "What can I learn from this guy?"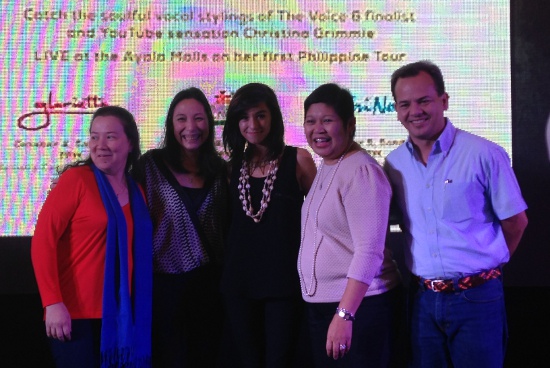 On her singing rituals
I don't know if this counts as a ritual, but for one, I pray. I truly do actually sit there and think, "God, thank you for this opportunity..." That's one. The second one, I do it in situations where I'm most nervous. One of my favorites styles of music is metal, actually. So I'd just throw on my headphones and listen to Metallica. That usually gets me pumped for a crowd, especially on The Voice when you have such great crowds.
On three of her most memorable performances
One was when I sang that song by Drake called "Hold On We're Going Home." It was like my baby, in a way. I did the whole thing myself. I walked into band practice and was like, "Piano, do this. Drums, you do this. Organ, you do this." And it all kind of came together as a Christina Grimmie stamp. That was amazing in knowing how many people loved that.
ADVERTISEMENT - CONTINUE READING BELOW
Another performance would be when I sang "Can't Help Falling in Love" by Elvis Presley. It's one of my favorite songs to sing ever, and to be able to sing that on live TV, it was huge. That was a big moment for me mentally. Other than The Voice, another song that was such a huge honor was singing for Bon Jovi at a seminar. I sang his song "Living on a Prayer" in front of him, which was the most nerve-wracking thing I've ever done. He didn't come up to me but he went up on the pulpit afterwards and he was like, "I would just like to say amazing job to Christina Grimmie who did great justice to my song." It was so cool.
On her favorite apps
Vine is a good one, it's something I only recently got into. You can use that for music or just showing your personality. I don't really play many games on my phone, but I don't know if you guys know Fruit Ninja. It's really old now, but it was one of my favorites. Oh, and Doodle Jump is another one! There's this one app called Wish, it's a shopping one. It's great for discounts on clothes. I like the shopping apps.
On video games
[I became a fan] through my brother, honestly. My brother's slightly older than me and ever since I was little, I was like, "I want to do what my brother does!" So we would play all these games that he introduced to me, and I learned to really enjoy these video games. Zelda, I was probably six years old when I got into it. I became a fan of that ever since. Mario Kart, old-school Nintendo, things like that.
ADVERTISEMENT - CONTINUE READING BELOW
On her personal style
My personal style is honestly a little grungy. I like to look a little edgier. I'm not really a girly girl so I don't really do the frills or anything. I just like to dress simple all the time. I don't really like to do anything really girly. I love different styles, but edgy, grungy, classy all combined is what I like.
Christina Grimmie will be performing at the Ayala Malls over the weekend: October 4, 4 p.m. at Alabang Town Center, and 7 p.m. at Glorietta; and October 5, 7 p.m. at TriNoma.
Share this story with your friends!
---
Help us make Spot.ph better!
Take the short survey
Load More Stories