10 Women Musicians You Need to Follow Now
The badass chicks in bars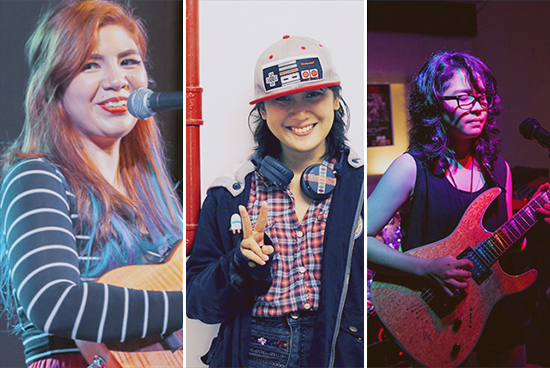 (SPOT.ph) There are some obvious names we've purposely left out from this list: Cynthia Alexander, Armi Millare, Aia de Leon, and Kitchie Nadal readily come to mind. Relative veterans like Selena Salang (Ang Bandang Shirley and Slow Hello) and Deng Garcia (Flying Ipis and the hip-hop supergroup Assembly Generals) were also not included. All of the musicians in this list have had or will have notable releases within the last two years and are still actively performing, whether here or abroad.
If you know of anyone else for whom we should be looking out, please let us know. It's always a good thing to see more women in music!
BP Valenzuela
BP Valenzuela's new album The Neon Hour was released in late March 2015, and this electronic musician is generating more buzz with new songs that speak from her wise-beyond-her-years perspective. BP says she wants to revive the album as a coherent way of telling a story. This, and her penchant for sticking to keyboards and MIDI controllers in performance, puts her in a position as someone who can bridge both past and future in continuing to realize the possibilities of electronic music. She is due to perform in Wanderland 2015.
Skymarines
If there is someone who has influenced BP Valenzuela, it would be Davao-based electronic musician Skymarines. Isa Añiga first came to our notice thanks to independent music website Vandals on the Wall, which featured her track "Dreamer," but it was a fateful visit to Davao by Up Dharma Down that turned her into a pin on the music map. Now signed as a Terno artist, her candor and catchy songwriting has won her a small following outside of her hometown. Those wishing to explore the songwriting scene there may also want to check out her compatriots Thea Pitogo and Jad Montenegro.
ADVERTISEMENT - CONTINUE READING BELOW
Isabelle Romualdez
Long-time followers of local independent music may vaguely remember the now-inactive ensemble TOI, fronted by lead singer Pauline Diaz, who had a somewhat distinct voice at the time. Isabelle Romualdez's voice might remind you of Diaz's sound, even if the former owes more to the likes of Lucy Rose (who played here for Wanderland 2014). She fronts a band, Fools and Foes, who not only managed to make it to the Wanderband finals for this year but also brought together two buzz-generating genres locally: post-rock and folk.
Kai Honasan
Not to be hipsters, but we heard and liked Kai's music before a reality TV singing competition came along and boosted her national profile. Since 2011, when she played two songs at a Route 196 gig, she has been composing and performing pop tunes that are at times joyful, melancholy, and slightly angsty. Her EP, In Your Face and Other Songs About Other Faces, is a good introduction to her music. Recently, though, she has been seen wielding the keytar and doing additional vocals for the band Autotelic, where her harmonic lines figure in what seems to be the band's most popular tune at the moment, "Dahilan."
CONTINUE READING BELOW
Recommended Videos
Reese and Vica
You may recognize Reese Lansangan as one of your correspondent's 10 New Filipino Artists You Need to Know Now from last year. She is one-half of the indie acoustic pop duo Reese and Vica, whose recent EP features Reese's intricate art work and their equally intricate songwriting and harmonies. It is always a treat to catch the duo perform their work live, and their music is the perfect soundtrack to a weekend afternoon.
ADVERTISEMENT - CONTINUE READING BELOW
April Hernandez a.ka. The Sun Manager
Anyone tuning in to a certain radio station on the left end of the dial may get to hear, if they are lucky, April's inspiring ballad "In Darkness." Two of the eight voters in the Vandals year-end poll gave this tune their top honor. This is just among the tunes from her recently released EP, which evokes the likes of Wilco and other acts from the "new country" movement with songs in classic traveling rhythms. She also performs with the band Ivan Theory and occasionally with other ensembles from the UP Underground Music Community.
Chai Fonacier
We honestly wish that we had trip-hop ensemble Womb's 2013 record Anesthesiac when it was released, if only to appreciate early on the work of composer and singer Chai Fonacier. Apart from her work with the Cebu-based Womb, a band that recently performed in Manila along with Loop (more on that shortly), Chai is a performance artist and film actress. Her feature-length debut happened at the recently concluded Sinag Maynila program, where she appeared in Remton Zuasola's Swap.
Kim Trinidad
One of the biggest surprises of the radio station Jam 88.3's year-end list was that a band from Iligan called Loop scored an upset by having one of their songs reach number two, beating out the likes of Bullet Dumas and the Eraserheads. Kim Trinidad, the band's lead vocalist, has managed to impress Loop's listeners with her memorable voice and winsome charm. Manila fans, both old and new, got to hear and see Loop when they visited late last year, a glimpse of a vibrant and lively independent music scene in this city in Mindanao.
ADVERTISEMENT - CONTINUE READING BELOW
Mic-Mic Manalo
We discovered the work of this pop jazz vocalist and guitarist as part of her band Farewell Fair Weather, one of the more prominent young bands in a relatively small jazz music scene in Manila. Her work for the band features songs that, while often dealing with the inevitable pop themes of love and loss, sometimes celebrate the idea of joie de vivre, as with their first single "Rough Skies." But if one wants to hear Mic's vocal prowess at its best, the band's power pop number "Sakali" is the one to hear. Draw comparisons with one of our hall of famers, if you will.
Aleph
Aleph, one-time lead vocalist of the Strange Creatures, has recently signed with Warner Music. Her musical work relies upon a wide-ranging and soulful voice that we suppose has left enough of a good impression upon those who have heard her. When not singing, she works as a film editor.
Erratum: An earlier version of this article identified Isabelle Romualdez as Isabelle Rodriguez.
---
Help us make Spot.ph better!
Take the short survey
Load More Stories