On the Spot: Up Dharma Down for Hennessy Artistry
Plus, we give you a lineup of all the artists you can catch in this month-long musical event.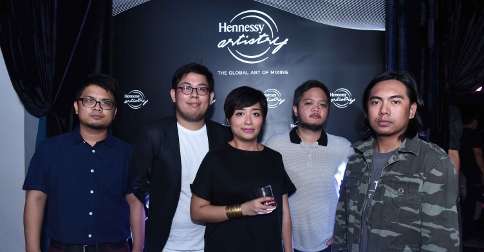 Up Dharma Down with Yolanda Moon's Cholo Hermosa
(SPOT.ph) It all started with a surprise performance at Bonifacio High Street last May 15. Imagine dimmed lights, the steady beat of a drum, then a guitar, then a keyboard...and finally, the distinct voice of Up Dharma Down lead vocalist, Armi Millare.
ADVERTISEMENT - CONTINUE READING BELOW
At the time, the band didn't disclose what the performance was for, instead choosing to go with the obscure hashtag, Flashband Friday. It turns out that the surprise gig was to drum up excitement for Hennessy Artistry, happening this whole month of June.
This marks the fifth time the global music event has taken place in the Philippines, mixing and creating unique musical experiences with a local and international lineup. In an exclusive interview with SPOT.ph, Up Dharma Down talks to us about Hennessy Artistry, the music they listen to, and what they love to eat after gigs.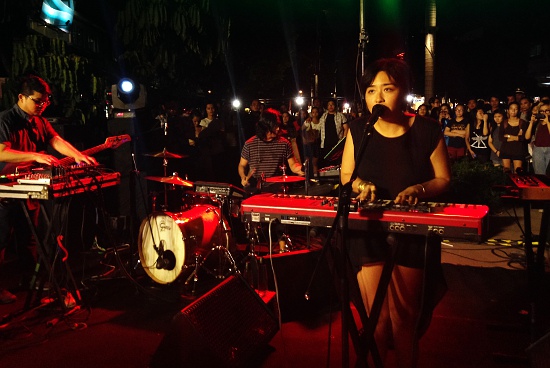 ADVERTISEMENT - CONTINUE READING BELOW
At the surprise gig
Tell us about your involvement with Hennessy Artistry.
Armi: We were fans of Hennessy Artistry long before this gig, and of course, it's interesting to be part of something that's focused on not just the brand, but musicians as well.
You like to experiment with your sound and your music style. How does that come about in your process?
Paul Yap (Bass, synth, back-up vocals): For the music, it's everyone. There are times that we rehearse together, and there are times where someone is playing with an idea and we e-mail each other. Then we just add on to it, and head to the studio.
How long does that process take?
Paul: It really depends per song. Wala naman talagang standards kaming ginagawa o deadline.
Carlos Tanada (guitars and synth): The song, "Turn It Well," took almost one year. Sometimes, [it takes] a week or a day lang. Gut feel lang siguro namin. Minsan matagal, minsan mabilis.
ADVERTISEMENT - CONTINUE READING BELOW
What about the songwriting? What do you like writing about?
Paul: About the heart. [laughs]
Armi: The usual experiences.
Carlos: Or memories. We think that we're experts on our memories.
Do you ever get nervous when you debut new music or even when you perform?
Armi: Yeah! [nods and laughs] All the time.
Ean Mayor (drums): I'd like to say no, pero when we're there, yes.
Armi: Sometimes, when you know it too much, that's when you forget.
What do you like to eat post-gig?
Ean: Bacon!
Armi: Everything! We like to eat. All the time.
Paul: Japanese food.
Ean: Japanese 'yong go-to [food]. 'Yan 'yong parang jumpshot ni Michael Jordan sa pagkain namin. Swak.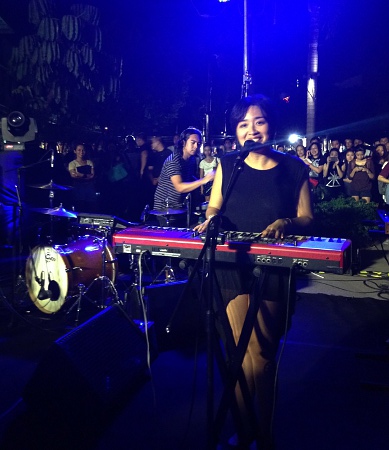 ADVERTISEMENT - CONTINUE READING BELOW
Dream musical collaboration?
Armi: Actually, we've already achieved one of the many dreams. We've collaborated with Paul Buchanan [of The Blue Nile] for the third album. Hopefully for the fourth album, we'll figure something out similar to that.
What music are you listening to write now?
Carlos: Si Ean muna!
Ean: I like the new album of Blur, and this band named Caribou.
Carlos: Ah 'yon, Caribou.
Ean: I'm very excited for the new album of Chemical Brothers.
Any updates on your new album?
Armi: It's the album that won't write itself. To be conservative, I think it's going to be a 2016 album...basing it on how things will turn out. It's also a fast-changing process. Sometimes, you like something but by the time you have the time to write, it's already gone.
Head to the next page for the full lineup and dates you don't want to miss.
ADVERTISEMENT - CONTINUE READING BELOW
If you're looking to check out Hennessy Artistry's Club Series, mark your calendars for these dates.
June 5 at The Palace Pool Club in Bonifacio Global City:
International electronic music producer Porter Robinson will headline the evening, alongside Up Dharma Down, Yolanda Moon, DJ Ace Ramos, Marc Naval, Abdel, Mars Miranda, and Martin Pulgar.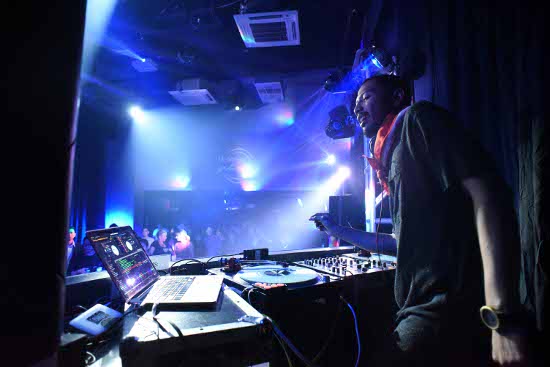 ADVERTISEMENT - CONTINUE READING BELOW
Motherbasss performing at the Hennessy Artistry launch on May 28
June 11 at Raven Manila in Bonifacio Global City:
Brooklyn-native DJ NY Giant will headline the party, joined by Nix Damn P!, Motherbasss, Toni B, Toons Caloy, LDP, Dan Gil, Alvin Cornista, and MC Dash Calzado.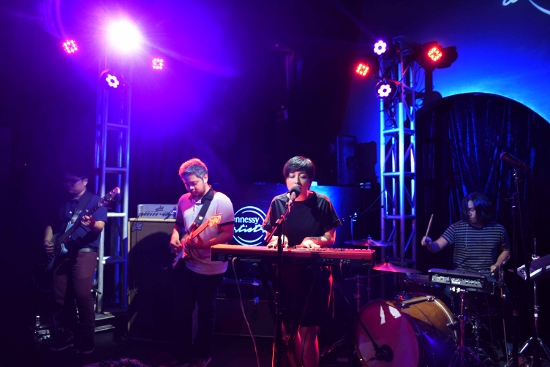 Up Dharma down at the Hennessy Artistry launch party
ADVERTISEMENT - CONTINUE READING BELOW
Finally, Hennessy Artistry culminates with an epic party on June 19 at the annual Halo event in Valkyrie:
Get ready to dance the night away with Australian EDM duo Nervo, with Up Dharma Down, Motherbasss, Abdel, Quest, and Silverfilter.
This event is by-invite only. You can avail of passes by purchasing a Hennessy VS during the club series, or joining the Hennessy promo where each purchase of a Hennessy VS 70cl bottle entitles the customer two regular passes to the event. You can also opt to purchase a 150cl bottle, and get four regular passes (for two). Promo is only valid until June 19 in participating supermarkets: S&R (Metro Manila branches), Landmark Makati, Rustan's Rockwell, Rustan's Makati, and SM Supermarket (Metro Manila branches).
For more information on Hennessy Artistry, log on to their website or visit their Facebook page.
Load More Stories