On the Spot: Lucy Lawless of Xena: Warrior Princess and Ash vs. Evil Dead
The actress talks to us about crazy stunts, horror movies, and reprising her role as Xena.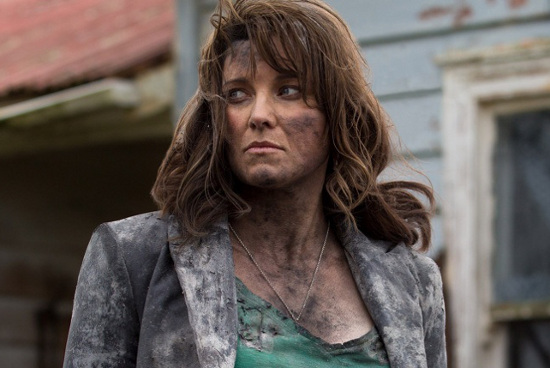 (SPOT.ph) You might not recognize her name at first, but folks who were old enough to watch primetime television during the mid-'90s and early 2000s will likely remember Xena: Warrior Princess. The TV show, starring Lucy Lawless, follows the adventures of a former warrior who sets out to redeem herself by fighting for the greater good. Since playing Xena, the actress has gone on to join plenty of other popular shows, including Spartacus, Parks and Recreation, Agents of S.H.I.E.L.D., and Salem.
Her latest project is the critically acclaimed Ash vs. Evil Dead, a modern TV adaptation-slash-sequel of the Evil Dead cult horror franchise. The plot takes place years after the events of the last film, and features a much-older Ash (Bruce Campbell) who reluctantly tries to save the world. The horror-comedy series, helmed by the original director Sam Raimi, is as gruesome and entertaining as ever. Lucy plays Ruby, a mysterious woman with ties to Ash's past.
In an exclusive interview with SPOT.ph, Lucy talks about her new show, playing compelling female characters, returning to the rumored Xena reboot, and more.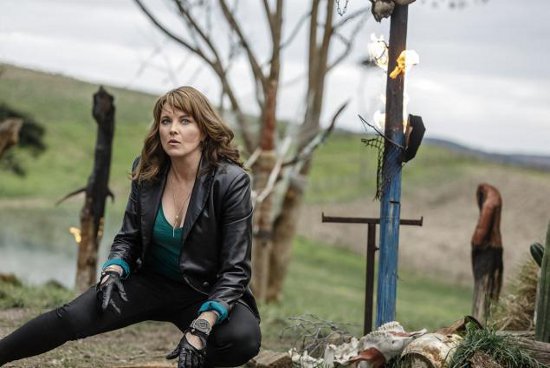 ADVERTISEMENT - CONTINUE READING BELOW
Your Ash vs. Evil Dead character, Ruby, starts off a bit shady and mysterious on the show. Can you give us a little insight on her?
Ruby is a woman with a huge chip on her shoulder because she blames Ash for the death of her entire family. She's been through a lot of ups-and-downs, so she's become unstoppable...like a shark. So when she and Ash get together, there's this huge fight between them.
What is your favorite part about playing Ruby?
I love that she gets to torture Bruce Campbell! [laughs] That's what the audience loves; they love seeing Ash in pain and Ruby brings the pain.
CONTINUE READING BELOW
Recommended Videos
This show has you doing some pretty crazy and gruesome stuff. How do you get into that kind of mindset before filming?
Oh, it's easy! I have five brothers, so we were always just giving one another trouble. It's just being able to be a thorn at [Ash's] side at every moment...and Bruce and I love to rassle one another. This was my childhood, actually, coming from such a large and noisy family.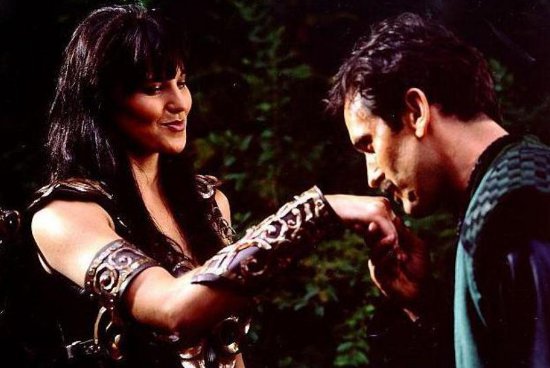 ADVERTISEMENT - CONTINUE READING BELOW
What was it like reuniting with Bruce, your Xena co-star [who played Autolycus], especially after all these years?
[It's] divine! He's one of my all-time favorite colleagues. We support one another and jolly one another along. It's great because with this show, we're with each other for 20 hours every day.
What's the craziest stunt you've done so far on the show?
Gosh, every role that I do is getting increasingly weird! [laughs] There are so many stories to pick from and it's hard to pick the weirdest moment of all, but also...some of it hasn't aired yet, so I can't talk about it properly. I can say though that we've produced scenarios—things that you've never seen on TV before—truly original moments of filmmaking. We've got some doozies coming up, I promise.
Were you a fan of the Evil Dead film franchise before signing on to do the show?
Well, as a matter of fact, I first saw the movie when I was really young, I was so horrified! I was so sick that I just walked off...I was 17 at the time. Later, people labeled [director] Sam [Raimi] as sick, misogynist, and that he ought to be in jail...but you know, he wasn't misogynistic at all! In fact, he was the driving force behind one of the great female role models of all time, which was Xena: Warrior Princess...so not misogynistic at all.
What do you think sets Evil Dead apart from other horror franchises?
There's just something rock n' roll about this, really fast-paced...it's like being part of a really horrifying rollercoaster. It's such a good ride. You get these frights and the entertainment in equal measure. Ash is an Average Joe character that's supposed to save the world, so I think the Ash audiences really relate to him. Really, they worship him! It's just great because he's the anti-thesis of my character, Ruby, who is all about doing good work and being responsible. Ash fans just want to eat sausages and drink beer!
ADVERTISEMENT - CONTINUE READING BELOW
Prior to this show, you were Xena, you played Lucretia on Spartacus, and you were also part of Salem. What draws you to playing these tough and conflicted female characters?
I want it to be real. I don't care for shiny or glittery things, they don't interest me. I want things to be intense, fascinating, and gritty. That's what excites me in life.
Speaking of Xena, there was recent news of a reboot. Is there any chance that you will be back to play the role?
I don't know. [pauses] It depends because I don't know what form the show will take and for me, there's this covenant between the show and the fans, about what the show is. To me, it's about the empowerment of a marginalized person. It's about honor and integrity. I want to make sure that whatever the reboot is, if I will have anything to do with it, that it will honor that covenant. I don't know what it's going to be yet, and it's way too early just yet.
ADVERTISEMENT - CONTINUE READING BELOW
In terms of your career and all the roles you've taken on so far, is there anything else you'd like to do? Any project you'd love to be part of?
I've always wanted to play Lady Macbeth. I also dream of working with Kathleen Turner (Body Heat, The Virgin Suicides). I want to do a lot of stage work...that will be fun for me.
What do you like to do when you take some time off from filming all these projects?
I'm so used to doing physical roles, so I still find ways to keep moving. I'm also involved in quite a few charities. I'm on the board of an organization called Starship Foundation [in New Zealand], which is involved with a children's hospital. So it's fundraisers and providing better health for children...things like that.
Ash vs. Evil Dead is exclusively streaming on HOOQ, with new episodes on the same day as U.S. airing. For more information, log on to HOOQ's website.
Share this story with your friends!
---
Help us make Spot.ph better!
Take the short survey
Load More Stories