15 Minutes with apl.de.ap
The rapper dishes on his Christmas plans, raising funds for charity, and a new Black Eyed Peas album.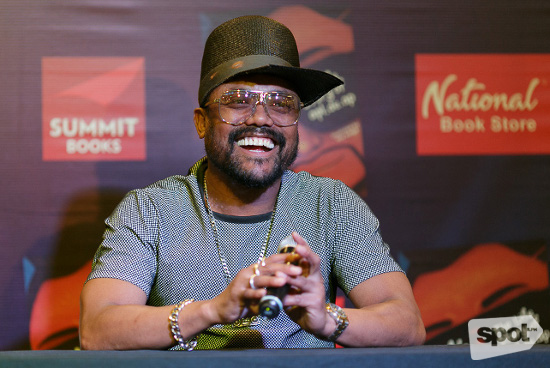 (SPOT.ph) Many people know him as apl.de.ap, the proudly Pinoy member of the Black Eyed Peas. Before he shot to fame, he was known as Allan Pineda Lindo, who hails from Angeles, Pampanga. He recently launched his autobiography, What's Ap? The Life Story of apl.de.ap, which also doubles as a children's book that will benefit less-fortunate kids.
During his book launch, he chatted with the press about his humble beginnings, working on new music, and even trying to remember all his inaanaks during Christmas.
Photos by Ian Santos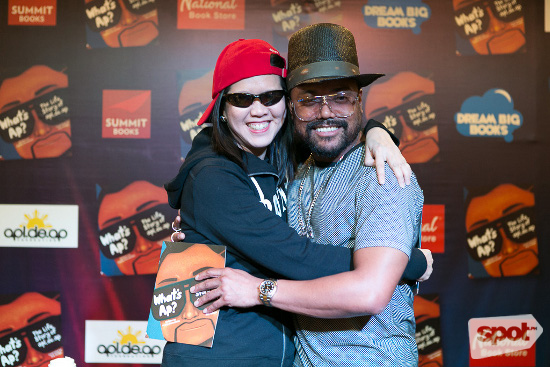 apl with the book's writer, Yvette Fernandez
Why did you decide to go with a children's book for your autobiography?
It was really a way to show my humble beginnings and inspiring kids to pursue education and really work hard. I wanted kids, especially those in the Philippines, to not give up on their dreams. I'm so happy with the final product. There are some stuff in there that I don't remember doing when I was young, but my mom would say that I did. [laughs] I was doing The Voice and I was approached by [the writer] Yvette [Fernandez], who suggested the idea to write my life story. It was really her idea. [laughs]
ADVERTISEMENT - CONTINUE READING BELOW
What was the process of writing a book like?
Basically, it was a lot of reminiscing [about] how I grew up. [Yvette] actually went and interviewed my mom because when you're young, there are some moments you forget. We just sat down and chatted, then she compiled it together. I told her stories like how I used to sell water and deliver it to households in our community, and I'd earn like 25 centavos each.
Proceeds of your book will go to your foundation. Can you tell us more about it?
I think [we've built] over 34 classrooms now, with the last one in Zamboanga. They were public schools, and 10,000 kids will be going to that school. I'm very happy about that. We also have 14 scholars and they're all top of the class. They all have jobs now. [smiles] I'm so proud of them. It makes me happy seeing kids getting the same opportunities as I did [growing up]. Now, I'm getting contacted by Google to partner with the computer labs we've built, like a teaching program for their teachers. I feel we're just getting started.
CONTINUE READING BELOW
Recommended Videos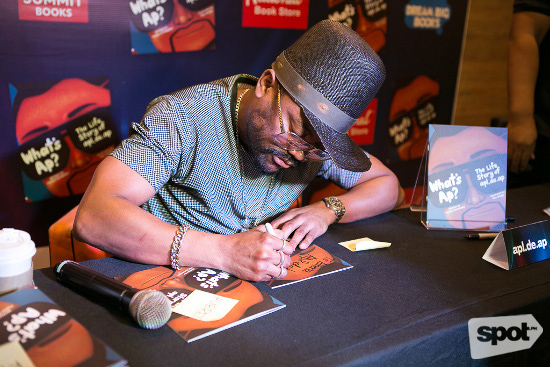 ADVERTISEMENT - CONTINUE READING BELOW
With all the success you've had abroad, what motivated you to always remember where you came from?
My family. I remember the time when I was sponsored [to study in the U.S.], I started to get homesick. I was 14 at the time. My dad told me, "Son, just study hard. You can always come back later and for now, focus on your career." That was my motivation. [When we were kids] will.i.am used to promise me, "Don't worry, when we get big, we'll go do a show in the Philippines" and that gave me a lot of hope. I'm proud of who I am.
You have an independent music label, BMBX. Can you tell us more about what's happening there?
So far, I have four artists, [including The Voice Philippines finalist] Jessica Reynoso, Slapshock, Miguel [Antonio]...so it's doing great. I was able to bring Jessica to the States and she's been recoding over 25 songs now. Everyone's just really excited to hear a fresh voice from the Philippines. Even my best friend, will.i.am can't stop talking about her. I'm just really thankful for the support of the people I work with in the States. It's very exciting.
What about the Black Eyed Peas? Are you planning anything next year?
Right now, we're planning to get together by the end of next year. For our 20th anniversary, we're planning a song that sort of compiles everything we've been inspired about, the musicians who have inspired us.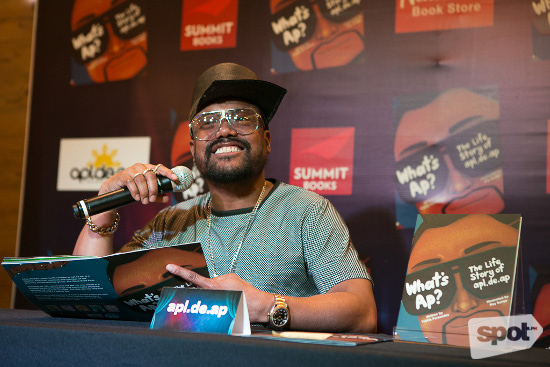 ADVERTISEMENT - CONTINUE READING BELOW
What are your plans this Christmas? Are you spending it here in the Philippines?
Definitely here in Pampanga. We have a tradition...me and mother, we started it about 10 years ago, we would make packages of rice, noodles, and other food, and just give it away for Christmas. Most of the people that come down are the Aetas.
How is apl.de.ap as a ninong?
If you're my inaanak, you're lucky. [laughs] I just like to make sure na may aguinaldo ka. I think I have about a hundred and my mom keeps track like, "O eto, 'wag mo kalimutan siya ha. Inaanak mo 'yan."
How would you describe your 2015?
It was a very successful year. From doing The Voice to discovering artists to finishing the [construction of] the public school in Tacloban...and making more music with [the] BMBX label. Everyone is working and I'm so glad that all the Team apl from The Voice are still working. I like to make sure everyone is included. We even made a Christmas album, which was the best way to get everyone involved.
What's Ap? The Life Story of apl.de.ap is available in National Book Store branches nationwide for P125.
---
Help us make Spot.ph better!
Take the short survey
Load More Stories