15 Minutes With Hailee Steinfeld
The actress and singer talks about Pitch Perfect, her transition from film to music, and why she can't choose between Taylor Swift or Selena Gomez.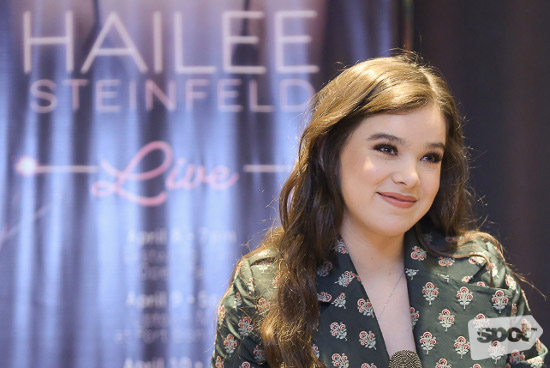 (SPOT.ph) At just 14 years old, Hailee Steinfeld was nominated for an Oscar as Best Supporting Actress in her breakout role in 2011's True Grit (directed by Joel and Ethan Coen). She also received nods from the Screen Actors Guild and the BAFTAs. Fast-forward to a few years later, and the 19-year-old is now venturing into another territory: music.
ADVERTISEMENT - CONTINUE READING BELOW
CONTINUE READING BELOW
Recommended Videos
She recently released her first EP, entitled Haiz, and is currently working on a full studio-length album and starting a world tour. Hailee dropped by Manila on April 6 to chat with the press about her career, being Filipino, and choosing between two of her closest celebrity friends. 
Photos by Ian Santos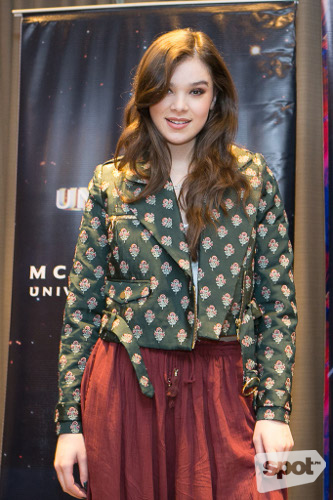 ADVERTISEMENT - CONTINUE READING BELOW
When you were growing up, what kind of music was in your household?
I feel like I grew up listening to a fairly wide variety of music. My dad loves classic rock, from The Eagles to AC/DC to Led Zeppelin. My mom played Luther Vandross, Boyz II Men, Mariah Carey. My brother, who is 12 years older than me, he listened to all of that. What I love now is knowing all those timeless artists, and I'm very influenced by that.
How much of you is Filipino and what did that mean to you growing up?
My grandpa's half-Filipino, [he's] my mom's dad. My great-grandfather came from Bohol. One thing I learned very early on from Filipinos and being Filipino is how much passion there is, and how much pride there is in being Filipino. As little as there is [Filipino blood] in me, I really feel so connected to the culture. I can't really believe I've never been here [in the Philippines] before and I really feel so happy to be here. It's something so incredibly important that I'm somewhere so far from home and I feel like I'm home.
ADVERTISEMENT - CONTINUE READING BELOW
How was it like making the transition from making movies to doing music?
I started pursuing [music] around the same time I started to pursue acting, but the acting took off quicker and music became more of a side project for the last couple of years. It was really a matter of how I was going to transition the right way. Ideally, I always wanted to do it through a movie and Pitch Perfect 2 was the perfect opportunity for me to segue into music.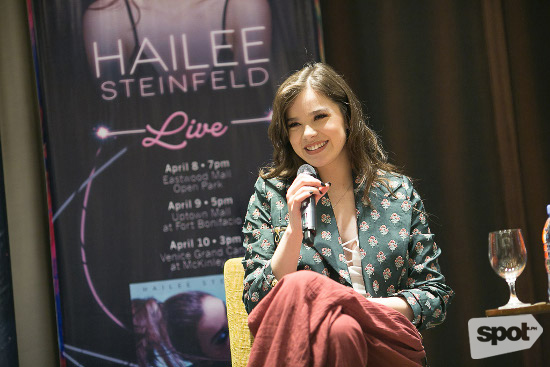 ADVERTISEMENT - CONTINUE READING BELOW
How do you think your work as an actor influences your music and vice-versa?
I really think that as an actor, I've been put in certain situations multiple times where I'm meant to act like I've experienced something I [actually] haven't. In some ways, because of that, I've experienced those things because of acting. When it comes to being in the studio and writing music, sometimes it's hard to find inspiration, especially when you feel like you haven't experienced much. I owe so much to what I've done in films and playing certain characters to the writing, and I feel like it expanded my knowledge.
You've worked with a lot of great actors from True Grit to Begin Again and Pitch Perfect. Who did you learn from the most?
I've been extremely lucky. I've worked with some of the most incredible people that have been so kind to me. With True Grit, every person involved holds such a place in my heart and [the] key to where I'm at now. They were so patient with me.
ADVERTISEMENT - CONTINUE READING BELOW
Were you a fan of the first Pitch Perfect movie?
Yes! I distinctly remember watching that movie, and I went with a friend and my parents. One thing I remember so much was not only laughing throughout the entire movie—which is always the best thing ever—but there was a song playing that my friend and I weren't singing. But my parents were singing it! It just really felt like we all connected so much to this little film. And I remember thinking that if there's ever [going to be another] movie like that—not even thinking that there was going to be a sequel—I had to be a part of it.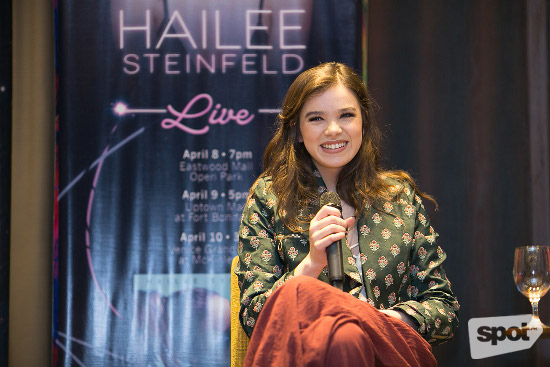 ADVERTISEMENT - CONTINUE READING BELOW
How do you deal with negativity that comes your way?
It's not easy by any means, but I think it's important to focus not just on the good things that are being said, but on the work that you are doing. We all live in a world where we kind of leave things open for people to say anything, so I think a lot of it ties into the message in my music. It's about having that self-confidence and that self-love, and knowing that no matter what [people say], if you have that self-love and self-confidence, it won't matter.
Do you have any advice for people who are trying to pursue similar career paths [as yours]?
Whenever I was looking for advice, a lot of people would say "don't give up" or "believe in yourself." It's one of those things that you hear and you're like "oh, well it's a lot easier said than done." But I do realize now that those are two of the most valuable pieces of advice that I've been given. [It's] to not give up and know that if it is something that you love and something that makes you feel good, it will happen if you're passionate about it, if you're persistent, and you work hard.
ADVERTISEMENT - CONTINUE READING BELOW
Zayn as a solo artist or One Direction?
Oh, wow. I'm taking the solo [artist].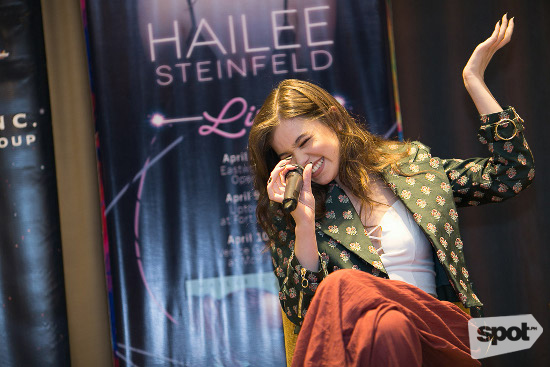 Taylor Swift or Selena Gomez?
Taylena! [laughs] I can't pick one!
Calvin Harris or David Guetta?
Oh man, this is hard. Calvin?
Ariana Grande or Meghan Trainor?
You're killing me, oh my gosh! [laughs] They're both my friends, I can't choose. I don't know!
ADVERTISEMENT - CONTINUE READING BELOW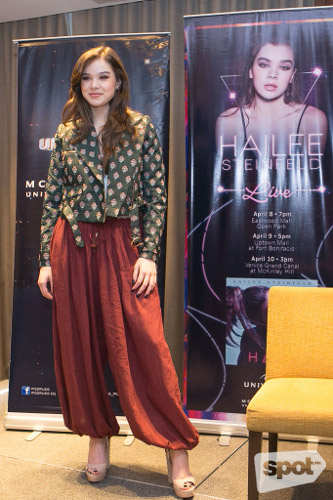 Instagram, Twitter, or Snapchat?
I don't know if you guys have picked up on this already, but I'm the most indecisive person ever. But...I'm gonna go with Snapchat!
What's your biggest guilty pleasure?
Food. It's funny because I wanna say I like all food...rice, cheeseburger, pizza. So yeah, I really like all food.
ADVERTISEMENT - CONTINUE READING BELOW
Hailee Steinfeld will be performing at the Eastwood Mall Open Park on April 8. Uptown Mall in Bonifacio Global City on April 9, and the Venice Grand Canal in McKinley Hills on April 10. Purchase a copy of the Haiz EP at the venue on the day of the show to get exclusive entrance and a CD signing stub (applicable for April 8 and 9 only).
Photos by Ian Santos
Load More Stories