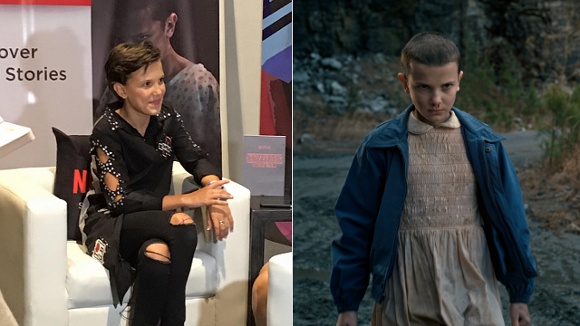 (SPOT.ph) There are plenty of things to love about Netflix's surprise hit, Stranger Things. Some love Dustin's toothy smile, others can't get enough of its nostalgic '80s references, while many are addicted to its supernatural sci-fi plot. And then there's its breakout star, Millie Bobby Brown, who has audiences hooked with her captivating performance as the mysterious and telekinetic Eleven.
Millie, now a star in her own right, certainly holds her own alongside acting heavyweights like Winona Ryder and David Harbour. And yet, even with a performance that many adult actors could only hope to match, she's every bit a normal, charming, and talkative 12-year-old when she meets her enthusiastic fans. 
In a small media panel prior to her appearance at this year's AsiaPOP Comicon Manila, the charming and down-to-earth actress chats about her playing the badass Eleven, adjusting to life in the public eye, and being interviewed by Breaking Bad actor Aaron Paul.
ADVERTISEMENT - CONTINUE READING BELOW
— Millie Bobby Brown (@milliebbrown) August 27, 2016
How much has your life changed since Stranger Things became such a hit?
It's been an amazing experience, and the response has been so positive, but [my life] hasn't changed, though. I'm still the girl in the family...my brother keeps me in a headlock and he's like, "You're not a celebrity in this house!" [laughs] I'm just very grounded, and I have a great family to keep me grounded. My life hasn't changed, but it has been a great experience so far.
Can you take us through a day in your life when you were shooting the show?
Usually, I'd get in whatever time I was needed. If it was early I'd have a latte to wake me up [laughs]. Sometimes, it'd get late like, we had a shoot that started at 8 p.m. and ended at six in the morning. It was the scene where they found me in the rain.
But for my usual day, I go into hair and makeup—which doesn't take me very long—and then I go into set. I talk to the Duffer [brothers, the writers and creators of the show] about the scene if I wanted to do it a certain way. Then we'll rehearse, shoot, and then we wrap. I think my favorite part of the day is lunch [laughs]. I love the lunch on set, honestly.
CONTINUE READING BELOW
Recommended Videos
What would you and the other kids do on set between shooting?
It was just school. We had a lot of fun on set, but there was school all the time. See, I love school and they hate it [laughs]. I'm always like, "Let's go to school! Come on, let's go!" and they're always like, "No, let's walk very slowly to school" and I'm running to school. So that's the difference.
They had their own little gang, and I loved hanging out with the crew. There were amazing [people who handled] lighting, the director of photography, and all that. I was very close with them. But for me and the boys, we just messed around. They just say something in a scene and it'd be like, "We need to stop" and we laugh it out.
You mentioned your favorite part of your day was lunch. What's your favorite food, since Eleven is all about the Eggos?
Everybody mistakes me, because I liked the Eggos. I liked the blueberry, and I'm usually not a big fan of stuff like that and it's pretty good. It's just the amount of times you eat it. It's like, "Oh, it's getting to me now." So I've got a spit bucket. And the thing that also got me was the Benny's Burger scenes where I ate the burger? I can't, honestly...that's the one thing I told the Duffers. I said, "Please, don't make me eat. If there's a next season, don't write for me to eat. Eleven starves herself." [laughs]
ADVERTISEMENT - CONTINUE READING BELOW
But for me...if you ask the boys, I'm very healthy. I like salads! I eat a lot, but I eat little and often all throughout the day. The boys are very different; they like candy and doughnuts, and I'm always like, "Why would you eat such a thing?!!" Winona [Ryder] introduced me to a veggie burger and I was like, "Mm, no. That doesn't sound too good, I'm gonna stick with In-N-Out." [laughs]
Speaking of Winona, how was it like to work with her?
It was amazing. She's such an amazing actress and she's really ultra-professional on set. We all really formed a relationship with her, and she really connected with all of us. Especially her and I, we're just always together...you can always find me with her. I'm always trying her new food, and if I had any trouble with a scene, I'd go to her and be like, "I have no idea how to deliver this. Can you help me?" She'd be like, "Well, I don't think you'd do that...I think you'd do this..." and I'd just be like, "Perfect. Thank you."
ADVERTISEMENT - CONTINUE READING BELOW
She actually gave me this for my birthday [points to a ring on her finger], and she came on set...she only had a little scene but she stayed on. They got me apple pie and custard, and it was a great birthday. We're very, very close.
You do a lot of wordless acting and action sequences as Eleven. What would you say is the hardest part of playing the role?
The easiest part was not having any lines [laughs]. The hardest was probably talking through my face. I've never done that before. In Intruders, I always talked paragraph after paragraph. With this one, it's always just, "No. Yes. No. Mike. No."
It's quite funny because—I always tell this story—I was in the car one day and my dad goes, "Have you got your lines today?" and he goes, "Come on, let's read through them." So I go, "Mike." And that's it, that's my line! [laughs] I get on set and the Duffers are like, "You know your lines?" and I'm like, "Mike." [laughs]
So yeah, the hardest part for me was talking through my emotions. It's very easy for someone to say, "I'm sad" or "I'm angry" but instead of saying it, I have to look like it. I know it seems easy, but it's very difficult.
— Millie Bobby Brown (@milliebbrown) August 26, 2016
The show is a completely different setting and you're 12 years old, so how do you adjust to that time period?
I love '80s movies to begin with...and when I first got the script, it was just dummy lines—you know, fake lines because they only wrote one episode at the time—and they told me, "Relate yourself to ET." I got this vibe like, ET doesn't know what things are. What's a chair? What's a table? And Eleven emotionally doesn't know what things are so for her, it's like, "What's happy? What's love?" It's different. So I got to sort of split that up, but relate in some way to ET.
ADVERTISEMENT - CONTINUE READING BELOW
It was a period piece and I've never done that before, and my parents helped me out a lot. I was like, "I don't understand what that is!" and they'd say, "It's a record player, Millie!" [laughs] I got one for Christmas [laughs]. The show also helps me understand the freedom [kids had]. My mum and dad just got on their bikes [and went out], I'm not allowed that! I'm kind of jealous of that freedom.
Your co-star, Shannon Purser [who played Barb], said she'd love to play Marvel's Squirrel Girl. What's your dream role?
I read a lot of scripts every week. I'm open-minded; I love comedies and romances, and I love all different types of scripts but I just always find myself back in sci-fi thrillers. I don't really have a dream role, but whatever comes, I'll take it.
— Millie Bobby Brown (@milliebbrown) August 27, 2016
Eleven has become such an iconic character for this generation. How do you feel about that?
It's really crazy because Eleven has impacted a lot of people's lives. I really wanted to inspire people, and sort of say, "It's cool to have short hair." I got called a boy every day in Atlanta ("Sir, this way please") and I was like, "No, it's a ma'am" [laughs]. It's cool to have short hair! Winona did it, Charlize Theron did it, Natalie Portman did it...and I can do it! Gaten Matarazzo [who plays Dustin] has cleidocranial dysplasia—[whispers] I'm so happy I got that right—he's inspired so many people that it's cool and that you can make a real difference with your life. It feels good that I've impacted so many people.
ADVERTISEMENT - CONTINUE READING BELOW
You were recently interviewed by Aaron Paul, who starred in Breaking Bad...
Yeah! Oh my God...
How was that like? Were you a fan of the show?
Well, I've never watched Breaking Bad, it's a bit too much for me right now [laughs]. I'm gonna stick with Vampire Diaries... [laughs] But you know, he's such an amazing actor and a really good person, as well. I saw some clips of him in Breaking Bad and he's just so talented...and when I was told that Aaron Paul wanted to do an interview, I was so nervous! I was in Spain for vacation and I was sitting there like, "I've got to practice what I'm going to say!" And then when I got there, I just...completely improvised. Apparently, he was nervous as well? But it was an amazing, amazing experience.
Stranger Things is now streaming on Netflix.
Your guide to thriving in
this
strange new world.
Share this story with your friends!
---
Help us make Spot.ph better!
Take the short survey
Load More Stories