Meet the Filipina Engineer Who Makes Sure Your Netflix Doesn't Buffer
You can call Anne Aaron the Stream Queen.
(SPOT.ph) "Am I seriously the only woman in this room?" It's a question Anne Aaron would find herself asking when she's in a room of 30 engineering leaders. And unfortunately, "yes" would usually be the answer.
Aaron is the Director of Video Algorithms at Netflix. It's about to sound complicated, but no, she doesn't work in a futuristic episode of Black Mirror (even if she does work for Netflix). "My responsibilities include hiring and managing software engineers and research scientists, strategic decision-making on software architecture and research, project management, and cross-team coordination," she shares.
She's basically in charge of making sure that whatever you're watching—from the latest episode of Queer Eye to an old episode of Friends—looks good. And good means it doesn't matter what device or what kind of Internet connection you have; even if you're on a smartphone with a frustratingly slow 3G connection, it'll still look as good as it possibly can.
ADVERTISEMENT - CONTINUE READING BELOW
"We want to make sure that you're enjoying the story and not distracted by bad video quality," Aaron says. She and her specially chosen team do this through coding and research. "We do this by writing the software that encodes video to the best quality possible, and conducting cutting-edge research to keep getting better."
Aaron's job is no small feat, either. She also represents Netflix in international standardization groups, which lets her travel around the world to speak with other companies so they can work on technologies related to video and image coding. She's also been recognized as one of the most powerful female engineers of 2017 by Business Insider and she's all the more humbled by the acknowledgement of her work. "I don't normally feel so 'powerful'—my job is making videos look better. But I appreciate the recognition."
But as a Filipino making huge strides in the entertainment and tech industry—at a time where immigration is always a hot topic and in a world where the #MeToo and Time's Up movements exist and women have to work twice as hard only to earn less than men—it's actually an incredibly big deal.
ADVERTISEMENT - CONTINUE READING BELOW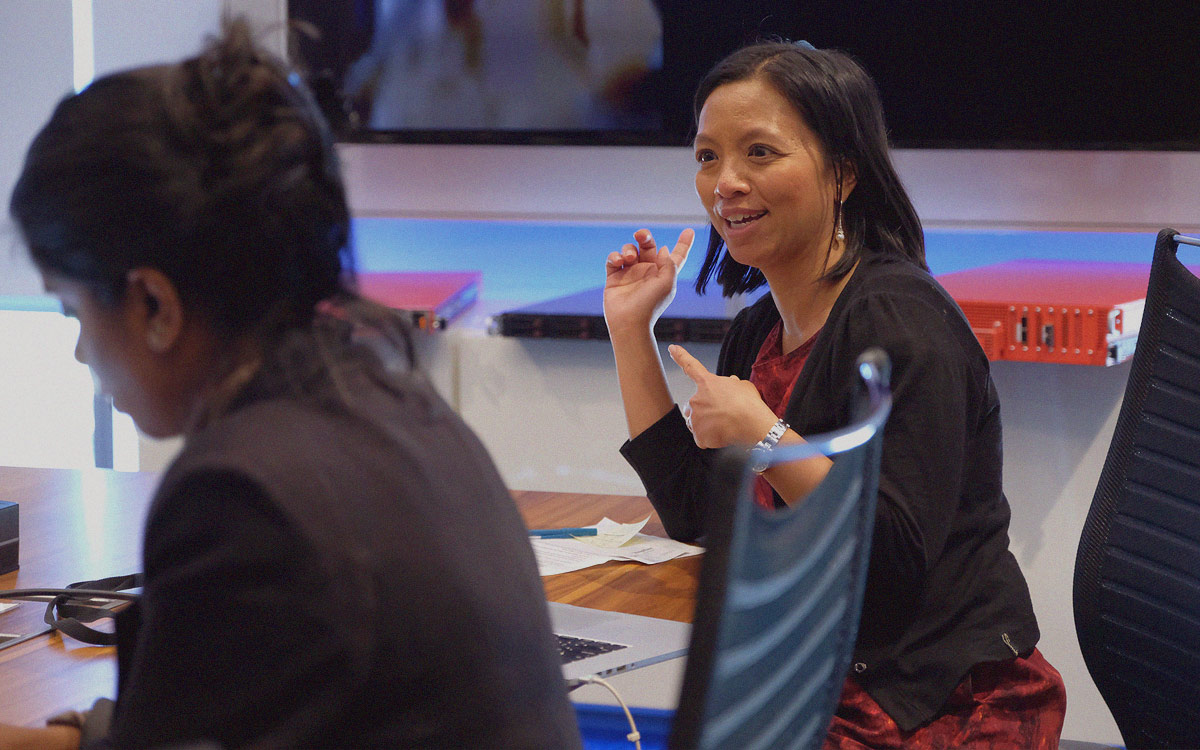 PHOTO:

Courtesy of Netflix
And now, the Pinay engineer, who grew up watching That's Entertainment and Okay Ka, Fairy Ko (and shipping her favorite love team of Aga Muhlach and Janice de Belen), is now the person making sure that the latest season of Stranger Things can be viewed in its best possible quality.
Yet it's not something she grew up thinking she'd do. It's just something that came naturally to her as she answered arithmetic workbooks at only four years old, before her interest eventually led to her attending the highly competitive Philippine Science High School. As with most Filipino families, her excelling in science was taken to mean she should become a doctor—but it just wasn't a right fit for someone who gets queasy when they see their own blood.
ADVERTISEMENT - CONTINUE READING BELOW
Instead, she opted to take a double major in Physics and Computer Engineering at the Ateneo de Manila University. This time, she was expected to become a management trainee in a multinational company. But she wanted to explore the world, so she took her chances and sent out applications to the best engineering universities—and got into the prestigious Stanford University.
Netflix actually first offered her a job back in 2009 but she declined and joined another company. Two years later, Netflix again offered her a job, which she finally accepted. "In 2011, Netflix had one-fifth of today's members and didn't have original shows and movies. But even then, the company had an intense focus on developing a product that people enjoyed and I knew that video expertise would have a big impact in improving that product." And it looks like she made the right decision.
Being a woman in a male-dominated field like tech isn't something that's always on Aaron's mind as she tries to focus on the job, but there are instances when it would be too obvious to ignore. She recounts, "Earlier in my career, an executive told me that I had too much of a balanced life to be successful—'You have a boyfriend, a family, and friends.' I told a fellow Pinay and she said, 'Do you think he said the same thing to your male peers?'" It's these seemingly small things that eventually get to her over time. "I've had my share of biases and microaggressions, and many times they are subtle but can slowly chip at you."
ADVERTISEMENT - CONTINUE READING BELOW
But she's doing what she loves. She gets to rub elbows and "geek out with the smartest people in the Valley" and at the same time, she gets a text from her brother back in the Philippines saying, "I just watched Bright, when are you doing a sequel?" She shares, "I get to solve technical challenges while sharing joy with people through entertainment."
At Netflix, where 43% of their employees are women, Aaron feels like she has a place to develop her career while also being a strong parental figure. And it all starts with the company placing importance on freedom and responsibility—not as individual values but as complements of each other. "This means that employees are trusted with freedom to make decisions, and given the responsibility to do the right thing in all aspects of the job," she explains. The employees have a hold on their time, so their work at the office isn't counted by the hour (or days). Still, Aaron explains, "You are responsible for being excellent at your job."
ADVERTISEMENT - CONTINUE READING BELOW
This allows Aaron to be flexible with her time, which is especially important for a working mom with two kids and an equally busy working spouse. She can arrive at any time, go home early, or take a day or two off, if she needs to tend to her kids.
The company's conscious effort to work for gender diversity is a welcome step. And she says she's lucky enough to have male allies who question and work towards a better environment for women in the tech industry. "They recognized my abilities and helped advocate for me and my work." Their company culture also allows for an open communication between employees, no matter the position. "Our strong culture of courage and feedback allows us to discuss these issues openly and candidly, which hopefully will lead to smart solutions. I'm comfortable asking tough questions, even to our CEO or Chief of Product."
ADVERTISEMENT - CONTINUE READING BELOW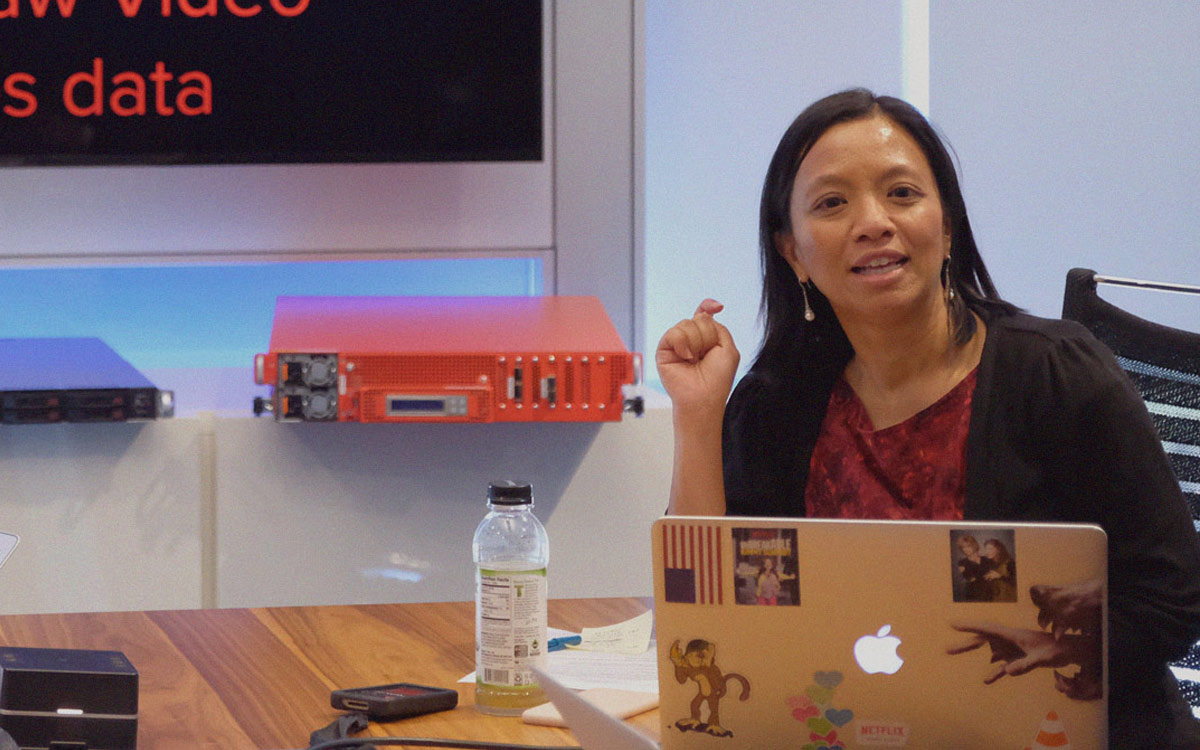 Also helping her along the way is her upbringing in a Filipino family—with all her titos, titas, and hundreds of cousins. It helped her become more social, comfortable with conflict, and appreciative of people's differences. All these traits come in handy when you're networking with international companies and working with teams of new people every day. She also found a sense of value in working on the technology and not just its technicalities. "The liberal arts education from Ateneo has trained me to question the 'Why,' and not just the 'What' and 'How' of technology."
And it seems like she's found the answer to her question. "The biggest project of my team this past year was to develop technology that would allow Netflix to reduce bandwidth usage while improving picture quality," she reveals. This is especially relevant and important for people in the Philippines and other countries where mobile phones and cellular connections are one of the main ways they catch up on their favorite show.
ADVERTISEMENT - CONTINUE READING BELOW
Aside from her work, Aaron's also looking into different ways to help out at home in Laguna—where her dad and brother are social entrepreneurs helping out farmers—and her home away from home, the Bay Area. She plans to be active in the community and encourage minorities to get into technology.
She's in a position where she can effect change—not just for women but for women from minority groups—yet she believes that anyone could have easily done what she has. "To be honest, I don't see myself any more able or hardworking than many Filipinas I know," she shares. "My mom is smart, resourceful, and great at networking. My sisters are super passionate and organized in everything they do. We would joke that our yaya was a Superyaya and could fix any broken thing in the house—in spite of the fact that she barely finished high school," she recalls.
ADVERTISEMENT - CONTINUE READING BELOW
There's no doubt that there's a lot of wasted potential in the world because of the lack of opportunities. On her journey to where she is now, she explains that it's "part innate interest, part determination, and part luck." But there are people—women—who are just as interested and determined, but aren't so lucky. "This makes me wonder how much innovation the Philippines and the rest of the world is missing out on because only a few of us Filipinas, and women in general, go into technology and engineering."
Yes, there are still a lot of questions to be asked and answered, problems to be solved, and numbers to be computed. But soon enough, the world will finally see just how capable and skilled women are in their own fields—should it be in tech, entertainment, or both—and it won't be long until Aaron finds herself in a meeting with a room full of women.
ADVERTISEMENT - CONTINUE READING BELOW