(SPOT.ph) It was another packed night at Route 196. The line for tickets was spilling over onto busy Katipunan street, cars were parked out front, and musicians and fans alike were grabbing a beer by the tables outside. Inside the bar, it was crowded as usual—music lovers crammed together in the small, historic space that saw the rise of many bands we know today.
It's exactly what you would expect, when the bold black letters on the light box read, "John Mayer Night." A lineup of various local artists were going to perform their own take on the American musician's hit songs.
But it was also "No Phones Allowed" night—a concept from gig organizer Indie Manila and its founder, Bel Certeza. There are a few posters saying, "Phone-Free Zone Beyond This Point" taped to the door. All throughout the night, the usual sea of bright, rectangular screens blocking the view of the stage is replaced by the shadows of fans bobbing their head to the intricate guitar solo of a John Mayer song.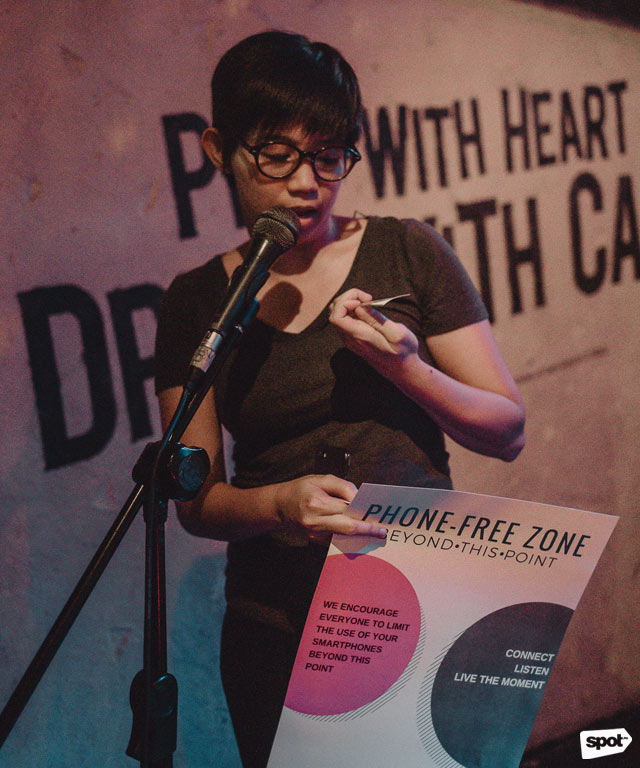 ADVERTISEMENT - CONTINUE READING BELOW
It was the first gig that "enforced" the rule. Certeza talks about the concept right before the first act started. "We're not gonna prohibit you from using your phone, but if you're gonna take photos or do your Instagram Stories, or do whatever social-media post that you like, and share with your friends that you're here—please do it during the first song lang of each set."
Filming Gigs: Where It All Began
In an interview with SPOT.ph, Certeza shares that she wants to encourage people to start appreciating live music—because that's what they came for. And that's why she started Indie Manila in the first place. "I started going to gigs in 2005. So I'm really a fan of local music, but nag-start 'yong idea ng Indie Manila when I started documenting the scene in 2010." 
CONTINUE READING BELOW
Recommended Videos