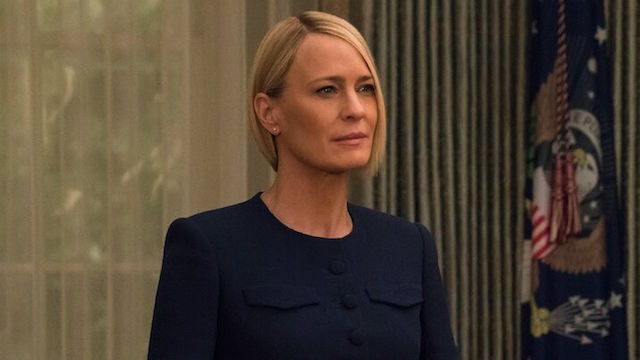 (SPOT.ph) She's portrayed the incomparable Claire Underwood for six seasons and shaped a character that's shown how strong and competent a woman can be, whatever field she's in, and now, Robin Wright is ready for new things.
At the See What's Next Asia event hosted on November 8 and 9 by Netflix in Singapore, the streaming service presenting its upcoming slate and latest shows, one of which is the final season of House of Cards. The show that changed the way people watch TV has just wrapped for good, and Wright sat down with press from Southeast Asia to talk about what it was like to work on the groundbreaking series, what's next, and what made them decide to do one final season.
On what she's learned from the directors she's worked with
You learn something from every director that you work with—things that you would like to emulate and things that you would never do… I think the director I've learned the most positive attributes from is Anthony Minghella. He was the most safe, trustworthy storyteller; he was a poet so he knew how to bring you in as an artist. And it's a form of manipulation, it's very alluring. But I knew it was something to trust. And he didn't just give you active verbs to play, like, "Could you be more incredulous in this take." He didn't do that, he would talk you through a story that would help you embody the moment.
ADVERTISEMENT - CONTINUE READING BELOW
On the value of persistence
To break convention the only thing that works is repetition. So if we continue to put ourselves out there, insist that we are up for the same role as a director, for [a certain] film. I just lost a film that I really wanted to direct. A big studio movie, and I lost it to a male director who had already done two and he's a great director. And I think they were just, "Oh, we didn't want to give it to the rookie." Well, the rookie's going to keep banging on that door until they let me prove myself. And yes I'm learning, and yes I'm less skilled meaning I haven't had as much time under my belt…so my skill is only going to get better as you let me do it more.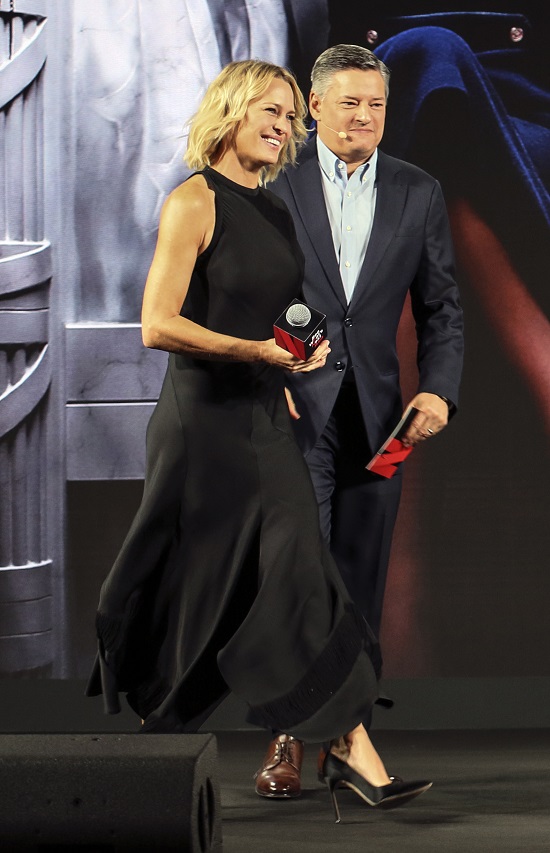 Would she be open to another season of House of Cards?
It's interesting; a couple of people have said that they felt it was a cliffhanger and I never saw it that way so it's opened up my mind to, and this might be because of the streaming platform, but this could go on and on and on. It's immortal content in that structure, which is the beauty of it. It's endless, where we could go. But no.
What was the hardest part about playing Claire?
The hardest part about playing Claire was having to sit up straight every day, and I'm not kidding.
Everything on the show is very well thought-out. Was there a particular reason behind all the blues that Claire was wearing in the final season?
Kemal Harris, who's my stylist, agreed to come on the show about three years ago to just focus on Claire. And there was an agenda with us designing for her each season to ultimately get to…militaristic. We wanted her to have that backdrop on her clothing. So the gold buttons on the very American presidential blue were...very deliberate.
ADVERTISEMENT - CONTINUE READING BELOW
On deciding to continue even without Kevin Spacey
It was a conversation that we all had. Me, the showrunners, Netflix, MRC [Media Rights Capital], we said, "Well, you know what, we need to take pause and let the dust settle and really digest. What do we do collectively? What is the best thing for the show, the fans. Five years of hard work, five years of avid fans following the show. So we shut down and really assessed with time away what was the right thing to do? Ultimately we said, "You know what, let's finish the show off the way we always intended. Let's close it out for the fans. We ended Season 5 with her breaking the fourth wall, going, 'It's my turn.' Let's explore that," as we always intended. And we would have put over a thousand people out of employment in the state of Maryland who had been given the assurance that they would have that security. Children to feed, mortgages to pay…I mean, it was insane. We were just going to leave that in the dust? Not fair. So it was two-fold, the reason why we continued.
ADVERTISEMENT - CONTINUE READING BELOW
The best things about Claire as a character
She's an interesting fictional character because the idea behind her, the origin of her, was always meant to be the best of both sexes. To build a leader in a female body who's also a man. She operates the way a man would in certain aspects. And she operates the way a woman would, simultaneously within this environment of a very Shakespearean drama.
On how House of Cards has helped her
It opened a lot of doors, and I think, being able to play that fierce female character, I think it's why I got Wonder Woman and Blade Runner. I had been typecast for so many years in this industry as the quiet, pained, understanding wife. You do something and I think it makes casting directors go, "Wow, she can do that." Well, I've always been able to do it, you just didn't let me.
ADVERTISEMENT - CONTINUE READING BELOW
What will she be doing in Wonder Woman 2?
It's another flashback, of course. It's in the past… us Amazons never die. We never age, apparently, either, which is so great. And she's yet again teaching young Diana a history lesson that she will use in her adulthood as Wonder Woman.
What was it like filming the final episode?
The end was bittersweet for all of us. It was time to close the chapter because we always knew that was the end of the story, she was always going to be female President. Great friendships were formed…we loved working with each other so much and we're all so close. A lot of tears were flowing in the Oval Office until 3 a.m. with a disco ball and a karaoke machine, and people were hugging and crying and saying, this is it. It's over. But we will keep certain friendships, I think, forever.
ADVERTISEMENT - CONTINUE READING BELOW
On the best thing she learned from David Fincher, series creator and executive producer
David is so smart as a director, I kind of want to slap him. He's so smart about not conforming to a conventional cinematic way. He created a new portraiture of chaos—it's very foreboding. The way he made his frames. I called him, petrified, the night before I went on set [to direct the first time] and he said, I'm going to give you one thing to think about: Every scene, you have to create a fraction. Behavior over time. Every thing you're looking at, it doesn't matter how wide you are, what is the behavior going on in the room? That is more important than the amount of time you stay. So you can stay in that wide shot for three solid minutes if you've got ample behavior. If you don't, then cut out quicker.
ADVERTISEMENT - CONTINUE READING BELOW
What did she take home on the final day of shooting?
They said to the key actors, "I want you to take one thing as a memento from the set, whether it's the Oval Office or the West Wing hallway or something," and there two paintings of ships that looked like they were mirroring each other, like they were ships passing in the night and I took that because it was so metaphorical. This ship is sailin' on, and we're waving to each other and saying, "Goodbye, it was a great ride."
House of Cards: The Final Season is now available on Netflix.
Your guide to thriving in
this
strange new world.
Share this story with your friends!
---
Help us make Spot.ph better!
Take the short survey
More Videos You Can Watch
Load More Stories