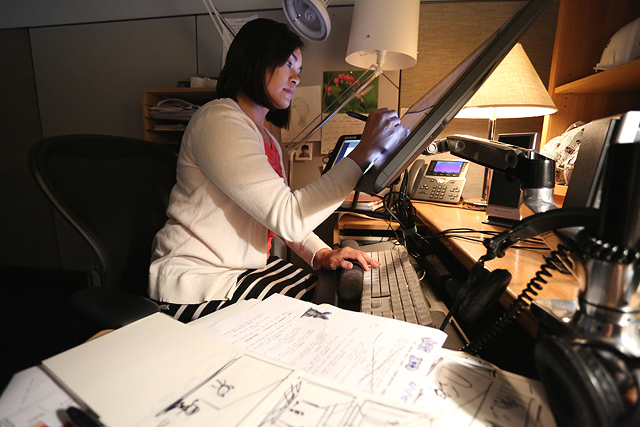 (SPOT.ph) When Josie Trinidad was only five years old, she watched the story of Cinderella come to life on the big screen. Little did she know that decades later, she would be the one bringing Cinderella back to life again—this time as one of the characters in Ralph Breaks the Internet: Wreck-It Ralph 2.
ADVERTISEMENT - CONTINUE READING BELOW
Trinidad was born and raised by her Filipino parents in the United States. And while the blonde princess in a blue dress is her favorite Disney character, it was when she watched Robin Hood frame by frame on a VHS tape that she fell in love with animation. And so she studied English Literature and Fine Arts at the University of California - Los Angeles and took up Character Animation at the California Institute of the Arts. Not long after, she worked for MGA Entertainment, the toy company behind favorites like Bratz, Moxie Girlz, Lalaloopsy, and Little Tikes. She made also animated commercials for Klasky Csupo, which '90s kids would remember as the production company behind classics like Rugrats, The Wild Thornberrys, As Told by Ginger, and Rocket Power.
Her passion for animation eventually led to her joining Disney as a story apprentice in 2004. Being part of Disney's story team was a big deal because when she started, she was only one of two women in the story room. "Story departments at Disney are pretty small, it's only about 35 or 40 people," she says in an interview with SPOT.ph.
Twelve years have passed since then and Trinidad has moved up from being an apprentice to being the Co-Head of Story of the Oscar-winning Zootopia, the Head of Story of Wreck-It Ralph (2009) and its sequel, Ralph Breaks the Internet: Wreck-It Ralph 2. Being the Head of Story means she worked closely with the director to make the the story more captivating and she ensured that the vision and the characters are just as captivating on the big screen. She also worked on Tangled (2010), The Princess and the Frog (2009), and Disney shorts The Ballad of Nessie and How to Hook Up Your Home Theater.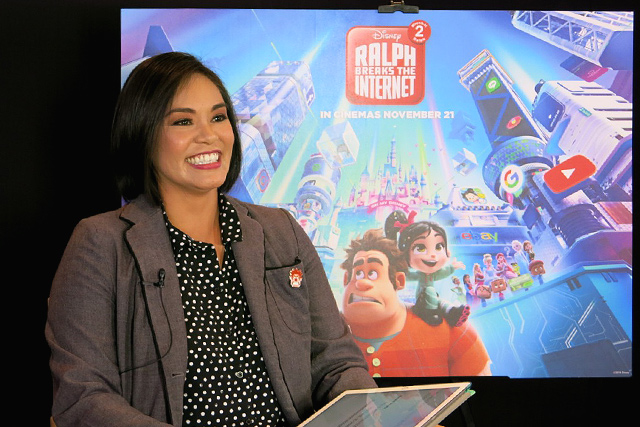 ADVERTISEMENT - CONTINUE READING BELOW
It's not just her projects that have stepped up—her team has also come a long way from being a male-dominated one. She shares, "Now, it's nearly half women. And it's people from all over the world, men and women from all over the United States and all over the world. And I'm lucky enough to have at least—there's three of us who are Filipinos in the story department."
She brings up working and bonding with the other Filipinos in her team. "I have a friend, Joe Mateo, he's a storyboard artist, he's like my brother." Mateo was the Head of Story of Big Hero 6 and he's also worked on Tangled, Zootopia, and Bolt. This community made from diversity is what Trinidad loves about her work. "It's such a global sort of feeling in the story room, that we want all these different perspectives and that's a feeling of trust that we're all sort of family."
ADVERTISEMENT - CONTINUE READING BELOW
This familial sentiment is also something she learned while growing up in a Filipino household. "I think that being Filipino-American has truly gotten me to where I am today. My parents instilled an incredible work ethic in me, and also the family values that family is really important. It's important to stay close and connected to family." She visits her relatives back home in the Philippines every few years even if she was born and raised in the States. "For me, the Philippines is always considered home despite being thousands of miles away—this was home. And I feel like I was embedded very deeply in Filipino culture growing up. It's who I am and I'm very proud of being Filipino-American."
Part of Filipino culture, of course, is the sense of humor that all Pinoys share. Whether it's a meme or a viral video, Pinoys are sure to pick up on it and laugh about it with everyone they know. "I think they'll love the humor, honestly. That's what I love. And [Ralph Breaks the Internet] is hilarious. So I think they'll love the humor and they'll love that it is truly centered around Ralph and Vanellope and their friendship." The sequel to the hit 2012 movie Wreck-It Ralph, the movie follows besties Vanellope Von Schweetz (voiced by Sarah Silverman) and Wreck-It Ralph (John C. Reilly) when they go beyond their respective video games and explore the Internet.
ADVERTISEMENT - CONTINUE READING BELOW
Given the vast online universe, Trinidad and her team initially found it difficult to revolve around just a certain aspect. "The biggest challenge was really focusing [on] the story despite being in this expansive new world, kind of making sure that we focus on what's important, which was their friendship." Their process of creating the story basically played out like an online shopping session. "It's like, when you go on the Internet nowadays and you [think], 'I was gonna buy shoes, why is it three hours later and I've bought everything else except shoes?' She continues, "Sometimes, that was how it sort of felt when we were crafting the story. But when we remember that this is about Ralph and Vanellope and their friendship, that's when we became sort of centered."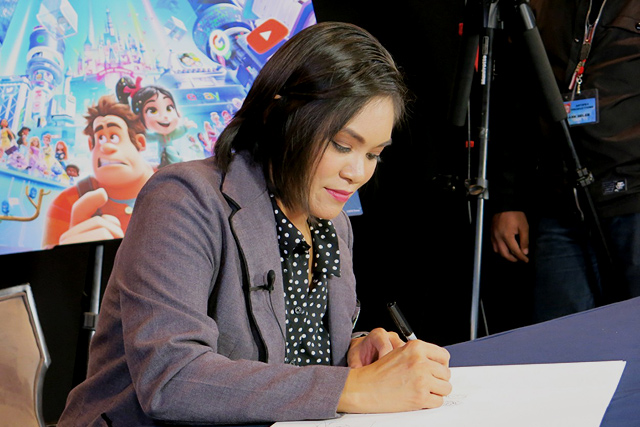 ADVERTISEMENT - CONTINUE READING BELOW
The difficulty of creating the story was just another challenge for Trinidad, who's had more difficult days behind her. "My journey to get to Disney Animations was very difficult and there are many times when I couldn't find that job and I was really worried if this was right for me." That didn't stop her from reaching for her dreams, though. She believes aspiring Filipino animators shouldn't, either. "I feel like Filipinos in general are extremely creative and talented and have amazing stories to tell. So I would say, first and foremost, be true to who you are because we should be really proud to be Filipinos. And second, just don't give up," she laughs.
Trinidad has been telling stories for years and she has more that she's still dreaming up. "I always have a lot of ideas that I'm thinking of. I'm always toying around with these ideas and hopefully one day, I would love to be able to tell some of these stories." There's no doubt that we'll be seeing those stories soon enough, since she's already made other dreams come true. Even if it's something as seemingly simple like bringing all the Disney princesses together—from Mulan and Snow White to Elsa and Rapunzel—on the big screen. And it's amazing to think that the five-year-old girl who was once obsessed with Cinderella is now making fairytales of her own.
ADVERTISEMENT - CONTINUE READING BELOW
Share this story with your friends!
---
Help us make Spot.ph better!
Take the short survey
More Videos You Can Watch
Load More Stories