A Boomer's Guide to BLACKPINK
What you need to know about the K-Pop idol group that's, uh, in your area.
(SPOT.ph) BLACKPINK. Is it one of those trendy colors? Is it some sort of newfangled gadget, a cool website maybe? The latest food craze the kids are cooking up? Can I live my life in the 21st century without, at the very least, acknowledging its presence? These might all be questions running through your head right now after reading that word—all of which we answer with a straight-up "No."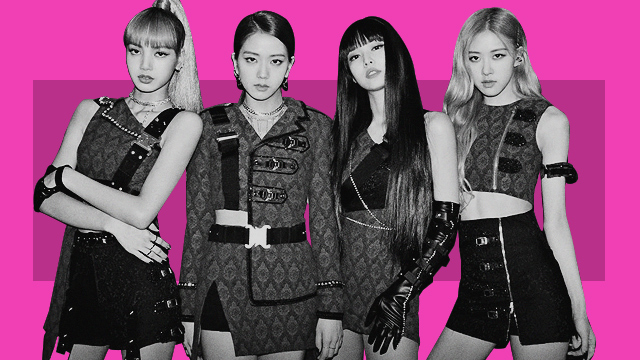 CONTINUE READING BELOW
Recommended Videos
ADVERTISEMENT - CONTINUE READING BELOW
BLACKPINK is one of the biggest pop groups to come out of the Korean wave. Their presence isn't something you can easily escape and we're here to explain why you shouldn't want to. After all, there must be some reason behind the four-member girl group's domination of a global industry heavily influenced by the West. They're one of the few acts that have managed to transcend cultural lines to create one heck of a large and loyal fan base—who call themselves Blinks, BTW, as a portmanteau of the group's name—with members from all over the world.
ADVERTISEMENT - CONTINUE READING BELOW
BLACKPINK has been on Billboard charts since they debuted in 2016. They've broken multiple Guinness World Records, including being the most followed female group on Spotify and having more subscribers than any other music group on YouTube. Plus, if you somehow didn't hear, they recently broke the record for the most views pulled in by any YouTube video in a span of 24 hours (86.3 million views on June 26 alone) with their comeback single "How You Like That." They also played Coachella in 2019, successfully marking a pop-culture crossover we didn't know we needed.
If you want to understand more about how this group of 20-somethings managed to rack up these gargantuan numbers, then we present a short guide and include some of their most popular music videos. Disclaimer: This is just the tip of a huge, shiny, singing, dancing, multi-talented, multi-faceted, and multi-layered iceberg that is BLACKPINK. Oh, and if you're wondering whether you'll actually be able to use this information where you're at in real life, well trust us, they're definitely in your area.
ADVERTISEMENT - CONTINUE READING BELOW
Who is BLACKPINK?
The idol group was formed by YG Entertainment, one of the "Big Three" companies in the cutthroat K-Pop industry alongside SM Entertainment and JYP Entertainment. Other groups from this company include familiar names such as PSY of "Gangnam Style" fame, Big Bang, and arguably the OG female idol group to have a global impact, 2NE1 (yup, the one with Sandara Park).
ADVERTISEMENT - CONTINUE READING BELOW
Barely in their 20s when they debuted as BLACKPINK, members Jisoo, Jennie, Rosé, and Lisa had already spent several years training under YG Entertainment to become idols. The training regimen in the K-Pop industry is famous for being next-level. Companies take on several trainees at a time and have them spend hours practicing performances, from dancing to singing to rapping, and grooming them for stardom.
When they debuted, the name was truly meant to be a contradiction—sure, they're pretty but they will bite. As YG stated, the name "symbolizes that they are a team that encompasses not only beauty, but also great talent."  
Who are the members of BLACKPINK?
Here's what we know about the members of BLACKPINK, listed from oldest to youngest:
Jisoo
ADVERTISEMENT - CONTINUE READING BELOW
Jisoo Kim was born on January 3, 1995 and is the eldest in the group. She is currently a vocalist for BLACKPINK but before joining the group, she appeared in commercials—alongside Lee Min Ho, too—and music videos. Though born and raised in Seoul, Kim can speak Korean, Japanese, and Chinese on top of Korean. She's well-loved for her quirky attitude and sense of humor, often leading her to be called the "mood-maker" of the group.
Jennie
ADVERTISEMENT - CONTINUE READING BELOW
Jennie Kim was born on January 16, 1996. She's presented as the fiercest member of the group with her smooth vocals alternating with fire verses as the lead rapper. Jennie lived in New Zealand before moving back to South Korea in 2010. She was a YG trainee for six years before debuting with BLACKPINK—the longest of any member. Her vocals were featured in one of G Dragon's songs during this time. Aside from English and Korean, she also speaks Japanese.
Rosé
ADVERTISEMENT - CONTINUE READING BELOW
Roseanne Park, a.k.a. Chaeyoung Park, was born on February 11, 1997. Her distinct and raspy vocals lend a unique edge to the group as their main singer. She was born in New Zealand and raised in Australia, where she placed first during auditions for YG trainees. Rosé speaks both English and Korean and is often spotted playing piano and guitar.
Lisa
ADVERTISEMENT - CONTINUE READING BELOW
Lalisa Manoban was born on March 27, 1997. As the youngest member of the group, she is called the "maknae"—a Korean term that comes with all the light teasing the youngest sibling is usually subject to. She was born in Thailand as Pranpriya Manoban before she legally changed her name to Lalisa ("One who is praised"). Lisa, as she is called, joined YG Entertainment as a trainee at just 14 years old and is now the lead rapper and main dancer of BLACKPINK. Aside from her native Thai, she speaks Korean, English, Japanese, and basic Chinese.
Before we dive into the full-on set and choreography productions that the K-Pop industry is known for, check out their cover of R&B classic hit "Sure Thing" by Miguel. The stripped back performance lets each vocal style come through loud and clear—just be ready for the choreography later on.
ADVERTISEMENT - CONTINUE READING BELOW
What makes BLACKPINK different?
Idol groups are famous for having carefully constructed images; everything from the way they sound, the way they look, and the way they act is meticulously prepared and practiced to perfection when it comes to performances. While BLACKPINK does stay within the standards typical for the K-Pop industry—their most popular songs do fall within the mix of R&B, hip-hop, and party-slash-EDM hits—they somehow manage to always bring something new to the table.
It might sound crazy, but BLACKPINK has released a grand total of only 14 songs since their debut in 2016. They have yet to release a full album. So far, their most popular hits have differentiated them from the usual bubblegum and pastel pinks of K-Pop's popular girl groups by mixing in savage energy with their pretty serves. Not to mention the blend of each member's unique vocals and talents adding their own flair to the songs.
ADVERTISEMENT - CONTINUE READING BELOW
Aside from their tracks and performances, the BLACKPINK members have pulled in a loyal fan base thanks to their being, well, accessible. They have a constant presence online, not just on their individual social media pages but they also frequently have livestreams and even a reality show called BLACKPINK House (now up on YouTube). Plus, three out of four members can speak English fluently, which means audiences from across the globe are able to connect to them more. BLACKPINK as an idol group has a pretty well-crafted image, but fans find the members themselves easy to relate to thanks to all the behind-the-scenes looks. Behind their global stardom, they're still just young folks fighting to make their dreams come true—and TBH, who can't relate to that?
Check out some of BLACKPINK's biggest music videos:
"How You Like That"
The most recent one to hit our screens is their 2020 pre-release track "How You Like That," released on June 26. The track is on the grittier side with bits of hip-hop mixed in and the music video itself broke multiple YouTube records within the first 24 hours. It was heavily teased on social media and the hype was amped up with the promise of BLACKPINK's first full-length album and fifth official comeback to follow in September.
ADVERTISEMENT - CONTINUE READING BELOW
"Kill This Love"
"Kill This Love" broke several barriers when it was released in 2019. The unofficial single-nation anthem reached number 41 on Billboard's Hot 100, the highest of any female Korean act on the chart at the time. It also landed on number 66 in Billboard's "The 100 Best Songs of 2019: Staff List." According to the writeup, "If there were doors remaining for BLACKPINK to bust through, they were evaporated by the first horn blasts of 'Kill This Love,' a song that sounds practically biblical in its sonic might."
"Ddu-Du Ddu-Du"
Before you say the title doesn't make any sense, we suggest you give the song a listen first (don't blame us if you end up with LSS!). The music video has around 1.2 billion views as of writing and in November 2019, was the first K-Pop group video to reach one billion views on YouTube.
ADVERTISEMENT - CONTINUE READING BELOW
"As If It's Your Last"
The music video, awash in neon hues, matched the fun vibe of the 2017 anthem. The track was a bit of a departure from their usual sound but proved to be no less popular. Two months after the video dropped on YouTube in June 2017, it became the most "liked" video by a K-Pop female idol group with two million marks (They're at 7.3 million as of writing).
"Stay"
One of BLACKPINK's earlier tracks, "Stay" was released in 2016 and is a far cry from their usual. There's no set choreography for this song, and the sweet mostly-acoustic tune matches with the story of the lyrics and the pastel-colored visuals. Add in the singing and rapping of each individual member and it was clear from the start: BLACKPINK isn't your ordinary idol group.
"Boombayah"
ADVERTISEMENT - CONTINUE READING BELOW
We can't leave out the song that started it all. Yup, they're the group behind 2016's biggest earworm! Who hasn't heard that hook before? "Boombayah" crashed into everyone's feed on August 2016 as part of their debut EP Square One alongside the equally hypnotizing dance track "Whistle." Plus, it has a pretty quirky music video—with impressive choreography—to boot.
Load More Stories