(SPOT.ph) Anyone who has ever been a stan will understand the appeal of photocards, which popped off in fandoms in 2021. They've been around for quite some time now, and a new local app is looking to change the scene—by bringing collecting into the digital space.
Stanible is all about the future—and that means shifting from owning physical fan merch to digital. Just like how stan is a level higher than a fan, so too is Stanible's mission to amp up fan engagement with non-fungible tokens. 
Officially launched on February 13, the app is a Pinoy project headed by chief executive officer Mel Lozano-Alcara. As a podcast host and stan herself, she went into this venture with the needs of content creators and stans in mind. Joining her is co-founder and chief marketing officer Harry Santos, who previously worked for giants like Nestle, Spotify, and Coca-Cola.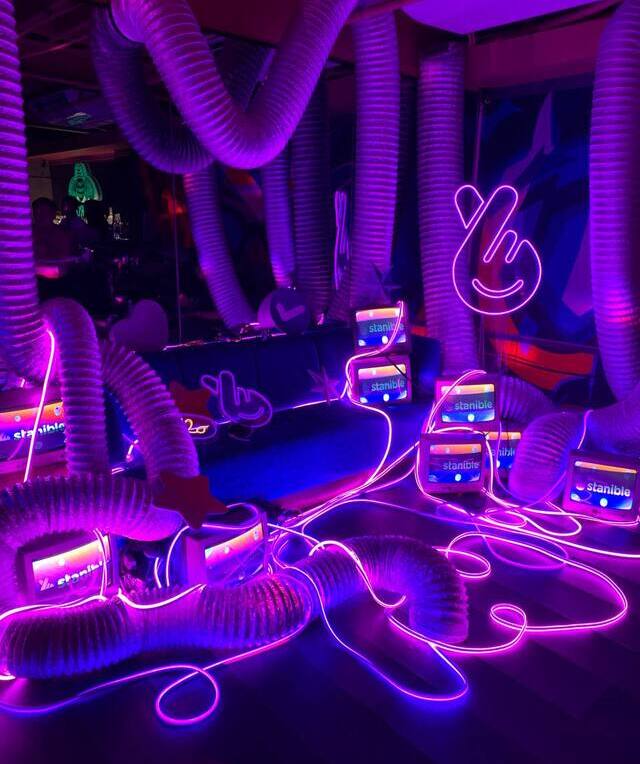 ADVERTISEMENT - CONTINUE READING BELOW
A quick refresher in case you've forgotten: non-fungible tokens (NFTs) allow you to gain and track ownership over digital items, and in Stanible's case, digital collectibles such as photos and videos from your favorites.
For now, stans can start buying digital collectibles from actors Gabbi Garcia, Khalil Ramos, Bianca Umali, and Arci Munoz; musician Basti Artadi; the Boys Night Out hosts and radio personalities; and DC comic book artist Harvey Tolibao. We can expect more influencers and other notable people as the app continues on.
Also read: From the Nyan Cat Meme to the World's First Tweet: 10 NFTs That Sold for Hundreds of Thousands of Dollars
Simplifying the process
What Stanible does is basically make the process of creating and collecting NFTs much easier on both ends: the creator and the stan. You don't have to understand NFTs or be a crypto owner to take part in this—Stanible does it for you.
The creator can upload and post whatever picture or video like they would on social media, except this time, they can input how much the content is worth and how many editions of it will be available for grabs. They can also come up with exclusive perks to give stans more incentive to buy, such as being in a group chat with them or having a backstage pass to a show.
Digital collectibles can go as low as P300 to as much as P10,000 depending on the price set by the celebrity or content creator who posted them.
On the stan's end, they can easily purchase a never-before-seen collectible and have it displayed on their profiles. The more collectibles you shop, the more rewards you can unlock by content creators. The most active buyers will be placed on the Top Stans chart, too.
NFTs without the risk
Let's dig a little deeper into this technology.
ADVERTISEMENT - CONTINUE READING BELOW
Contrary to popular belief, cryptocurrency and NFTs are completely different concepts in spite of both being based on blockchain technology. We don't want to sound too technical, but all you need to know is that Stanible's digital collectibles are NFTs on the Solana blockchain, which means it can soon be traded or resold in other marketplaces that support the same blockchain.
Stanible allows stans to bypass the volatility of cryptocurrency that is often used as a payment method for NFTs. Instead, Stanible offers what most Filipinos already use on a daily basis, from credit cards and debit cards to e-wallets like GCash and Maya.
A look into Stanible
Not sure if the app has won you over just yet? You can take a peek at what's inside Stanible without creating an account. There's the following and discover tab to browse through digital collectibles you might be interested in. Here's a sold-out one by Bianca Umali that was bought for P850 each!
ADVERTISEMENT - CONTINUE READING BELOW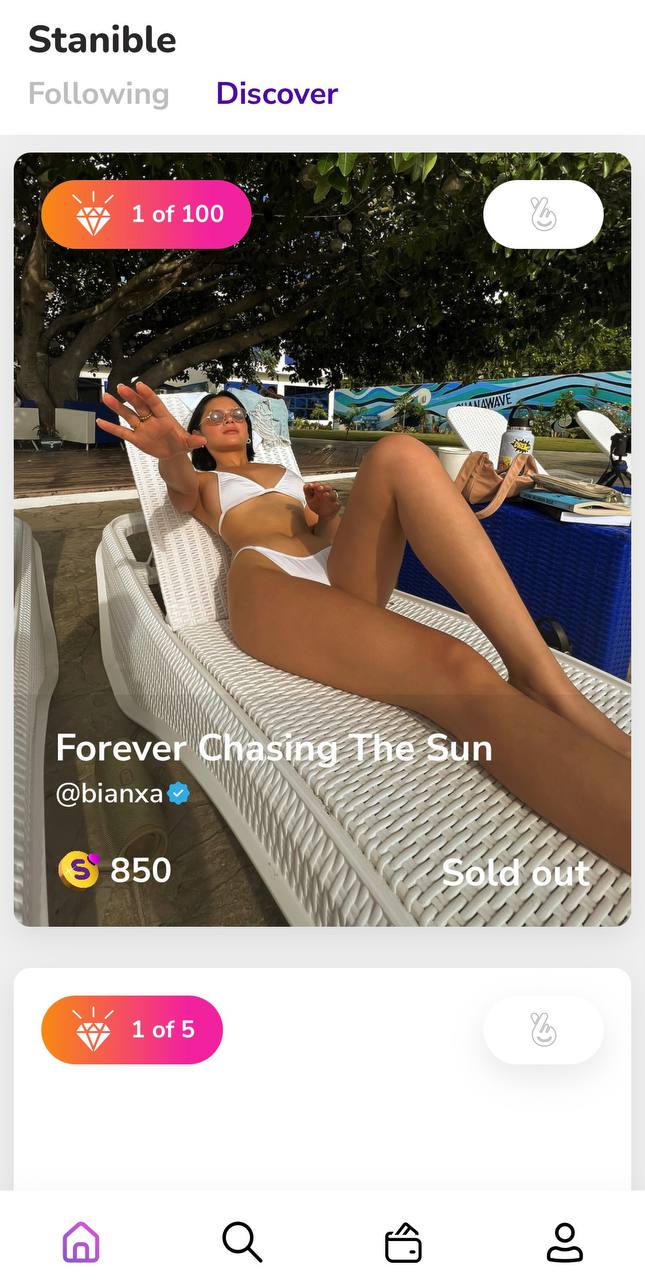 Here's a preview of Gabbi Garcia's profile, where her lone digital collectible has sold 164 pieces out of the 500 editions available as of writing.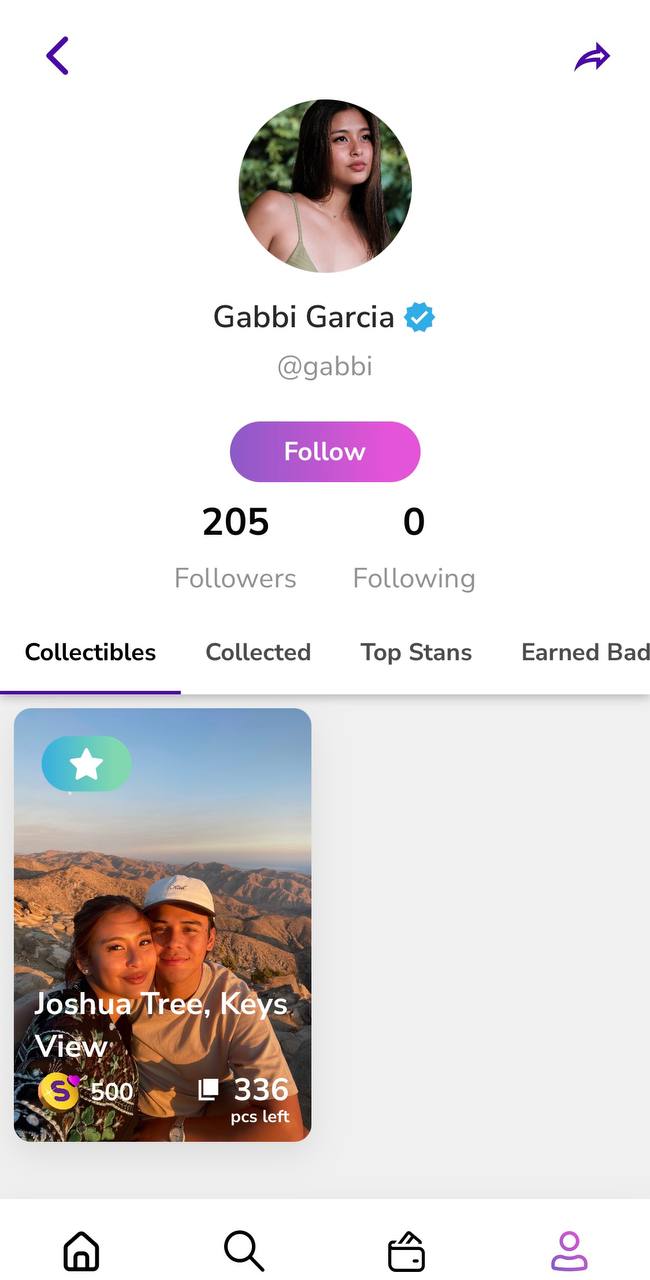 ADVERTISEMENT - CONTINUE READING BELOW
You can also try to search for your favorite person from Stanible's many categories: actors, artists, athletes, comedians, content creators, creatives, hosts, influencers, musicians, public figures, vloggers, and writers.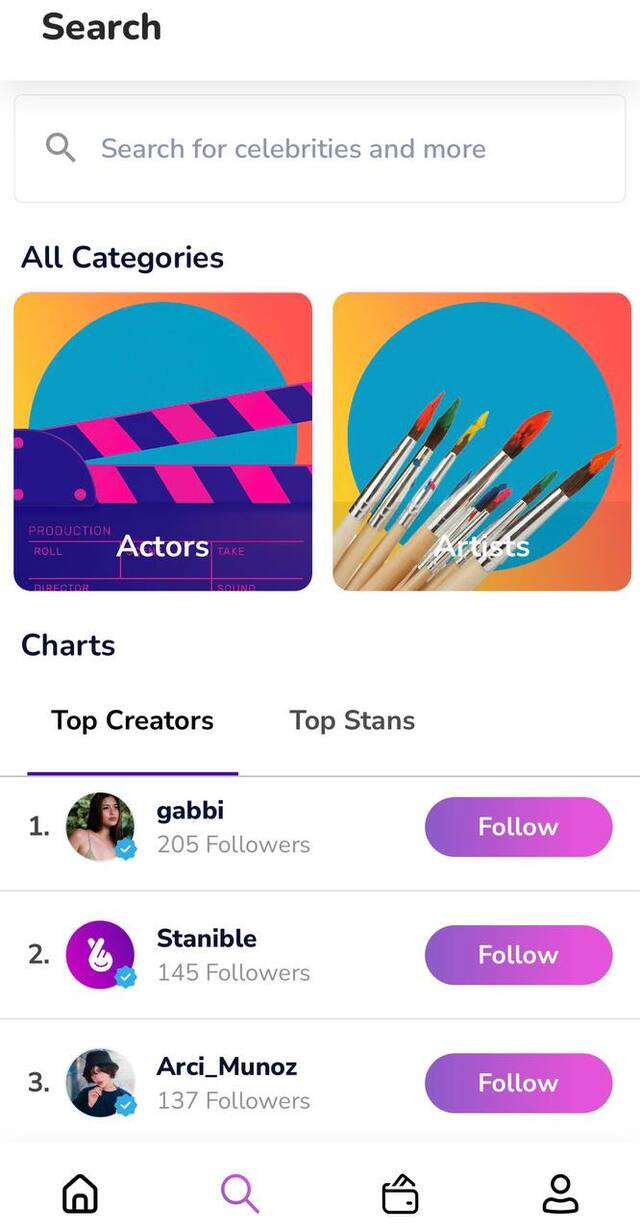 As soon as you're ready to join this stan community, head to the profile icon on the lower tab. You can use existing Facebook, Google, or Apple accounts to sign in to Stanible.
ADVERTISEMENT - CONTINUE READING BELOW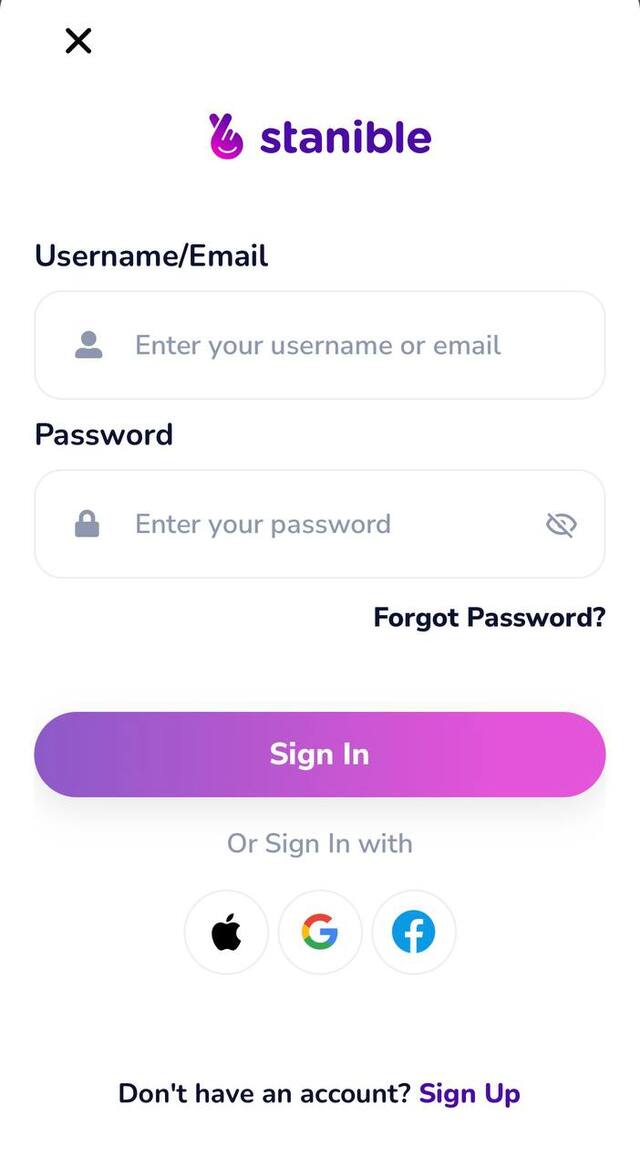 Stanible is now available for download from the App Store and Google Play.
ALSO READ:
Miss Universe PH Launches World's First Beauty Pageant NFTs 
'Charlie Bit My Finger' Goes to NFT Auction, Here's Why it Matters 
Share this story with your friends!
---
Help us make Spot.ph better!
Take the short survey
More Videos You Can Watch
Load More Stories