(SPOT.ph) The Internet's heartthrob Pedro Pascal is back at it, gracing our streaming screens with more adventures of a stone-cold killer dad protecting their innocent-yet-badass surrogate child—and no, we're not just talking every Monday's new episode of The Last of Us. After over a two-year absence, Pascal's masked menace Din Djarin, a.k.a. the Mandalorian, is back slingin' on Disney Plus with his long-awaited third season. 
Now, a lot has gone down in the Star Wars universe since the events of The Mandalorian's second season finale, wherein Luke Skywalker (played by A.I. Mark Hamill itself) showed up to take Grogu, a.k.a. Baby Yoda, away from the Mandalorian. Not only did we get the animated anthology series Visions and two Clone Wars follow-ups in The Bad Batch and Tales of the Jedi, but The Mandalorian opened up the gates to a whole new slew of live-action Star Wars stories on television, including The Book of Boba Fett, Obi-Wan Kenobi, and Andor.
ADVERTISEMENT - CONTINUE READING BELOW
The question with Mando's third season then becomes, "How does Disney's flagship Star Wars show hold up against the rest of its baby siblings?". Spoilers for the first two episodes lie ahead!
Also read: The Definitive Guide to Watching the Star Wars Movies in Order
The Mandalorian Season 3 Review: More of the Same Fun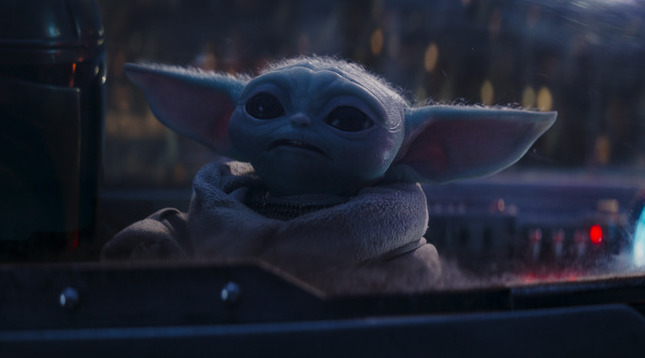 What's made immediately apparent in The Mandalorian's third season premiere is that creator Jon Favreau and co. are going back to basics with the Mandalorian and Grogu's Western-themed serials, as (Din D)jarring as that may be. Most viewers may be caught blindsided by the fact that Din Djarin and Grogu are now reunited, even if their emotional split was what the whole second season was building up to.
Even more confounding is the premiere's refusal to explain how they ended up back together (spoiler alert: it happens on the completely separate show, The Book of Boba Fett). Explanations are hardly given in both the show's opening recap and dialogue between characters, as the episode simply asks you to move on to the new quest the Mandalorian has got cooking.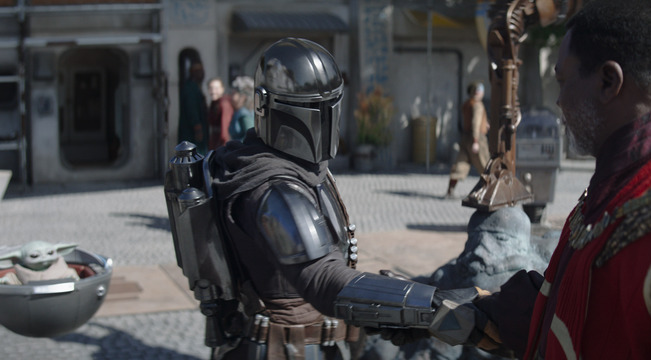 ADVERTISEMENT - CONTINUE READING BELOW
The premiere jumps straight into the action and the whole space cowboy nature of Mando's journey. The opening features a giant monster attack akin to the second season premiere's Krayt Dragon fight, then briskly moves through other disparate beats like a standoff between a town leader and local bandits terrorizing a school, a broken-down droid coming to life like the Terminator and attacking Mando, and even a space battle against a swamp-faced pirate leader. All this within a 25-minute period.
It's hard not to get this season premiere's message of "the adventures of Mando and Baby Yoda are back!" As entertaining as that has proven to be, it perhaps would've been a more interesting hour of television if the show allowed for some time to breathe and live in with the characters after the (what should have been game-changing) events of the previous season finale, especially given it's been nearly three years since we last caught up with them.
ADVERTISEMENT - CONTINUE READING BELOW
This is most evident in the character of Bo Katan (Katee Sackhoff), who makes a small appearance towards the end of the episode. Katan played a significant role in the show's second season up until the finale, where she was (unfortunately but understandably) sidelined by the inclusions of Luke Skywalker, the main antagonist Moff Gideon (Giancarlo Esposito), and the conclusion of Mando and Grogu's arc.
Now, however, she's expected to play a much larger role in the season, as Mando and Grogu head back to Katan's homeworld of Mandalore, yet her introduction in the episode has her simply just sitting in a chair telling Mando about how the events of last season's finale have drastically changed and affected her.
Quite literally, she was abandoned by her own people for failing to capture Gideon and take the Darksaber for herself, and yet that falling out is never shown in the episode. There's an interesting—poetic, even—bit of dialogue where Din says she isolates herself in an empty throne room on a planet merely orbiting her homeworld, where her dream is always in reach but never in her grasp, but this imagery isn't expounded upon.
ADVERTISEMENT - CONTINUE READING BELOW
Thankfully, there's a lot of time to get reacquainted and reinvested with these characters as the season slowly builds up to what is seemingly another Mandalorian war, which hopefully means more enriched character conflicts and less monster-of-the-week spectacle.
Also read: 10 Star Wars Shows on Disney+ for Your No-FOMO List
A new episode of The Mandalorian Season 3 streams every Wednesday on Disney+.
Share this story with your friends!
---
Help us make Spot.ph better!
Take the short survey
More Videos You Can Watch
Load More Stories