10 Things We Learned About The Force Awakens From Star Wars Celebration
Straight from the cast and crew themselves!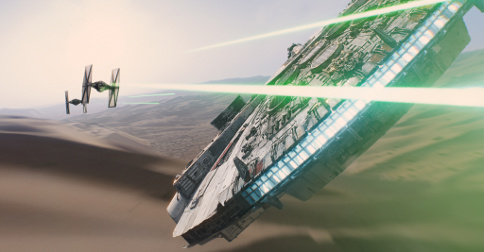 (SPOT.ph) 2015 is a great year to be a movie fan. Before the year closes, another huge franchise is set to return to the silver screen—Star Wars. Its seventh installment, The Force Awakens, already has everyone buzzing, thanks to that awesome lightsaber, and the return of the original cast (including Harrison Ford, Carrie Fisher, and Mark Hamill). The film is set about 30 years after the events of Return of the Jedi, and features three new leads in an exciting adventure.
The latest trailer was also unveiled during the event!
SPOT.ph got to be part of a live simulcast of the Star Wars Celebration, a massive event that assembled director J.J. Abrams, producer Kathleen Kennedy, and the old and new cast. Here are 10 awesome things we learned about the movie...straight from the cast and crew!
1. J.J. Abrams almost passed on doing the film
J.J. Abrams: "I said no [at first]. I said no, partly because it was an incredibly daunting thing [...] But when I sat down with you [Kathleen Kennedy] to have this conversation, and we actually were sitting there talking about what could come next and what it would be [...] This was an unexpected reaction because I really thought I would just say no, and when I found myself having this conversation with you, it was impossible to say no."
ADVERTISEMENT - CONTINUE READING BELOW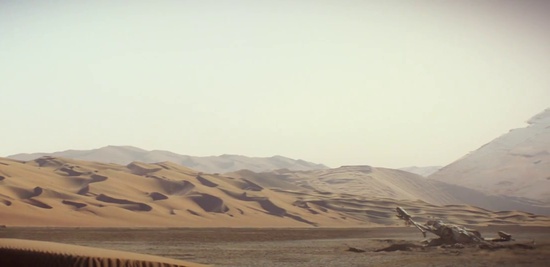 CONTINUE READING BELOW
Recommended Videos
2. The first planet from the movie has been revealed
Abrams: "One of the things that you expect to see are real, beautiful landscapes and shooting in Abu Dhabi provided just that. The location is a desert planet called Jakku. People have thought it's Tatooine, [but] it's a planet called Jakku."
3. They actually built life-sized, "practical" sets for the movie
Abrams: "When we were working on pre-production in the movie, the thing that struck me is just how real you knew and felt Star Wars was when you first saw A New Hope. That feeling of actually being in there—whether they were shooting in Tunisia or various physical sets—you couldn't deny it. I knew that in Star Wars, there were gonna be an endless number of effects that will be done, but we needed a standard. We needed to set a standard that was real, that felt like you knew the people were in those places. You want it to be legitimate and authentic, and building as much as we possibly could was really the mandate."
ADVERTISEMENT - CONTINUE READING BELOW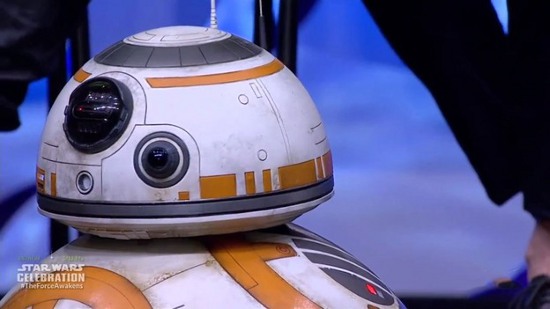 Photo via IGN.com
4. BB-8 is one of the newest ball droid...and it's alive! (Sort of.)
Abrams: "So BB-8 was a creature that was performed... we originally talked about how to do this, how to best have BB-8 in the film, how a CG BB-8 would be so much easier for shooting, but it would better for the actors and for the film, and for the look of it if it were performed."
5. An update on Harrison Ford
Kathleen Kennedy: "He's home, resting, and getting well as fast as he can [...] At least by the time we open this movie, I know that Han Solo will be very actively involved in what we're doing."
Abrams: "He sends his best and he's doing great, and he's working hard. I've had respect for him all my life, but I've never had more respect for a guy until I saw how he landed that plane. He's more of a hero in that move than in all the movies he's been in."
ADVERTISEMENT - CONTINUE READING BELOW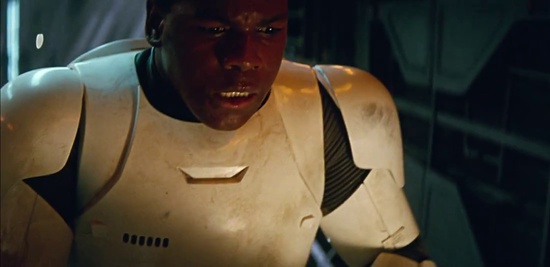 6. John Boyega plays a character named Finn
John Boyega: We find Finn; he's in incredible danger and the way that he decides to react to this danger changes his life, and launches him into the Star Wars universe in a very unique way. I can't wait for you guys to see it.
7. Daisy Ridley plays a character named Rey
Daisy Ridley: We discover Rey on the desert planet, Jakku. She is a scavenger in a ship graveyard. She is completely self-sufficient, she does everything for herself. She's solitary until she meets another character, and an adventure begins."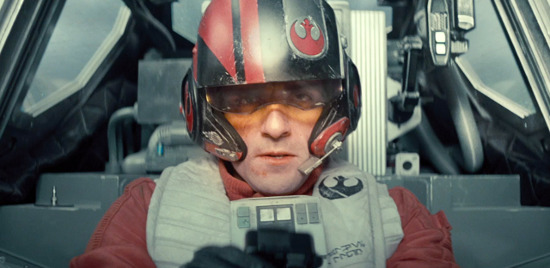 ADVERTISEMENT - CONTINUE READING BELOW
8. Oscar Isaac plays a character named Poe Dameron
Oscar Isaac: "[Poe Dameron] is the best freakin' pilot in the galaxy, that's who he is. He's been sent on a mission by a certain princess, and he ends up coming across Mr. John Boyega's character. Their fates are forever intertwined."
9. On fans and fan expectations
Abrams: "As they say, you can't please everybody, though we are trying very hard to do just that. There are moments where the pressure of what we're doing, the responsibility of what we're doing, using the legacy to move forward; it's the most important thing we're working on [...] The reality is, I've never had more fun in my life working on anything."
Kennedy: "I don't think there's anything more important in the Star Wars universe than the fans. You guys talk to us all the time about everything, and we take that very seriously. We're fans, too. Everybody is a fan. Everybody has a Star Wars story."
ADVERTISEMENT - CONTINUE READING BELOW
Photo via IGN.com
10. On the reunion of the old cast
Anthony Daniels (C-3PO): "It's 40 years since I first met George Lucas, and very quickly became part of the team that made this crazy, little film that none of us thought you guys were coming to see. You guys stayed with us all the way, and now there's even more of you joined in on the fun, because that's three generations who loved this story."
Peter Mayhew (Chewbacca): "It's kind of nice to get back into the fur suit, and I wouldn't have been associated with these guys if I didn't have the 'walking carpet' as this lady [Carrie Fisher] called me. You guys are what this is all about."
Carrie Fisher (Leia): "The [hair buns] are tired now, so we're probably not going to have the futuristic buns. But we're going to have an alternative thing that you'll be very into...which is not the metal bikini. I promise."
Mark Hamill (Luke Skywalker): "I remember George [Lucas] called the film the most expensive budget movie ever made, and I remember telling him, 'No, this is a winner. We're going to outgross Planet of the Apes.' [...] Thank you, because if it weren't for the ultra-passionate fans, we wouldn't be here. It never ceases to amaze me, because over the years, my entire adult life, i felt such love from you. You're more than just fans. You're family."
Fisher: "[The fans] grew up with us. It's an amazing thing to be part of so many people's childhoods, and to be a toy at the same time. So thank you for playing with me when I'm plastic."
ADVERTISEMENT - CONTINUE READING BELOW
---
Help us make Spot.ph better!
Take the short survey
Load More Stories