10 Songs for Your Road Trip Playlist
Music to keep you going for the long drive ahead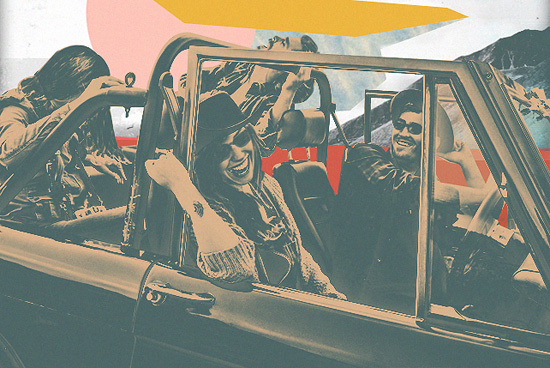 (SPOT.ph) Road trips are certainly fun, but they aren't all made up of gorgeous scenery and barkada sing-alongs. You have to deal with traffic, hunger, heat, discomfort, and sometimes, that one annoying friend who just won't shut up while you're trying to take a nap.
We've rounded up 10 songs that will keep you and your friends in high spirits throughout the different parts of your journey: tunes to kick-start the adventure, get you in the summer mood, or just make you feel so good, you forget that your butt is completely numb. Have a great road trip!
ADVERTISEMENT - CONTINUE READING BELOW
"Highway to Hell" by AC/DC
Press play to...kick off your journey.
Count on this loud, brash number by the Australian hard-rockers to start the trip off on an exuberant note. Nothing can stop you from taking off—not your boss, your parents, the bills piling up on your desk. It's easy to get hooked on this tune while you're moving farther away from all your worries...at least for now.
"Are You Gonna Go My Way" by Lenny Kravitz
Press play to...soldier through the nasty traffic.
While the singer has revealed that this song is actually about—surprise!—Jesus Christ, it's got enough guitar-driven aggression to push you forward on your journey. Put this on to feel a sense of momentum—even while you're stuck at a snail's pace somewhere along EDSA with hulking buses squeezing for space beside your vehicle.
"Sabado" by Eraserheads
ADVERTISEMENT - CONTINUE READING BELOW
Press play to...feel grateful that you're on the road and not stuck in the office.
With lines like "Buti nalang Sabado bukas / Pwede tayo magpuyat / Sulitin na hanggang Linggo / Kahit saan, 'wag lamang dito," this 2014 Eraserheads tune captures that irrepressible desire to make the most of the weekend—exactly what you and your friends are doing on this trip.
"Steal My Sunshine" by Len
Press play to...celebrate the fact that you are now cruising steadily along the expressway.
This '90s gem by the Canadian one-hit wonder is a classic summer song: warm, sticky, with a feel-good earworm of a melody. Now would be a good time to ask for a bathroom break and get a quick bite at the nearest gas station.
"I'm Gonna Be (500 Miles)" by The Proclaimers
Press play to...realize, ugh, how much farther you have to go.
This '80s hit by the Scottish rock band may be a proclamation of devotion to a girl, but it works in your situation, too. Because with your sweating form crammed helplessly in the back seat and the sensation slowly fading from your limbs, it feels like you've already driven 500 miles, and yet, you still have 500 more to go.
ADVERTISEMENT - CONTINUE READING BELOW
"I Still Haven't Found What I'm Looking For" by U2
Press play to...take in the silence now that everyone's asleep—except you.
The Irish rock superstars' take on a gospel song is a great track to play when you're the only one awake in the car—hopefully, you're the driver—and there's no one else to keep you company. Contemplate on your journey, your destination, hell, even the meaning of life as the world whizzes past.
"A Thousand Miles" by Vanessa Carlton
Press play to...wake up your sleeping, slobbering friends in the back seat.
Nobody—nobody—can resist this breakthrough 2002 hit by Vanessa Carlton. Turn it up to shake the sleep out of your road-trip buddies, and get them in on a rowdy group sing-along, White Chicks-style.
"Island in the Sun" by Weezer
Press play to...get pumped during the final stretch of your trip.
ADVERTISEMENT - CONTINUE READING BELOW
You've been on the road for hours now, and you're getting sick of harassing the designated driver with variations of "Are we there yet?" Sit back and relax to this laid-back, summer-perfect Weezer song that fantasizes about being on a golden sea where you don't need no memory. It won't be long now.
"Party in the U.S.A." by Miley Cyrus
Press play to...mark the beginning of fun times. FINALLY.
Anyone who's seen Pitch Perfect knows what a great road trip jam this is. Now that you're nearing your destination, throw all coolness out the window and holler along to pre-transformation Miley. While noddin' your head like yeah and movin' your hips like yeah, of course.
"Sunday Driving" by Rivermaya
Press play to...keep you company on the journey back home.
After a few days of fun, at some point it will all have to end. Let this languid number by Rivermaya cue the slowdown on that long ride back home. It carries a twinge of melancholy that matches the wistfulness of having to leave an awesome experience behind.
ADVERTISEMENT - CONTINUE READING BELOW
Recommended Videos
Load More Stories