10 Fresh Tunes to Listen to This May
Tracks to make your summer even hotter by Mariah Carey, Britney Spears, Blur, Peryodiko, Glaiza De Castro, and more!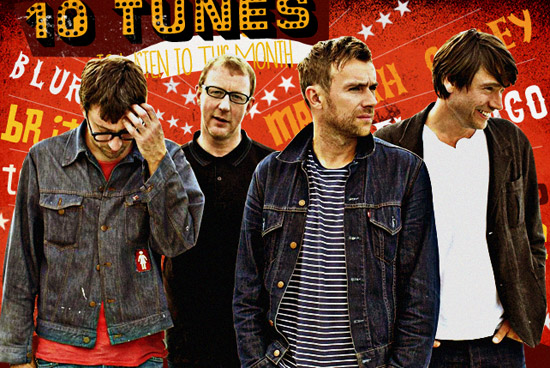 (SPOT.ph) We've listed fresh suggestions for your summer getaway playlist. This May, listen to Mariah Carey's sassy break-up ditty, Britney Spears and Iggy Azalea's cheeky collab, Blur's jangly single, Miguel's sexy morning track, and Mumford & Sons' rock attempt. We also bring you local tunes you'll love by Peryodiko, Oh, Flamingo!, Glaiza De Castro, Niki Colet, and Nick Lazaro.
Song: "Infinity"
Artist: Mariah Carey
Pop diva Mariah Carey has released "Infinity," a sweet-sounding but rather sassy break-up ditty. It doesn't disappoint, but it doesn't exactly wow either. It's every bit pop and radio-friendly (with a chorus that easily gets stuck in your head), but it sure sounds like something we've heard before.
Fun fact: "Infinity" is part of Mariah's forthcoming album, #1 To Infinity, due for release on May 18. The record will also include 18 of Mariah's number one singles.
Song: "Tayo Lang Ang May Alam"
Artist: Peryodiko
"Tayo Lang Ang May Alam" is that hugot song you need to listen to this month. There are no outrageous elements here, just sincere songwriting and beautiful vocals courtesy of Vin Dancel.
Fun fact: Vin Dancel (vocals), his wife Kris Gorra Dancel (guitar), Ristalle Bautista (drums), and Mond Merle (bass) make up Peryodiko.
Song: "Pretty Girls"
Artist: Britney Spears and Iggy Azalea
Britney Spears and Iggy Azalea team up in this cheeky release. The electro-hop track will remind you of (but won't be as catchy as) Iggy's summer smash "Fancy" with its pumping synths. Britney's vocals are playful, at some point sounding like Iggy's other collaborator, Charli XCX.
ADVERTISEMENT - CONTINUE READING BELOW
Fun fact: Britney and Iggy will reportedly perform the single for the very first time at the 2015 Billboard Music Awards this month.
Song: "Reflections"
Artist: Oh, Flamingo!
Oh, Flamingo! is a local indie-rock act you have to familiarize yourself with, stat, that is if you haven't yet. The young group's music is fun, fresh, tight, delightful, and everything nice. Listen to their new single "Reflections," and you'll understand what we're talking about.
Fun fact: Howard Luistro (vocals/guitar), Pappu De Leon (guitar), Billie Dela Paz (bass), and Fries Bersales (drums) are the members of the Oh, Flamingo!
Song: "Ong Ong"
Artist: Blur
The feel-good, jangly track from Blur will make your summer sunnier. We especially fell in love with the infectious and celebratory chorus filled with la-la-las.
Fun fact: "Ong Ong" is off the band's first album since 2003 titled The Magic Whip.
Song: "Dusk 'Til Dawn"
Artist: Glaiza De Castro
Glaiza De Castro shines outside mainstream TV and indie flicks as a serious musician. Her latest single off her new album is a breezy indie-pop track that's so easy to love. In the unending lineup of actors-turned-singers, she's one act really worth listening to.
Fun fact: The singer-actress released her album Synthesis last April 18.
Song: "Coffee"
Artist: Miguel feat. Wale
Rapper Wale assisted singer-songwriter Miguel in this updated version of "Coffee," a tune that will wake you up only to have you linger in bed, thanks to the song's smooth rhythm and sexy vocals.
ADVERTISEMENT - CONTINUE READING BELOW
Fun fact: The track has a more explicit version titled "Coffe (F***ing)" to give you a better idea of what the two artists are actually singing about.
Song: "City Night"
Artist: Niki Colet
Twenty-year-old Niki Colet is an act to watch. Her folk-pop sensibilities and serious vocal chops gradually unfold in her latest release, "City Night."
Fun fact: Among the singer-songwriter's influences are Regina Spektor, Bob Dylan, Feist, and Joni Mitchell.
Song: "The Wolf"
Artist: Mumford & Sons
Mumford & Sons sound more rock and electric than folk and unplugged in "The Wolf," the second single from the band's new album titled Wilder Mind. The rock 'n' roll energy, throaty vocals, and raging guitars may either pleasantly surprise or disappoint fans.
Fun fact: Wilder Mind was released last May 4 via Glassnote Records.
Song: "Hammerhead"
Artist: Nick Lazaro
Musician Nick Lazaro wastes no time and gets down to business in "Hammerhead." The track is an explosion of rock and electronic, topped with high-energy vocals.
Fun fact: Lazaro's other musical projects are Twin Lobster, Moonwlk, and Birdforms.
Load More Stories