10 Fresh Tunes to Listen to This June
Listen to some Taylor Swift, Florence + The Machine, Jessie Ware, Up Dharma Down, and more!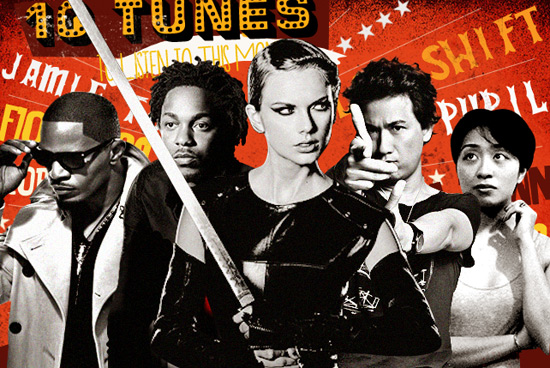 (SPOT.ph) For your listening pleasure this month, we suggest Taylor Swift's diss track, Florence + The Machine's smashing new single, Jamie Foxx and Chris Brown's sexy collab jam, Hilary Duff's cutesy ditty, and Jessie Ware's take on a Nick Jonas original. Plus, get a load of the freshest from Up Dharma Down, Pupil, BP Valenzuela, Ebe Dancel, and CRWN featuring Kajo. Happy listening!
ADVERTISEMENT - CONTINUE READING BELOW
CONTINUE READING BELOW
Recommended Videos
Song: "Bad Blood"
Artists: Taylor Swift feat. Kendrick Lamar
Tay-Tay's latest single isn't her catchiest, music and lyrics-wise, but it sure comes with a kick-ass music video that you'll love to watch again and again (and again). The diss track throws major shade at Katy Perry, and no one's surprised. It's a typical T-Swift move.
Fun fact: The "Bad Blood" music video features Selena Gomez, Jessica Alba, Ellie Goulding, Lena Dunham, Karlie Kloss, and Cara Delevingne, among others.
Song: "All the Good Things"
Artist: Up Dharma Down
We can't love UDD's new single enough. The electro, '80s pop-sounding single is made up of all the good things—smooth vocals, funky guitars, and sweet synths. UDD can never do wrong.
Fun fact: The music video was filmed in Singapore and features spots like Marina Bay, Henderson Waves, and Haji Lane.
Song: "Delilah"
Artist: Florence + The Machine
Florence Welch sounds divine, as always. The subdued opener is a buildup that warns you of an explosive core, and Welch smoothly switches from sultry to falsetto within the powerful track.
ADVERTISEMENT - CONTINUE READING BELOW
Fun fact: The single is off the band's recently released third studio album, How Big How Blue How Beautiful.
Song: "Why"
Artist: Pupil
Pupil's "Why" is a high-octane rock single that is a welcome break from the band's usual post-punk sound. It has an equally badass music video to boot.
Fun fact: "Why" is from the album Zilch under MCA Music.
Song: "You Changed Me"
Artists: Jamie Foxx feat. Chris Brown
Jamie Foxx just shared this sexy jam from his new album Hollywood: A Story of a Dozen Roses. Foxx's range is highlighted in this release, from his smooth croons to his irresistible falsetto.
Fun fact: He is mostly known for being an actor, but Foxx's musical career dates back many years. He released his debut album, Peep This, in 1994.
Song: "Steady"
Artist: BP Valenzuela
Everything BP Valenzuela does is magic. The local music scene's It Girl just released a feels-filled video to accompany just one of her confessional compositions.
ADVERTISEMENT - CONTINUE READING BELOW
Fun fact: "Steady" is the debut single from BP Valenzuela's debut album, Neon Hour.
Song: "Sparks"
Artist: Hilary Duff
Hilary Duff goes on Tinder dates in her "Sparks" music video. She looks fabulous, and her music is catchy as hell. We're just so giddy to hear her singing voice again, this time with fresh material.
Fun fact: The singer-actress recently revealed the track list for her new album, Breathe in. Breathe out., which drops June 16th.
Song: "Hanggang Wala Nang Bukas"
Artist: Ebe Dancel
You can always count on Ebe Dancel to make music with so much meaning. His lyrics are poetic, and his vocals pierce through the soul.
Fun fact: Dancel wrote the song for the movie Heneral Luna, which will open in theaters in September.
Song: "Jealous" (Nick Jonas cover)
Artist: Jessie Ware
Sure, the Nick Jonas original is great, but Jessie Ware just changed this song for us forever. She totally owns the tune with her soulful vocals and the '80s-inspired arrangement.
ADVERTISEMENT - CONTINUE READING BELOW
Fun fact: This cover was done for BBC Radio 1's Live Lounge.
Song: "Marco Polo"
Artist: CRWN feat. Kajo
CRWN collaborated with LA-based artist Kajo to create this sexy-magical electro-R&B ditty. The sultry, smooth jam will leave you wanting more.
Fun fact: CRWN is the project of King Puentespina (also of She's Only Sixteen).
Load More Stories