MOVIE REVIEW: The Voices
A dark and ghoulish film that works, but probably not for everyone
(SPOT.ph) The Voices by director Marjane Satrapi refuses to be categorized as it begs to stand out. The effort to do so is not overly cohesive, as the film tends to toddle clumsily with what exactly it is trying to achieve. But for the darkness and ghoulishness of its psychotic premise, this film ultimately works, albeit on a level not to be appreciated by everyone.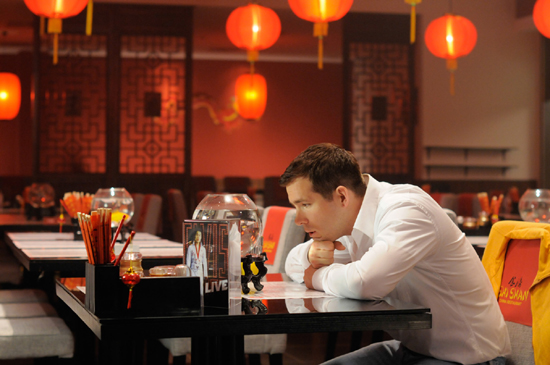 ADVERTISEMENT - CONTINUE READING BELOW
CONTINUE READING BELOW
Recommended Videos
Satrapi, best known for her sensational debut Persepolis (2007), takes on a story that is a little out of her socio-political comfort zone. Still, the film exemplifies her trademark scintillating knack to provoke. Penned by Michael R. Perry (Paranormal Activity 2), The Voices acts as Satrapi's English-language debut, which also marks the first time that she directs a film she didn't write herself. The success in this dynamic may vary depending on one's taste and sense of genre standard, and there is a clear disconnect between what the writer is trying to brush on and the director's vision of where to take the story. Ultimately, however, Satrapi's ballsy attempt to communicate the dark ether of her philosophy makes up for the clear shortcomings.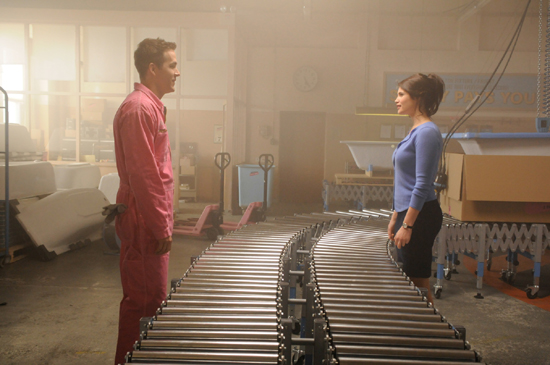 ADVERTISEMENT - CONTINUE READING BELOW
The Iranian-born French director starts the story by juxtaposing its premise: bright color palettes with playful imagery and a warm soundtrack. The opening sequence is a tad too pleasant and playful but it serves a good purpose—that something is definitely wrong because it's just too nice. We follow the life of Jerry Hickfang (Ryan Reynolds), a recovering schizophrenic working in a bathtub factory. Jerry talks to his pets at home (a cat and a dog, both voiced by Reynolds) and meets with his motherly psychiatrist Dr. Warren (Jacki Weaver) regularly to have his condition in check. Just like any film psychopath, none of Jerry's actions are motivated by his rational desires; showing the extrapolation of consequences going from normal to violently disturbing by the influence of his schizophrenic inclinations and tragic family history.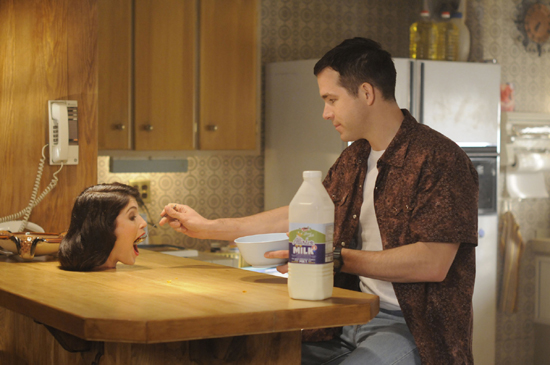 ADVERTISEMENT - CONTINUE READING BELOW
It is difficult to understand if the film is wholly scary as it is marketed as a psychological horror; nor is it unclear if the movie should be a laughing marathon as it is advertised as a dark comedy. Neither laughs nor scares are truly elicited, but there is a lingering feeling of dread, an unspoken blanket of self-loathing as Jerry tumbles into a dark alley he has unknowingly created for himself.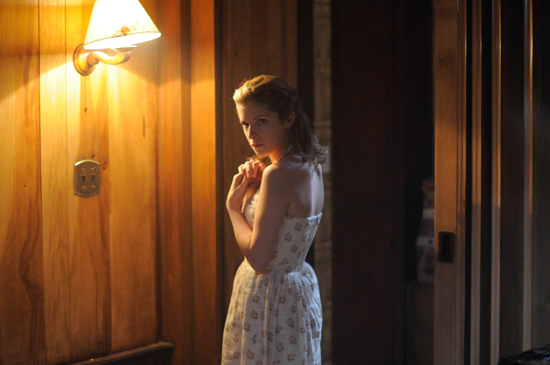 ADVERTISEMENT - CONTINUE READING BELOW
Reynolds tries to stretch his acting repertoire in this film. Just the fact that he voiced different characters in the movie while giving each a breath of genuine life is proof to this. Playing a man detached from reality and living in an imaginary world he doesn't really like but ultimately feels at home with, Reynolds shows enough substance to refrain from over-romanticising his role. Even Anna Kendrick, who plays Jerry's lovely squeeze Lisa, never wastes her part by being mere accessory. Every aspect of the film, no matter how small, ridiculous, or seemingly out-of-place, is not wasted and serves as something the narrative can benefit from.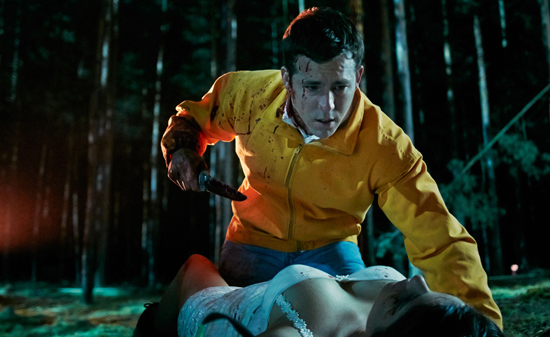 ADVERTISEMENT - CONTINUE READING BELOW
The Voices, though not easily digestible to casual viewers, is (believe it or not) necessary cinema. Film has seen its share of iconic serial killers from Hannibal Lecter to Norman Bates to Michael Myers. These disturbed men have set the standards for those who will follow their footsteps and Jerry is just one of those new guys. He doesn't show us anything that we haven't seen yet or know already. The difference with Jerry's exploits is in its storytelling. Yes we know he is tormented, and yes we know he will eventually kill. But what Satrapi makes us realize with all of Jerry misadventures is that there is a bizarre, nonsensical emptiness in them—and it can actually be funny.
David Lynch, a man associated with absurdist cinema, once said: "If you saw a man repeatedly running into a wall until he was a bloody pulp, after a while it would make you laugh because it becomes absurd." There is humor in a person's struggle in ignorance and despair. The brilliance of this film is not explicitly announced (even up until the end it toddles), but with enough patience and intellectual picking we will realize that Satrapi is trying to give us something rare: a view of the undisclosed absurdity of mental illness.
ADVERTISEMENT - CONTINUE READING BELOW
RATING: 3 out of 5 spots
The Voices is out in theaters today, June 3, exclusively at Ayala Malls Cinemas.
Load More Stories